"Looks like the supporters are important after all" – Liverpool fans react to 2-2 draw against Sunderland
Henry Jackson on 06.02.2016
Following Liverpool's 2-2 draw at home to Sunderland on Saturday afternoon, we bring you the best social media reaction from both during and after the game.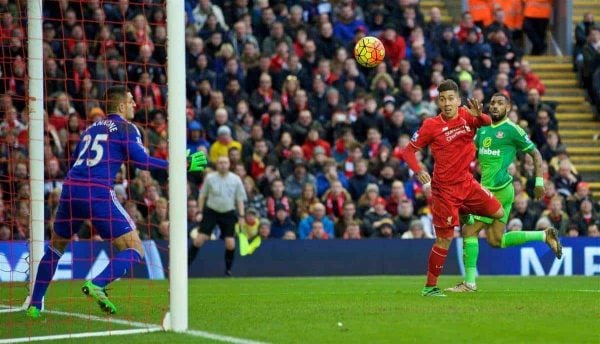 Quite how the Reds didn't win that is a mystery, but once again it was the hapless Simon Mignolet who helped gift Sunderland a point.
Liverpool were cruising at 2-0, following goals from Roberto Firmino and Adam Lallana, but Adam Johnson's tame free-kick crept past Mignolet with nine minutes left.
Jermain Defore scored with a couple of minutes remaining, as Jurgen Klopp's side once again paid the price for a lack of ruthlessness.
Article continues below
It was a match that will be remembered as much for what happened in the stands as on the pitch, following the much-discussed walk-out after 77 minutes.
There were black flags out in force at Anfield, in reaction to the news of Liverpool's extortionate ticket prices next season:
It was a drab goalless first-half on Merseyside, and supporters bemoaned both the Reds' continued injury woes and the performance:
https://twitter.com/briankettle/status/695998775928684545
https://twitter.com/TheKop/status/695999645013688320
Firmino and Lallana both scored to seemingly seal victory in the second-half, with the Brazilian running the show:
https://twitter.com/LiverpoolGifs/status/696005521262952448
https://twitter.com/neil_poole1/status/696005613827002368
The rumoured walk out came to fruition after 77 minutes:
Fans were left fuming after the game, particularly with Mignolet, after yet another capitulation:
Imgoingred on the forum:
Well that was a bottle job and a half. Only positive is Firmino scoring 1 and creating 1.
Redsi73
on the forum:
Not good enough. Totally pathetic first half, followed by an 8min capitulation at the end of the game.
https://twitter.com/neil_poole1/status/696017228114870273
Let us know your thoughts on the game in the comments below.
Share:
Fans Are Reading
Fan Comments
Comments are retrospectively moderated. Some could be subject to delays before publication. They must obey the
comment policy
. Comments load below.
Please only discuss the article above. General chat can be made on our forums at forums.thisisanfield.com