A historic afternoon of protest against spiralling ticket prices at Anfield dominated proceedings, as those who exited early were saved witnessing a truly spineless capitulation from the Reds thereafter.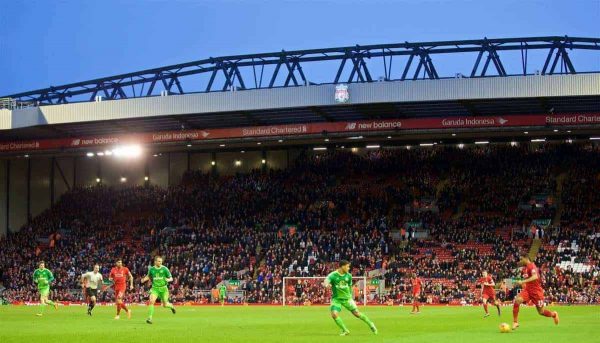 It was an afternoon that saw as much focus on the off-pitch action as that on the field of play at Anfield.
Reds fans kicked off the fight against the newly announced, extortionate ticket prices in spectacular fashion, staging a sizeable walk-out with 13 minutes left of the sloppy 2-2 stalemate against the Mackems.
Leaving with Liverpool 2-0 up courtesy of Roberto Firmino and Adam Lallana's goal – despite being without the hospitalised Jurgen Klopp – it can't have crossed the minds of the protesters that they would be saved watching the latest sorry chapter of a miserable season.
But that they were, as the Reds failed to show the same fighting spirit as those determined departers, conceding twice in a woeful final 10 minutes to succumb to a dire draw against Sam Allardyce's side.
▼ Article continues below ▼
Protest Point Proven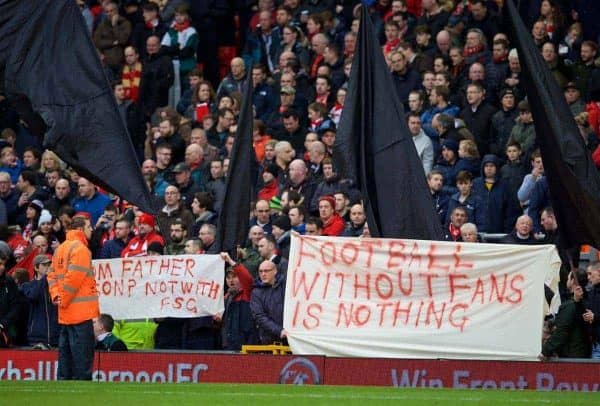 Prior to kick-off, there was, naturally, skepticism over just how backed the protest would be among an increasingly divided fan base.
But as the anticipation mounted – with black flags waved on the Kop pre-match – and the Anfield clock ticked down, the answer was emphatic, as an estimated 10,000 disgruntled fans flooded towards the exit gates, despite Allardyce bizarrely claiming not to have seen it.
When 77 minutes struck, those leading the charge against the unjustifiable prices to come into play from next season didn't disappoint.
A defiant rendition of You'll Never Walk Alone rang around Anfield, before fans chanted "enough is enough" at the increased cost, which has seen the first £1,000 season ticket introduced and highest Main Stand ticket rise from an already steep £59 to a shocking £77.
▼ Article continues below ▼
Following the Kop's cries, large sections of the 44,179 crowd left from all four sides of the stadium, each also making their feelings known as they left.
It was a real defiant display of solidarity, and shows that the fight against the money making machines that is Premier League football and Liverpool Football Club is well and truly underway.
This protest is only the first step but it was a hugely significant one – the first of its kind seen at Anfield, likely the largest British football walkout protest – despite the team 2-0 up at the time and well on the way to claiming a first home win since Boxing Day victory over Leicester.
All attention from the mass exodus centred on the significant emptying of Anfield, but focus quickly switched back to the match action as a spineless capitulation followed just moments later. [td_ad_box spot_id="custom_ad_1″]
Collapse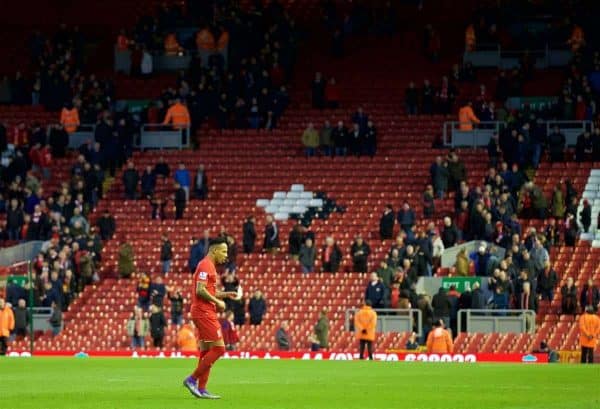 ▼ Article continues below ▼
In control from minute one, two goals up for their efforts and firmly in the driving seat; it was as close to game over as a match will ever see.
But in typical Liverpool fashion, the Reds managed to find a way of souring a positive afternoon, conceding twice in the final 10 minutes to throw away what would have been a pressure relieving three points.
Fortunately – in a roundabout way – for those battling the ticket price hike and unnecessary financial exploitation of fans, they didn't have to witness the shameful lack of fight their team showed in comparison to their ground-breaking efforts.
Simon Mignolet was predictably at the heart of it, playing a huge part in undoing the excellent work of Firmino up the other end, by being inexplicably beaten by Adam Johnson's free-kick at his near post – unbelievably with the first shot he was tasked to save, but couldn't, all afternoon.
The Reds visibly shrunk, and it was predictable that a second goal would be forthcoming, which it did when Mamadou Sakho's poor defending allowed Jermain Defoe to fire past Mignolet and equalise with two minutes left.
It was somewhat fitting the Reds folded and surrendered valuable points without the backing of a chunk of the loyal support who risk being priced out – those that doubted fan power had it displayed in front of their very eyes.
▼ Article continues below ▼
Having worked from the minute he arrived to reunite the club as one, Klopp will undoubtedly be upset when he sees the scale of the division his employers have created – no matter how little of the fact he publicises. [td_ad_box spot_id="custom_ad_2″]
Sadly, it appears it will remain that way until something substantial, with the fans valued at the forefront is done.
"Football without fans is nothing", and the quicker that is realised among the club's hierarchy, the sooner progression will be made on and off the pitch at Anfield.
LIVERPOOL 2-2 SUNDERLAND
▼ Article continues below ▼
Sponsored Links
More from This Is Anfield
Fan Comments
Comments are retrospectively moderated. Some could be subject to delays before publication. They must obey the
comment policy
. Comments load below.
Please only discuss the article above. General chat can be made on our forums at forums.thisisanfield.com