Regardless of the Suarez saga and whatever the outcome ends up being, there are plenty of reasons for optimism ahead of the new season at Liverpool.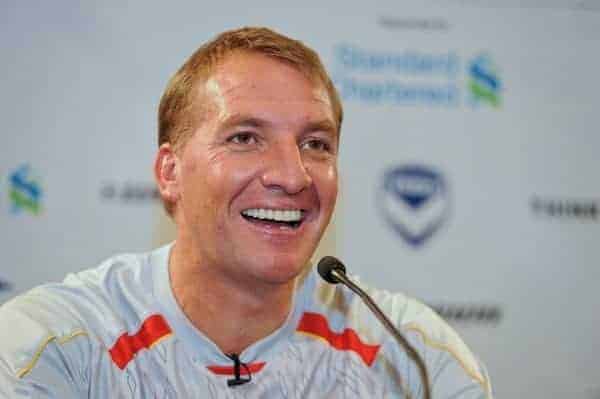 Liverpool FC's glory day seem rather a long while ago. The club hasn't managed to finish in the top five of the Premier League for the last four seasons, having previously had ten successive top five finishes under their belts. Could this be the year they return to the top of the table?
Manager Brendan Rodgers has been busy signing new talent over the last couple of months and has added Spaniards Iago Aspas and Luis Alberto, Belgian goalkeeper Simon Mignolet and defender Kolo Toure to the squad, which all point towards a consistently talented team working together being the key to success.
2012/2013 was the first season for manager Brendan Rodgers and it's felt in most quarters that loads of progress was made by the team with him at the helm – even despite the fact that they finished seventh in the Premier League.
The team's weak points once again showed during their home games, leaving them with just eight wins from 18 matches. Away games showed off their skills in a more productive way and they scored the most goals of any team during away matches, which goes to show that there is life in the team yet, particularly with its influx of new talent and a manager who is growing in confidence every game.
Now that both Manchester City and United as well as Chelsea have all had a change of managers, it's possible that this will affect the top of the table greatly, allowing Liverpool to get its act together and power in.
Latest odds do put these three at the top still though, with Arsenal, Spurs and Liverpool fighting for fourth. Liverpool is also currently at 13/8 to get a Champions League position. Check out betfair.com for all the odds for next season.
The Reds will kick off the news season with a home game against Stoke City and it's fair to say they'll be all guns blazing with ambitions to finish well inside the top four this year. It does remain to be seen, however, how the possible transfer of Luis Suarez to Arsenal. The striker's contract i currently being disputed by both clubs with Arsenal refusing so far to meet Liverpool's valuation of the player (more than £55m).
Their latest offer has been one pound over £40m in the hopes that it will restart talks after the original offer from Arsenal was refused. It's also possible Real Madrid will make a formal bid for Liverpool's prized player. Rodgers has been on record urging Suarez to remain loyal to the Reds to thank fans for sticking by him during various controversies, but whether that will have any effect is pretty dubious.
Suarez recently made his first club appearance in Liverpool's friendly over Melbourne Victory in front of almost 100,000 people. It was his first game for Liverpool since being banned for ten matches following the incident where he bit Chelsea player Ivanovic. Liverpool fans rallied round him and it's this that the Liverpool manager is hoping will keep him at the club.
Whatever happens with Suarez it's clear that the squad is coming together and there is every chance the Reds will be back at the top in 2013/14.