Something has been tickling Liverpool Football Club's collective funny bone this week, writes Neil Poole.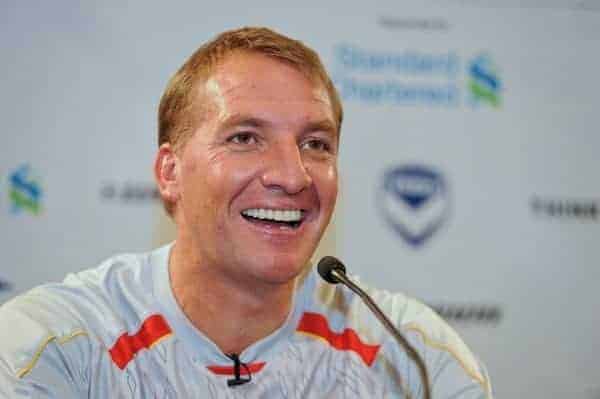 From John Henry and Ian Ayre to Robbie Fowler and Steven Gerrard, everyone's been having a bit of a laugh and a joke. Well, all except for one little fella with some badly pronounced body language.
Is all this joviality because everything is in hand? Is everyone at the club so calm and collected that they can let their hair down while the fans shuffle their feet awkwardly, worrying about player incomings and outgoings? Is the club knowingly smirking at the media elbowing each other in the heads as they clamour to see through the latest Suarez-gate, manically screaming, "The clause, the clause! What about the f**king clause people?!"
Or are they simply thousands of miles away on a jolly, oblivious to the fact that the offices of Anfield, Melwood and Chapel Street are being ransacked, and all sorts of contracts are fluttering away down the street? And if so, when they get back will there be time to pick up all the pieces?
Firstly, what have those crazy, madcap Reds actually been getting up to this week?
Ian Ayre and Robbie Fowler were larking around like they were in Cirque du Soleil. Fowler hoisted Ayre onto his shoulders ready for the picture and they all shouted, "Don't do it Robbie, think of your knees lad!" But they didn't care. They were having a ball.
John Henry was sitting in a dark room at 2 in the morning, hiding under his duvet as he sent mischievous tweets whilst sniggering to himself. Shoulders bobbing up and down. "Smoking…Emirates…Haha. I'm awesome!"
Players were smiling, taking photos of awestruck fans taking pictures of them.
Even Steven Gerrard was smiling, blowing kisses to 95,000 star struck Reds and pulling off some serious Saturday Night Fever pointing action after scoring the opener against Melbourne Victory.
The club was even in such a good mood that it decided a bit of pyro and creating a bit of atmosphere was okay. They posted lots of pictures all over the official website of the brilliant Indonesian fans surrounded by the type of pyrotechnic s you would expect to see on a ride at Universal Studios. 'Look how great our fans are' those pictures said. Yes, we are. We've been telling you that. Great, so there will be no problem with some more special effects next season then.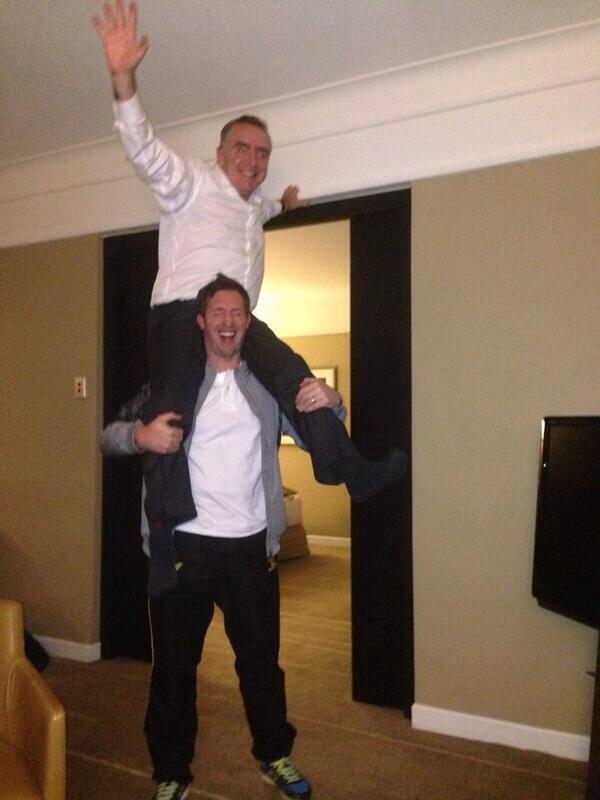 But for the fans, just between the shoulder blades, there's a little itch that can't quite be reached, that we can't quite scratch away. It could be Suarez brooding about like the grim reaper having just found out there's no more dead people to collect. "There's nothing left for me here anymore. What's the point?" Or it could be the first bout of sweaty palmed anxiety as the doubts begin to set in about the likelihood of a 'big name' signing.
Personally, I have no problem with Ian Aye growing a Robbie Fowler out of his groin or John Henry having a dig and generally creating a bit of animosity with Arsenal, a club that we don't want to do business with anyway. I can even forgive a bit of hypocrisy. But ultimately, what happens between now and the 2nd September when the transfer window closes will determine how we look back on this week's japery.
This week will all soon be recent history and how the story will be retold will depend on the context of the present day in September. There are plenty of examples to illustrate this point but for the first you only have to look back as recently as a few weeks ago.
The early signings of Toure, Aspas and Alberto were rightly lauded as good signings for the squad and an indication the club was doing its business early. But this optimism took a nosedive when we missed out on the bigger name and exciting prospect of Henrikh Mkhitaryan. At present the doubt over who we will sign next remains and the enthusiasm for those early signings has consequently waned for some fans. However, the mood will quickly be reignited if we go on to add relatively well know quality to the first eleven. If this happens those early additions will suddenly look like shrewd business again.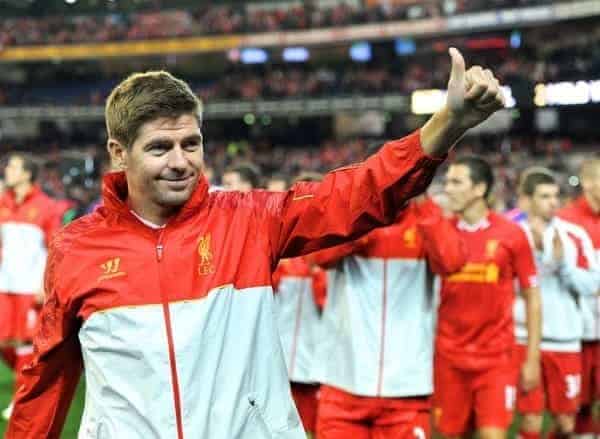 The people making the gag and the eventual outcome matters too. Back in 2007 fans found Craig Bellamy's golf club antics funny and laughed along when he celebrated his goal against Barcelona with a golf swing. It was easy to do this because Bellamy was popular, it followed on the back of two years when we had won the Champions League then the FA Cup, and we progressed towards yet another Champions League Final. If it had been a less popular player and we had been knocked out of the Champions League the golf club celebration would not have been met with the same positive reaction and history would not look back so fondly on it.
It's think it's fair to say that if the transfer business goes well this summer and we get a satisfactory outcome with Suarez as well as getting in some real quality, the picture of Ian Ayre on Robbie Fowler's shoulders or John Henry's tweet will at best be joked about and at worst simply forgotten. On the other hand, if it all goes pear-shaped, people whether rightly or wrongly, will quickly recall these events as examples of the club dropping the ball. As an unpopular figure for some fans, Ayre will be very quickly blamed.
We cannot know for certain if the reason that everyone is seemingly so relaxed and happy is because the club is on top of, and truly confident about all the transfer business still to come. However, my own gut instinct is that they believe they are, and that the little bit of tom-foolery this week isn't a case of them unknowingly laughing at joke being made at their own expense.
This is because beneath the merriment belies a hard, unflinching edge that you find in all the best comedians. There may be some joking flying around but there is also a no-nonsense message beneath John Henry's gentle taunting of Arsenal which is cut into granite and says 'pay up or shut up.'
Furthermore, amongst the clowning around Brendan Rodgers has played the straight man remarkably well, consistently complementing the fun and games with some straight to the point talking.
For the record, I am fairly neutral when it comes to Rodgers. I desperately want him to do well and hope he is the man for us. I'm not quite sure yet. However, where in the past I've felt that he has been too conscious of trying to sound like a Liverpool manager, this week it seems to be coming much more naturally. His questioning of why Suarez would leave Liverpool to go to Arsenal feels sincere and demonstrates the right level of swagger and arrogance that you need to be a winning manager. Also, his words might not go down too well with the press. I like that too.
Only time will tell how amusing this week has been. Let's hope that come September we're not singing along with The Smiths that the joke isn't funny anymore.