Right then here we go. One of the busiest days in the football calendar without a ball even being kicked – Liverpool FC Transfer Deadline Day. And it's already off to a bang at Anfield.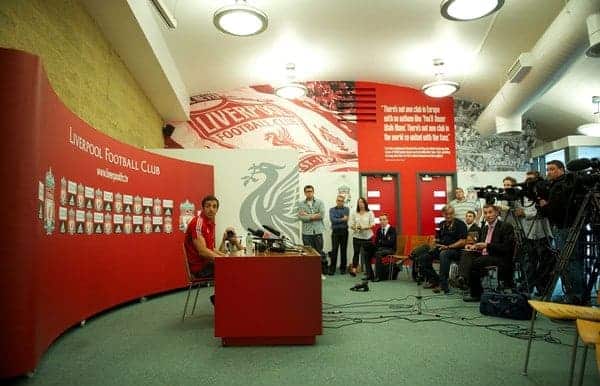 We rekon there could be four in, four out for Liverpool by the end of the day as the transfer frenzy continues. There's certainly been lots of Liverpool transfer rumours to keep fans entertained in the transfer window.
We could be saying goodbye to Martin Skrtel (Napoli), Brad Jones (Melbourne Victory), Fabio Borini (Sunderland) and Andre Wisdom (Wigan), with Tiago Ilori (Sporting Lisbon – Confirmed), Mamadou Sakho (Paris St-Germain), Victor Moses (Chelsea) and Shay Given (Aston Villa) coming in.
Of course, this isn't even taking into account any possible domino effect of Gareth Bale's €100million move from Tottenham to Real Madrid. The Telegraph predict the transfer could spark a £500million ripple of activity across Europe today.
Liverpool woke up early for their Shreddies today, announcing the confirmation of signing Tiago Ilori at 8am this morning. Read the full story here.
Meanwhile it is understood that Sakho and Moses have already completed their medicals, so expect confirmation of those at some point during the day today.
Both were at Anfield yesterday to watch their new teammates beat Manchester Utd 1-0 to go top of the Premier League.
The arrival of new defender Sakho and Ilori could pave the way for Slovakian international Skrtel's exit. He's been linked with moving to Rafa Benitez's Serie A side Napoli this summer, following in the footsteps of Pepe Reina.
37-year-old Irish international Given could be on his way to Liverpool as backup to Simon Mignolet, with Jones returning to his homeland, Australia.
Meanwhile Borini, who has struggled to get going since moving from Roma last summer, is thought to be wanted by Sunderland on-loan for the season (Daily Mail).
Stay tuned to This Is Anfield all day for live updates on the site, on Twitter @thisisanfield and on Facebook.