Back to the top of the league and still undefeated in 2013/14. But Liverpool's thrilling 2-2 draw with Swansea at the Liberty Stadium in South Wales brought up a lot of talking points.
The general consensus from the papers was that, from a neutral perspective at least, Swansea vs Liverpool was a magnificent feast of football. Writes Joe Lovejoy in the Guardian:
For its audience, however, it must be said that this had everything the Ukraine borefest lacked. Almost absurdly open, play switched from end to end with a regularity more commonly associated with tennis, offering a glut of chances at both ends.
Indeed, from the Liverpool fans' perspective, This Is Anfield editor Max Munton writes for the Metro:
Both teams spent the whole game a little shell-shocked by what the opening four minutes had brought – neither side ever managing to calm down and take the game by the scruff of the neck, which was what was needed.
Of course one of the main men of focus in this morning's headlines is Jonjo Shelvey, who had a bit of a mad game against his former club. Rob Cole of the Independent notes:
Jonjo Shelvey will not ever forget his first game against his old club after scoring the first goal of the game and having  a part in the three others. He simply could not keep out of the action and, to add to it all, he also picked up a yellow card.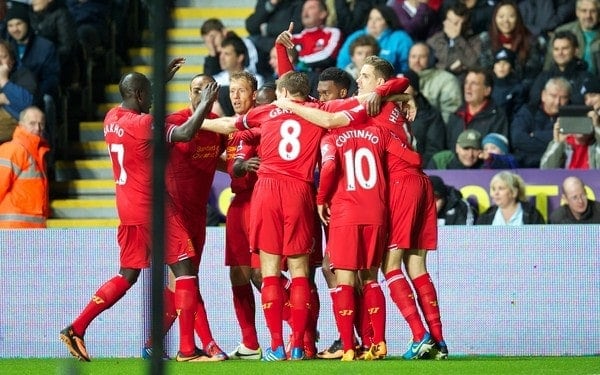 Henry Winter of the Telegraph makes a rather frank and fair assessment of Liverpool's defensive display:
Martin Skrtel again demonstrated his worth with a couple of vital interceptions, including one on Bony that saved a certain goal. Alongside Skrtel, Mamadou Sakho, the £18m recruit from Paris St-Germain, had some nervous moments on his debut but his raw potential is obvious and one dispossession of Michu late on indicated his talent.
And finally, the Guardian pick up on another entertaining night of football media coverage on Sky Sports with Jamie Carragher and Gary Neville "locking horns" over the Steven Gerrard vs Frank Lampard vs Paul Scholes debate.
The Guardian conclude that the former Liverpool defender won this round:
Carragher then appeared to hit the winner by asking why Sir Alex Ferguson felt the need to go and buy Juan Sebastián Verón if Scholes was so important, a question Neville could only shrug off.

The Liverpudlian was on safer ground when he suggested that no young player wanted to grow up to be a Gary Neville, a remark that reduced his counterpart to helpless laughter.
Anyway, this looks good:

The full Premier League table as it stands on 17th September 2013 – Liverpool top by one point from Arsenal. pic.twitter.com/TUeXSXLbJ9

— This Is Anfield (@thisisanfield) September 17, 2013