A quick look at the good and bad from last night's 1-0 defeat to Man United in the League Cup.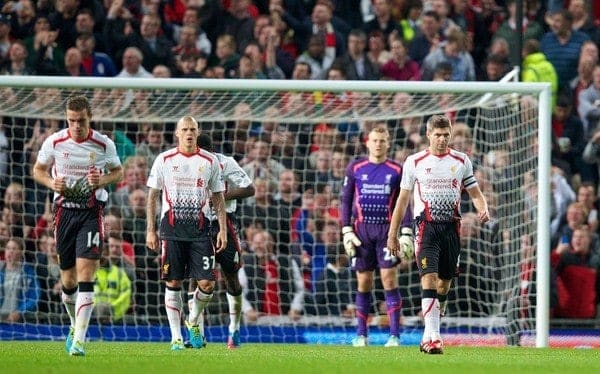 Positives
The return of Suarez
The obvious one, it was great to see him back playing. His drive, energy, direct play. Just what we've been lacking. It will be exciting to see him and Sturridge back forming a partnership.
Form of Mignolet
Another couple of excellent saves from the Belgian.
Formation
It was perhaps an odd time to try it, but the 3-4-3 did show potential signs of working. Will Rodgers stick with it for more than one game this Sunday? The back three are less exposed by Liverpool's lightweight midfield and it allows Suarez, Sturridge and Moses to combine effectively in the attacking areas.
Negatives
Set Pieces
They remain Liverpool's achilles heel, no matter how many defenders Brendan Rodgers puts on the pitch. Another 1-0 defeat arrived courtesy of poor defending on a corner.
Fitness
We're only seven games into the season and an alarming number of players look very tired. Namely the key trio of Lucas, Gerrard and Sturridge – all three need a rest, last night should have been the opportunity to do so. Gerrard has looked especially tired since the international break. Another game without a second half goal.
Sturridge's decision making
He's clearly a superb goal-scorer but his decision making in the final third can be very poor and this was demonstrated again last night. His lack of a right foot plagues him when put in on that side. He needs to work on both.
Lucas
The Brazilian was well off the pace last night. Thankfully acknowledged by Rodgers and subbed him after 67 minutes. Should Henderson be given a game in the middle alongside Gerrard? Will the return of Joe Allen to fitness provide an opportunity to rest Lucas?
Kelly's fitness
A lot of people have been asking why Martin Kelly hasn't been getting back in the team this season after a long injury lay off. Well maybe now its' clear, brought on as a right-sided wing-back, it ended up with Kolo Toure bombing forward in the final stages to try get the goal back with Kelly looking completely exhausted despite only 25 minutes on the pitch.
Failure to give any youngsters an opportunity
It's difficult to see when the likes of Wisdom, Ilori, Alberto and Ibe will get a game again now. A missed opportunity and instead key players were wasted ahead of an important League match on Sunday.