Brendan Rodgers met with reporters at Melwood on Friday afternoon to discuss this Sunday's Premier League clash between Tottenham and Liverpool at White Hart Lane.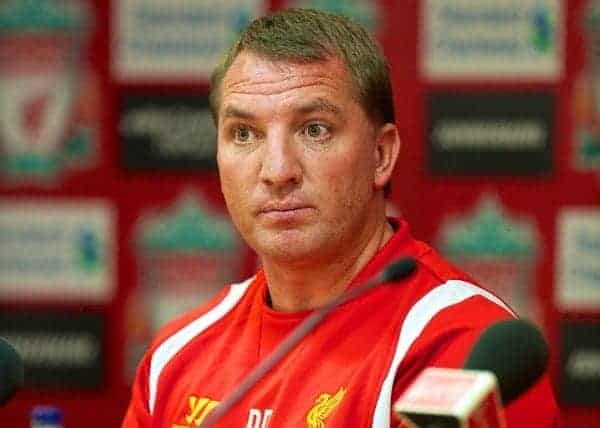 The Reds travel to North London looking for a victory to keep them firmly in the top-four at the top of the table.
Defeat, however, would mean Tottenham going level on 30 points with the Reds and the battle for a top-four place looking much harder.
Rodgers was in good spirits for the reporters, with the press conference broadcast live on LFC TV, after seeing his side win back-to-back home games against Norwich City and West Ham.
On conceding away from home
We've made mistakes. We've made mistakes defensively and that has cost us goals and some of them have been cheap goals.

But it's been swings and roundabouts, really. We started the season with three 1-0 wins and people spoke about our lack of goals. And I think that's one thing you can't level at this team. But now they are scoring goals, it's the clean sheets. So as long as we're winning games, I'm happy.

Of course, we always want to be perfect, score many goals and keep clean sheets. And certainly in these types of games [against Tottenham], when it's going to be tight and you're not going to run away and score lots of goals, you then have to make sure you don't make mistakes.

And that's something that we're focused on. It was something that cost us a wee bit last year in terms of these big games, when we were in front and then we made a mistake.

But this is a group of players and a team that is not intentionally making mistakes. Sometimes it happens in the games.
Tottenham vs Liverpool marks the start of a tough run of games over Christmas for Liverpool, with a home clash against Cardiff City next weekend, followed by post-Christmas Day trips to Manchester City and Chelsea, before the turn of the year.
On the tricky festive fixture schedule for Liverpool:
The focus is only Tottenham. We finished our last block of games having reached the targets that we set. Of course, we'd always want to be better, but 10 points out of 15 in the last five games has kept us on track for where we want to go.

The next block of five games is important for us. But the next game is the most important and that's against Tottenham. It'll be a tough game, but we'll really relish going there.

The last two performances [against Norwich City and West Ham United] and the goals we have scored has been outstanding.

So we know we can go anywhere and get goals, we just need to make sure that we don't make mistakes defensively and if we can do that, we'll always score goals.

I think a win would give you that greater bit of belief. In the games against our rivals so far, we've won one [against Manchester United], lost one [against Arsenal] and we drew against Everton.
This week Luis Suarez was credited with Liverpool's fourth goal against West Ham last Saturday, originally put down as a Joey O'Brien own goal.
It takes the Uruguayan's goal tally for the season up to fifteen in just ten games—an incredible feat for the in-form forward.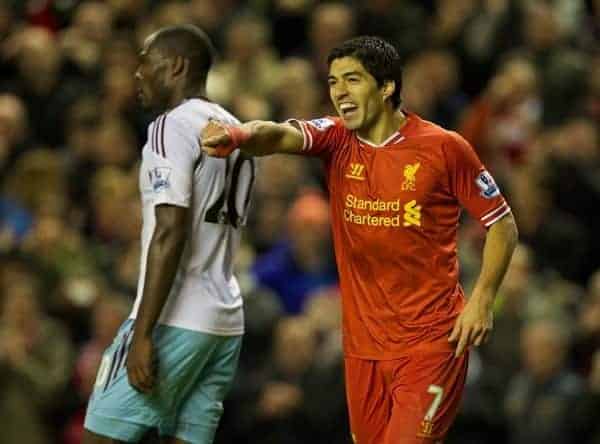 On the form of Luis Suarez
Luis is in great form at the moment in his energy, his quality and his robustness. It's where he comes into his own. He's remarkable. He's up for every game, so there's no worry there.
On the January transfer window and restructuring the team:
I think we've got enough talent in the squad. We'll restructure the team a little bit. But we know we'll get plenty of work and intensity from the team and we have enough quality.

We've lost important players for a period of time [already this season]. Jose Enrique is a player now who has been out for a while, but young Jon Flanagan has come in and been excellent. So with Daniel out, and Steven out, that means the onus is on one or two others in the team.

Luis and Daniel have featured highly in the goals that we have scored this season – and, as I've always said, that's their job to score goals and create. But of course, you want other players to step up.
Liverpool will be looking to improve on their results away from home after defeats at Arsenal and Hull City recently.
White Hart Lane, though, hasn't been a happy hunting ground for Liverpool in recent years, as Henry Jackson explains here.
On improving away form:
We love playing at Anfield. It's our home and we've got our own supporters behind us. You see the confidence which runs through the team now at Anfield and that's great. It was a massive step forward for us.

If you go away from home you are going to be up against it but our approach is the same – we go out into every game to try and play well, work the ball and work very hard when we haven't got the ball.

So the mentality is the same. But you are asked different questions away from home. For us, we just need to cut out the mistakes we make. There haven't been teams who have opened us up – we've conceded from disappointing goals.
A win for Liverpool could, potentially, take them to within two points of league leaders Arsenal, should the Gunners' lose to Manchester City on Saturday.
But Rodgers isn't talking about counting Liverpool into a title race yet.


https://twitter.com/thisisanfield/status/411551377052037120

On the title race:
Everyone talks about the top four places and there's probably about six or seven teams involved in that race.

I think everyone at this moment in time will look at Manchester City as the ones who have the outstanding squad.

I'm sure Tottenham themselves will look at what they have spent and the number of players they have brought in and see themselves with a chance. Chelsea, historically, have been up there and Arsenal have made an excellent start.

So I think it's open, if I'm being honest. I think teams will look to get through this Christmas period and see where they are at in January. For us, I just really want to get us to the last 10 games of the season – and that's where you can really look and see where you're going to finish.

For us, it's being able to challenge at that period, that's something that we are continually focused on.
Tottenham vs Liverpool gets underway at 4pm on Sunday, 15th December 2013. Read our match preview, team news and betting preview here.