Assistant manager Colin Pascoe stood in for Brendan Rodgers to address a room full of reporters at Melwood on Friday afternoon ahead of Liverpool's FA Cup third round tie at home to Oldham Athletic this Sunday.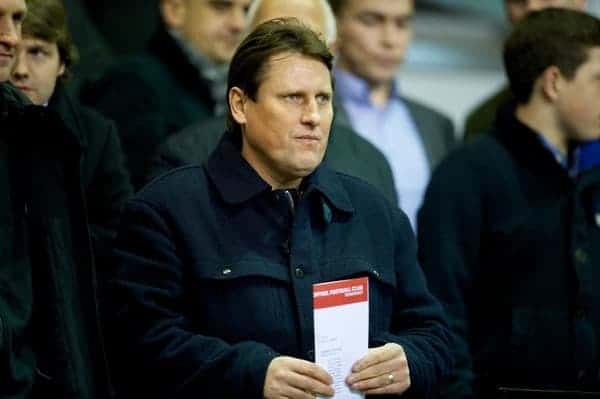 After responding to consecutive league defeats at Manchester City and Chelsea with a 2-0 victory over Hull City at Anfield on New Years Day, the Reds' FA Cup campaign now begins.
Liverpool's match against the Latics has been moved to Sunday at 3pm due to Everton also drawing a tie at home in this weekend's round of games.
On picking a team for the Oldham game….
"The FA Cup is a special trophy. We'll assess if everyone's fit, and pick a team that will go out to win the game.
"The youngsters have trained well and I'm sure they'll be ready if they're called upon, but we're looking for a good performance."
On Rodgers' son, Anton, playing for Oldham against Liverpool…
"It'll be a bit of fun that Brendan and Anton Rodgers are against each other this Sunday but both will be focussed on the game."
On Steven Gerrard's fitness…
"Steven Gerrard is training well and will be available this Sunday."
On rumours linking Raheem Sterling with a loan move to Swansea…
"We laughed at the rumours linking Raheem Sterling with a loan move away. He's going nowhere."
On technology in football…
"Totally agree with goal line technology, but not for fouls or simulations. The referees give what they see, we just get on with it."
On squad depth and new recruits…
"Even though it's not a big squad, we've got a tight squad, they play well together. We should have 3 or 4 players return soon.
"We're looking at players to bring in during the transfer window, but recent injuries doesn't change anything.
"We're pleased that Stevie, Daniel Sturridge, Joe Allen are all coming back soon, so we're thin at the moment, but not for long.
"Our work on transfer targets is always ongoing — not just in January or in the summer. We have targets."
On Luis Alberto and Iago Aspas…
"Luis Alberto and Iago Aspas are playing well in training and hopefully they'll both adapt to the Premier League soon.
"Alberto can play as an attacking midfielder, and if needed, further up towards the front. He's versatile."
On Sturridge's return from injury…
"Sturridge is out there training and looking good, but you've got to assess it day by day and hope it won't be too long."
On Luis Suarez potentially playing against Oldham…
"Luis Suarez wants to play every game. He takes whacks every game, gets up and gets on with it. He'll want to play on Sunday."
On the FA Cup losing it's sparkle…
"For a club like Liverpool, who want to win trophies, the FA Cup is a fantastic trophy. We've won it 7 times, we want to make it 8."