Alexander King discusses Saturday's disappointing draw at home to Villa.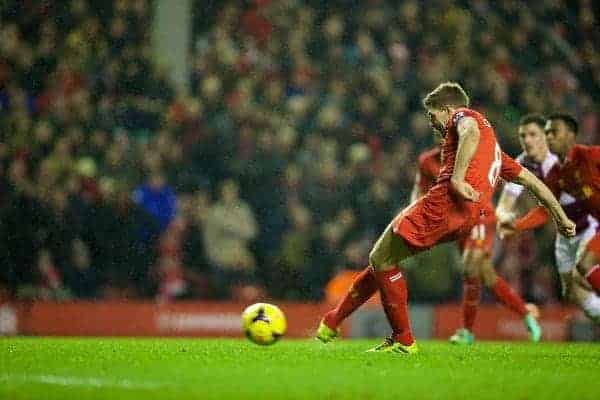 LIVERPOOL 2-2 ASTON VILLA
Playing the evening fixture at Anfield, having seen victories for Man City and Arsenal earlier in the day, Liverpool started very flat and lacked the intensity they've shown of late.
After a run of several exciting victories this match left Liverpool fans frustrated and confused. On good form and terrific at home, this was a presumptively tasty match. However, we seemed to lack energy and respect towards a pacy and powerful Villa side. While I have been a strong supporter of Brendan Rodgers, the onus falls on him for our dreadful start to the match.
The switch to 4-4-2 with Coutinho and Sterling wide, and Steven Gerrard in midfield were all poor decisions. We have been phenomenal attacking yet our formation gave us less cover defensively – even though that has been a weak point lately.
Once we changed to three at the back, Johnson was obviously restricted from going forward and overlapping Sterling.
Lucas' positioning and discipline would have been more effective and the decision to have two holding players was made 45 minutes too late as we suffered a rare two goal deficit at half-time.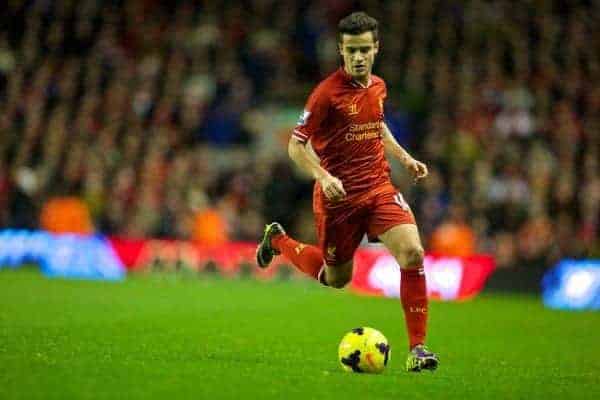 Coutinho has been playing poorly the last few matches now and at his age you cannot expect him to reverse his bad form immediately, especially when he is being played out of position. For a 21 year old, consistency is hard to achieve; Rodgers should have realized this and rested him, thus allowing him time to find his feet.
Naturally he would come back more energized and hard work is the best thing to fix poor performances. At least he was taken off at half and replaced by the reliable Lucas. Hopefully Lucas' injury is not serious.
As for Aly Cissokho; his first touch is extremely poor and he does not have the close control necessary to succeed with a club of the standards and ethos of Liverpool FC. His crossing was/is also poor.
Gerrard struggled with his new position in a four-man midfield in the first half. There were times where he wasn't sure where to look first, where to take his first touch, and on the defensive side, he was caught out of position a few times. The romantic idea of Gerrard becoming an inspiring, hard, aging centre-back will be brought into question after Villa ran riot against us in the early stages of the first half.
Still, I have faith that Gerrard can assume both of these roles. He has all of the tools necessary to do so (except being a bit weak in the air) and the fact is, he has failed very few of the tests he has faced throughout his career.
Gerrard assisted Suarez with a lovely ball to win the penalty before scoring it himself – although, this was after his role changed with Lucas' introduction.
When Lucas entered the match, it proved how quietly effective he is and that holding midfield role is very cerebral.
Despite our deficiencies in the first half, we were still very much in it with a goal right before the break and after Gerrard's penalty, the match was set for a comeback victory.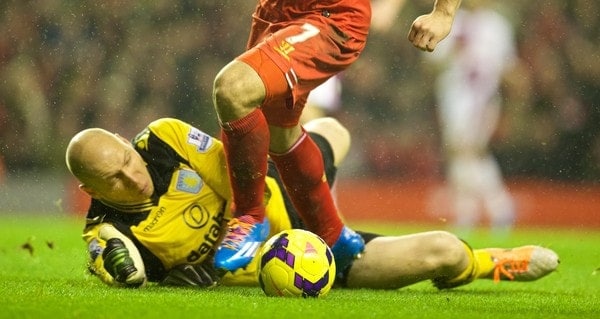 Suarez winning the penalty was a controversial moment, but for me, the goalkeeper has made himself liable in this situation by coming out at full speed, especially against a world-class striker. If he comes out, doesn't get there first and doesn't get the ball, no one besides himself can be blamed for the penalty decision. It is a loophole in the system, certainly, but attackers know that the ref can't precisely see if the goalkeeper actually touches him or not and therefore if the forward goes down, the referee has really no choice but to give the call. It is also something that can't be retroactively punished because a penalty (goal) is not equal to the punishment for diving which is a yellow card.
After Stevie G coolly slotted the penalty, the momentum was on our side at this point, and one of Suarez or Sturridge seemed destined to score. They increased their energy and despite average service still created many chances.
Sterling was mercurial and confident, his first touch always aggressive and towards goal. Once he bulks up and works on his crossing, he will be a real talent, even for England.
Henderson played well again and cemented his spot in the team. If his shot had gone in, he would be granted all sorts of plaudits. His assist for Sturridge's goal was a thing of beauty.
We had a decent second half, but ultimately it was a draw that felt like a loss. This season we have had the pleasure of viewing wonderfully flowing performances, especially at home. However this match serves as a reality check that for Rodgers and Liverpool.
Alexander King
Visit my site, The Kop End