With his usual wit and humour, Neil Collins recounts his experience as a Liverpool fan at Old Trafford on Sunday — a wonderful day to be a Liverpool fan.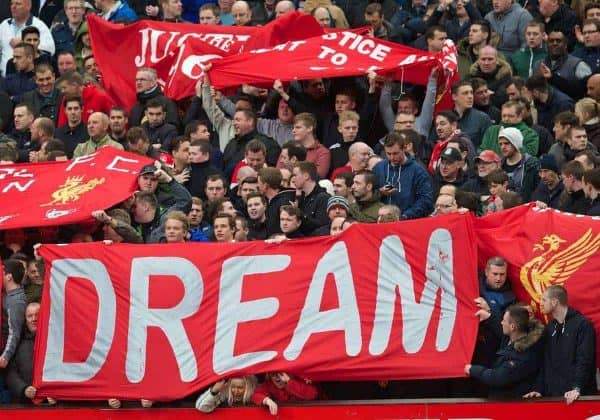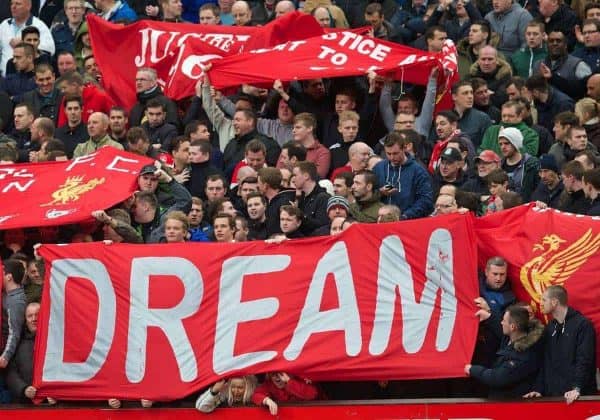 These games against the Mancs are supposed to be full of blood and thunder. And whilst the claret was gushing; there certainly wasn't much bluster from "Moyes' Boys".
Liverpool steamrollered passed their most hated rivals at Old Trafford in the most one-sided game since we hammered them 4-1 in 2009. But even that game paled in comparison to how accomplished Rodgers' Reds went about the task yesterday.
That win five years ago hinged on Vidic red card and us being ruthless immediately after. This time around the game was pretty much in the bag with 20 minutes remaining; by which point the away end was at the olé stage. United downed tools for the afternoon as Liverpool dinked it effortlessly around the lethargic and confused-looking opponent (but enough about Phil Jones).
In weird symmetry, Vidic was sent off for the fourth time in this fixture, whilst Stevie G planted another smacker on that camera lens in front of the jubilant travelling Kop.
For the first time since I had my milk teeth, Liverpool travelled to enemy territory as favourites. Moyes admitted as much pre-match. When Mourinho pulls pranks like his "little horse" remark, it's obvious mind games. Yet, when Moyes does it with deadpan delivery; he's being genuine. Rodgers' reaction was probably "Why thank you, David."
But since Danny Murphy left our ranks, it hasn't panned out favourably. We've got used to Ferdinand's wobbly face gurning and Gary Neville's teenager 'tache twitching at us over the years. The Mancs have delighted in Croxteth's own Wayne Rooney scoring against us (despite hating all things Scouse, mind). We've been bamboozled by Ronaldo, and the less illustrious likes of Wes Brown and Mikael Silvestre. And they've indulged Evra's handshake-dodging antics and ridiculous celebrations.
Talking of which, there's a great pic of Evra extending his hand towards Suárez and Gerrard yesterday; only to get blanked by the pair of them celebrating. He probably reported that to the FA this morning.
Yet, Moyes has come in and the fear factor has disappeared. And the corned beef complexioned cranky pensioner they used to employ seems like a distant memory now. Plus, they didn't have the numerical advantage of Howard Webb in their starting line-up.
Regardless, I wasn't overly confident. United away is my least favourite game in football as we either get shafted by a decision, or shoot ourselves in the foot to lose narrowly.
I was a tense ball of nerves all week, but going to the game is often easier than watching at home. At least at the stadium I'm surrounded by 3,000 others in the same boat. Less broken ornaments that way too.
My last jaunt to Old Trafford was for Kenny's first game back. I wore colours zipped under a trackie top that day, but couldn't get a pint anywhere due to bouncers checking the foot-high "VISITORS" stamped across my ticket.
So yesterday I shitbagged it, and went in my casuals and ventured all the way to a beer garden in the Salford Quays to kill a few hours. Talk between the four of us turned to the previous day's Six Nations to avoid sticking out like a sore thumb. I had a bit of a cold so my nasally, lawnmower-like drone fitted in quite well with the Mancunians anyway. There was no re-enactment of that Robert Carlyle scene in The 51st State from us unfortunately though.
Even so, Mark Clattenburg is just behind Webb in the firing line, and United would've loved nothing better than to derail our title challenge. The atmosphere was buzzing outside the ground. We were greeted with chants of "murderers" and the usual tired stuff of never getting a job. You would think they would've come up with some new material considering how much time they spend thinking about us.
They didn't have much to shout about throughout the game though, and even then it was only to bleat at Clattenburg. Adrian Durham would've found it all terribly unfair.
The Reds bossed the first half-hour and took the lead when Rafael couldn't resist handling the ball to stop Suárez. Gerrard buried his penalty into postage stamp area of the goal as the away end went mental. From this point onwards, the Mancs to our left in the East Stand became statuesque and refused to make eye-contact with anyone.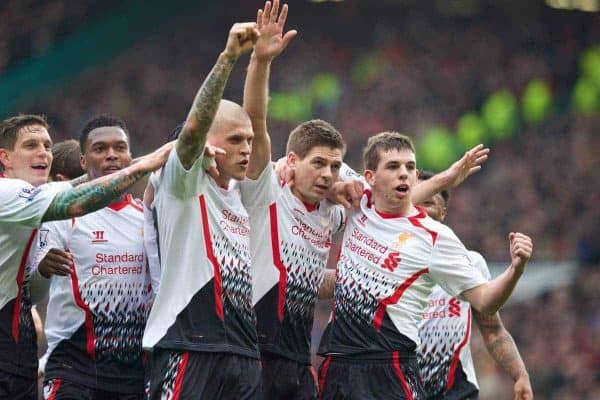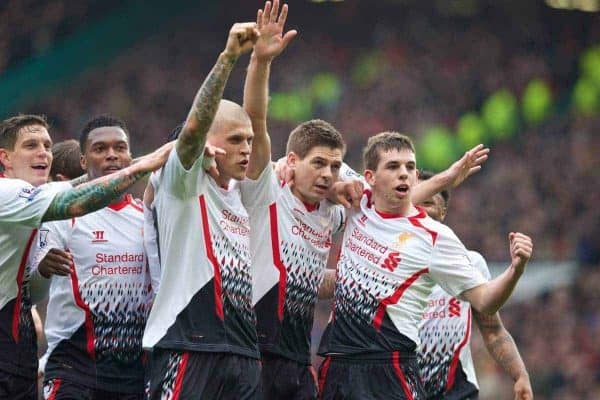 And to further whip up the away end, the skipper then smashed into Fellaini. The big Belgian got busted wide open, but it was nice seeing him get a taste of his own medicine. I bet Ryan Shawcross was wetting himself. Gerrard came off without barely a scratch, but I imagine it's like nutting a cheerleader's pom-pom anyway.
I'm always surprised how quickly the vitriol dissipates at half-time as both sets of fans mooch around waiting for the action to restart. That devil mascot pranced around on the pitch and let in penalties. A bit like De Gea I suppose. Other than a late scare from Rooney (that turned out to be their only effort on target), we were good value for the lead at the break. But the game was by no means over.
Just 24 seconds into the second half, it was though really. Allen bounced off Jones' G-cup, and Gerrard found the bottom corner this time. The cameraman in the East Corner knew what was coming next. Mwaaaahhh!
By the hour-mark, it resembled a training session as Liverpool pinged the ball around under little pressure. They were equally effective without the ball too as Brendan's Chihuahuas (Henderson and Allen) nipped away continually at Manc ankles. Hendo came of age for the umpteenth time this season. He may have that strange gallop, but's that better than not running around at all, eh Robin? The Dutchman continues to look a shadow of his former self and fluffed his lines on a couple of occasions.
And when United did get a good sight of goal it fell to Fellaini who skied it. This guy cost £28m, but what has he contributed other than sales of woolly wigs? Moyes will undoubtedly have been weighing up that conundrum at Carrington today (followed by the Countdown one after lunch. Unmissable telly).
Suárez soon put his wool to good use; christening them new boots with the third goal. The loudest cheer of the afternoon came when Gerrard missed his third pen, but what sweeter way is there to shut them up than for Suárez to score soon after? Especially when he laughed and pointed at the front rows.
Can you imagine three penalties being conceded, or that kind of performance if 'Whisky Nose' had still been in charge?! In fact, we'd probably still be playing injury time now as they tried to equalise.
By this point, Old Trafford was resembling the Mary Celeste as the crowds dispersed quicker than the audience at a James Milner Open Mic Night. A few stragglers did loiter near the tunnel though to bellow "20 times." Is that the amount of Moyes defeats? The Mancs appear to have two noisy neighbours now, and we'll both be knocking on them paper-thin walls from now on.
We couldn't really hear anyway as we launched into the slow-build repetition of 'Poetry in Motion' with that goosebump-inducing pause just before launching full-blooded into "We Are Liverpool." Who would've thought Boney M would be so popular these days? They'll be coming after us for royalties soon; especially as we stole Daddy Cool for that Harry Kewell chant. There was a few airings of "We're gonna win the league" too, which must've got Manc knickers in a twist.
Additionally, there was a defiant 'We Shall Not Be Moved', which was ironic considering they let everyone out at the same time. Previously, they've kept us in for ages after we've lost; not even allowing us to use the bogs. But now that we'd won, the stewards couldn't wait to get us out of there.
This meant having to run the gauntlet outside having waved and cooed sweet nothings to the snarling faces for the last 90 minutes. One chap in particular was apoplectic; spitting flecks of prawn mayo everywhere.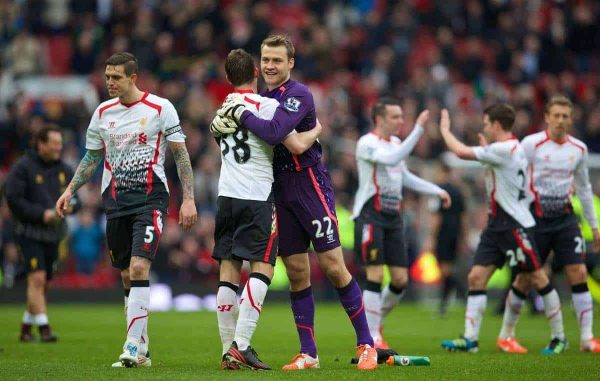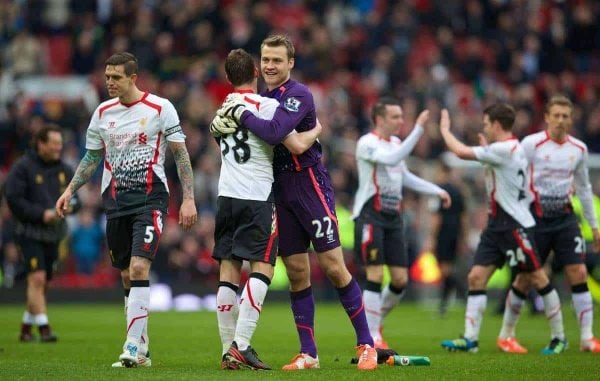 But just as I was about to slip into Forrest Gump mode in anticipation of the herds of wildebeest stampeding towards us; there was nowt to be seen. Well, except for a Police dog idly licking his balls and a horse doing his best Ruud van Nistelrooy impression. It might be worth either of them knocking up a CV as there may be a vacancy coming up soon. After all, they've both got experience in managing people wandering around like headless chickens. Behind this "barricade" was a smattering of tourists wearing them ridiculous half-scarves and snapping endless pics of the 'Theatre of Squeams.'
This time last year, the Mancs were 12 points clear at the top. Then step forward the 'Moyesiah.' The banner in the Liverpool end declared him a 'football genius'. He duly delivered by bringing on Welbeck and Cleverley in the hope of plundering a goal and restoring the midfield battle. Yet, the chances of that happening were fatter than Steve Bruce's head. They were crying out for some creativity and width, but Kagawa, Valencia and Young were left picking splinters out of their arses.
And rather than recapture a bit of pride late on, Moyes went for a damage limitation exercise in replacing the £38m Mata with Ferdinand.
Conversely, Rodgers said: "We're disappointed that we didn't score more goals." Compare that to his opposite number's uninspiring comments before and after the game. The Kopites chanted "There's only one Brendan Rodgers". Thank God, there's only one David Moyes too. He's still got five and a half years left on that contract as well. And Fergie said they must support the new manager.
The Stretford End earlier asked if Gerrard had even won the league. Give it a couple of months.
Make us dream.