Adam Griffies (@whatahitsonlfc) looks ahead to this weekend's crunch clash with Manchester City.

Liverpool vs Manchester City
Premier League, Sunday 13th April 2014
It's almost here.
This Sunday's title showdown at Anfield against Manchester City is definitely our biggest game since this, that and sliced bread according to anyone and everyone. I'd say it's the biggest since last weekend's win at West Ham. But hey, that's just me being smart and spewing some clichéd football manager diction. Sorry Brendan.
Let's not quarrel over the minutiae though. We have a game to focus on. One thing is unequivocal, a win would put us one significant stride closer to being crowned as league champions for the first time in 24 years.
The Reds of course sit on top of the Premier League, a position we held prior to our last meeting with City on Boxing Day 2013 – the reverse fixture at the Etihad Stadium. That game was clouded by a controversial offside decision, as Raheem Sterling was denied a perfectly good goal by an awry flag, and Liverpool went on to lose 2-1 despite controlling the majority of the match.
Rather than joining the futile, vitriolic castigation of the referee and his assistants, I took a quiet satisfaction from our display. A display in which we dominated and looked every bit of a match for one of the most talented squads in European football. On their own turf.
Team Selection
Our only long-term absentee ahead of Sunday's tie continues to be Jose Enrique, with Brendan Rodgers confirming last week that we are unlikely to see him again this season. Daniel Agger and Joe Allen both sat out last weekend's victory at the Boleyn Ground with niggling injuries, although I'd expect them to be available for this one.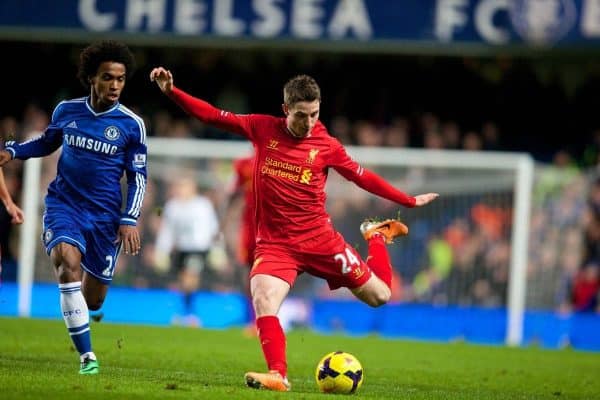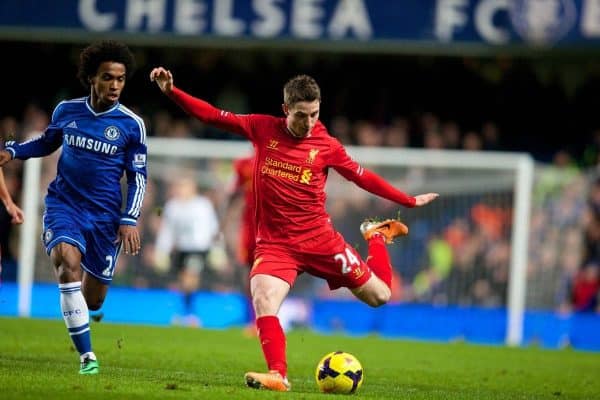 If fully fit, I'd like to see Allen make an immediate return to the side, flanking Steven Gerrard with Jordan Henderson, at the deeper end of a midfield diamond. The Welshman's pugnacious tenacity will undoubtedly prove pivotal in helping us monopolise a strong and creative City midfield – something we'll have to do to stand a chance of taking three points.
After Lucas' sophisticated cameo appearance last Sunday, I can almost hear you asking why I haven't mentioned him. Well, as @DaveHendrick_AI rightly pointed out on this week's Anfield Index podcast, it was Rodgers' half-time change of system, rather than Lucas' individual performance, which won us the game. Had Allen not been nursing a knock, I'm confident he would have been introduced instead of Lucas, in the same box-to-box role, and have done a similarly solid job.
At the attacking tip of the diamond it would be a straight choice between Raheem Sterling and Philippe Coutinho: two young attacking midfielders who each week seem to be growing more and more into a red shirt and adding new strings to their respective bows. Who would I go with? I really, really don't know. Come back to me on that one.

Despite Daniel Agger's possible return to fitness, I'd like our back four to remain unchanged from the West Ham game. The Dane's deputy, Mamadou Sakho, was excellent throughout the 90 minutes and is surely better suited than Agger to cope with the pace and power of Manchester City's forwards.
To put it simply, as I've said before, Sakho is our best central defender and should not be sitting on the substitutes' bench. There is a consensus that Agger is better on the ball than Sakho, and whilst he may look more elegant in possession, statistics certainly don't support that belief. The 29-year-old has a pass success rate of 88.2% this campaign, compared to Sakho's 92.2%. The latter rate is the highest of any Liverpool player and third best of all Premier League individuals in 2013/14.
Opponents
Manchester City head into Sunday's game having recaptured their goal-scoring form, netting 13 times in their last four league games. They have of course put that run together without talismanic striker Sergio Aguero, who looks set to make a return this weekend. The dynamic Argentinian has been hampered by a hamstring injury for the last couple of months, but City boss Manuel Pellegrini is confident his second highest goal scorer this season will be ready to face the Reds.
Speaking prior to his side's meeting with Southampton last weekend, the Chilean said, "For this week it is too soon for him (Aguero) to start playing because he just worked two days but next week against Liverpool he will not have any problems." The fact Aguero has been held back for this fixture is a sign of the magnitude of this match and just how far Liverpool have come in the past year or so.
Midfield marvels Yaya Toure and David Silva are also rumoured to have picked up slight knocks, but both are expected to start the game.
At the time of writing, I'm not overly nervous. In fact, I'm pretty confident. I was probably more uneasy about the West Ham game. Maybe that will change (it definitely will). The crowd is going to play a huge part in this one, without a doubt. My prediction? City will be thrown into a manic Anfield cauldron and won't know what's hit them.
We're going to do this.