Brendan Rodgers addressed a room full of journalists in his pre-Chelsea press conference at Melwood on Friday afternoon. Here are some of the key quotes from the Liverpool manager ahead of the title clash.
"We'll see, we'll give it another 24 hours. He's working hard with the medical team so we shall see. But is he's not fit, we've coped before, we've managed before without a number of our players and we'll go into the game with confidence but we'll assess that over next 24 hours."
On Mourinho & Chelsea
"Jose is a winner. He won't give up. There's certainly no mind games on behalf of himself to myself for sure. He knows me well enough to know it wouldn't bother me one iota what anyone says or does.
"I've seen some stuff written about them maybe being a weaker team but I think that's hugely disrespectful to some of their players if they're deemed to be the weaker ones in the squad.
"Whatever team they put out, it will cost more money than ours and it will be more experienced than ours.
"I think it's difficult because they've got the game in the week and there's no doubt that if they played the same team on Sunday and the same team on Wednesday that there is a cost to that."
"We're playing with real confidence, the run that we've been on has been incredible but we've had to show all sorts of qualities to win those games and they will be important for us coming into this last period but the focus is on Chelsea, an outstanding team with lots of good players, world class manager.
"We know it's a significant game yet again but if you look over the course of the games and our last eleven, there's been lots of significant games in there that we've won. It's another big hurdle for us but it's what it is, it's the three points at the end of it."
On Champions League Qualification & Title Dreams
"I think everyone would have looked at it at the beginning of the season and thought saw it as a real challenge for us to be even in the top four.
"The competition at this level, the team and the money that was spent in the summer would have projected that we'd have been certainly really challenging to get into the top four so to have with three games to go confirmed our place in the top three and into the Champions League just really shows the effort our players have put in, how hard they've worked and the quality that they've played.
"I'm not surprised [where we are] because of how the players have worked and how they've played consistently so it's good for us and we just want to keep it going.
"When you get towards the finish line people will look and say you only need seven points out of nine but our focus is very much on the next game and it's a fantastic game.
"I'm enjoying being at the top of league, there's no pressure with it. People talk about not enjoying it and you must not sleep at night but I've not slept better, it's absolutely great, it's why we work!
"I see the joy in the players in their training and there's no anxiety and you last week how we played so it's good to be involved in.
"Whatever happens with us we've had a brilliant season and we'll look to sustain that and build on it next year, no matter where we finish.
"I'd be lying if I said we expected to be top of the league but I certainly believed in the players and trusted in our qualities and it was just really if we had a little bit of luck along the way and stay clear of injury and that could help us.
"Yes, it's a year ahead, but we're not going to complain, we're not going to not take it, we'll embrace it. It's been a brilliant season, there's still work to do and we'll build accordingly in the summer."
On Suarez PFA Player of the Year: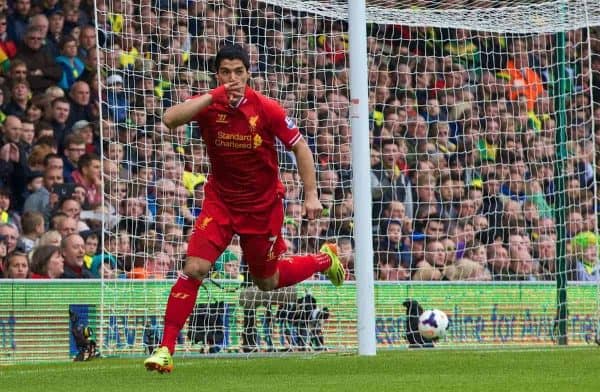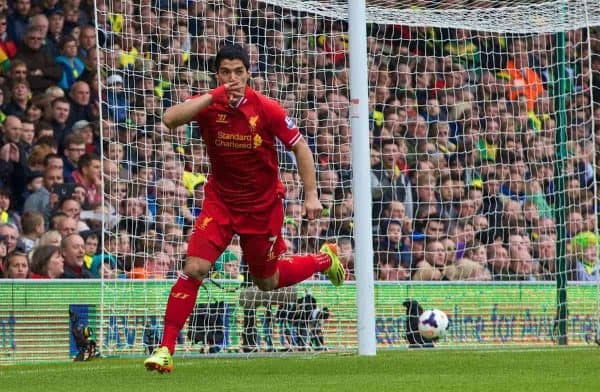 "He's a brilliant talent. The supporters have seen him mature over the course of this last season or so. I think he was in a real low moment a year ago in that game afterwards and the aftermath of that. He's gone away, probably looked in the mirror and reflected on himself because he's not that type of guy.
"He's a winner and that just spilled over a little bit. But this a real intelligent man, who fits the values of this club which humility and class and he has all of that.
"He'll be rightly in the running, for me he's been an outstanding player consistently for the last year. I look at Steven Gerrard being up there with him as well, Steven's as a player, not just a captain, his game has been a real top level as well.
"Between the two of them they'll fight it out."