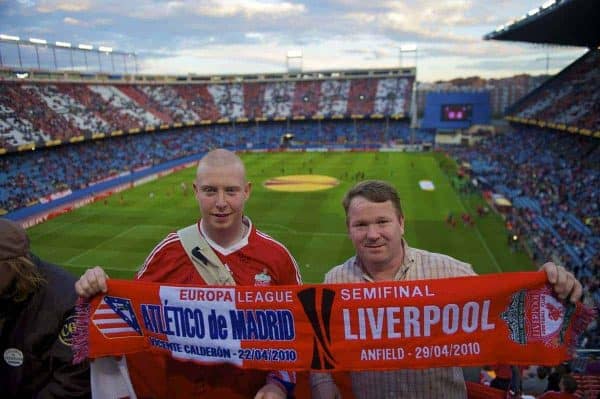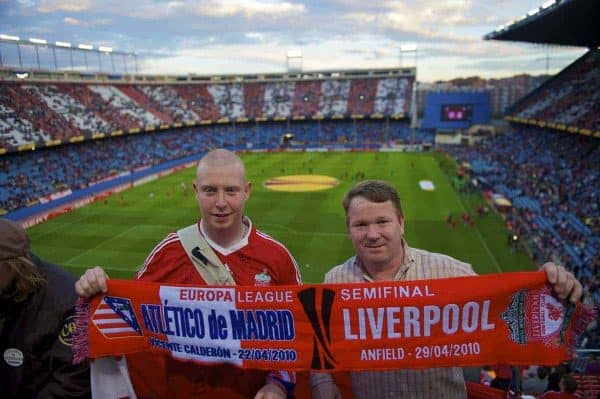 Recently we looked at Liverpool's exciting title run in context of a pantheon of great football upsets. Amazingly though, if Liverpool did go on to win its 19th title this season the feat might not even be the biggest story of the year.
In Spain another equally fascinating title run is developing, with preseason long shot Atletico Madrid now sitting on top of the La Liga table with only six games to play.
With two great fairy tales in the make it was only a matter of time before some fool compared the two, and pondered the question: if both teams did go on to win their respective titles, which team would be the season's real belle of the ball?
(Note: It's true that neither team has yet to win anything, but hell isn't it fun to speculate).
The Odds
We've already discussed Liverpool's bookmaker odds in previous articles but for those who haven't read them a more comprehensive list is provided in the table below.


Note: All current odds taken from oddchecker.com. Odds are still listed for an Arsenal title win ranging from 325/1 (Paddy Power) up to 1000/1 (Betfair). No Skybet odds listed for either Arsenal or Manchester United. Historical odds taken from an article on Give Me Sport.



Note: All odds taken from Betinfo.
From the above, we can observe that from a purely betting perspective Atletico Madrid was considered to be more of a preseason dark horse than Liverpool.
Before the first ball had been kicked both teams were considered long shots at their respective titles, however an Atletico Madrid title was considered more unlikely despite being the third favourite to win La Liga.
Liverpool on the other hand were at shorter odds but were only fifth favourite for the Premier League title, with Tottenham just behind them in the betting market with odds of 35/1.
Transfer Spend / Squad Value
According to transfermarkt, Liverpool's net spend this season was £21.5 million, although the club did spend £50 million adding to the squad.
In this respect it's hard to argue that the club's impressive performances this season are the result of a rash of exorbitant transfer market activity, although at a total squad value of £250 million (unadjusted for loans) the squad is not exactly light weight.
The same is true for Atletico. In total the club spent around £31.5 million pre and mid-season but with substantial action the other way.
Total transfer revenue was £70 million with a sizeable chunk of that coming from the sale of Falcao to Monaco for £52.8 million. With this kind of expenditure it's easy to see why they weren't on the preseason bookmaker radar.
However, like the Liverpool squad, the Atletico team is not exactly on the cheap side, and is valued at a comparable £250 million (unadjusted for loans). In this respect neither side can claim moral high ground on the subject of team expenditure.
Competition Strength
Measuring squad value, and monitoring transfer activity, may throw up some interesting information but the true value of numbers is in their relativity to other numbers. In this case, how the expenditure stacks up with the respective club's competition.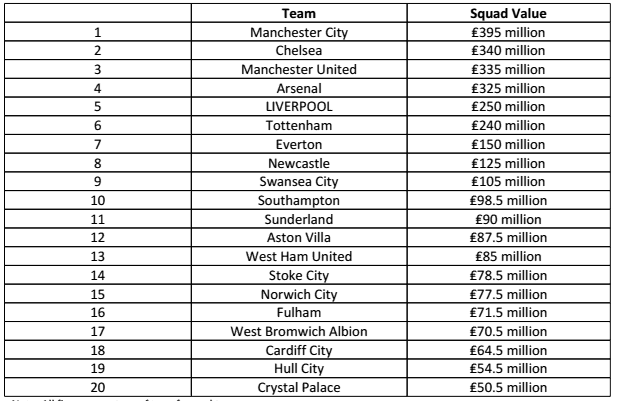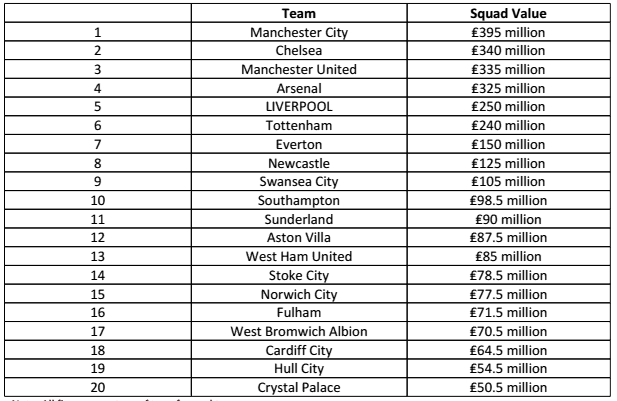 Note: All figures courtesy of transfermarkt.
From the above it's clear that Liverpool is over performing this season. What is equally clear is that the Premier League is a league where everyone invests quite heavily in players.
Consider the above in context of La Liga:

Note: All figures courtesy of transfermarkt.
What should be very clear from the two tables is that the EPL is a lot more competitive than La Liga.
Liverpool has to face four squads more valuable than its own, all four of which are in the top ten most valuable squads in European or world football. Atletico only has to face two of the top ten squads. Of course, it does have to contend with the two most valuable squads.
If ever there was a league battle the equivalent of David and Goliath than La Liga is very much it, except that in this case Goliath has a twin sister named Goldie.
On almost any other measure however the Premier LEague comes out as a more difficult league.


Based on the above you could argue that to win La Liga, Atletico has to overcome two massive mountains, a few minor hills, and then it is relatively easy sailing. Liverpool on the other hand has to combat a never ending series of climbs worthy of all the hardest mountain stages of the Tour de France.
The People's Choice
When selecting a candidate for football's fairy tale princess it's not all about the numbers. A large part of any fairy tale is the magic of the story.
Liverpool are a former league heavy weight who is enduring a twenty three year title drought. The club finished seventh the previous season, and have spent the last four seasons out of the top five.
An added element of spice is the decline of reigning champion and 'most successful club' usurper Manchester United. Is the team that knocked Liverpool "off its perch" about to receive the same treatment the moment 'the man' retires?
Atletico Madrid, on the other hand, are a nine-time league champion that hasn't won La Liga since 1995-96 (although it did win the Spanish Segunda Division in 2000-01).
However, the club has shown steady progress over a number of years, since finishing ninth in the 2009/10 season. Since then they have finished seventh, fifth and third with a number one title would be the natural progression in this perfect mathematical sequence.
However, no one seriously thinks that a title victory would be anything other than a one off. There is no perch knocking going on here.
The question is, are neutral Spanish fans rooting for an Atletico victory? It's no secret that Liverpool are winning the support of the neutral English fans.
A combination of exciting football, combined with its underdog status and universal antipathy towards the bigger "money" clubs is seeing Liverpool adopt the moniker of "people's favourite".
In Spain where the two big clubs dominate the media landscape, and where most fans famously have two clubs, their own and one of the big two, it's hard to see a swell of support for Atletico outside the media. Perhaps it's simply that no one yet believes they have a chance.
Other Factors
If you asked the leagues self-appointed 'chosen one' Liverpool's great performance so far this season is easy to explain. It all comes down to the fact that the club is not in the Champions League.
According to "Moaninho" Liverpool has more time to prepare for each match, and free of the unwanted distraction of European football delivers results accordingly.
While this argument might be a little disingenuous it does contain some truth.
Equally true is the fact that Atletico have had the distraction of Champion's League football and have managed to combine its league success with solid performances in Europe.
Interestingly, when you consider Mourinho's comments, Atletico appear to have battled on both fronts without a major impact to their player rotations. Both Liverpool and Atletico have eight players in their squads who have played over 2000 minutes in their title charge.
Liverpool have another eight players who have played over 1000 minutes, another two with over 500 minutes and three others who have played over 100 minutes.
Atletico Madrid have five players who have played over 1000 minutes, another two with over 500 minutes but another seven who have played over 100.
In broad terms this means Liverpool have relied on a core group of sixteen players who have played the equivalent of eleven full games, while Atletico only thirteen.
To put that in perspective, only five Barcelona players have played more than 2000 minutes, another eleven have played over 1000, two over 500 minutes and another three over 200 minutes.
This is a similar spread of players to Liverpool (who have played the equivalent of eleven games) but with a more even spread of game time across their key players.
For the sake of comparison Chelsea have six players with over 2000 minutes, nine over 1000 minutes, three over 500 minutes and four over 100 minutes. This does appear to confirm that Mourinho has rested many of his core players throughout the season. It's equally true that he has a more even squad to choose from.
Conclusion
After all this fairy tale talk who gets the glass slipper? The short answer is: no one. Not yet. Atletico still have a greatly anticipated trip to the Camp Nou in the last game of the season.
There is still time for the club's respective bandwagons to turn back into pumpkins and the fairy tales to turn into something out of the mind of Wes Craven.
Still, if both clubs did achieve the miraculous which story would be the most magical?
According to the bookmakers that honour goes to Atletico. You can imagine that Jose Mourinho would agree. Atletico have had a more difficult schedule, with a combination of league, cup and Champions League matches to think about.
Liverpool on the other hand plays in a more competitive league and have come from further back in their league's pecking order. They have captured the imagination of the English public with an attractive style of football and intriguing story in the context of the retirement of old whisky nose.
To make our decision though we are going to ignore the above, throw away our collection of fairy tales from the brothers Grimm. Instead we will take guidance out of a book written by a more adult purveyor of fantasy: Hugh Hefner.
Put simply: why pigeon hole yourself into picking one fairy tale princess, when you can pick two?