This week has begun with plenty of talk regarding Luis Suarez's future: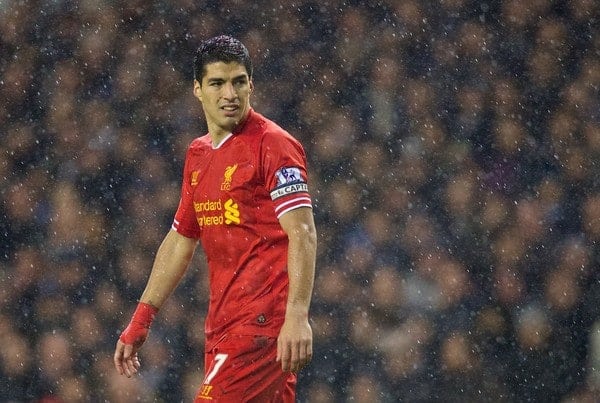 Certain journalists and media outlets, mostly emanating from Spain then being regurgitated in British media, claim Suarez is wanted by Barcelona and/or Real Madrid.
First off, is this really news? Two of the biggest clubs in world football are interested in one of the top three players in world football? Morning follows night…
There is a big difference between wanting something and actually being able to get it. Even if other people, such as Suarez's father-in-law have not helped with their words. Again, a father would prefer for his daughter to live nearer to him, it's hardly something extraordinary is it.
Just because Suarez's father-in-law thinks now is "the right time for a change" and that he has "nothing left to prove in England". The key quote really from him is: "We would like to have them close to us in Spain". Of course.
So far, all that we've heard regarding Suarez is that Barcelona and Real Madrid would like to sign him, and his father-in-law would like his daughter to live closer to him. It's not news is it.
Liverpool fans are beginning to worry that Suarez will leave this summer. Of course, it would be a major blow to the club to lose such a player and anything can happen in football, but is there really reason for these concerns if you scratch beneath the surface of the reports so far?
There are two transfers that, should they materialise, will ease Liverpool fans' fears over losing Suarez.
Barcelona were last week heavily linked with a move for Gonzalo Higuain, the player himself commenting on the reports. "I'm flattered by the interest from Barca", he said. "Any player would be." Too true.
If Barca were to sign Higuain, that's him, Neymar and Messi – no room for Suarez at Camp Nou.
Meanwhile, Real Madrid are now being linked with Radamel Falcao. beIN Sports apparently having announced the deal on a live broadcast.
If Real sign Falcao, that's him, Gareth Bale and Ronaldo – no room for Suarez at the Bernabeu.
Lest we forget that Real and Barca splashed huge fees on Bale and Neymar respectively last summer. Bale was an apparent world record fee of £86m, while Neymar's deal has been reported by Forbes magazine to have actually cost the Catalan club $95m.
Do Barca have the finances to sign Suarez? It seems unlikely. Therefore, the mooted reports involving player-plus-cash would seem the only way they could meet Liverpool's valuation.
As for Real, well they're the subject of a European Commission investigation following allegations they have received illegal state aid. Again, can they afford another world record fee for Suarez? How would they pass UEFA's Financial Fair Play if they did?
Liverpool were steadfast in the handling of the Suarez drama last summer, and that was when the club were in a far less powerful position. We now have Champions League football and Suarez has a newly negotiated and improved contract. He wouldn't be moving for money, his new deal sees his wage rise to £200,000 per week this summer.
John W. Henry said of Suarez's new deal in December: "We are committed to working hard to keep our best players and this is an indication that we are moving in the right direction and moving at a pace that impresses one of the best players in world football."
After the six months that have followed since, his position will not have changed, only strengthened.

Liverpool do have interest in signing Alexis Sanchez – scouts have watched him heavily over the past season and were in Chile to talk to his representatives prior to the World Cup, watching Sanchez set up two goals in their friendly win over Egypt.
Many have suggested that Sanchez is a back-up plan in case Suarez leaves, but perhaps Liverpool are looking to show their ambition by signing the Barcelona striker as an addition. He'd certainly fit in well at Anfield under Brendan Rodgers.
The Suarez speculation will continue throughout the summer, no doubt, and likely only increase following the World Cup and with the media needing to fill their back pages. But right now, there is nothing to support the theory that Suarez is going to leave Liverpool this summer.