AC Milan striker Mario Balotelli is set to become Liverpool's latest summer signing, and Jack Lusby believes the Italian would be perfect for the Reds.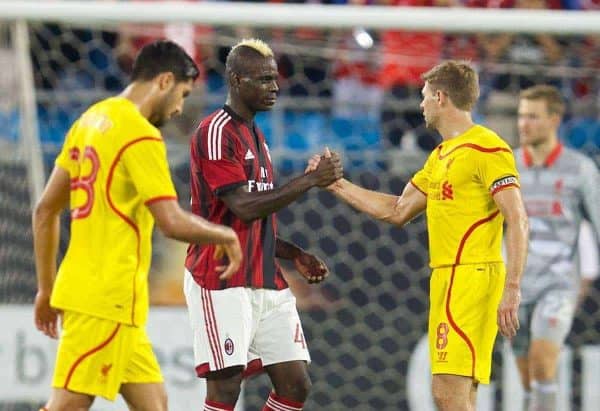 Liverpool's summer pursuit for a centre-forward is seemingly coming to fruition, with a move for AC Milan star Mario Balotelli is the pipeline.
The 24-year-old Italian had spells with Inter and Manchester City before a dream transfer to Milan in 2013; things seem to have soured at the San Siro, however, with various outlets reporting a deal is close to bring Balotelli to Merseyside.
#Balotelli has made a decision to join #Liverpool, and has told his teammates to his friends in #Milan this morning. #LFC

— Nicolò Schira (@NicoSchira) August 21, 2014
https://twitter.com/FabrizioRomano/status/502388297550028800
OFFICIAL news to come in hours, maybe minutes, but the truth is Mario #Balotelli is a new #LFC player. #Milan gets 20m€ for the deal.

— mirkocorli (@mirkocorli) August 21, 2014
James Pearce of the Liverpool Echo writes that "interest in Balotelli, 24, represents a remarkable U-turn for the Reds after the club dismissed any interest in signing the former Manchester City frontman earlier this month."
The fee is speculated as to be around the £16 million mark, and the divisive goalscorer would be the perfect acquisition for Brendan Rodgers this summer.
Strengths
https://www.youtube.com/watch?v=WsNOBb4MEqg&feature=youtu.be
First and foremost, Balotelli will be introduced to the Liverpool set-up as a goalscoring centre-forward, and that the Italian has proved will be delivered with aplomb.
In 43 league games for Milan, the striker has scored 26 goals—a very healthy return for any respectable top-flight player.
This includes a remarkable run of 12 goals in 13 games following Balotelli's January move back to the San Siro.
Since making his league debut for Milan in 2013, no player has scored more Serie A goals than Mario Balotelli (26). pic.twitter.com/Wy96CbUPHx

— Squawka Football (@Squawka) August 21, 2014
This form makes Balotelli one of the premier goalscorers in European football.
To make an alarming comparison, the similarities between output of the Italian and last season's Liverpool striker partnership of Daniel Sturridge and Luis Suarez are abundant.
The only Premier League players to score more goals than Balotelli during that time are Sturridge (30) & Suarez (37).

— Squawka Football (@Squawka) August 21, 2014
The notion of replacing Suarez is one that should never be considered by Rodgers or any respectable Liverpool fan, but at least the Reds will be acquiring a goalscorer of comparable virtue.
Furthermore, Balotelli will bring an element of audacity and unpredictability to the Reds in terms of goals.
This is what Mario Balotelli does. Casual. (via @falsenumbervine) https://t.co/Cv5XKjTgVP

— Squawka Football (@Squawka) August 21, 2014
Efforts such as this, a long-range lobbed striker against Bologna, outline the striker's sheer ability.
The effortlessness with which Balotelli executes such manoeuvres is a joy to watch, and will bring an exciting cutting edge to Liverpool's already eye-catching, devastating attacking play.
Liverpool fans can look forward to plenty of this, too.
Mario Balotelli had more shots in the league from outside the area last season (95) than Daniel Sturridge and Wayne Rooney combined (83).

— Squawka Football (@Squawka) August 21, 2014
132 – Balotelli has a lower mins / goal ratio for A.C. Milan in Serie A (132) than Sturridge (136) or Suarez (138) in the PL. Suitor?

— OptaJoe (@OptaJoe) August 21, 2014
The 24-year-old isn't alarmingly wasteful, either, with a shot accuracy of 49 per cent last season according to Squawka matching that of Sturridge.
With the wholesale, witless clamour for a so-called 'marquee' signing for Liverpool this summer, the arrival of Balotelli should sate those yearning for a big-name centre-forward.
https://twitter.com/GaryLineker/status/502387433242390528
The former City man is definitely one for the big occasion, and this is beyond the "Why always me?"
With experience of challenging in the Premier League, Champions League, and with Italy in the World Cup and European Championships, Balotelli is a forward of the highest calibre.
This is translated to performances on the highest stages—this season, in order to challenge once more for the Premier League title, Liverpool will require three points against those also contending.
https://twitter.com/timjohnston_89/status/502176628261519362
With a higher percentage of goals scored against the respective leagues' top seven clubs, it is clear that Balotelli is one who thrives in the spotlight.
It may be argued that this may put Sturridge's nose out of joint, as Liverpool's current de facto centre-forward of choice.
However, Balotelli is a hugely versatile player capable of playing as a lone forward, with a striker partner or as an auxiliary wide player on either the left or right wing.
Balotelli can and will likely be deployed alongside Sturridge more often than not for Liverpool, and is a seemingly better option than previously reported targets Radamel Falcao and Edinson Cavani when this is considered.
Finally, at a reported £16 million the signing of Balotelli from AC Milan represents great business for Liverpool—a proven goalscorer with the highest credentials, and at just 24 has great scope for development under Rodgers.
Cons

Naturally, when considering the signing of Balotelli it is necessary to approach the elephant in the room.
The Italian is one of European football's most controversial figures, and seems to thrive on this.
On the striker's move to Milan in 2013, The Independent detailed the many high-profile incidents Balotelli was involved in during his previous tenure in the Premier League.
These include physical training ground bust-ups with former teammate Micah Richards and former manager Roberto Mancini.
https://twitter.com/Footy__Memories/status/502393267502477312
On the pitch, the striker can be as volatile as he can be brilliant, such as being "immediately substituted by an enraged Mancini after performing a pirouette and back-heeling wide when clean through on goal in a pre-season friendly."
This is where comparisons to Suarez are warranted.
The Uruguayan has endured his fair share of widely reported controversies but, under Rodgers and in particular under the guidance of Dr. Steve Peters, last season for the Reds Suarez performance immaculately.
The same could well be speculated on Balotelli on Merseyside—the aforementioned Dr. Peters was somewhat of a miracle worker given Suarez's behavioural record.
Given Rodgers' ability to get the best out of players, I'm a little bit worried he might unlock Balotelli's true potential.

— Mike Holden (@Ratings_Mike) August 21, 2014
The hope is that Balotelli will join Liverpool and flourish within a steady environment—far removed from that of City under Mancini—and the support of a pragmatic Rodgers and the influential Dr. Peters should provide this.
[poll id="233″]
Naturally, the Italian will need to work on his disciplinary record, having received 47 yellow and 5 red cards in 158 career appearances so far.
But if this is accomplished, Liverpool will be welcoming a goalscorer of high calibre.
With huge potential to develop and a canny ability to flourish within the system Rodgers has fostered with the Reds alongside Sturridge or—and this will likely happen given the Englishman's injury record—as a lone forward, Balotelli will be a snip at £16 million.
Make yourself at home, Mario.
Read the opinions of other TIA writers on the signing of Mario Balotelli here.
Is signing Mario Balotelli a wise move for Liverpool? Let us know in the comments below.