The Champions League returns to Anfield after an almost five-year hiatus on Tuesday night with the visit of Ludogorets. We sought the inner-genius of the This Is Anfield writers to share their Anfield European Cup memories…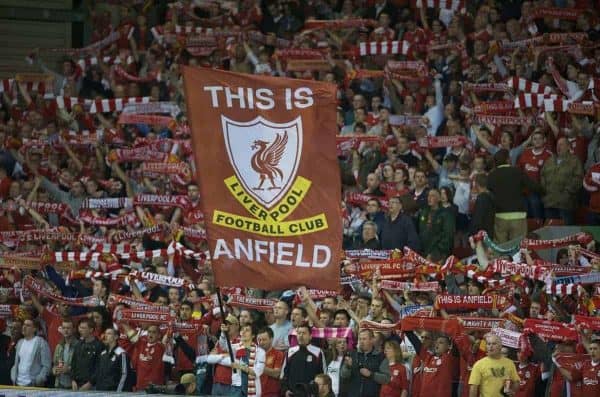 The criteria was simple. Choose one special Anfield-based Champions League (or old format European Cup) memory and explain why it was important to you, whether you were at the game, or not.
MAX MUNTON

Liverpool vs Chelsea, 2007: As Dirk Kuyt struck home his winning penalty, the upper Anfield Road End began shaking, Anfield was bouncing. An eruption of noise, joyous celebration and relief. Just two years after Istanbul, Liverpool were back in a European Cup final and the party got back into full flow. We poured out of Anfield, into town where the euphoria and a sea of red and white continued into the streets of the city for the rest of the night.
HENRY JACKSON

Liverpool vs Chelsea, 2005: I remember being sat with my Dad as an 18-year-old having never been so nervous watching a Liverpool game in my life. The noise when Luis Garcia scored was simply unforgettable; I can only imagine what it was like actually being at Anfield on the night.
The second-half went by agonisingly slowly, and when six minutes of injury time was given by the referee it was unbearable to watch. To this day, Eidur Gudjohnsen's last-gasp miss, which somehow went wide, remains my most heart-stopping moment ever as a Reds fanatic. To beat Jose Mourinho's arrogant side and make it through to the final was truly special. The rest, as they say, was history.
LEE COATES

Liverpool vs Barcelona, 2001: Sometimes the losses stick with you more than the wins. Liverpool one, Barcelona three. On the back of a trophy collecting 2001 season, Liverpool were back among the champions of European countries. After strolling through the first group stage, the second group stage put us in the 'Group of Death'. First up Barcelona. Our European Footballer of the Year, Michael Owen put us one – nil up. The Kop bounced, I hugged my brother and looked over a sea of heads to find my dad who was sat elsewhere. Half of these people under my searching eye hadn't seen anything like it – I certainly hadn't. Liverpool couldn't stop winning. A seemingly meteoric rise through the football elite. Moments later, a Barcelona second half masterclass told us where we were. We were now in there with the best of them. We needed to raise our game. We needed to play even better than these lot are playing. I realised that this wasn't a holiday. Liverpool must be doing this all the time. We must be playing these teams all the time. We must keep getting better. We must hold our own with the elite.
Three and half years later, we won the thing.
JAMIE CASEY
Liverpool vs Celtic, 2003: If ever an Anfield rendition of You'll Never Walk Alone chilled the spine, this was the moment. From the Kop, the Celtic supporters over on in the Anfield Road end were barely visible due to the sheer volume of flags and scarves waved aloft among the home support, but the Bhoys were in full voice too. Forget the disputable origins on who adopted the song first, and forget the result for that matter, because together we made the most spectacular noise for two and a half solid minutes.
JEFF GOULDING

Liverpool vs Chelsea, 2005: I was hoarse by kick-off. By the time Luis Garcia drove us and Jose mad, we'd been singing about Chelsea's lack of history, and the Fields of Anfield Road, for almost forty five minutes. At first it didn't register that we'd scored. Some of us were shouting penalty! Then, as realisation set in, there was an eruption of noise, pandemonium and a fall. I hit my back on a plastic seat, and took a knee to the head. I didn't care. What followed was 92 minutes of excruciating anxiety, but the sound that greeted full-time erased all of that. The ground seemed to shake, and my legs dissolved to mush. I felt euphoric and sick at the same time. John Terry was in tears, and Stevie was punching the air in sheer unadulterated joy. After two decades, Liverpool were finally back where we belong.
STE SPEED

Liverpool vs Olympiakos, 2005: Without this goal there would have been no Istanbul and possibly no more Steven Gerrard as a Liverpool player at the end of that season. I watched the game in Bangkok airport waiting for my flight home, having spent the previous two years globe trotting. I was sitting in the airport bar nursing the one drink I could afford and a plate of fries a generous fellow passenger had bought me. I was in my Liverpool shirt surrounded by American businessmen just watching ESPN. I couldn't believe my luck when the game came on the TV.
When Stevie's belter flew in, it was one of the most exciting moments of my life. I jumped out of my seat and ran around the bar like a lunatic before exchanging high fives with the Americans. They ended up buying me drinks afterwards because they'd been so entertained by my antics during the game.
STEVEN HARRIS
Liverpool vs OPS Oulu, 1981: Played the night after the death of Bill Shankly, the score line was almost irrelevant. Shankly's name rang around Anfield before kick-off, during quieter moments of an entirely one sided match, and most vociferously after the game had finished. The man who made Liverpool would have been proud of the 7-0 dispatching of the Finnish champions. His final signing for the club – Ray Kennedy – was one of those on the score sheet. High emotions and the beginning of weeks of heartfelt tributes from the fans to the man who made them happy.
NATALIE CORK

Liverpool vs Juventus, 2005: A striker's finish from Sami Hyypia and a stunning dipping volley from Luis Garcia gave us a 2-0 lead after only 25 minutes. Our start against the Seria A giants sent Anfield into hysteria and some what disbelief on what was an emotional night. Juventus had only conceded two goals in the tournament before this showdown, making us believe that we may well get our hands on 'old big ears' for the 5th time…
SIMON COLLINGS

Liverpool vs Real Madrid, 2009: Although not the formidable side they are now, hammering Madrid 4-0 at any time is a special occasion. After Fernando Torres had opened the scoring, Gerrard took over – tucking away a penalty and then rounding off a tremendous move with a half volley past the hapless Iker Casillas. Andrea Dossena completed the rout late on as the Spanish giants took one hell of a beating! The result kicked off a great run of form for the reds, as the 4-1 win at Old Trafford was next, closely followed by a 5-0 drubbing of Villa (before they became our new bogey side!). Great times indeed!
DAN HOLLAND

Liverpool vs Roma, 2002: It was a March evening and a last 16 tie at Anfield, needing a two goal victory to progress the atmosphere would have been electric in any case. Throw into the mix a returning Gerard Houllier from major heart surgery and the atmosphere reached fever pitch. Pre kick off on a European night the place is always bouncing but this continued as a Limanen penalty put us ahead before Heskey netted the winner halfway into the second half. Roma were amongst the favourites to win the competition and there is no doubt Houllier's return lifted both players and fans alike.
NEIL POOLE

Liverpool vs PSV Eindhoven, 2007: Having had plenty of stress and excitement during 27 years of going to Anfield and being present at plenty of the heart stopping moments, the dead rubber and 1 nil victory over PSV stands out as being particularly joyous. It was our third year on the bounce in the Champions League since Istanbul and we were going into the second leg of a quarter final knowing that we were effectively through. Cue party atmosphere, singing to entertain ourselves and zero tension. This Champions League malarkey was easy. We won. Another semi-final against Chelsea awaited. No biggy. It was great being that good.
And one very special non-Anfield Champions League memory thrown in for good measure…
MARCO LOPES

Liverpool vs AC Milan, 2005: For some reason, I've always been surrounded by Mancs at work and home, & they didn't waste any time before & during the first half to remind me how supreme Milan's obviously superior side was to Liverpool. I remember being somewhat defiantly bullish at halftime though. I didn't anticipate the comeback but I reminded all the Mancs who made the effort to text me abuse that a match normally lasts more than 45 minutes.
By the end of the 2nd half, I'd caused them to switch off their phones and stop talking to me. By work the next morning – I was insufferable, and they'd learnt a valuable lesson not to underestimate the spirit of Liverpool and their magic in Europe!
What's your abiding Champions League memory from Anfield European nights? Let us know yours in the comments section below.