After another disappointing and uninspiring display at the weekend, Liverpool now face the daunting task of a trip to Madrid to face European Champions Real at the Bernabeu. How should Brendan Rodgers approach the game? The This Is Anfield writers share their views.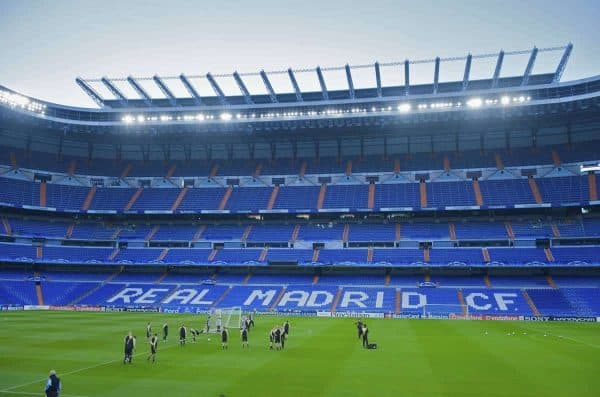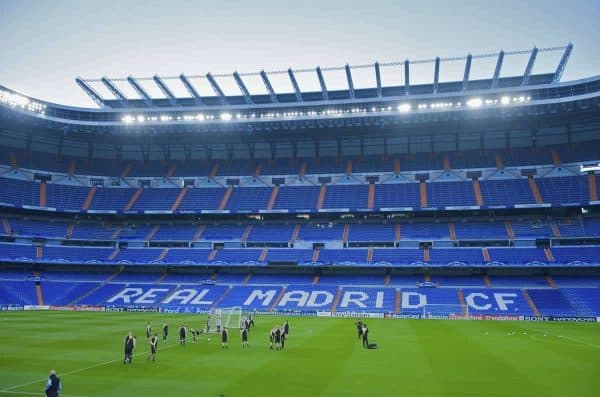 Let's be honest, the chances of Liverpool coming away from the Bernabeu with a victory are slim, but luckily for Rodgers, Ludogorets' win over Basel on the last matchday means that, provided Basel beat Ludogorets on Tuesday, Liverpool's fate will remain in their hands even with a defeat in Madrid.
Defeat in Madrid, coupled with Basel beating Ludogorets, would mean that should Liverpool win against both Ludogorets and Basel in the final two group games, they will progress (assuming too that Real win both their final games).
Spanish paper Marca claims that Steven Gerrard and Raheem Sterling will be on the bench Javi Manquillo, Fabio Borini, Adam Lallana and Lucas Leiva (players they call reserves) expected to play.
So should Rodgers play a full strength side – especially with Chelsea arriving at Anfield on Saturday – or should he play a side featuring squad players and rest key men ahead of the Premier League clash?
Have a read then vote in the poll below.
---
I'd be inclined to continue with Liverpool's strongest XI (if anyone knows who that is) against Madrid and aim for an unlikely victory. A lot of people will underestimate both Basel and Ludogorets at Anfield and Liverpool aren't in a strong enough position to rest any players yet; by all means tinker, but the spine must remain the same. Glen Johnson aside, of course — Javi Manquillo needs to be first choice here. – Jack Lusby
---
Although I believe we have as little chance of beating them as United do of playing in the Champions League this season, I'd still play our strongest possible team. You never know what might happen- an early red card is never out of the question with Pepe and Sergio Ramos in their side- and a positive result could finally kick our season into gear. – Henry Jackson
---
I would go strong with one or two exceptions. I reckon we could knick a draw even sneak a win. The danger is Madrid qualify and put out a reserve team v Basel away and lose. My team is Mignolet Johnson Moreno Srktel Sakho (if fit if not Toure)- Lucas Henderson Gerrard Coutinho – Sterling Balotelli subs Jones Manquillo Lovern Rossiter Philips Ojo Sinclair. – PJ Vaughan
---
It's important to build up momentum and so we should pick a strong team against Madrid because we cannot afford another drubbing to setback our recovery from a poor start to the season. It's also by no means certain that we'll beat Ludogorets and Basel. The former have done surprisingly well, beating Basel and only losing 2-1 against Madrid, while the latter beat Liverpool in Switzerland. If we can somehow get a point in Spain then it'll do wonders for our confidence and improve our chances of reaching the knockout stages of the Champions League; that's why we should pick a strong starting line-up at the Bernabeu. – Oliver Smith
---
I think we should play a weakened team with a risk adverse and defensive mindset; it's depressing having to approach a game with a Hodgson-esc mentality but the team is all over the place at the moment. I would give the likes of Lucas, Can, Toure, Borini (wide) and Lambert a run out with a few of the regulars (no Gerrard), hopefully there will be enough legs in the team to get some sort of result. I'm not going to mention shape as it will be 4231 regardless. – Tom McMahon
---
We should play a diamond with Lucas at the base. Drop/rest Gerrard (however you want to put it!) and give Henderson a chance to shine as captain on the biggest stage. Sterling up top alongside Lambert. – Simon Collings
---
Definitely play a full strength team. There would be nothing worse than heading to the Bernabeu with a weakened side and surrendering to Madrid before we have even kicked a ball. Play the best against the best and anything can happen on a European night (miracle needed in other words). – Natalie Cork
---
We have to play a full strength side because a heavy defeat would leave confidence rock bottom. Pack the midfield area with Can, Lucas, Gerrard, Hendo and Lallana then leave Raheem up as a 'false nine'. Damage limitations with an outside chance of snatching a point. – Dan Holland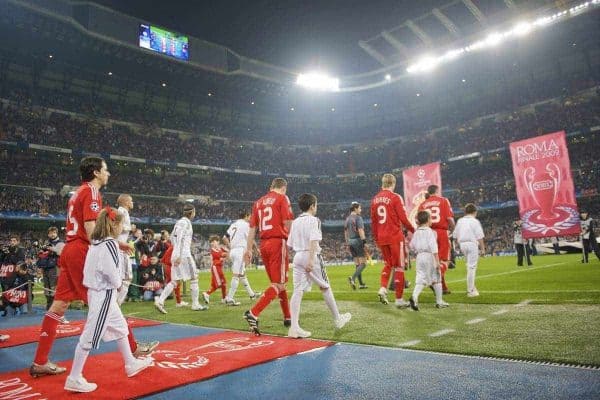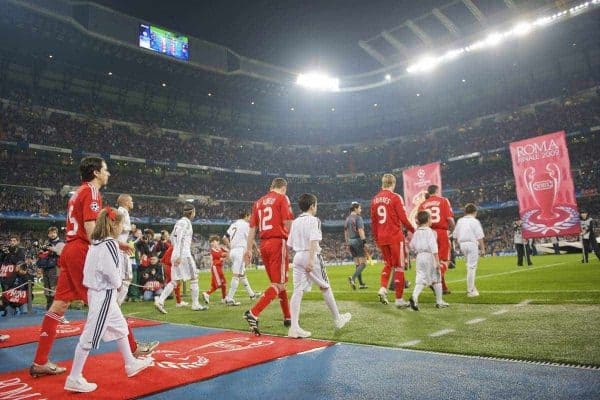 ---
Real Madrid v Liverpool is a massive, massive game, whether you're looking at the maths of group qualification, ahead to Saturday's clash at home to Chelsea, or not. The benefits of a result at the Bernabeu, however much a pipe dream that may seem, could provide a huge confidence boost going forward.
Above all, thousands of Reds fans are descending on the Spanish capital and Liverpool owe it to them to put out the best team and play to win. With the result making little difference to Liverpool's chances of progression in the tournament, it may bring out a fearless, cavalier approach in the team's game. With nothing to lose – attack, attack, attack. – Max Munton
---
[poll id="266″]
---