Following Liverpool's miserable 3-0 defeat against Manchester United at Old Trafford, Ben Twelves picks out a number of discussion points from the fixture.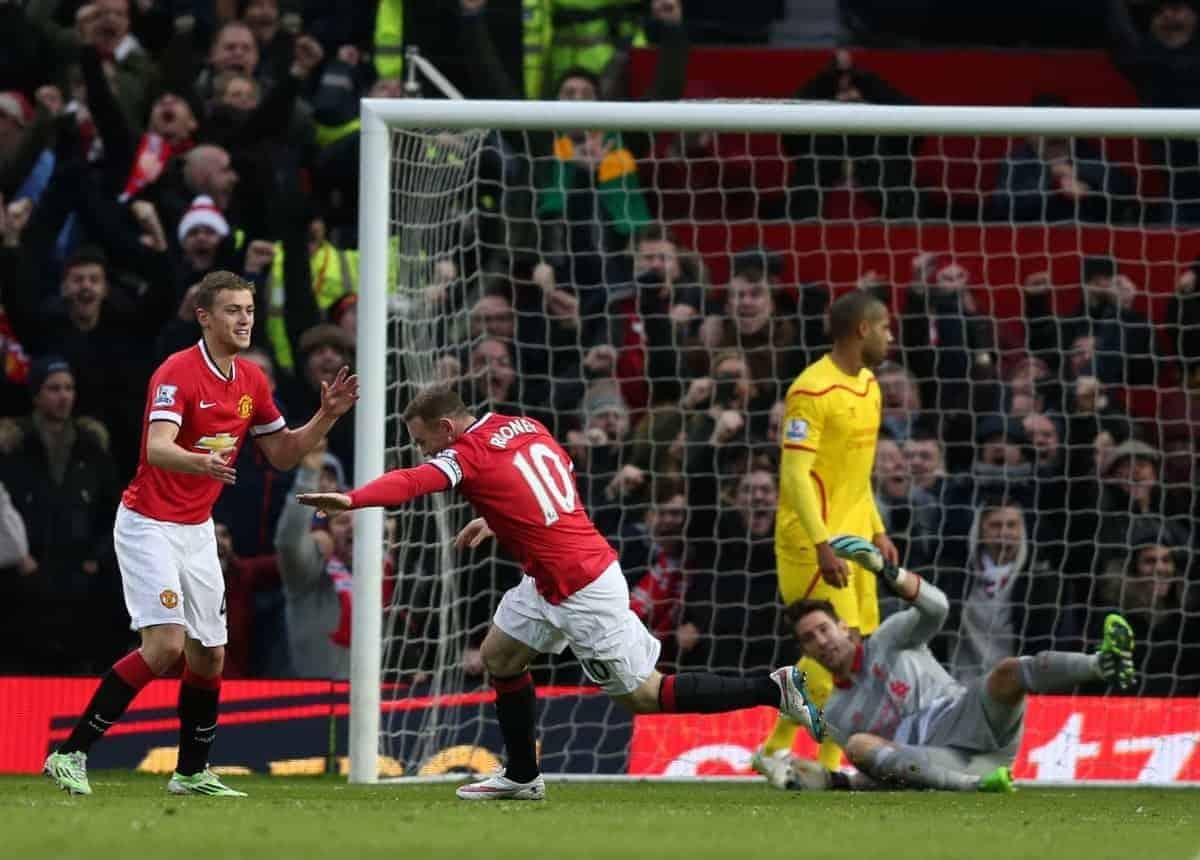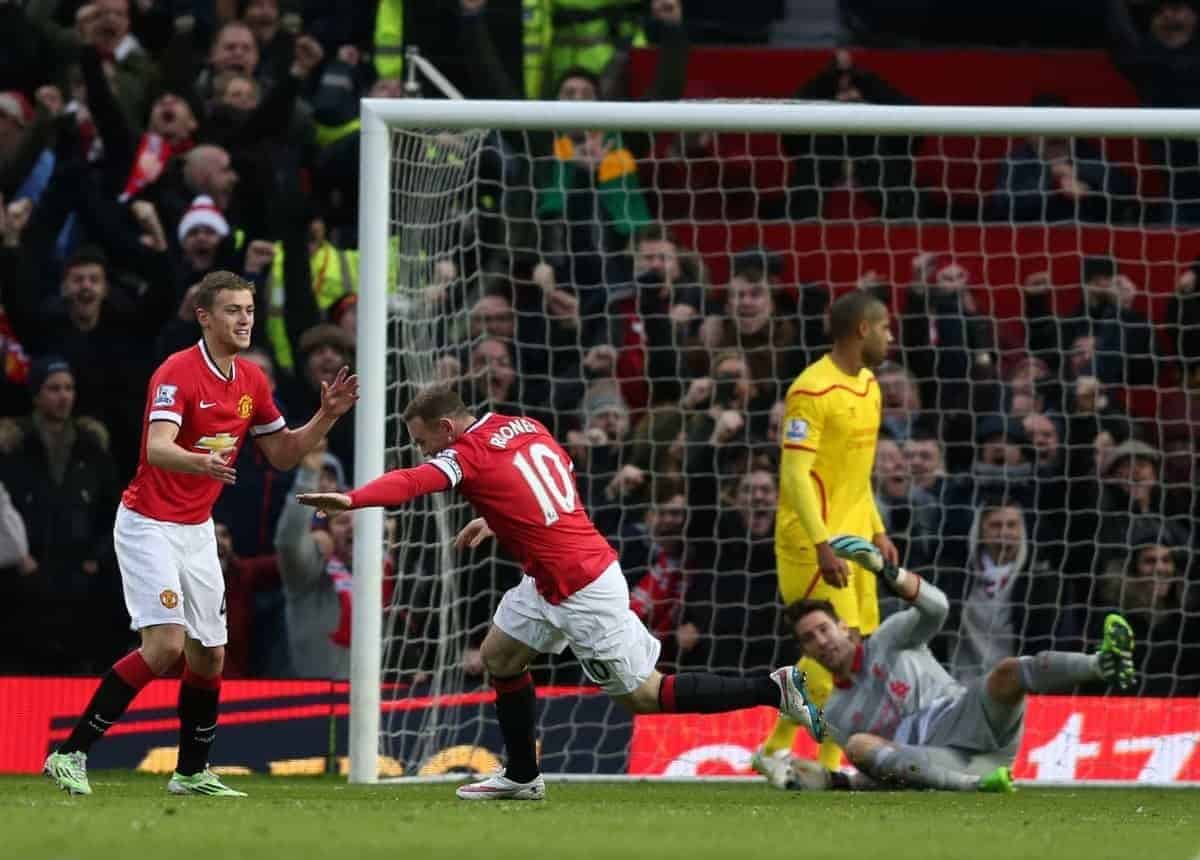 Manchester United 3-0 Liverpool, Old Trafford, 14th December
Liverpool suffered their first Premier League defeat for three games on Sunday afternoon as they slumped to a hugely frustrating loss at Old Trafford against a poor Manchester United side.
It was a match to forget for Liverpool as they once again defended abysmally and handed the home side an easy win they barely had to work for, to finish off a week of huge disappointment after exiting the Champions League in midweek.
The pressure has cranked up another notch on Brendan Rodgers after a result that saw the same negatives in Liverpool's play prove costly once more, and the depressing outcome once again threw up a number of talking points.
System improvement but personnel costs again
Rodgers made the switch to a 3-4-3 formation for the match – a bold choice for a fixture of its magnitude – but it was one that almost paid off as a shrewd move had it not been for some woeful finishing.
Worst thing is this is better than we've played in ages. Feel for Rodgers a bit here. His tactics worked but key moments haven't gone for us

— Andrew Beasley (@BassTunedToRed) December 14, 2014
The mobile attacking front three of Adam Lallana, Philippe Coutinho and Raheem Sterling acting as a 'false 9' caused the home side numerous problems from early on in the fixture, and allowed the Reds to press from the front out of possession, as Liverpool squeezed play well and enjoyed a half hour period much in control of the game.
I'm all for trying something different at this juncture, I'd just like it to be without Johnson, Skrtel and Lovren in the same defence.

— Dan Kennett (@DanKennett) December 14, 2014
A "return to a technical game" in the words of the Liverpool boss saw his side create numerous opportunities with a much more fluid attack that unfortunately couldn't cancel out a desperate defensive display down the other end of the pitch.
Looking for a positive, at least we saw the return of pressing & creativity. Even with an average defence that could get somewhere.

— Dan Kennett (@DanKennett) December 14, 2014
Errors and below-par performances from usual suspects proved the Reds' undoing but the change of shape at least allowed for a greater attacking threat that's been missing in recent games.
Defensive Mess Continues
A poor United team sadly had very little work to do to win the match as the Liverpool defence once again self-destructed for all three goals.
In other news, #LFC have conceded two-or-more goals away from home more times than any other side in the PL since Rodgers took over.

— Andrew Beasley (@BassTunedToRed) December 14, 2014
The first saw three Liverpool players ghosted past and taken out of the game by Antonio Valencia before Dejan Lovren failed to provide cover allowing Valencia to easily pick out Wayne Rooney, who smashed home from the edge of the box completely unmarked as Philippe Coutinho failed to track his man.
Juan Mata then doubled the lead with a free header – that proved to be offside – but only after a cross was easily allowed in from the right, and three Liverpool defenders stood like statues oblivious to the onrushing Mata who headed home past the hapless Brad Jones.
What on earth was Dejan Lovren doing there? Horrendous. Game over at Old Trafford. 3-0

— James Pearce (@JamesPearceLFC) December 14, 2014
Lovren then added to his embarrassing lengthy list of making errors leading directly to goals, as his woeful miss-kicked clearance sat perfectly for Mata to square to van Persie who made no mistake.
https://twitter.com/chris7steel/status/544152823857168384
Missing Midfield
In a physical battle, the Liverpool midfield duo of Joe Allen and Steven Gerrard completely failed to stand up to the demanding challenge.
Fellaini won 9 tackles against Liverpool, 5 more than any other player on the pitch. #MUFC pic.twitter.com/ipSFMYC0EU

— Statman Dave (@StatmanDave) December 14, 2014
The two man centre were outfought by United in the middle of the park as Louis van Gaal's side held a far superior physical presence in the midfield battle, and with powerful German midfielder Emre Can on the bench it was a mistake by the Liverpool manager not to introduce the summer signing to proceedings.

Both Allen and Gerrard had next to no positive impact on the game with the Welshman uncharacteristically sloppy in possession throughout on a truly miserable afternoon in Manchester.
Reds Lack Ruthlessness
19 shots for Liverpool, 9 on target. No goals.

— This Is Anfield (@thisisanfield) December 14, 2014
Creativity has been in short supply for the most part of this season but on a day where Liverpool created more than enough chances to win the game, they failed to do the important thing and find the net.
#LFC had as many shots on target today (9) as in their last four league games combined.

— Andrew Beasley (@BassTunedToRed) December 14, 2014
A combination of woeful finishing and a man-of-the-match display from United stopper David de Gea kept Rodgers' side at bay, but such a total lack of clinical finishing in front of goal gave the Spanish 'keeper a chance to pull of saves he had no right to make.
8 shots on target from the penalty spot or closer… I'd have taken that beforehand. pic.twitter.com/LNE0d7c5LF

— Andrew Beasley (@BassTunedToRed) December 14, 2014
The lack of a fully-fit and capable natural striker on the day cost the Reds and having one available could perhaps have produced a different story.
Tale of Two 'Keepers
De Gea produced a match winning performance for his side but down the other end, it was a completely different story.
FT #MUFC 3-0 #LFC http://t.co/AhBEUT2jOk 12 Liverpool shots from Balotelli + Sterling combined but De Gea unbeatable pic.twitter.com/iL33NYNHFm

— Stats Zone ?? (@StatsZone) December 14, 2014
Simon Mignolet was dropped in favour of Brad Jones coming into the side for his first Premier League match for 21 months and it was a move that backfired as the Australian goalkeeper produced an uninspiring performance.
At the key moment Jones was found wanting and for the first goal gambled by needlessly diving in completely the wrong direction as Rooney slotted home. The Australian couldn't do much about Mata's header, but on the third goal Jones once more tried to second guess the Spaniard's movements before he squared for Van Persie to slot home into a virtually empty net.

Mignolet has been rightly criticised for his poor distribution and indecision but one thing the Belgian has proven is that he is a decent shot stopper, and Rodgers' decision to take him out of the starting XI for a huge game at Old Trafford was slightly bizarre timing.
Liverpool have won 2 of their past 10 games (in all comps). Now club's lowest points tally, after 16 games, since 1964-65.

— Ben Smith (@BSmith) December 14, 2014
Rodgers and his players once again have some serious work to do in another demanding week of fixtures that sees the Reds face a Capital One Cup quarter final before Arsenal arrive at Anfield.