Ahead of their 5 Times tour of North America this summer, we remember the finest hours of Robbie Fowler, Jason McAteer and Didi Hamann in shirts.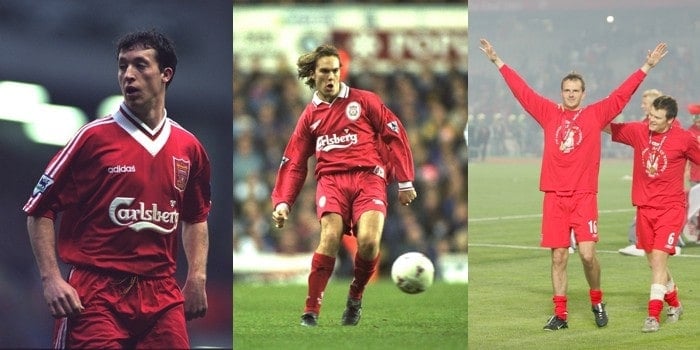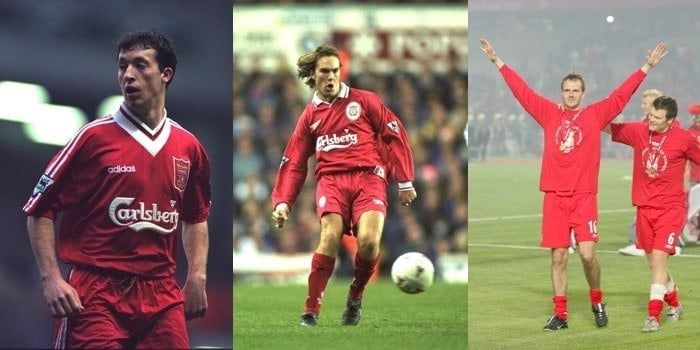 Liverpool have had some extremely popular players during the Premier League era, and Fowler, McAteer and Hamann were three undisputed crowd favourites during their spells on Merseyside.
Here are each of their greatest moments in a Liverpool shirt:
Robbie becomes 'God'
Fowler had burst onto the scene as a prodigious 17-year-old in September 1993, enjoying a terrific first season in the first-team, but it was almost a year later when the brilliant striker truly announced himself to the world.
The Reds were facing Arsenal at Anfield on 28th August 1994, with both sides looking to make good starts to the 1994/95 campaign. The day would belong to Fowler, who broke a Premier League record; one that remains to this day.
After 26 minutes, he finished clinically past England goalkeeper David Seaman after the ball broke to him inside the box, and two minutes later he squeezed another nerveless effort in off the post.
As if that wasn't enough, Fowler then completed a quite remarkable hat-trick, finishing past Seaman at the second attempt. In the space of just four minutes and 33 seconds, 'God', as he is still famously known, had been born. It is still the fastest ever Premier League treble.
Fowler would go on to become an all-time Reds legend in the years that followed, scoring 183 goals in 369 appearances.
McAteer's dream comes true
McAteer's career is a fascinating one. For so long it looked as though non-league football with local side Marine was the highest level he would get to, but that all changed in 1992.
Bolton Wanderers took a gamble on the then 20-year-old, and soon he was impressing greatly for the Trotters.
His performance against Liverpool in a losing cause in the 1995 League Cup Final was terrific, and it helped earn him a £4.5m move to Liverpool later that year. They were the club he had worshipped as a fan growing up in the late 1970s and 1980s, and moving there was something truly special for him.
The former Republic of Ireland international enjoyed four good years at Anfield, becoming an important player in an extremely entertaining side under Roy Evans. It was the day that he scored his first goal that remains his most treasured moment during that time.
Liverpool hosted Rochdale in an FA Cup third round tie in January 1996, and with the Reds 6-0 up and cruising in the dying embers of the game, McAteer's childhood dream came true.
He collected a pass from Michael Thomas before finishing past Rochdale goalkeeper Chris Clarke, much to the delight of the Birkenhead-born "Spice Boy". Does it get any better than opening your account for the team you obsessed over growing up?
An honourable mention has to go to McAteer's return from a broken leg in May 1998. He scored twice in a 5-0 drubbing of West Ham, ending several depressing months in glorious fashion.
Although never the most gifted, influential player in the side at that time, McAteer was a player who provided great balance to Evans' exciting young team. He remains popular to this day.
Didi's Istanbul brilliance
What a servant Hamann was to Liverpool during his seven brilliant years on Merseyside. A world-class defensive midfielder in his prime, the former Newcastle man was a vitally important player during the reigns of both Gerard Houllier and Rafa Benitez.
For all his excellence in the Reds' treble-winning season of 2000/01, and some memorable long-range strikes, it was the night of 25th May 2005 that saw Hamann confirmed as a Liverpool legend. It didn't start well, though.
Benitez made the rather controversial decision to leave the ex-Germany star on the bench for the Champions League final showdown with AC Milan, playing Steven Gerrard in Xabi Alonso in a rigid-looking 4-4-2 formation.

What followed was a disastrous first-half in which Milan's array of world-class talent ripped Liverpool to shreds, going into the interval with a seemingly unassailable 3-0 lead.
Hamann was introduced at half-time, however, and he played a huge part in what was about to become the greatest European Cup final in history.
His presence in front of the defence allowed Gerrard off his leash, creating havoc in the final third, and Hamann seemed to just calm everyone around him. We all know what happened next.
Liverpool's incredible comeback eventually saw the game head to penalties, and with Serginho having missed Milan's first spot-kick, Hamann was up first for the Reds.
Predictably, the nerveless German stroked the ball home with consummate ease, and the Reds stayed ahead in the shootout from that point on.
It remains arguably the greatest night in the history of Liverpool Football Club, and Hamann's influence in Istanbul should never be forgotten.
---

North American Reds! See Fowler, McAteer & Hamann live with 5 Times and win a squad signed Liverpool Istanbul 2005 shirt!
If you're anywhere near Toronto, New York, Charlotte or Los Angeles this summer, you're in for a treat. 5 Times are bringing their Liverpool legends show to North America with Fowler, McAteer and Hamann sharing their passionate and hilarious anecdotes about their days playing in front of the Kop.
Information and tickets are available here, and all ticket holders can enter into a competition to win a squad signed Liverpool Istanbul 2005 shirt here. Enjoy!