With Manchester City midfielder James Milner heavily linked with a free-transfer move to Liverpool this summer, Jack Lusby weighs up the pros and cons.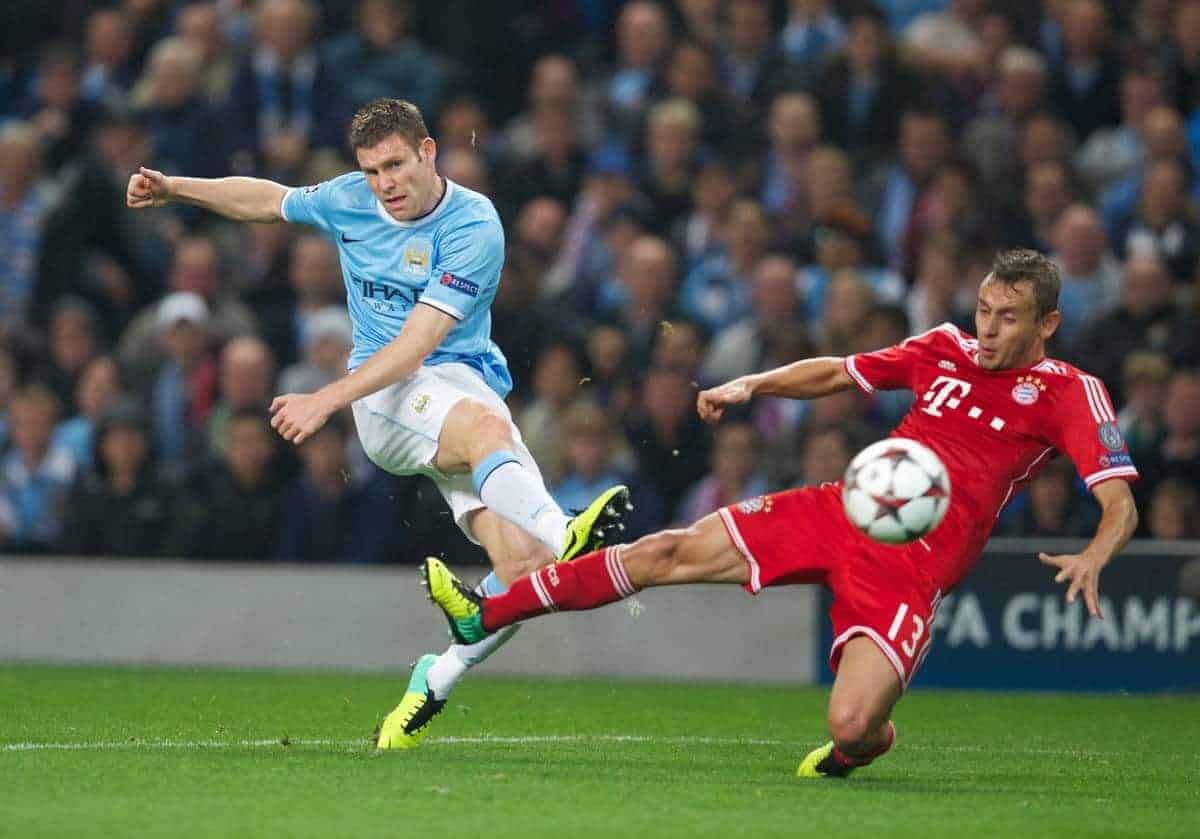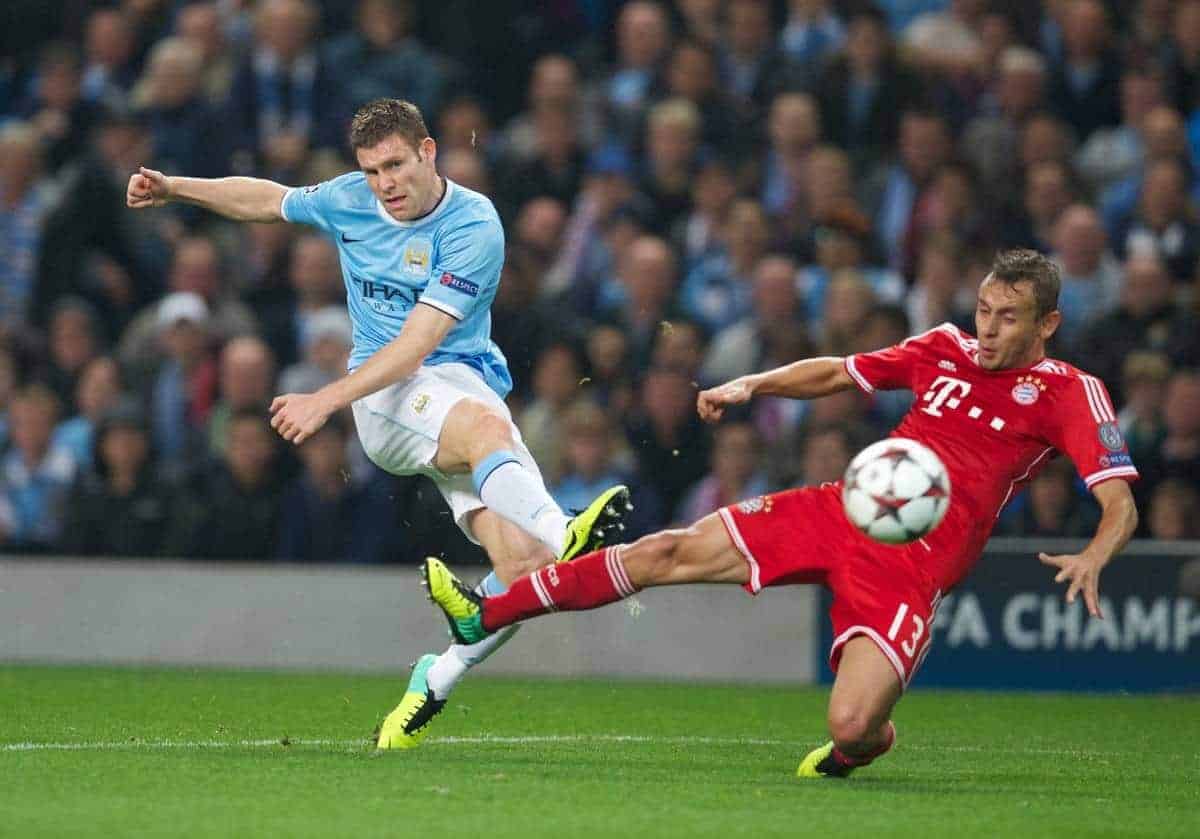 James Milner could be on his way to Liverpool this summer, according to reports.
The most recent line is that the Manchester City midfielder has been offered a deal worth up to £165,000 a week at his current club, but that may not be enough.
With AS Roma and Arsenal also believed to be waiting in the wings, the 29-year-old is clearly not short of options this summer.
But why should Liverpool sign Milner?
It seems to be a potential deal with many more positives than negatives, that's for sure.
Pros
Firstly, and most importantly, Milner has substantial on-field quality.
This season, in 31 games spanning 1,680 minutes, Milner has scored five goals and made six assists—this averages at a goal contribution every 153 minutes in the league.
No Liverpool player has averaged more key passes per 90 minutes in the league this season than Milner (2.3), which highlights how underrated he is as a creative player.
This is also more than any Liverpool player from the previous, more successful season—Luis Suarez averaged the most, with 2.28.
Over the past 12 seasons in English football, Milner has displayed a great passing ability, both from long range and in tight spaces, as well as an intelligent movement off the ball and a composure in front of goal, as his goal for City against Swansea City in Sunday's 4-2 win proved.
GOAL! Swansea 0-2 Man City (Milner) Watch on Sky Sports 1 HD. More here: http://t.co/BGCUybDPWD #SkyFootball pic.twitter.com/lezmDSxd0E

— Sky Sports Premier League (@SkySportsPL) May 17, 2015
Along with this quality, Milner has showcased a defensive tenacity.
He has averaged 2.41 tackles per 90 minutes in the league this season, as well as making 1.18 interceptions on average—only Lucas Leiva (3.74), Emre Can (2.94), Joe Allen (2.76) and Javier Manquillo (2.49) have made more tackles on average this season for Liverpool.
To perhaps make the most direct comparison in terms of regular position on the pitch, Adam Lallana averages 2.08 tackles and 0.59 interceptions per 90, while Jordan Henderson averages 1.73 tackles and 0.91 interceptions.
In truth, however, making a direct comparison between Milner and a current Liverpool player is difficult, due to the large variety of positional roles he fulfils at City—having started in nine different positions in the league this season.
"It's hard to leave him out. Respect, commitment and performance level: 10/10, fantastic. He's polyfunctional: full-back – the only position he doesn't like – attacking midfield, wide. I played him as a forward and the team averaged three goals a game. He gives everything."

– Manuel Pellegrini on Milner, March 2015
City manager Manuel Pellegrini's testament back in March—in one of many attempts to politely convince the midfielder to stay at the Etihad Stadium for the long term—should be encouraging.
Not only does he perform in many, many different roles, but he does so with consistency and commitment. He's a hugely experienced player on the biggest stage possible.
To put it in excruciating terms for a Liverpool supporter, but terms which will represent music to the ears of Rodgers—he is a player with immense character.
Cons
Milner's summer availability comes as the player finds himself at somewhat of a crossroads in his career, and a vital one, given his age.
Next January, Milner will turn 30, and is now looking for a move that will provide him with a regular starting role in the centre of midfield—in Liverpool's eyes, this would likely be as an upgrade on Allen, or a replacement to Steven Gerrard.
But as one veteran midfielder departs this summer, are Liverpool right to bring in another?
Milner's potential rejecting of a deal worth up to £165,000 a week at City highlights his worth on the market in terms of wages and, while he would be a free transfer, he would likely command a wage of at least £100,000 a week at Liverpool.
For a club so typically entrenched in youth development, would a long-term, high-value contract for a player on the fringes of his 30s be considered worthwhile?
It depends how long he can keep his performance levels up.
Read further into Pellegrini's praise of Milner in March, and a more worrying theme comes to the fore:
"I'm Milner's No. 1 fan. Find me a more complete English player. There are players who're better technically, yes. Quicker players, yes. Players who head better, yes. But show me one who does all the things Milner does well. There isn't one."
Milner is good at all of these things, but perhaps not the best. Which raises the question: do Liverpool need another jack-of-all-trades midfielder?
Should Liverpool sign Milner?
Given Milner's overriding quality, and experience in the Premier League and in Europe, signing him on a free transfer this summer seems like a no-brainer.
But this particular deal represents somewhat of a quandary for Liverpool, and one that would likely require them uprooting their ideals in the transfer market to complete.
Do they offer him a high-wage contract, knowing the risks of his creeping age?
Do they offer him a long-term role in the centre of midfield, despite the vitality of Henderson, Philippe Coutinho and Emre Can? And can Rodgers be trusted not to utilise his versatility?
Much like Milner, Liverpool are at a crossroads this summer. With a considerable squad overhaul on the cards and some big shoes to fill in terms of Gerrard's departure.
Rodgers spoke this month on the need to "find the solutions [with] an incredible lot of experience, game management and quality [leaving] the team," and on paper, Milner fits this criteria. He's an experienced player with proven quality.
He may not be fashionable, but Milner could be a player worth taking the risk with this summer—but Rodgers must consider other, more refined options first.
[interaction id="555e193728430a5757b01004″]
Statistics via Squawka
Should Liverpool move for Manchester City's James Milner this summer? Let us know in the comments below.