Liverpool legend John Barnes says the door is wide open for the Reds to finish in the top four this season, and new boss Jurgen Klopp should prioritise the league over the Europa league.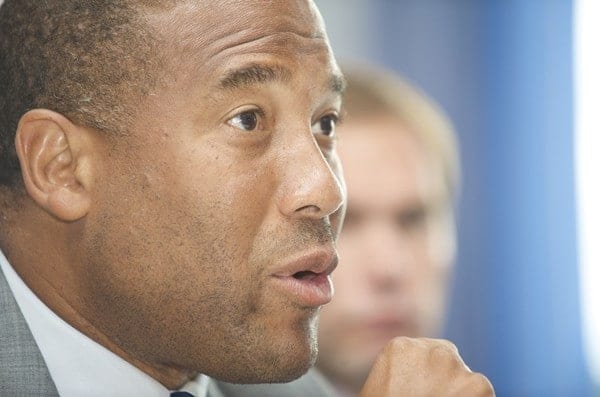 Four games into Klopp's tenure, how would you say things are going for the German?
It's not going to happen overnight. Just because Klopp is there it doesn't mean things will change straight away, it's going to take time for him to implement his style on the team.
Also come January when he can buy players for the team that he wants then we can really start to judge him, as there's not much he can really do now in such a short space of time.
They're [Liverpool] okay, they're doing fine, but we need to remember that just because Klopp is there it doesn't mean things are going to turn over right away.
Which players do you think Klopp has been most impressed by so far?
Coutinho for me is the star player, although I don't think he's played as well as he can recently.
Klopp has to work with what he has right now and they're all good players, but he has to try and get his way and his strategy over to them. I don't know exactly what he looks for in players and I think he knows he's got a lot of work to do.
What about Emre Can? Do you think he's looking better in a more settled midfield position under Klopp?
First off nobody is thriving because the team haven't won a game yet. He looks more comfortable in midfield than he ever looked at the back, but there are still improvements to be made.
He [Klopp] will know Can well after working in Germany, so he's one he may feel he can get can get the best out of.
If you were in Klopp's shoes, what would you feel is the biggest task on your plate at Anfield?
The biggest task is getting the players to understand what he wants them to do. That is always the biggest task for a manager. Come January if he can get the players he knows who can come and do what he wants them to do, then he has to do that.
At the moment though he has to work with what he has, so implementing his strategy on them is his biggest task.
Also managing the expectations of the fans, which there isn't a lot he can do about, is important as at the moment everyone thinks just because he's there everything will kick on.
Likewise, if you could sign a player in January, which position would you be looking to strengthen most?
There's no specific area. Now he has to see who he can get to improve. For example you could say he needs to strengthen at the back, but if he can get Lionel Messi he'll get Lionel Messi, it's really a question of improving the squad with the players available. There's no particular area and we have to look to strengthen all areas with quality players.
Of course if you look at Daniel Sturridge not being fit, Danny Ings being out and Roberto Firmino not being a proper forward we only have Christian Benteke at the moment, so that's perhaps an area to maybe get one in.
But for me it's more about the quality of the players rather than specific areas. If there's a central midfielder, left winger or defender better than we already have, then the club have to do it.
Do Liverpool, not necessarily in January, need to sign a forward or do you think Sturridge can eventually be relied upon?
Well we've got to get him fit and keep him fit, so only time will tell. Obviously he's injured now, but the most important thing is not to rush him back as we've got to try and get him fully fit.
But why sign a forward if he's not as good as what we have? Why get someone in just for the sake of it?
We need to get quality players in any position who are at least as good, if not better, than what we have.
Even if Daniel Sturridge was fit and a player as good, or better than, him was available then we should try to get him.
Do you think Liverpool have enough quality to finish in the top four this season, or would Europa League success be more achievable?
I think the top four [offers the better chance of Champions League qualification] because in a cup competition you never know what's going to happen and who you could have to play in a quarter-final, semi-final or the final.
You can't hang your hat on winning a cup as if you take the strongest team there's no guarantee of beating them.
I always feel the best way is to do well in the league and, for me, fourth place is still up for grabs because we have Manchester City, Arsenal and possibly Manchester United [as the top three] so why shouldn't Liverpool be able to finish fourth? No team is playing well enough to guarantee the position.
John Barnes is Brand Ambassador for Titanbet.co.uk. Sign up for an account at Titanbet.co.uk now for £20 in free bets when you stake £10. 18+ gambleaware.co.uk. Terms apply.

Follow @titanbet for John Barnes' weekly review of Premier League.