The contrasting approaches of James Milner and Adam Lallana in adopting a pressing game against Tottenham Hotspur highlight a work in progress.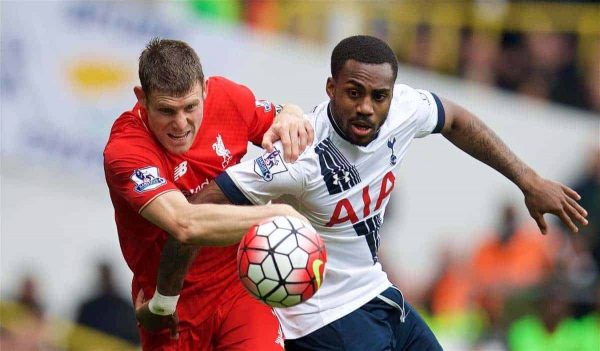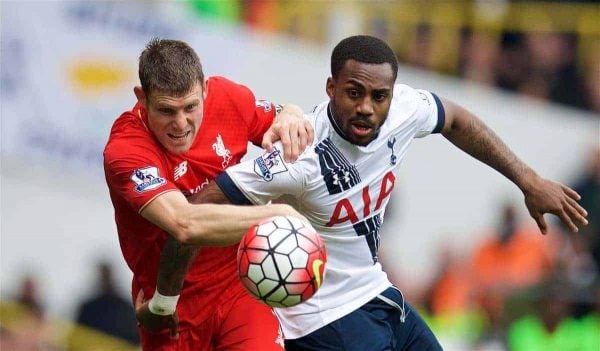 Taking to the touchline for his inaugural outing as Liverpool manager on Saturday afternoon, Jurgen Klopp will be pleased with how his side performed.
Though the Reds played out a 0-0 against Spurs, the German will be encouraged by the levels of intensity shown, as well as a promising fluidity in his makeshift attacking line.
Klopp's arrival as Liverpool manager heralded discussion about his successful spell in charge of Borussia Dortmund, and in particular his footballing philosophy of gegenpressing.
White Hart Lane provided an intriguing backdrop for Liverpool's employment of this approach, with the contrasting fortunes of Milner and Lallana in the midfield providing a key talking point.
Tactical Setup

For his first game in charge, Klopp deployed a variation on the 4-2-3-1 that proved so successful with Dortmund, with the varying role of Milner prompting a switch to a 4-3-2-1 throughout.
Lucas Leiva took up his typical role as prowling defensive midfielder, breaking up play and looking to create moves from deep, while Milner and Emre Can remained compact and central when Spurs were in possession.
Ahead of the midfield trio, Lallana and Philippe Coutinho took up dual-No. 10 roles off the ball, similar to that of Brendan Rodgers' 3-4-2-1.
This saw the duo support Divock Origi as lone striker, dovetailing with the pacy Belgian, who made his first Premier League start for the club.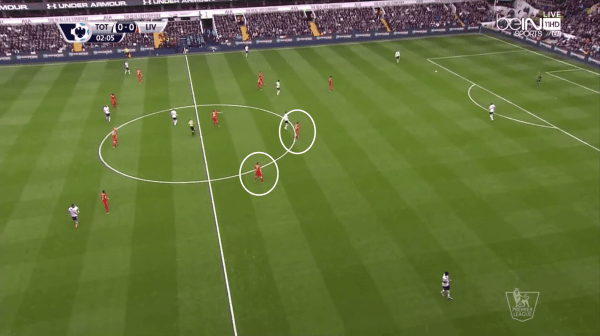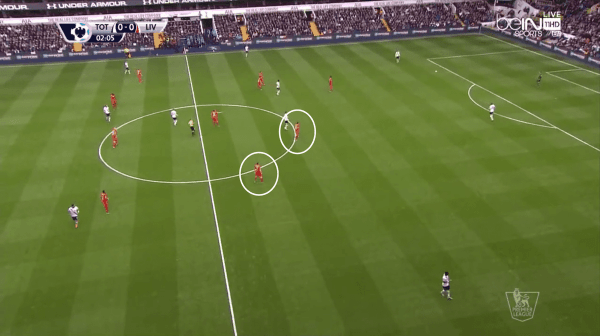 However, when Liverpool looked to break, both Can and Milner fanned out into wider positions, with the 29-year-old's role switching to that of a right winger on the counter.
This saw Lallana and Coutinho's positions shift to accommodate Milner's attacking forays, with Liverpool therefore adopting a 4-2-3-1 shape when on the ball; this shifting structure was clearly designed to frustrate Spurs and then quickly punish them on the counter.
For the first 30 minutes at White Hart Lane, this proved effective, with Liverpool's high-intensity pressing game pinning Spurs back towards their penalty area.
But in the final hour, this approach became more dogged, with Spurs gaining momentum on the front foot—here is where Simon Mignolet and Mamadou Sakho earned their plaudits, with both impressive in the defensive sector.
This saw the sides play out an inevitable stalemate, but Klopp can take heart from this performance.
Chiefly, this will be due to the distance covered by the Reds on Saturday afternoon: Klopp's side ran 116km, 1.2km more than Spurs.
Milner was Liverpool's hardest-working player, covering 13.1km and making 82 sprints.
But when considering the former Manchester City midfielder's efficiency in the pressing game, it raises the question of whether this was genuinely effective.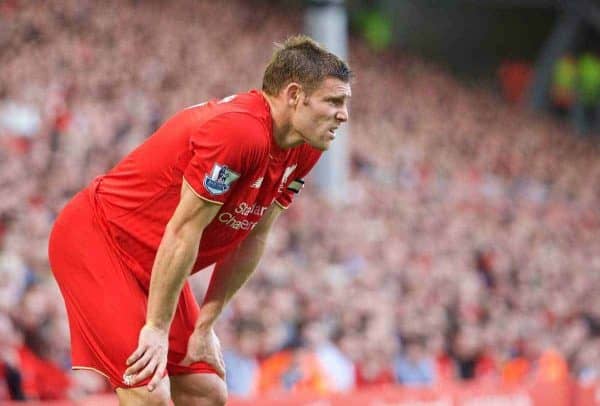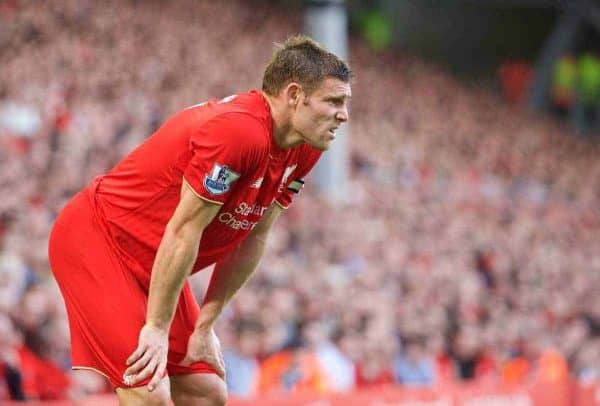 With Liverpool looking to gain an early advantage on Spurs, employing an intensive, front-footed approach, Milner, Lallana, Coutinho and Origi all pressed the Spurs defence—Kyle Walker, Toby Alderweireld, Jan Vertonghen and Danny Rose—towards their own penalty area in the opening stages.
Milner began effectively, too, closing Rose down when the left-back was in possession in the third minute.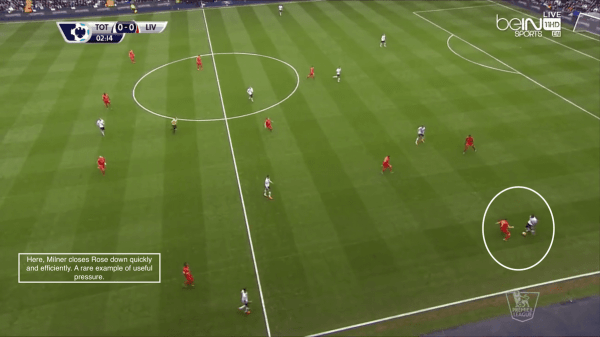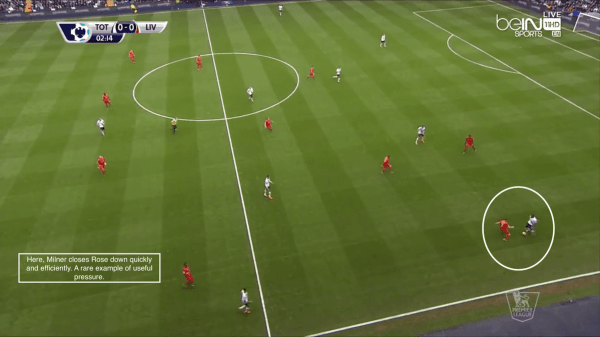 With both Lallana and Origi closer to the ball than Vertonghen in this instance, this was an extremely effective manoeuvre, forcing an instant break near the Spurs penalty area—a prime example of Klopp's gegenpressing philosophy.
However, largely owing to the inexperience of Origi and the defensive prowess of Vertonghen and Alderweireld, Liverpool failed to break through the Spurs ranks with any frequency.
Instead, Liverpool's best chance came from a set piece, with Origi nodding Can's headed effort onto the crossbar.
But with Klopp looking to frustrate Mauricio Pochettino's side, the intensity of Liverpool's game took priority at White Hart Lane.
Milner adopted this intensity, but continually failed to translate this into intelligent pressing.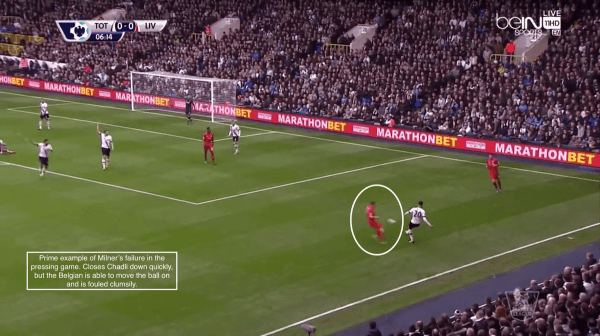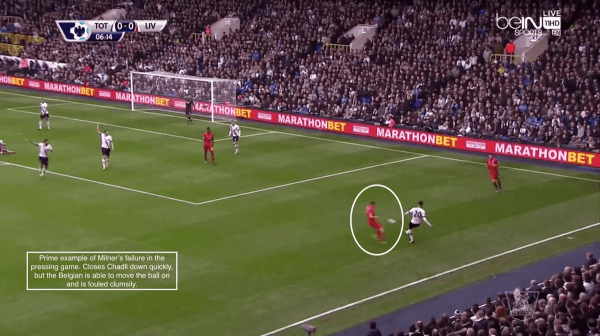 The England international flew into tackles, mistiming his challenges and given away fouls—therefore hampering Liverpool's ability to counter.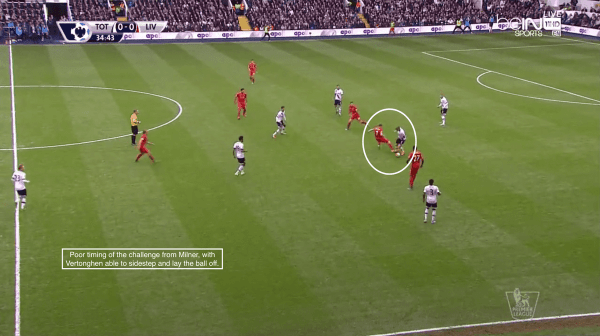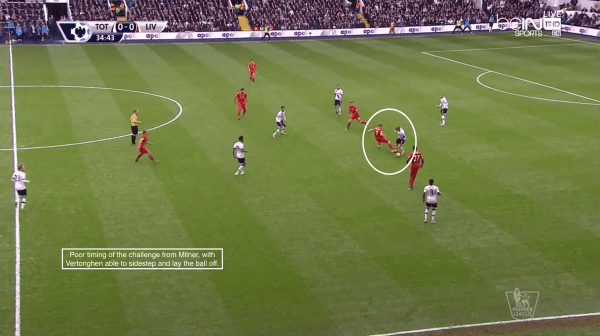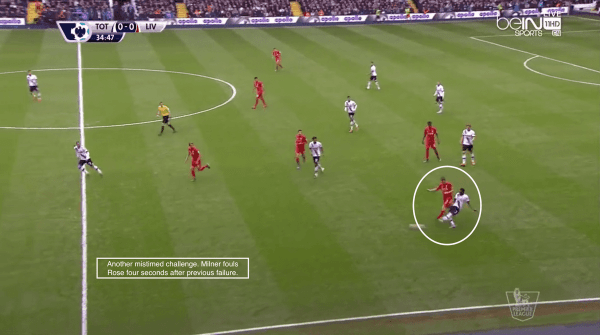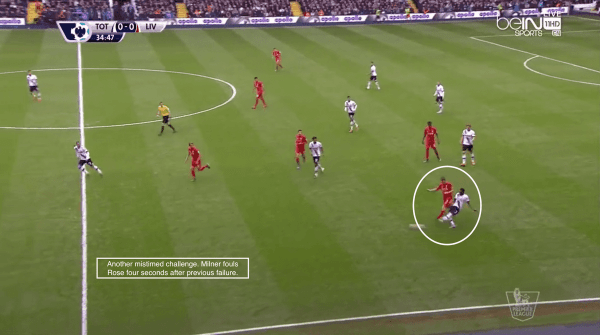 Milner ran a lot, but gave no indication of an understanding of the nuances of Klopp's gegenpress: closing down angles, suffocating the opposition off the ball and latching onto errors and risky passes.
His work in the transition was commendable, with a huge improvement in his attacking contribution in his right-wing position, and this is a role that Klopp should persevere with.
But, as evidenced by his zero percent tackling success rate and three fouls committed, Milner failed to adopt a productive pressing game.
The stand-in captain narrowly avoided a red card for his recklessness in the challenge.
There was no sign of intelligent pressing—something Milner should look to absorb from Lallana.

Ahead of Saturday's clash, Pochettino described Lallana as "a great, unbelievable player, one of the best in England."
While this would likely provoke a negative reaction from Liverpool supporters, owing to the 27-year-old's slow start to life on Merseyside in relation to his £25 million price tag, it is easy to see why Pochettino would rate him so highly.
During his time under the Argentine at Southampton, Lallana successfully adopted his brand of high-energy football, showcasing his ability to press—and press intelligently.
A stark contrast to Milner's frenzied approach, this was abundantly clear against Spurs.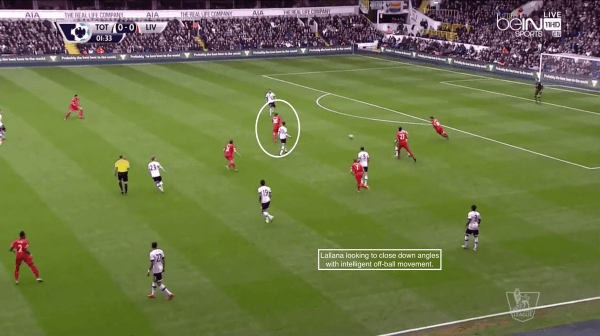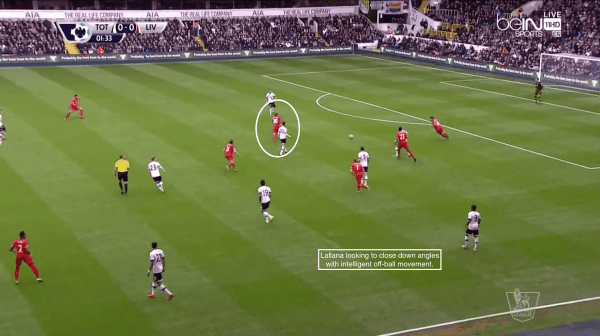 Lallana didn't just chase the ball, instead looking to close down angles and give the Spurs defenders no easy options in possession.
The former Saints captain also looked to capitalise on loose balls with pace, remaining on the front foot to latch onto defensive errors and the successful challenges of his team-mates.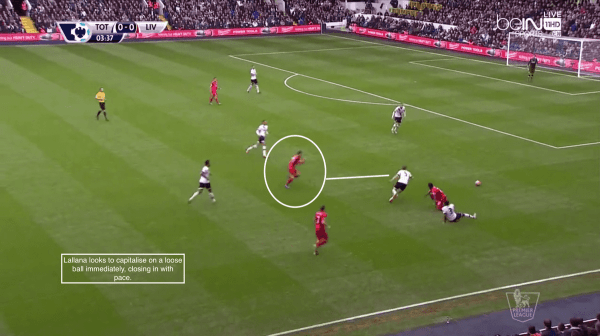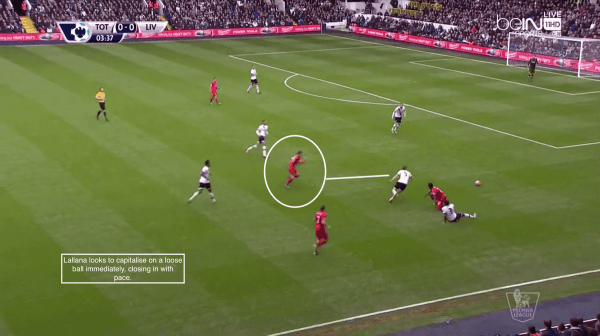 There is a similarity in Klopp's gegenpressing approach and what Roy Hodgson described as "five-yard furies," in that both managers demand that the ball is won back quickly.
Lallana, who represents a potentially key player for both Liverpool and England, highlighted his ability to do so against Spurs, looking to regain possession within seconds, to ensure Pochettino's side could not compose themselves.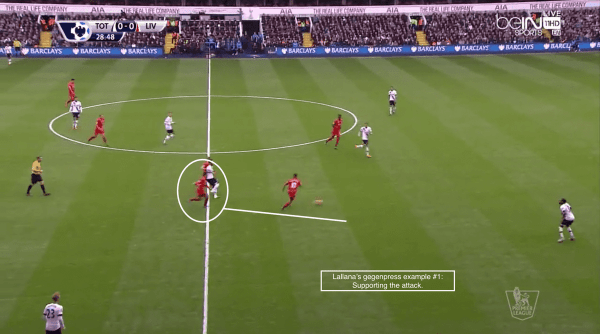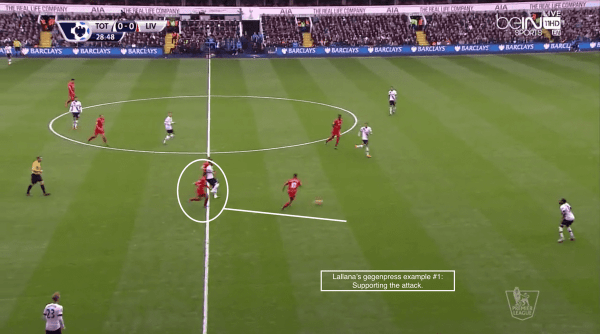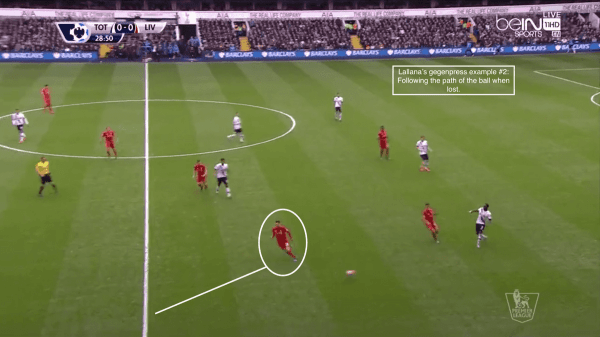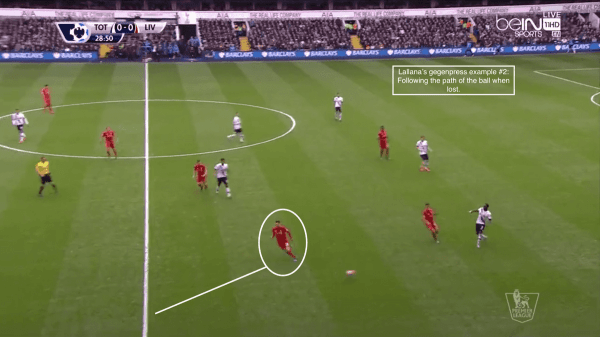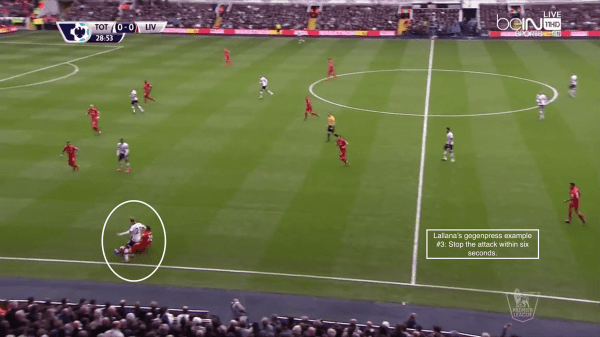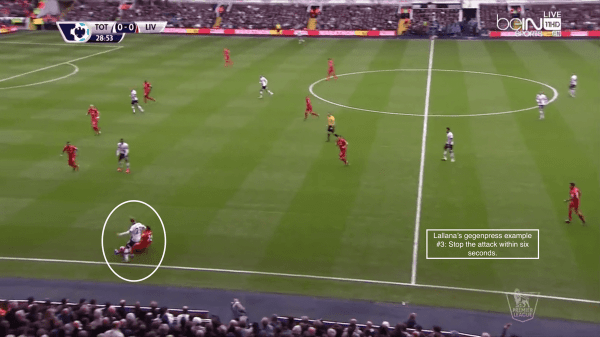 However, this approach requires stamina and endurance to prove effective over a 90-minute period, and this is where Lallana's flaws emerge.
With Lallana key to Liverpool's success in pressing the Spurs defence in the first half, his growing fatigue after the interval undermined their ability to build towards victory.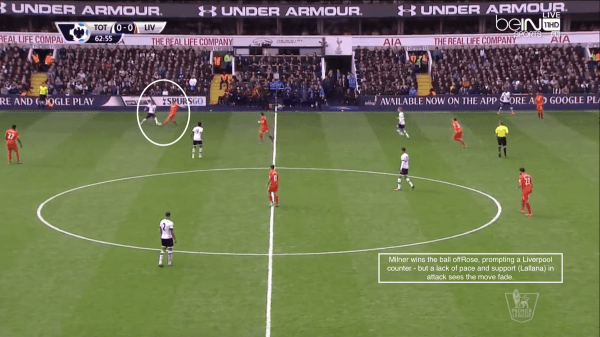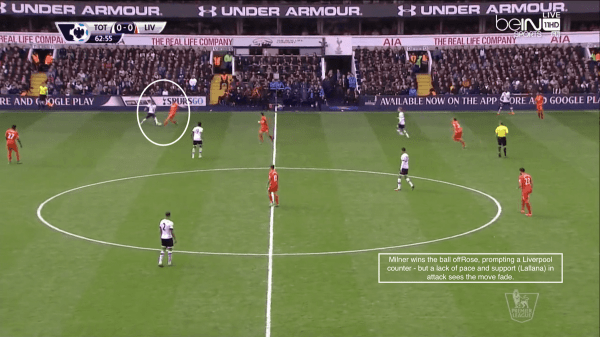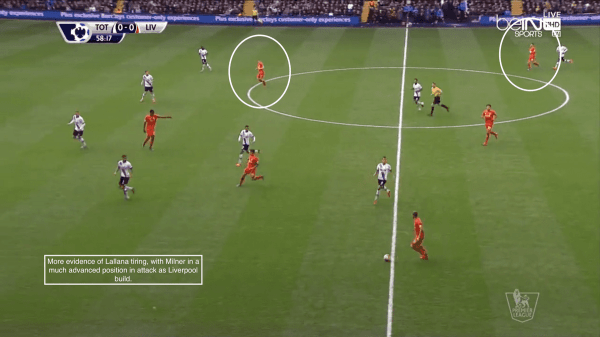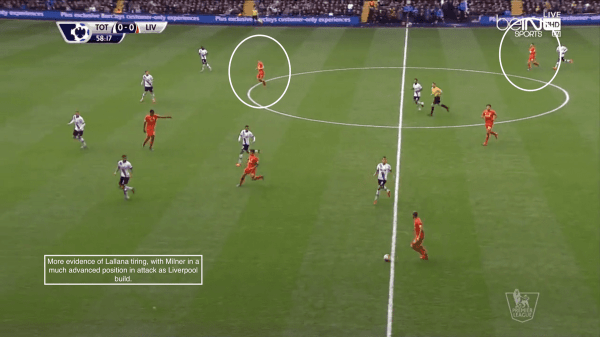 Milner's key attribute is his vitality, as evidenced by the distance he covered on Saturday, but in comparing him and Lallana this opens up a agonising paradox for Klopp.
While Milner was able to run at full throttle for 90 minutes, he was unable to press intelligently; and while Lallana was able to press intelligently, he was unable to run at full throttle for 90 minutes.
This presents parallel objectives for the pair.
For Lallana to secure a regular, long-term role under Klopp, he must prove his ability to function consistently over a 90-minute period.
For Milner to flourish within Klopp's gegenpressing system—particularly on the return of Jordan Henderson—he must prove his ability to close down space and angles, not just the ball.
It will take time, but if both are able to do so, Klopp will have a pair of invaluable options within his midfield ranks.
[interaction id="56252b7147771a9960008c0d"]