Neil Poole ponders whether we can predict the outcome of our forthcoming fixture against Manchester City by looking at how long it has taken previous Liverpool managers to start winning 'big' games.

You are going to be tempted by a juicy thought over the next few days.  The serpent in your mind will hiss, "Of all the 'big' teams, Man City is the one we actually have a decent record against in recent years." However, the likelihood is that no sooner will you utter the words, "This is a big game we can actually win" that you'll find yourself suddenly shamed by your bollock nakedness, and have burdened all of mankind with original sin for eternity.
We don't have a blame culture here at This is Anfield Towers, but just to let you know it will definitely be your fault if we lose because you've jinxed us with your optimism and belief.
We've had big games against City in recent years and we've won a fair few of them. It suggests we can beat them on Saturday.
Recent Wins Against Manchester City
In 2011, our victory over City in the two-legged semi-final on our way to winning the League Cup under Kenny Dalglish was a big win. If you want to right-off winning that cup feel free to do so. I'll let you console yourself and get hammered on your own mean-spirited tears as you face the fact that without it we wouldn't have won anything for nearly ten years.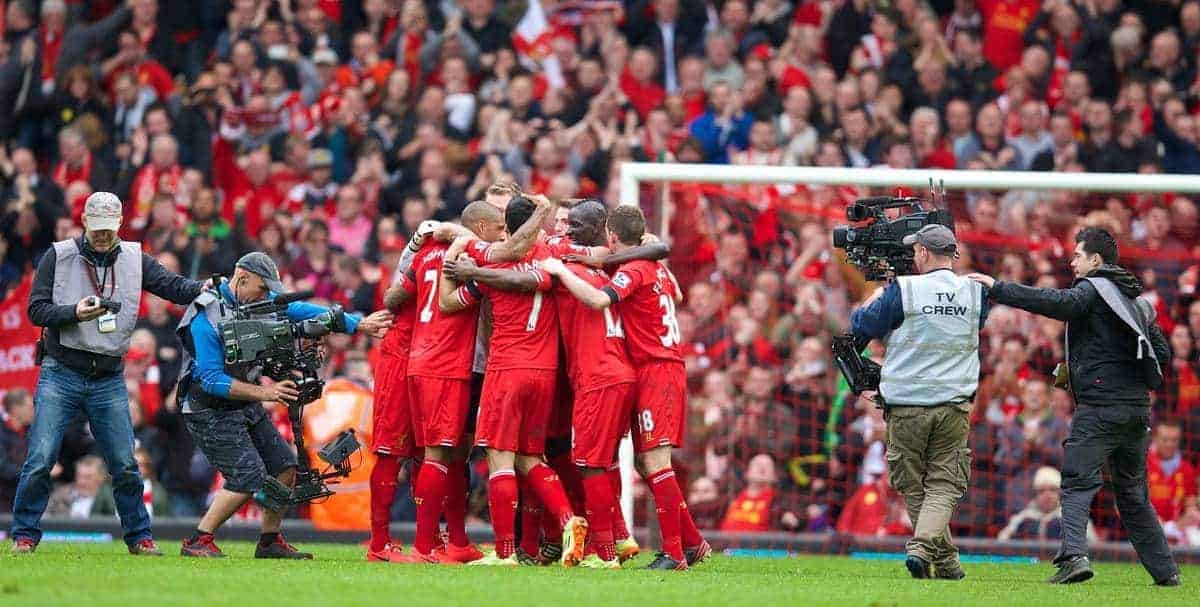 The ultimate, yet ultimately fruitless big game came in our victory against Manchester City in the run-in to the title challenge in 2013/14 of course. We weren't to know we'd end up empty handed at the time but you'd struggle to find more than a handful of games over the previous decade which 'felt' bigger in the moment.
Add to this too the fact that, although there was nothing riding on it, we managed to beat City as incumbent champions last season at Anfield too.
We've been beaten by them too of course, and normally at the Etihad. However, when comparing our recent form against them and the other big-hitters in Manchester United, Chelsea and Arsenal, there's much more evidence to sink your teeth into when building a case for City as our likely next big win.
Wasn't beating Chelsea a 'big' win?
I feel deeply ashamed to say I was genuinely a bit gutted when Stoke beat Chelsea in the weekend following our 3-1 victory against them. Don't get me wrong I didn't want them to win and close the gap between us and them to a measly three points. I'm not a lunatic. I fancied a draw.
However, when you beat a team in fifteenth place (as they were at the time) and who have been beaten in seven of the twelve league games they've played, you can scream until your blue in the face that it's Chelsea but in truth it's only the name you've beaten.

In much the same way that here in the UK we have suddenly entered into this nonsense of giving a bit of rainfall and wind a name in a manner normally reserved for hurricanes, the name simply provides a duplicitous gravitas that belies the reality of the situation.
That Stoke win reminded me of what I wanted to forget: Chelsea are not the force of nature of the recent past but are currently a light breeze called Derek. (Apologies to any Dereks). It felt like a big win at the time. I smiled and everything. In hindsight, it wasn't quite as big as I'd hoped.
How long did it take previous Liverpool managers to win their first big game?
For the sake of argument, me, myself and I have agreed that a big game is one against a top four team from the previous season (at the time we played them), and Everton for local rivalry reasons.
Gerard Houllier, Rafa Benitez and Roy Hodgson all took approximately four to five months from the point of their first competitive matches to win their first big game. In the case of Houllier, who took his first game in sole charge against Leeds on 14 November 1998, his first big win came against Everton at Anfield in April 1999 when we beat them 3-2.
Rafa actually beat Man City in his first month in August 2004. However, as stated this is Manchester City in the pre-money years and their biggest threat was Ben Thatcher. Not because he was any good but because he was a yard dog, elbowing knob of a player who would go on to put Portsmouth's Pedro Mendes in hospital.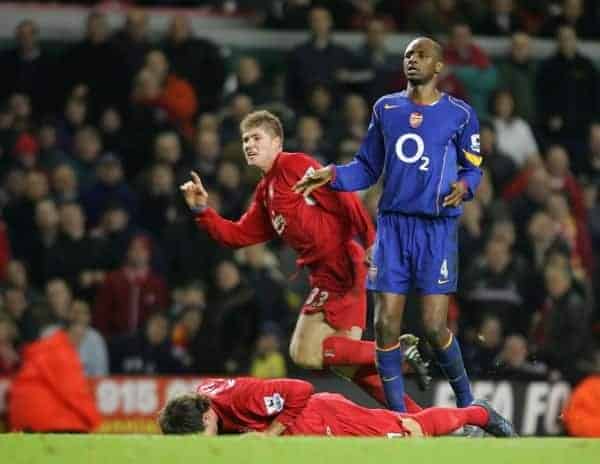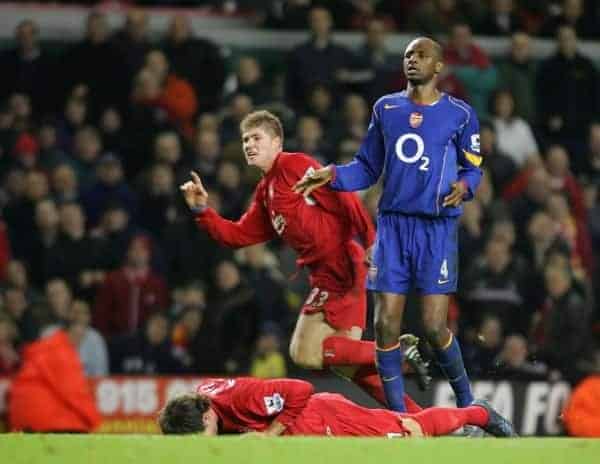 Instead Rafa's first big game came in the 2-1 win over Arsenal at the end of November 2004, with Neil Mellor scoring the winner in the 90th minute and, to my mind, still one of the best Liverpool goals ever.
Hodgson's Liverpool beat Chelsea 2-0 in November 2010. However, the only thing that win had to do with Hodgson was that Torres was so desperate escape his tawny clutches that he gave an all too rare recital of stellar performances from season gone by to secure a move to the very same team he was scoring against.

The exceptions to this four or five month trend 'thing' are Kenny Dalglish and Brendan Rodgers, but for very different reasons.
Although defeated by Manchester United in the FA Cup in his first game in charge upon his return, Kenny only had to wait one month before securing a 1-0 win against Chelsea away, Raul Miereles scoring the decisive goal.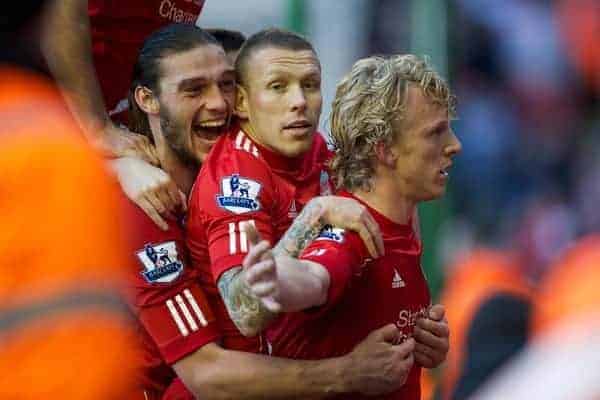 Ever the 'event' manager as a friend of mine refers to him, Kenny doubled his stake beating Man United 3-1 at Anfield a month later. This was the game when Kuyt scored a hat-trick and due to some bad 'goal-hanging' got a toenail to Suarez's effort as it crossed the line and robbed Luis of the goal of the season, having skinned the entire United defence in the build up.
Brendan, unfortunately, didn't win his first big game until we beat Spurs 3-2 in the March 2013, a good eight months into his tenure.
Is Klopp likely to beat Manchester City this early in his reign as Liverpool manager?
The precedent indicates not.
It took time for very good managers such as Houllier and Benitez to win their first tricky big game against significant, competitive opposition in a new league. Albeit, not scientifically accurate it at least illustrates the difficulty of the task in hand for Klopp.
It doesn't help either that since we beat Man City at the end of 2014/15 we have only won one other big game, the aforementioned City win in 2014/15. Let's put that into context: in the time it has taken for the clocks to go back, then be put forward and then be put back again we've only won one big game.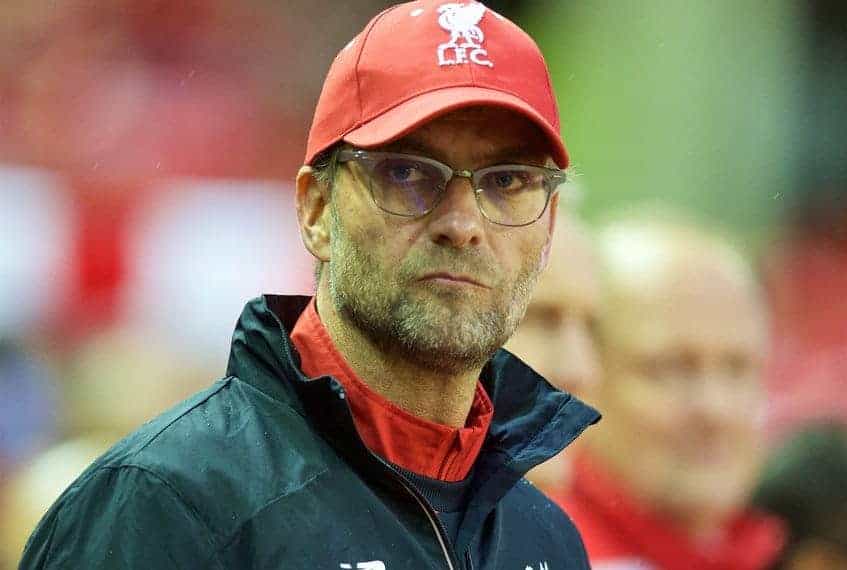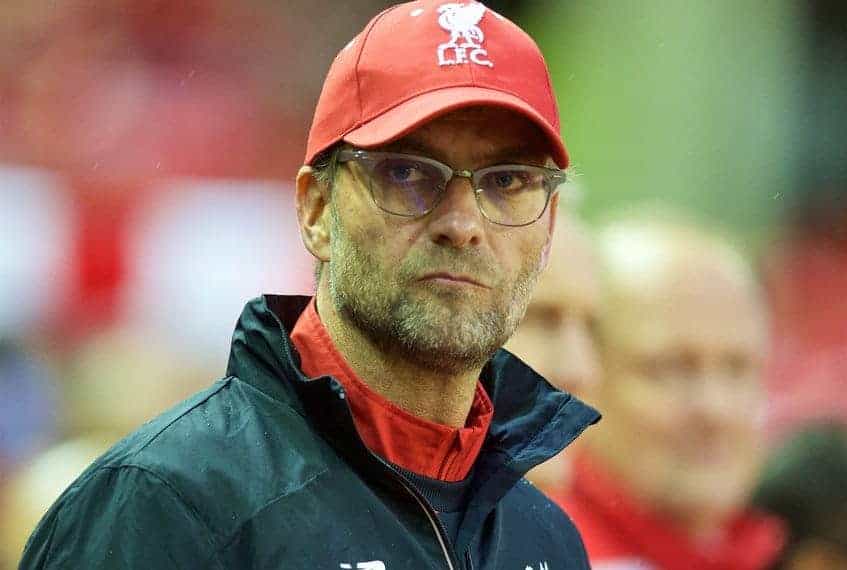 And as we've seen from Klopp's early reign, although much improved, the ailments of the last eighteen months haven't magically disappeared with the arrival of our new manager.
If Klopp's Liverpool wins on Saturday he'll repeat the exploits of Dalglish, securing his first big win in around a month. It logically follows that we are then nailed-on to win the League Cup!
Hopefully, Klopp can begin like Dalglish. However, my Red friends, if we don't manage to bag the three points, don't despair… Klopp has until around February/March 2016 time to win a big game and prove he's as good a manager as Roy Hodgson…
(It's a joke!)