Football Association chairman Greg Dyke has paid tribute to former Liverpool defender Gerry Byrne, who has died at the age of 77.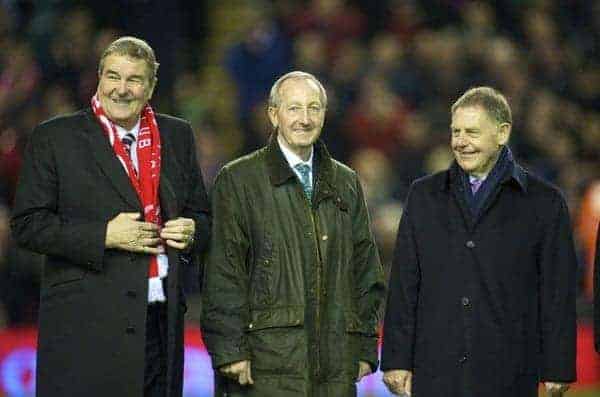 Byrne, who had been suffering from Alzheimer's disease, spent his entire career at his hometown club and was a member of England's World Cup-winning squad in 1966.
He is best remembered for playing through Liverpool's extra-time win against Leeds in the 1965 FA Cup final after breaking his collarbone in a seventh-minute challenge with Leeds midfielder Bobby Collins.
Substitutes were not permitted at the time and Byrne pleaded with the physio not to tell manager Bill Shankly the severity of his injury.
"I am saddened to hear of the passing of Gerry Byrne," Dyke told the FA's official website.
"I can still remember the way he helped Liverpool win the 1965 FA Cup despite suffering a broken collarbone early in the game.
"His determination to play on rather than leave his team down a man was remarkable.
"Of course, he went on to be involved with the 1966 World Cup squad, underlining just how talented a player he was.
"My sincere condolences go to his family and friends."
Byrne, a cornerstone of Shankly's first great Liverpool side in the 1960s, made 333 appearances for the club and won two League Championships, an FA Cup and a Second Division title.
A 40,000 crowd at Anfield for his testimonial in April 1970 was testament to his popularity. Liverpool's record appearance holder Ian Callaghan told the Liverpool Echo: "What Gerry did in 1965 was incredible.
"He broke his collarbone early in the match and then played right through the game, through extra time and even crossed for Roger (Hunt) to score the first goal.
"To play almost two hours with a broken collarbone was unbelievable."
Byrne represented England twice, making his debut against Scotland in 1963, but did not appear in the 1966 World Cup tournament.
Only the 11 players on the pitch at the end of the 4-2 win against West Germany received medals, but Byrne was presented with one in 2009 following a successful campaign to persuade FIFA to award medals to all the winners' squad members.