Playing a key role as Liverpool thrashed Aston Villa 6-0 on Sunday afternoon, Kolo Toure hailed his side's all-round performance as "perfect."
Toure scored the sixth on an incredible afternoon of attacking football at Villa Park, as Liverpool continued to pour misery on Remi Garde's relegation favourites.
After a shaky start, the Reds were in full control as Villa limped to yet another defeat, and speaking after the game, Toure praised how his team-mates executed Jurgen Klopp's game plan.
"Everything was perfect today. You could see it from the first minute, we controlled the game," he said.
"We pressed the ball at the right time. We did exactly what the manager asked us to do. We were clever.
"We used our brains, we defended well as a team, we didn't concede any cheap goals.
"Then we used the ball well and created a lot of chances.
"With the great strikers we have we can kill off any team. Six different scorers and that's what the manager wants: everyone being part of the game.
"When we attack, we all go forward, and we all have to defend too."
Though the likes of Philippe Coutinho and Daniel Sturridge will hog the headlines, the performances of Toure and his defensive colleagues deserve merit.
However, the Ivorian was content to turn the focus back to Liverpool's attack, explaining how Coutinho and Sturridge were game changers for the Reds.
"Just look at the first goal. Coutinho cross, Sturridge scored; first chance for us, first goal," he explained.
"They make the difference.
"They are both top players and we are really happy to have them.
"We have a great squad. We just need to repeat that type of performance.
"If we all listen to the manager we'll be fine. What we did today is exactly what he wants from us on the pitch."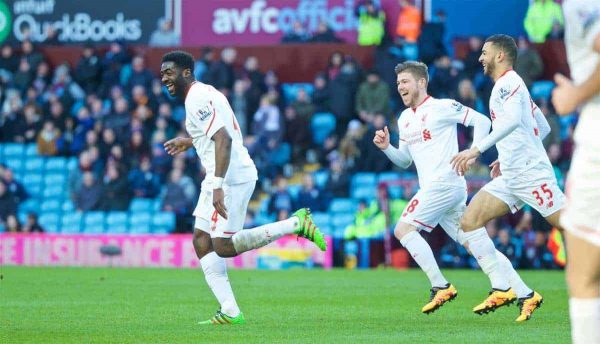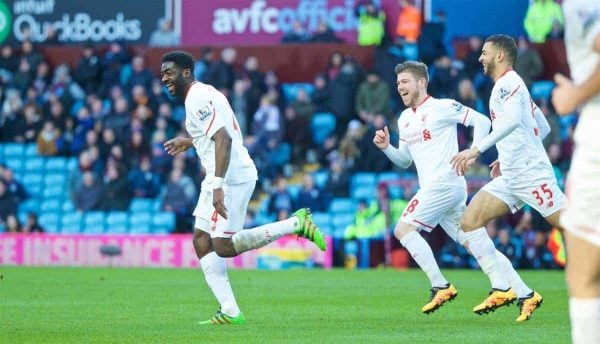 Nevertheless, while this performance captured Klopp's vision of Liverpool, the German was unlikely to be expecting a goal from Toure—his first in five years.
Reacting in disbelief, the 34-year-old is now looking to add to his tally as the final months of his contract play out.
"It feels fantastic," he continued.
"Finally, my first goal for Liverpool. It has taken a long time but I am very happy.
"It means so much to me. Nearly three years I've been at this great club and it had been five years since I last scored.
"I hope goals more will come now."
Toure became the 19th different goalscorer for Liverpool this season—the most in a single campaign in the club's history.
While Klopp will be pleased with the centre-back's contribution, his side's impressive team performance will prove more important.
ASTON VILLA 0-6 LIVERPOOL