It's six years since Rafa Benitez left his role as Liverpool manager, and despite not always getting it right, he left Reds with mostly happy memories.
Rightly or wrongly, Benitez's exit was always coming back in June 2010.
A disappointing 2009/10 season had seen Liverpool finish seventh in the Premier League, and the Spaniard's relationship with Tom Hicks and George Gillett had reached the point of no return.
Despite things ending on a sour note for Benitez – there was a huge division within the fanbase, with some worshipping him and others loathing him by the end – it should never be forgotten just what a great manager he was at Anfield.
He may not have been the warmest of characters to his players – Steven Gerrard has certainly made that clear – but he got Liverpool and the supporters, and most of us got him.
2004/05

Critics of Benitez love to give him no credit whatsoever for winning the Champions League in his first season on Merseyside, but just think about that for a minute.
He won the Champions League in his first season. That is a remarkable feat, considering the furthest Liverpool got until that point was the quarter-finals, in 2001/02. Not to mention the players at his disposal.
Of course, there were slices of fortune along the way, with Gerrard coming to the rescue against Olympiakos in the group stages, but then all managers experience such moments.
Man United scored twice in stoppage time in one Champions League final, and needed John Terry's slip to save them in another. Was Alex Ferguson ever labelled 'lucky'?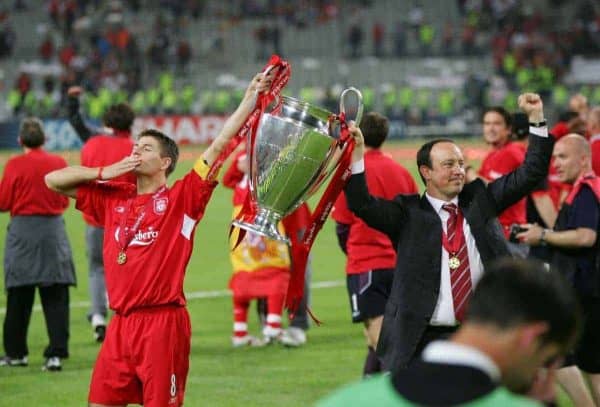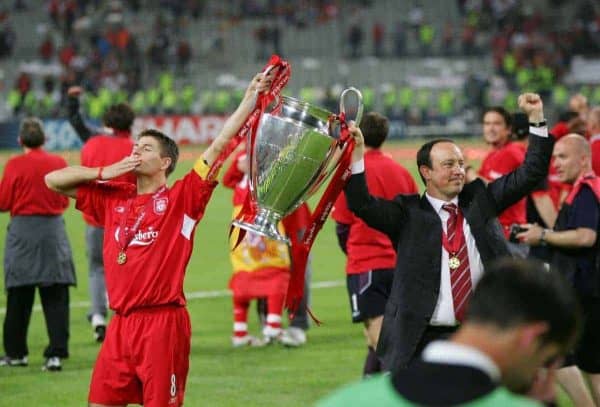 The way in which Benitez made his team so well-drilled and spirited was the key, and he got the very best out of mediocre footballers such as Djimi Traore and Igor Biscan.
He helped turn Jamie Carragher into a world-class centre-back, and Gerrard matured into arguably the finest midfielder on the planet during Benitez's first season in charge.
There was a never-say-die attitude about the team that only elite coaches can create, and the identity that Liverpool lost in the last two years under Gerard Houllier suddenly returned.
To overcome a fantastic Juventus team, a Chelsea side just crowned Premier League champions, and an AC Milan outfit containing some all-time greats was bordering on miraculous.
The league form was disappointing, in fairness – the Reds finished fifth, behind Everton – with too much rotation one of Benitez's biggest downfalls at times, but this was still just the start.
Genuine force
If 2004/05 was slightly freakish, in terms of achievement, Benitez showed how special he was in the several years that followed, turning Liverpool into one of the most feared sides in Europe.
Improved form in the Premier League saw the Reds finish third, and victory in an epic FA Cup final against West Ham secured a second trophy in as many years.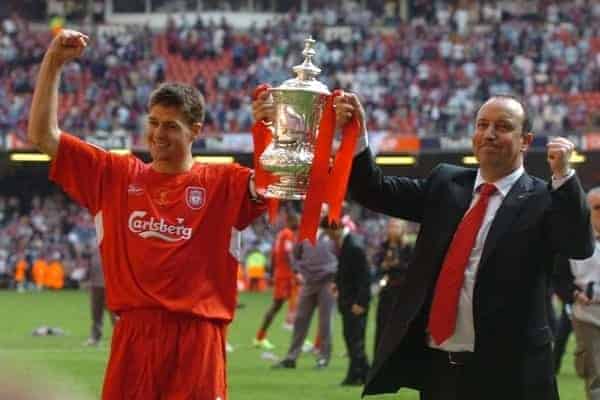 Of course, those who always took issue with Benitez will tell you that it was "all down to Gerrard" again. Perhaps they should credit Benitez with getting the best from Gerrard.
While the divisive Spaniard could be accused of blowing hot and cold in the transfer market, the calibre of players he signed more than made up for some of the failed acquisitions.
Pepe Reina, Daniel Agger, Martin Skrtel, Alvaro Arbeloa, Fabio Aurelio, Javier Mascherano, Xabi Alonso, Dirk Kuyt and Fernando Torres were all brought by Benitez, and all became key players in the mid to late 2000s.
Robbie Fowler may have been past his peak when he made an emotional return in January 2006, but it was a masterstoke by Benitez, when it came to appeasing the fanbase.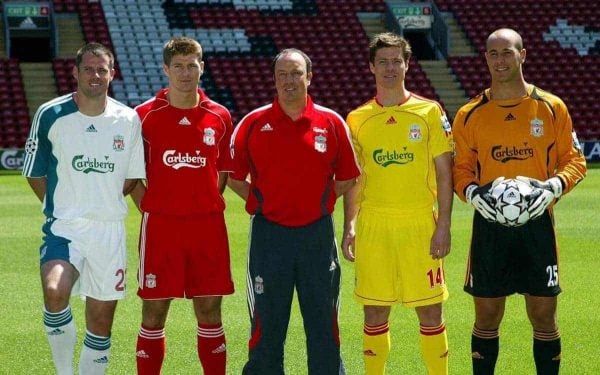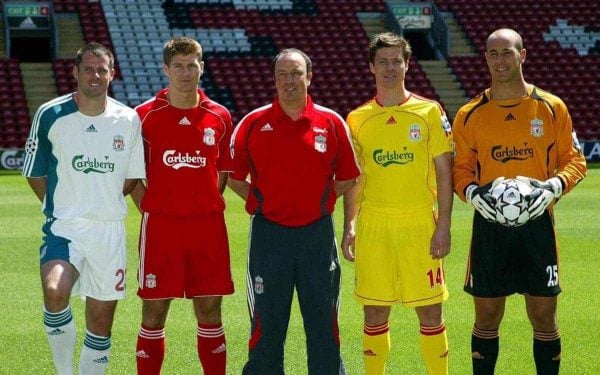 By 2006/07, Liverpool were the team most top sides wanted to avoid in the Champions League, and the Reds reached a second European final in three years. They lost, but their new-found pedigree could not be denied.
Barcelona, Chelsea, Arsenal and Real Madrid were all seen off in the space of a couple of years – Madrid were taken apart at Anfield, in one of Liverpool's finest European performances – and the Reds were now a superb team in their own right.
Benitez's decision to play Gerrard behind Torres epitomised his tactical nous – he had also brought the best out of his skipper in a right-sided role in 2005/06 – and Mascherano and Alonso were the finest midfield pairing in Europe.
A maiden Premier League title came agonisingly close in 2008/09, and only the sheer relentlessness of Ferguson's Man United side prevented it.
A gritty 1-0 win at Stamford Bridge. The 4-1 mauling of United at Old Trafford. Gutsy late victories against Middlesbrough, Chelsea and Fulham. That was a glorious campaign.
Sadly, the greatness of a team is judged on whether or not they win trophies, and that '08/09 outfit failed in that respect. It remains Liverpool's most complete team of the last 25 years.
Not perfect

It would be short-sighted and biased to call Benitez faultless during his six years on Merseyside, even if he is someone I regard as Liverpool's best manager of my football-watching lifetime.
His man management skills weren't always the most effective, even if his frostiness was his way of getting the best out of his players.
The 56-year-old was sometimes too conservative in home matches against lesser times, with his stubborn nature coming to the fore when a more attack-minded approach was needed.
Too many infuriating home draws in 2008/09 ultimately cost Liverpool the title, while certain selection choices could sometimes leave you scratching your head.
Who else remembers Gerrard's face when Benitez substituted Torres at Birmingham in 2010?
He spent badly in the summer of 2009, when Liverpool had the chance to kick on to the next level, although much of that was mitigated by the owners.
Hero

While these shortcomings may have been frustrating, Benitez was a wonderful manager who almost took the Reds back to the summit of English football.
Tactically, he was one of Liverpool's best ever bosses, and there was a way in which he embraced the city that felt incredibly genuine.
Those emotional images of him in tears at the Hillsborough Memorial Service in 2011, nearly a year after he had left, again outlined the feelings he has for the club and the city, and he still lives on the Wirral with his family today.
Things may have panned out very differently had Hicks and Gillett not gone so close to ruining the entire club – Benitez would likely have stayed on as manager – but we still managed to enjoy six years of him in the Anfield hot-seat.
Indeed, it's often overlooked the part Rafa had in removing Gillett and Hicks. He knew the damage they were doing and let it be known, arguably sacrificing himself in the process by speaking out: "I am focused on training and coaching my team."
He won trophies, helped turn certain players into one of the best of their generation, made Liverpool fearsome again and managed to get under Ferguson's skin.
Anyone who can achieve those four things at Liverpool is a hero in my book.