In our latest look back at memorable Liverpool seasons of the past, we revisit the 2008/09 campaign, and the Reds' most complete side since 1990.
Sometimes a football team just feels like it's on the cusp of something special.
Late-2000s Barcelona had it, Arsenal's Invincibles had it, and much as we try to erase it from our memories, Man United had it on two or three occasions in the 1990s and 2000s.
They had world-class players left, right and centre; a mix of genius and nastiness; and a winning mentality that proves crucial in the most testing moments.
Rafa Benitez's class of 2008/09 seemingly had all of these things—but sadly, they fell just short in their quest for greatness.
While 2000/01 brought far more glory, and 2013/14 was sensational entertainment game in, game out, 2008/09 felt like the Reds' greatest chance to return to the big time.
It wasn't always a season full of happiness, both on and off the pitch, but it was a nine-month spell that will stand the test of time.
The Team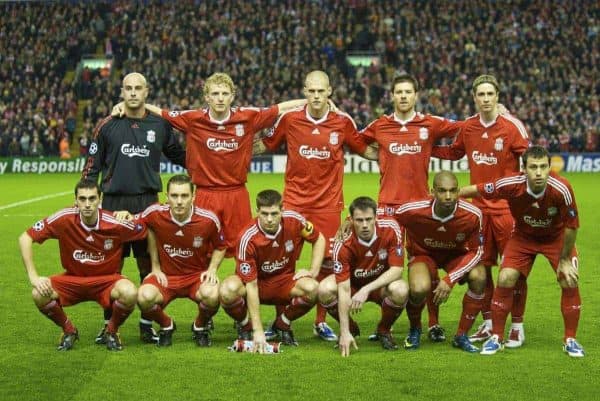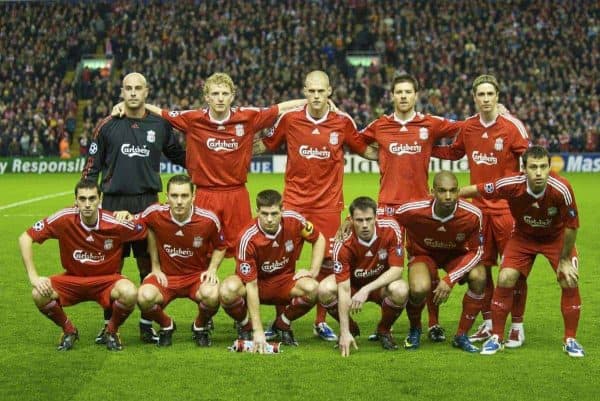 In terms of recruitment prior to the start of the campaign, it was far from Liverpool's most significant summer in the transfer market.
John Arne Riise and Steve Finnan, two of the Reds' stalwarts from the 2005 Champions League triumph, left the club, as well as the likes of Peter Crouch and Harry Kewell.
Robbie Keane was signed from Tottenham for £19 million, in a move that many expected to be a match made in heaven, while Albert Riera and Andrea Dossena joined from Espanyol and Udinese respectively.
The core of Benitez's side was already very much in place from the previous year, with enormous quality everywhere you looked.
Pepe Reina was magnificent at this point in time, while Fabio Aurelio and Alvaro Arbeloa were classy, dependable full-backs.
Jamie Carragher was close to the peak of his powers, and whether it be the evergreen Sami Hyypia or emerging duo of Daniel Agger and Martin Skrtel, Liverpool were sorted in the centre of defence.
Javier Mascherano was one of the world's greatest defensive midfielders—he still is, when he plays there—while the majestic Xabi Alonso was the perfect foil for the Argentine.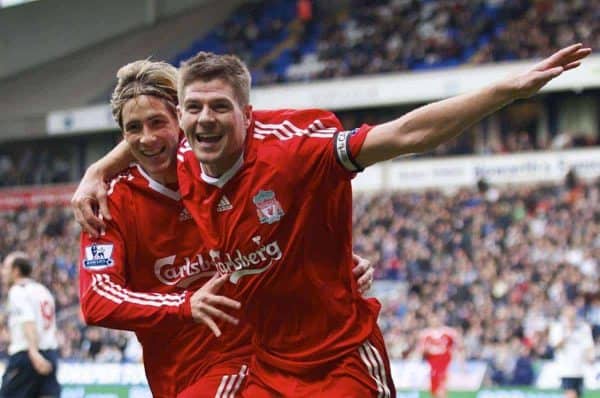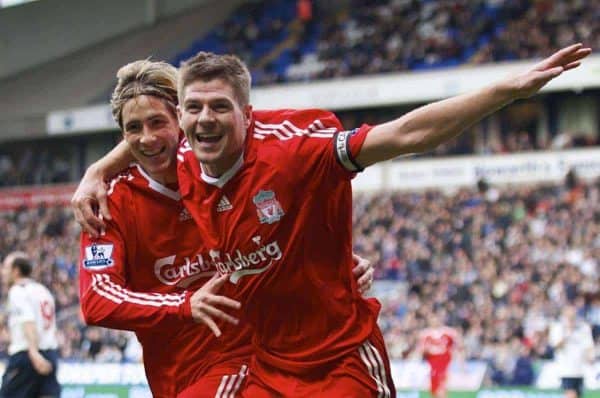 Riera, Yossi Benayoun and Ryan Babel were far from exceptional, but all three brought different qualities in wide attacking areas, whether it be pace, guile or industry.
Dirk Kuyt, meanwhile, may not have been the most fashionable of players, but he had become one of his side's most influential players in a right-sided role.
Then, of course, there was Steven Gerrard and Fernando Torres, who forged one of the most exciting strike partnerships in Liverpool history.
Gerrard was among the top three or four players on the planet at this point, with his all-round game capable of destroying teams single-handedly.
Torres wasn't far behind, and because of the way his career has since dipped, it is very easy to forget just what a special player he was.
It was an inspired decision by Benitez to use Gerrard in the No. 10 role, allowing the captain the freedom to strut his stuff in the final third.
That spine, from Reina right through to Torres, would hold its own against any Reds side throughout history, and they looked in very good shape ahead of the new season.
The Rivals

Alex Ferguson's United went into the season as the bookies' favourites for another Premier League crown, and it wasn't difficult to see why: like Liverpool, they had world-class talent from back to front.
Edwin van der Sar, Rio Ferdinand and Nemanja Vidic were unbreachable at times in defence, while veterans Paul Scholes and Ryan Giggs had enduring quality in midfield, along with the prime-age Michael Carrick and Darren Fletcher.
Cristiano Ronaldo, Wayne Rooney and Carlos Tevez were a fearsome attacking unit, with the mercurial Dimitar Berbatov often having to settle for a place on the substitutes' bench.
Chelsea and Arsenal were also expected to be right in the mix, at a time when the London duo, Liverpool and United almost always finished in the top four.
Portuguese superstar Deco was added to the Blues' already stellar squad, while Samir Nasri and Andre Arshavin brought extra class to Arsene Wenger's collection of diminutive maestros.
There was genuine belief that Liverpool were primed for their biggest assault on the Premier League title yet, though, as well as a hunt for a sixth European Cup.
Top at Christmas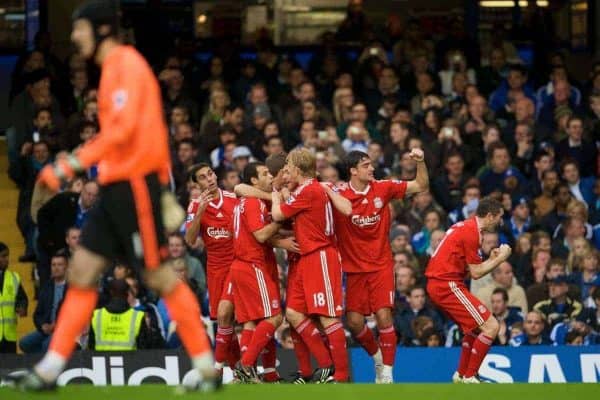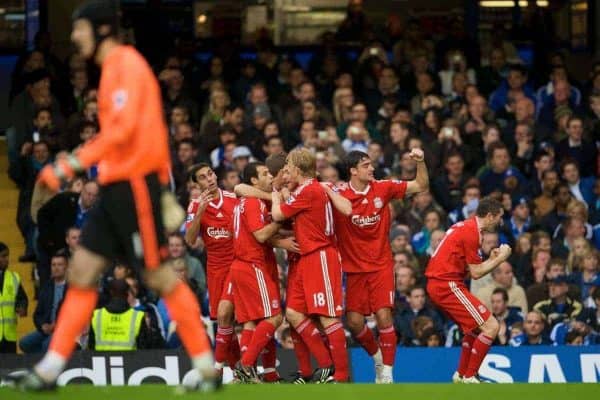 The Reds got off to a flier, with back-to-back wins over Sunderland and Middlesbrough only enhancing the belief within the squad. Torres and Gerrard both scored late winners in each of those matches.
Liverpool showed that they could win without their two world-class attackers starting, however, as they overcame United 2-1 at Anfield in September, with Babel getting the winner.
It was their first win in the league over their bitter rivals for four-and-a-half years, and acted as a huge psychological boost for the months ahead.
A 2-0 deficit at Man City was overturned in a dramatic second half the following month, with Kuyt's last-gasp winner sending the travelling fans wild—rarely has a Reds team fought to the final whistle like this one.
Liverpool then won 1-0 at Chelsea, ending the Blues' incredible 86-game unbeaten home run in the league, in what was the perfect team performance.
The Reds' only league defeat before Christmas came in undeserved fashion away to Tottenham Hotspur, but home draws against Fulham, West Ham United and Hull City proved hugely frustrating.
It's incredible to think it now, but a section of the supporters actually booed after these games, and were seemingly not content with their beloved Reds topping the table on Christmas Day—some fans just never warmed to Benitez, bizarrely.
Pivotal January Meltdown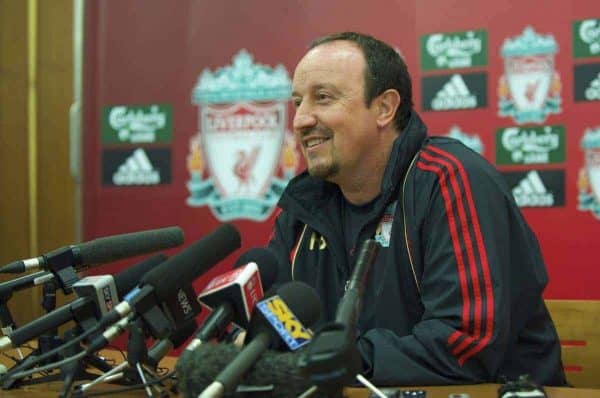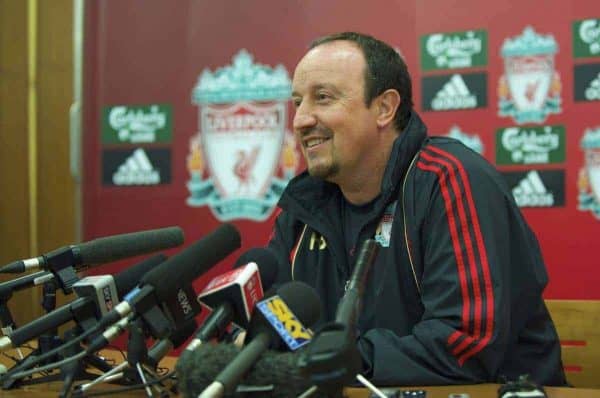 The point at which Liverpool allowed things to get away from them was at the start of 2009, with Benitez's infamous "facts" rant playing right into Fergie's hands.
It affected matters on the pitch, and three successive draws against Stoke City, Everton and Wigan Athletic felt fatal, despite such a large chunk of the season still remaining.
Very late wins at home to Chelsea and away to Portsmouth did reignite their hopes, but a dreadful 2-0 loss at Boro felt like the end.
In their next league outing, however, Liverpool produced a sensational performance, in a must-win game at Old Trafford.
They won 4-1, despite going behind, in what was quite possibly their best-ever away performance in the Premier League.
Torres, Gerrard, Aurelio and Dossena got the goals, on a day that will live long in the memory. Wasn't that silver-grey away kit glorious?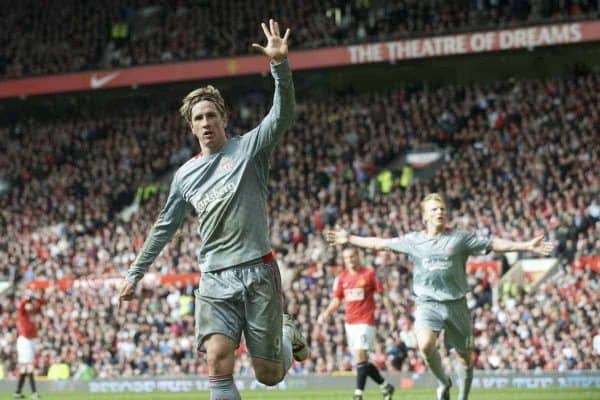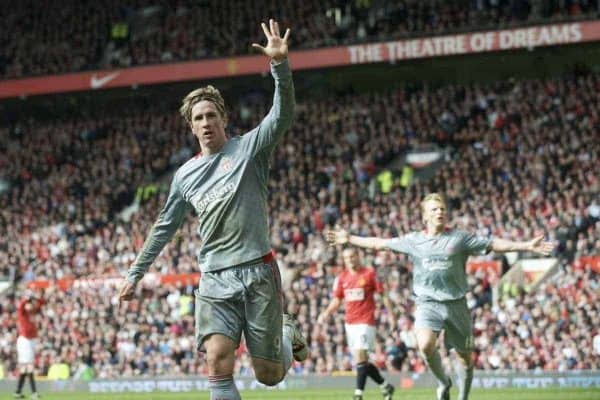 That win over United brought fresh belief to Benitez's squad, and a dramatic 1-0 win at Fulham—Benayoun's 94th-minute winner was an amazing moment—coupled with a United wobble, suddenly had fans dreaming again.
Federico Macheda's stoppage-time winner for the Red Devils at home to Aston Villa in early April was an absolute gut-wrencher, though, and it felt enormous in the grand scheme of things.
Had that goal not gone in, Liverpool would almost certainly have gone on to clinch the title.
Despite winning 10 of their last 11 matches, the Reds had to settle for second place, behind a United side who had not conceded for 14 straight league games at one point.
There was no shame in it, but those draws in December and January, and Benitez's press conference meltdown, were the main reasons why the trophy eluded them.
Champions League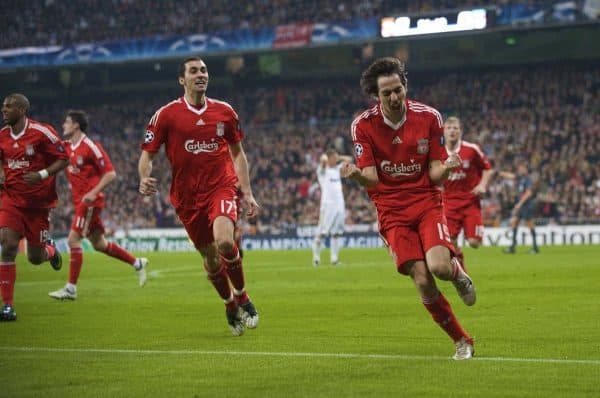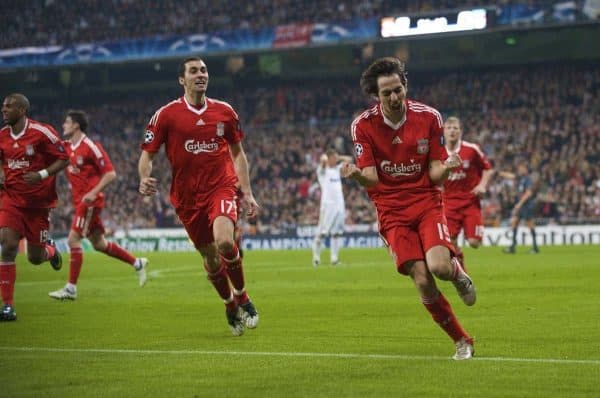 In Europe, it was another strong campaign, but one that again came up agonisingly short.
Liverpool cruised through a group containing Atletico Madrid, Marseille and PSV Eindhoven, before facing the might of Real Madrid in the second round.
Benayoun's header earned them a famous 1-0 win at Santiago Bernabeu, before a Gerrard-inspired Reds trounced their opponents 4-0 in the second leg.
It was the performance of the season, though there were plenty to choose from.
Chelsea eventually knocked Liverpool out for the second successive season, winning 7-5 on aggregate in the quarter-finals, following a remarkable 4-4 draw in the second leg at Stamford Bridge.
What Happened Next?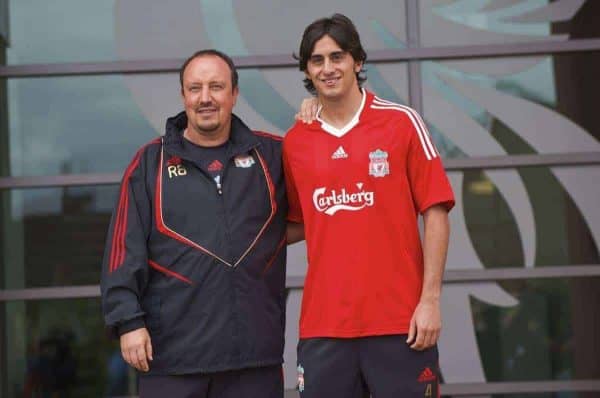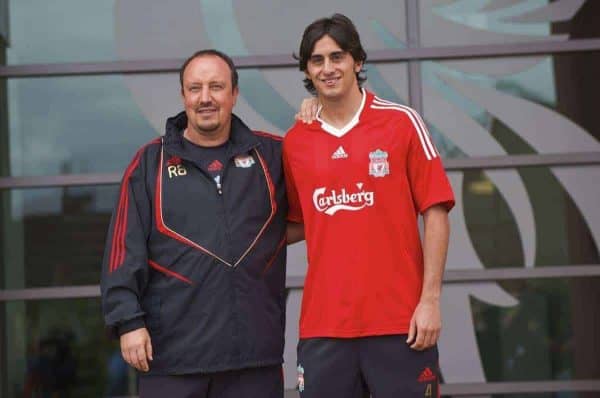 The 2008/09 season proved to be the point at which Liverpool hit their peak under Benitez, even if they did end the season without a trophy.
Alonso's summer exit to Real Madrid really hurt, and Benitez's decision to replace the Spaniard with injury-prone lightweight Alberto Aquilani was disastrous, particularly in hindsight.
Reina, Carragher, Gerrard and Torres were all never quite the same players from then on as well, while Mascherano would leave for Barcelona one year later.
Glen Johnson replaced Madrid-bound Arbeloa, which wasn't a success, while Keane's nightmare spell at Anfield had already ended in January, when he was sold back to Spurs.
Next up, 2009/10 was an appalling season, with Liverpool finishing seventh and doing nothing in any of the cup competitions. Benitez left in June 2010, after six years as manager.
That was due in part to his relationship with owners Tom Hicks and George Gillett, but some felt he had run his course anyway.
He should always be remembered fondly as a great manager for Liverpool, however, and the man who created their best team since the glory days back in the 1970s and 1980s.
---
---