Next up in our preview of Liverpool's 2016/17 opponents are a Southampton side who again underwent managerial change and saw star players depart this summer.
When we play them: Home – 6th May; Away – 19th November
The Saints have had another tough, transitional summer, losing their manager and two of the club's biggest players after a successful Premier League campaign last year.
Ronald Koeman has been replaced by Claude Puel, an unknown quantity in England but after having to bounce back in recent seasons from similar situations, the Saints will expect to do well once again.
They finished the 2015/16 season in sixth position, above Liverpool and looked consistent throughout the campaign, scoring more goals than they conceded.
However, they've lost their top goalscorer Sadio Mane, forward Graziano Pelle and key midfielder Victor Wanyama.
Supporter Q&A

We spoke to George Galpin, a sports journalism student and Saints FC blogger for Shoot magazine ahead of the new season.
How well do you think Southampton will do this season?
It's difficult to answer to be honest. We have a new manager who hasn't managed outside of France before and there's been the annual wheeling-and-dealing where key players are replaced by unknown or unproven quantities, so it would be a little hard to really nail down how we will do.
Throw on top of all that the Europa League and all the extra travelling, and it really begins to get a bit nervy. Depending on how we deal with all that, Saints could either have a really good season or it could turn out to be a long hard slog.
Who are your star men and who should Liverpool be looking out for when we play you?
Now that Mane has left and will be on your side, the task of creating chances really rests on Dusan Tadic. Whilst Long, Redmond and Rodriguez all have good pace and can run with the ball, Tadic seems to be the only one who take full advantage of that speed in attack with his passes and crosses.
It's at the back where the best players lie, though. Fraser Forster is a top class goalkeeper and should arguably start for England after Joe Hart's nightmare in France. Virgil Van Dijk and Jose Fonte are superb centre-backs. Ryan Bertrand isn't bad either; it's a good job we've got three of those signed up for long-term contracts and Fonte's been offered a new deal.
What changes have you made during the off-season and how do you think they will impact Southampton this year?
The obvious one is the manager. Koeman departed for the supposed riches of Everton (well, in terms of his contract) and has been replaced by Puel, who last managed Nice to a Champions League spot whilst playing the most stylish football outside of Paris by all accounts.
Mane, Pelle and Wanyama have departed, with Charlie Austin replacing the Italian and Pierre-Emile Hojbjerg arriving from Bayern Munich to step into Wanyama's shoes.
The club are still looking for Mane's replacement, so that may take a bit of time yet. At the moment, the Saints definitely look less dangerous going forward, but the defence looks as strong as ever. If Forster was in goal the whole of last season we'd have finished in the top four I think, so we might just be okay knicking games 1-0.
What formations and tactics do you expect your side to employ this year?
During the last few years we've employed a 4-3-3 formation or a variant of it, so Puel's new 4-3-1-2 is a slight change from Koeman's tactics where he liked to use out-and-out wingers and encourage crosses into a big target man.
As far as I can tell from pre-season, we're far less direct but still look to attack with pace. That may suit us in Europe, but how that will affect how we play in the Premier League remains to be seen, especially if we're lacking up front.
How do you think your side will look to exploit Liverpool's weaknesses?
The obvious one for me is the Liverpool defence, even if Martin Skrtel has gone. The serial shirt-pulling Slovakian was a weak link last March, so seeing him replaced by Matip is a bit annoying!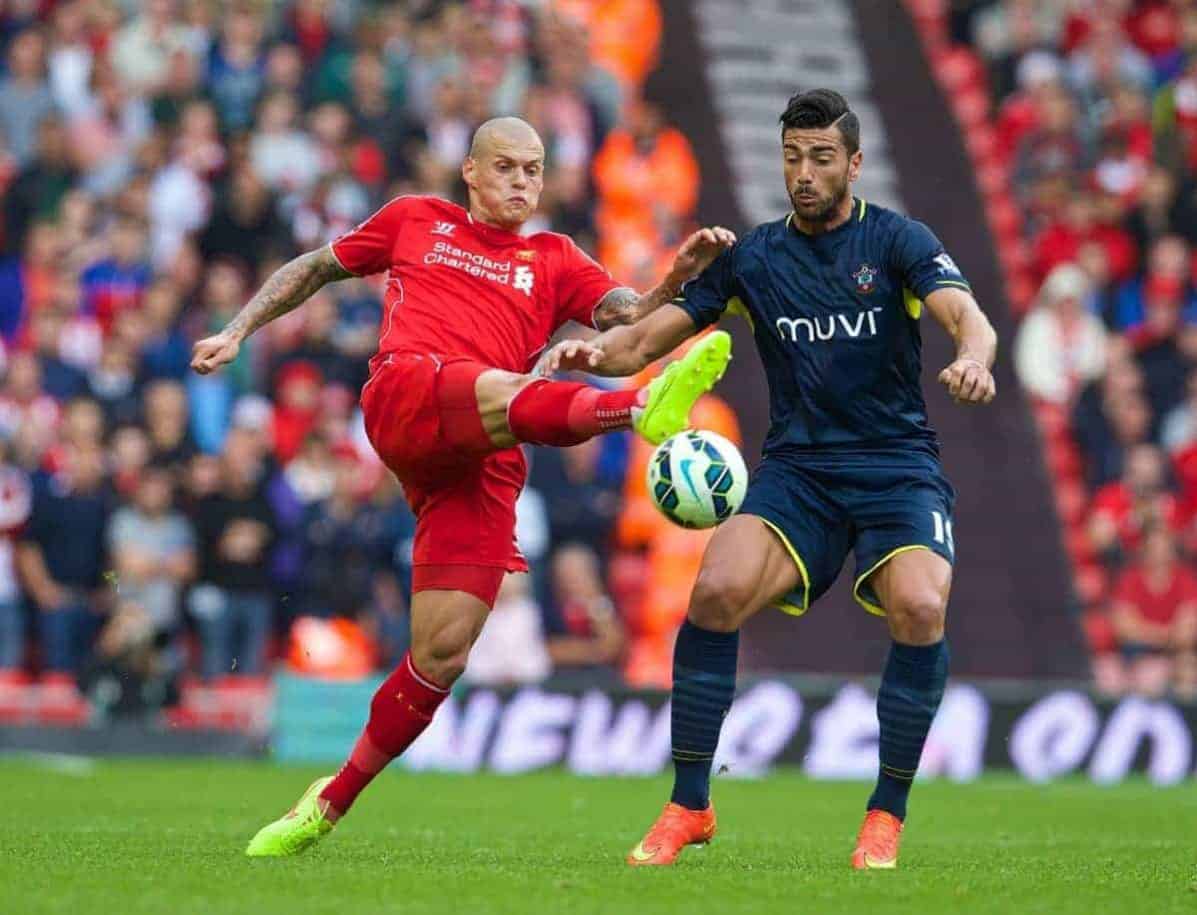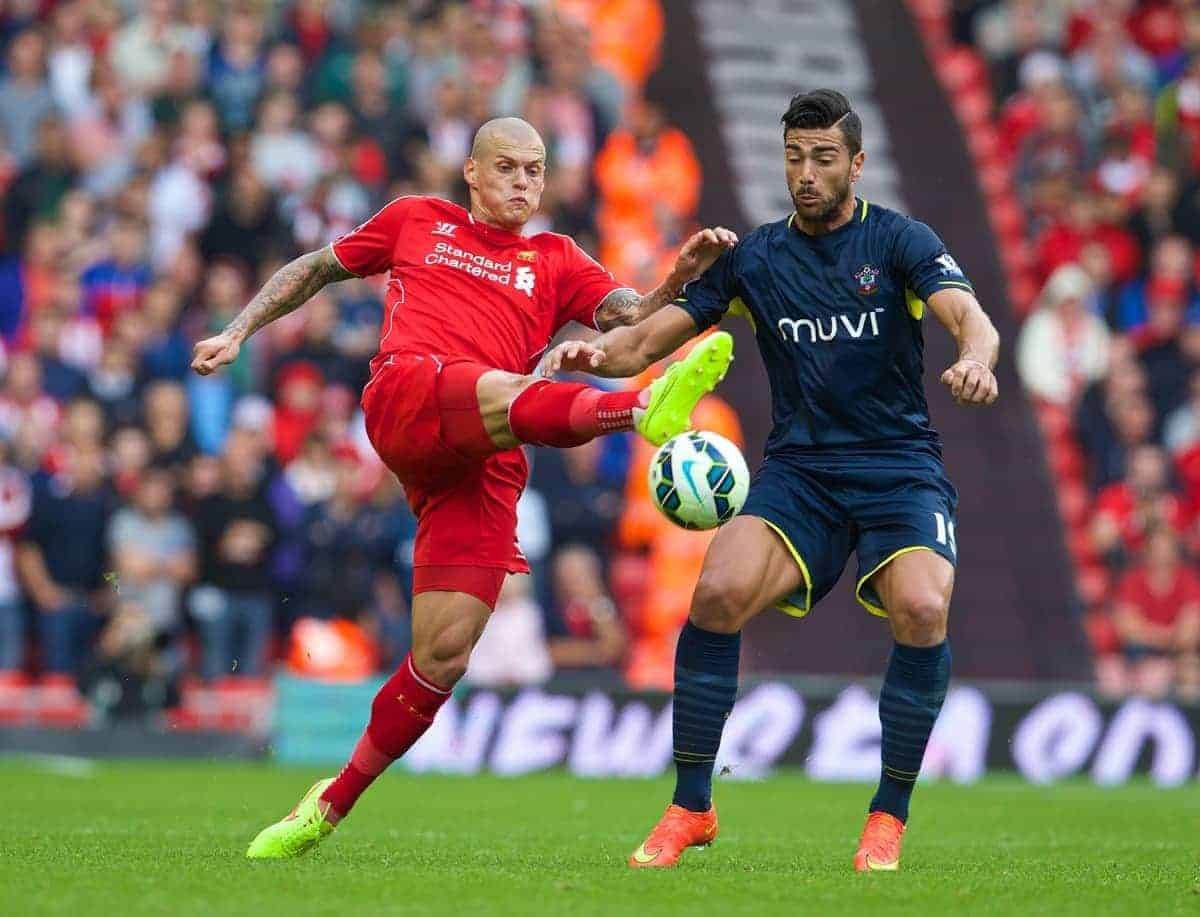 The space left by Alberto Moreno's overlapping runs and Dejan Lovren's meltdown at St Mary's still means that hitting Liverpool on the break is the best way to do things. Keeping Daniel Sturridge quiet helps too.
What's your home crowd like? What importance does home advantage have on your side?
It's a bit naff to be brutally honest. The expenses are high for Saints fans and we seem to have lots of players leaving and not much in the way of creativity so our songbook is limited and we often just copy off other team's songs (Achey-Breaky Heart, Freed from Desire, etc…)
Having said that we can be pretty loud at times and when we're on form. I just wish it was louder when the team need us and I like it when the whole ground joins in the support.
St Mary's Stadium

Capacity: 32,689
When we play there: Saturday, 19th November
Away fans pubs: Standing Order, Oxford Street; Yates', Above Bar Street
Southampton 2016/17

Players IN: Nathan Redmond (Norwich, £11m) Pierre-Emile Hojbjerg (Bayern Munich, Undisclosed) Kieran Freeman (Dundee Utd, Compensation) Alex McCarthy (Crystal Palace, £4m) Jeremy Pied (Nice, Undisclosed)
Players OUT: Sadio Mane (Liverpool, £30m) Victor Wanyama (Tottenham Hotspur, £11m) Juanmi (Real Sociedad, £5m) Paulo Gazzaniga (Rayo Vallecano, Loan) Gaston Ramirez (Released) Kelvin Davis (Retired) Joe Lea (Yeovil, Free) Jason McCarthy (Walsall, Loan) Graziano Pelle (Shandong Luneng, £12m)
George's starting XI: Forster, Cedric, Fonte, Van Dijk, Bertrand, Davis, Hojbjerg, Romeu, Tadic, Long, Austin
2016/17 Predictions

TIA's Southampton predicted finish: 11th
Where George thinks Southampton will finish this season: 10th
Where George thinks Liverpool will finish this season: 5th/6th
Who George thinks will win the Premier League: Manchester City