After Liverpool opened the Premier League season with a 4-3 win over Arsenal, we take a look at how the media assessed the seven-goal thriller.
What a way to open the season that was.
Jurgen Klopp's Reds kicked-off the new campaign electrifying, frustrating and battling in equal measure to claim a delightful first three points.
After falling behind to Theo Walcott's finish, Philippe Coutinho's fantastic free-kick drew the Reds level before half-time, before three goals in 14 minutes from Adam Lallana, Coutinho again and Sadio Mane saw Liverpool roar into a 4-1 lead.
Alex Oxlade-Chamberlain and Calum Chambers gave Arsenal late hope, but the Reds held on to claim a crazy victory.
A thrilling encounter that will certainly live long in the memory, here is how the media saw Liverpool's comeback win on a chaotic afternoon.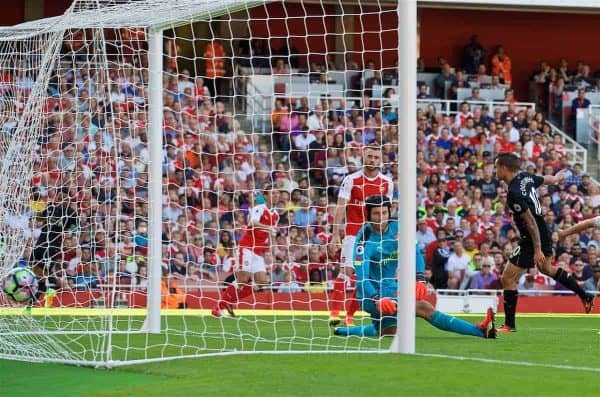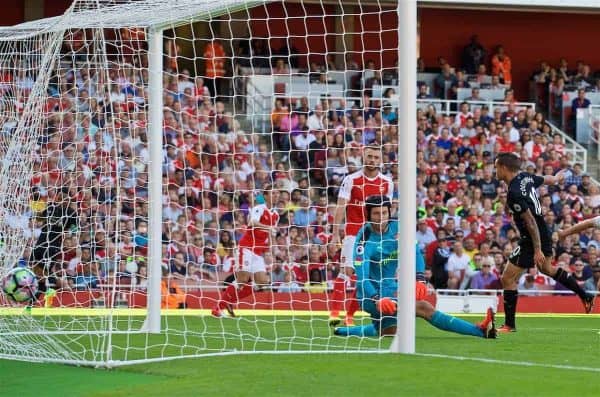 There was praise for Liverpool's sporadically seen blistering attacking play in post-match reports – particularly evident in the three-goal second-half blitz.
ESPN's Nick Miller wrote:
Their attacking play was at points sensationally rapid, slicing through a makeshift Arsenal back line — with new signing Rob Holding and Calum Chambers in central defence — like a sword through warm putty.
The Guardian's Amy Lawrence praised the quality of Liverpool's goals and feels Klopp can be pleased with the "stunning moments" produced by his attack.
All of the Liverpool goals were sensational in execution.

[…]

Klopp could be glad with the mixture of talent that eked out some startling moments involving the old and the new, even though he noted there was still considerable improvement to be found in terms of tactical compactness. Liverpool, still a work in progress, managed stunning moments.
The Mirror's Neil Moxley feels the Reds could dish out a number of hammerings this year:
The Reds' strength is up front. That red swarm attacking from all angles. And they do so at speed.

[…]

If Liverpool get it right this season, a couple of teams could be on the end of a right good hiding.
The Liverpool Echo's Andy Kelly noted the improved quality of the Reds' offensive play and options:
Liverpool had pace, stunning quality in their goals and an imperative to attack as soon as they won the ball back from their opponents.

The difference to last season perhaps is that the Reds will hopefully have more weapons with which to hurt their opponents in such scenarios.
Echo colleague James Pearce agreed:
Flaws can be papered over when you are blessed with the kind of pace, trickery and firepower Klopp can now call upon.
The Mirror's Adrian Kajumba credited Klopp's decision to play with Roberto Firmino as a 'false-9', which worked well in another big game:
They secured notable wins at Chelsea and Manchester City without an out-and-out number nine and this was another one to add to the list.

Philippe Coutinho, Sadio Mane and Roberto Firmino were their most advanced attackers in a fluid front three and like Chelsea and City last season, Arsenal couldn't contain Klopp's side.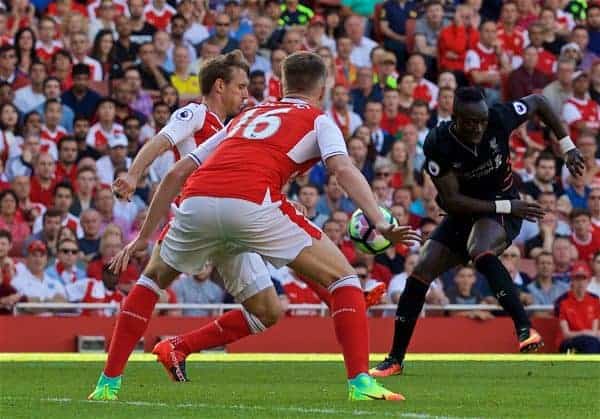 As expected after a fine debut there was plenty of praise for Sadio Mane following his stellar performance.
Goal's Melissa Reddy labelled Mane Liverpool's "game-changer":
The Senegal international was relentless, winning four tackles and completing as many take-ons in a stellar performance. He proved to be the game-changer along with the Reds' inspired No.10.
Kelly felt few have ever produced a maiden outing of such quality:
Few players have made as impressive a debut in Liverpool colours as Sadio Mane.

[…]

His sheer pace and ability to go both ways brings something Liverpool didn't have before – adding different skills as Klopp said in the build-up to the game.

His runs always had the Arsenal defence looking at their most vulnerable and some better decisions by both the player and his team-mates could have reaped even greater reward.
ESPN's David Usher felt Mane got his Reds career off to a perfect start:
The result is the biggest positive, but the performance of new boy Mane will have thrilled supporters. With a lofty £30 million price tag to live up to, it was important he got off to a good start and he couldn't have hoped for better than this.
Some also focussed on the dazzling display of Man-of-the-Match, Philippe Coutinho.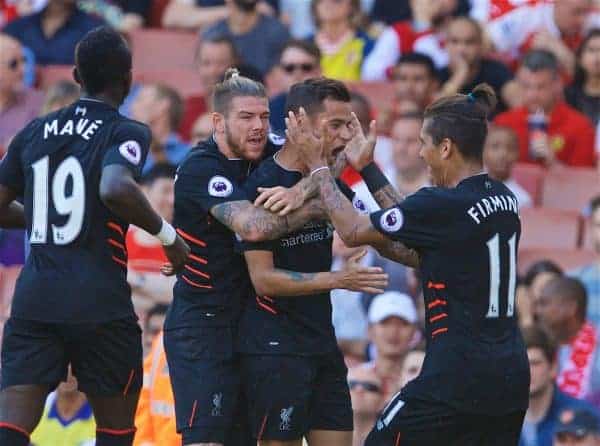 The Mail's Ian Ladyman wrote:
Coutinho, as is often the case, was at the heart of it and one wonders how Liverpool – even this reassembled version – would cope without him if – as is feared – he chooses to move on next summer.
Usher felt Coutinho was central to all Liverpool's positive play:
It was threatening to be one of "those" games for the Brazilian, who was anonymous early on, but then as he so often does he produced a moment of stunning quality to totally change the game. After that he was rampant and the catalyst for everything good from Liverpool.
Meanwhile, there were some less complimentary words on Liverpool's recurring defensive issues, and in particular the display of Alberto Moreno who reporters universally feel needs replacing.
Firstly, Kelly noted Liverpool's set-piece softness and a lack of midfield presence:
Set-piece vulnerability? There it was, as Calum Chambers got between Liverpool's two centre-backs to flick home a third which gave Arsenal real prospects of denying Liverpool a stunning opening victory.

[…]

Lack of midfield dominance? It would be harsh to criticise a new partnership of Jordan Henderson and Gini Wijnaldum too much but for most of the first half the Reds had no platform from which to establish any pattern of play.
Reddy feels Liverpool's continued "brainless" defensive choices need eradicating:
On the attack, Liverpool could surgically dismantle any side but their weaknesses remain in defence. Klopp's answer as to whether he will be strengthening in the market after the final whistle was "we'll see" but a reduction of the brainlessness decision-making remains paramount.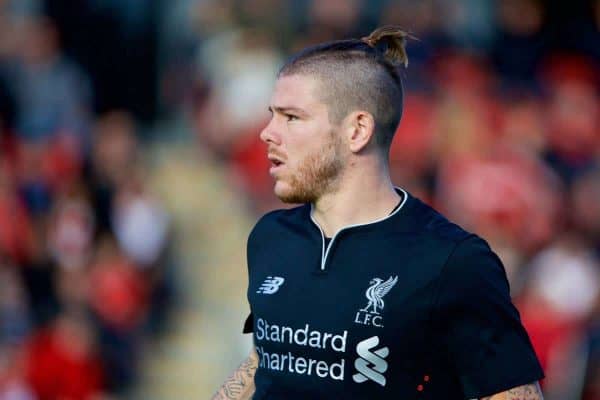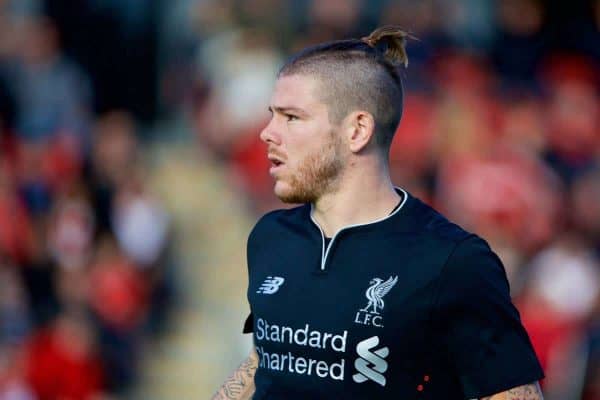 Pearce commented on Moreno's "woeful" performance:
Alberto Moreno was exposed in the Europa League final defeat to Sevilla in May and the new season kicked off with another woeful display from the Spaniard.

The Gunners did what any opponent with any sense does and targeted the erratic left-back.

Time and time again he was caught napping. His positional play is atrocious.
Usher felt Moreno was the biggest negative of the day:
Allowing Arsenal to get back into a game that should have been over at 4-1 will be a concern for Klopp, but the first half performance of left-back Alberto Moreno was undoubtedly the biggest negative to come out of the game. Most supporters have long felt that replacing the Spaniard should have been Klopp's main priority this summer, and this merely confirmed those doubts
Meanwhile, Kajumba said Moreno's performance showed a new left-back is needed:
You knew it was bad when James Milner was tried out at left-back during pre-season.

And Alberto Moreno provided further evidence of why Jurgen Klopp needs a new left-back before the window closes.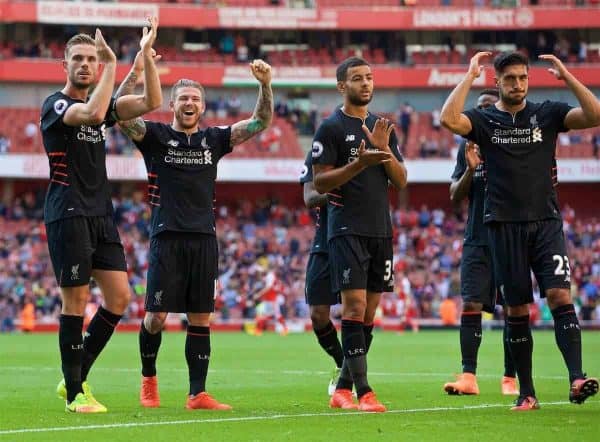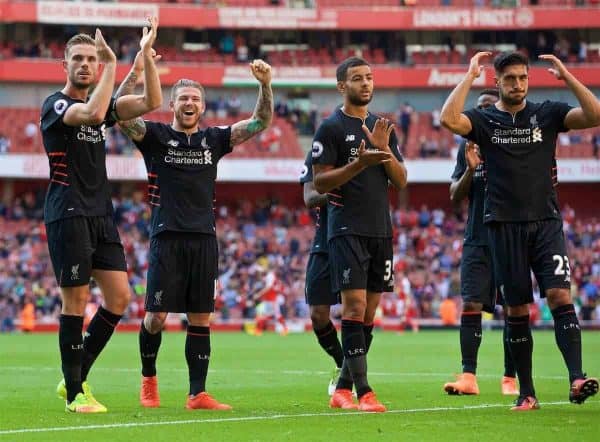 Finally, reporters reflected on a great start for Liverpool, which hands the Reds a momentum that could prove crucial for a strong campaign.
Pearce wrote:
Unconvincing? Yes. But winning in such thrilling fashion in the backyard of one of their rivals for the Champions League spots is the perfect shot in the arm.

With the Anfield rebuilding work forcing Klopp's side to spend the opening month of the campaign on their travels, a good start was crucial and Liverpool now have momentum.
Reddy drew positives from picking up a result at an unhappy hunting ground:
It wasn't perfect from Liverpool, not even close, but it was important that they managed to play themselves back into a game that looked lost after the first half-hour at a venue notoriously difficult to win at.
The Guardian's David Hynter assessed:
Klopp restored belief and unity last season and, after a full pre-season in which to hammer home his high-intensity methods and play the transfer market, he has talked of this as being his team. There were defensive glitches on display but the optimism could surge.