Liverpool manager Jurgen Klopp has defended his approach to transfers, and pleaded for patience as he builds for the future.
The German turned a profit in his first summer transfer window since joining the Reds in October, despite bringing in six new faces along with January signing Marko Grujic.
Grujic was joined by Sadio Mane, Georginio Wijnaldum, Joel Matip, Loris Karius, Ragnar Klavan and Alex Manninger, with Klopp spending a total of £69 million.
But with the departures of Christian Benteke, Joe Allen, Martin Skrtel and Jordon Ibe, among others, Liverpool have made up to £17.5 million, amid calls from supporters to strengthen further—namely at left-back and at the base of the midfield.
But speaking to the Mail in a wide-spanning interview on Friday, the 49-year-old said the demand for signings was misplaced.
"This is a crazy time where football is, for some people, the most serious thing in the world, but no-one really cares about it," he explained.
"Look at the transfers: all everyone wants to know is what happens. They never want to know what it means behind, for this team, for that team.
"It's just 'come on—give me the next big signing'.
"To be cool enough to stay out of this colourful world around football, that is what I do. I'm not part of that, I'm not there, I don't enjoy it."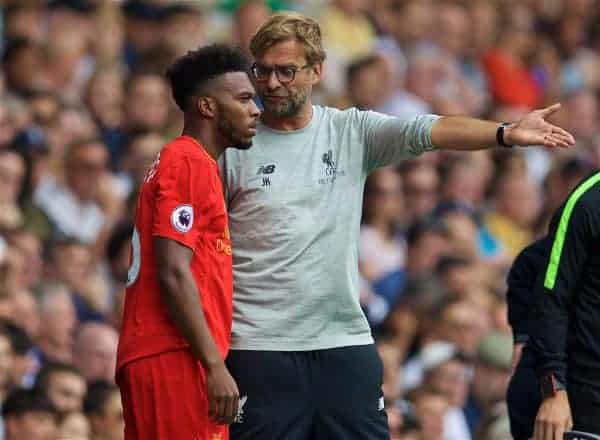 This is an interesting, and well-rounded, standpoint, particularly following a summer in which Premier League clubs spoke to £1 billion barrier for spending for the first time.
Among this record outlay came Manchester United's £89 million acquisition of Paul Pogba, an undeniably talented player, but also more knee-jerk additions such as Arsenal's £17.1 million move for Lucas Perez.
The latter in particular looked to have come as a response to fury among the Arsenal support, but Klopp stressed that he would never make a signing to save face.
"I know about pressure but I don't feel it. I would never make a decision for how it looks outside, to be safe," he continued.
"Now everyone wants an £80 million signing, or just the next signing, the latest signing. But I would never buy a player for that—just to do it.
"We have bought enough, and if I am convinced, I am convinced. It's for the good of the club, not for the good of me. I'm not that important.
"There are big competitors in this league, but we can't say 'if we had this signing we would beat them, and if not, no chance'. What is that?
"It is not important that one or two clubs have more than us. It is not important who the best player in the world was last year.
"It is important who will be the best next year.
"As long as we can be in the race, we have a chance. I am not jealous of anybody else. I've never been jealous. I love this game because it is a team game."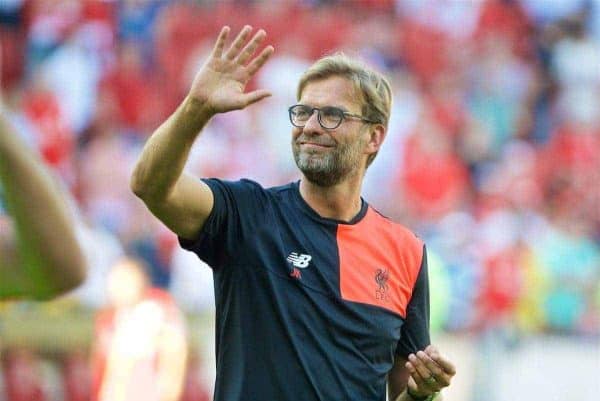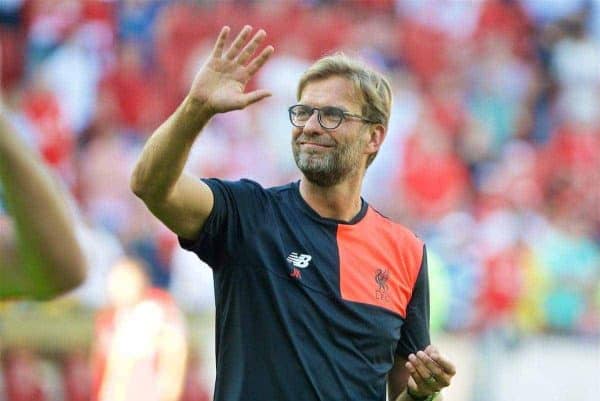 "People are allowed to dream," he went on to add.
"All I can say is that if you really love this club then you need to believe in our way, and that way is not always going to be easy, but I think we will do it."
In addressing the intense pressure on managers in the modern era of the Premier League, Klopp looked to eradicate doubt from Liverpool supporters after the summer's profit.
The Reds manager is aware of this, but is clearly firm in his belief that his way is the right way.
---
---