Speaking as part of the latest Betway Insider podcast, Liverpool writer Tony Evans suggested Fenway Sports Group could soon look to sell the club.
Evans, speaking to Tom Bowles and Alan Alger, discussed comments from FSG co-owner John W. Henry in September, with the 67-year-old casting doubt over plans to expand the Anfield Road End.
Henry alluded to supporters' protests against increased ticket prices in his reasoning against the possibility of further expansion at Anfield.
But Evans believes this was an "interesting" stance, given Henry's previous views, proffering that this was a hint as to his and Tom Werner's willingness to sell in the future.
"It's a very interesting comment, because not so long ago Henry was talking in terms of the TV deals [being] so big the matchday incomes were shrinking in proportion of overall revenue," he said.
"He even said there may become a tipping point where prices come down, because frankly, it doesn't make that much of a difference.
"So this change of mind makes me wonder about their long-term commitment to the club.
"We've heard lots about potential sales, and I am almost certain that if the price was right they would take either a partner or sell the club completely.
"The price would have to be very right—they've got no need to sell. But I think maybe they've realised this could be one of the peak times to trade a football club.
"In that context, I thought it was instructive. It's a strange thing to say.
"The ticket-price issue made so little money, comparatively, for them, in terms of £2 million, and they backed away from it so quickly.
"If I was him I wouldn't [even] be bringing it up again!"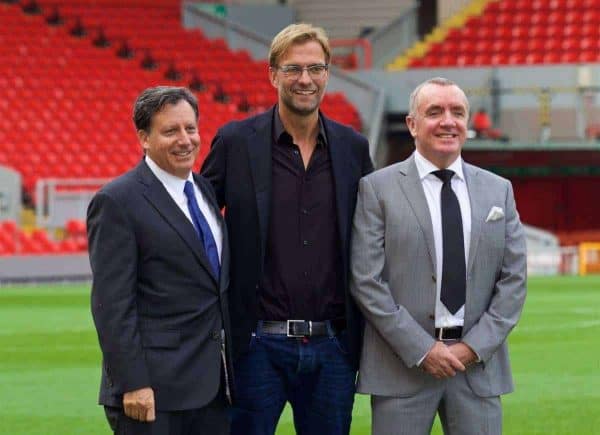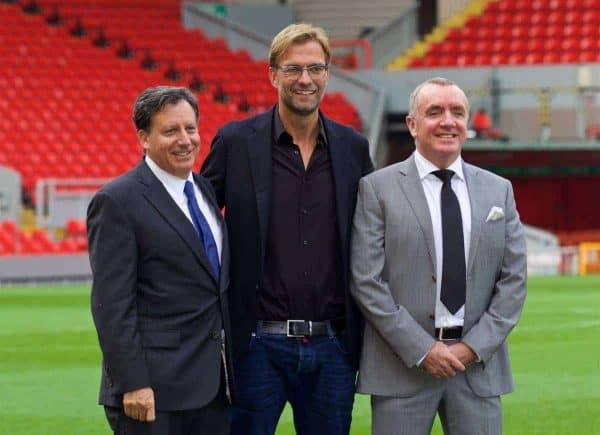 Evans went on to put a timeframe on FSG's ownership, but insisted that the appointment of Jurgen Klopp a year ago had "re-energised" Henry and Werner.
"I don't think they'll be owners of Liverpool in 10 years," he added.
"I would be very surprised if they're owners in five years. A year ago, you could have gone in, put £650 million on the table and had a deal in the week.
"Jurgen Klopp's re-energised them. The owners, they love him, and you can see why."
This was very much evident during Klopp's appearance on Sky Sports' Monday Night Football, but evaluating the German's contribution, Evans said he should "talk less."
"If I was advising him, I'd say 'talk less'," he explained.
"I thought it was interesting in the last couple of interviews and on Monday Night Football, [his stance changed].
"Instead of bigging us up a little bit, [saying] 'if you love this club you must believe in what we're doing', he was more realistic.
"Talking about titles, he played it down 'there's going to great days, and I'm happy with them, but there's going to be days when we're on the other end of it'."
Evans preached a measure of scepticism when it came to Klopp, referencing his predecessor, Brendan Rodgers, but largely, it seems the German is moving in the right direction.
Visit the Betway blog here, and visit the Betway Insider podcast on Soundcloud here.