Liverpool fans love a good European away trip and despite less of them in recent times there's still been some memorable ones in the last decade.
The Reds are not competing in either the Champions League or the Europa League this season, but having led his side to the final of the latter in May, Jurgen Klopp is eager to inspire their return.
Defeat to Sevilla in the Europa League final was a disappointing end to the 2015/16 campaign for Liverpool, but their route to Basel provided a number of captivating nights for supporters.
Such nights, particularly on the road, are familiar with the Reds' fanbase, having enjoyed considerable success in Europe – not least with four European finals (two UEFA Cup, two European Cup) in the seventies and three European finals in the eighties.
Things have changed a fair bit since those halcyon times, so to capture the feeling of more modern away days, This is Anfield spoke to a host of Liverpool supporters about their favourite memories of the Reds in Europe in recent years, with help from travel experts Expedia.
Expedia have developed The Fan's Guide To European Away Games — a pretty much go-to resource for all things continental football. The following accounts of Liverpool European away days in recent years may well inspire you to take off for a European adventure yourself and this interactive resource is just the ticket.
AC Milan 3-3 Liverpool (Penalties: 2-3) – Champions League Final, 2005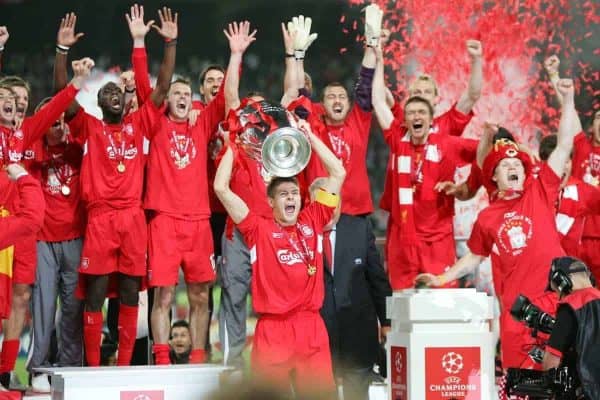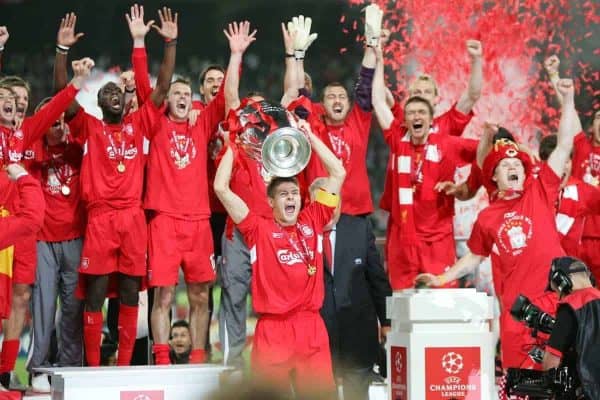 Where? Ataturk Stadium – Istanbul, Turkey
---
Where better to begin than in Istanbul? Widely considered Liverpool's greatest achievement in recent times, victory in the 2005 Champions League final saw Rafa Benitez's Reds cement their place in the club's history.
Everyone knows the story—from first-half heartbreak to half-time You'll Never Walk Alone, from Steven Gerrard's header to Jerzy Dudek's penalty heroics—and everyone has their own take on the night.
For This is Anfield writer Steven Scragg, like the rest of the 30,000 fans who made the trip, his experiences have remained "immovable from memory."
"We were allocated Taksim Square as our base prior to the game and the atmosphere was vaguely hypnotic. We swamped the place and the passing locals were drawn in to the feel-good vibe," Steven said.
"I can remember a well-dressed businessman being amazed by the Che Guevara banner on display and teenage school kids asking us for a can or two of the crates of Efes we'd obtained from one of the small shops just off the beaten track. It was very much the party atmosphere."
This atmosphere was dampened following an early goal from Paolo Maldini, and a brace from an inspired Hernan Crespo, but as Steven continued to explain, this was soon lifted within the stands.
"At 3-0 down, half time was eerie. The whole You'll Never Walk Alone incident started as a low-level vigil of sorts, which then grew bit-by-bit in velocity.
"It felt simultaneously hopeless, but meaningful. I'd never heard it sung like that before and I've never heard it sung that way since. It touched people."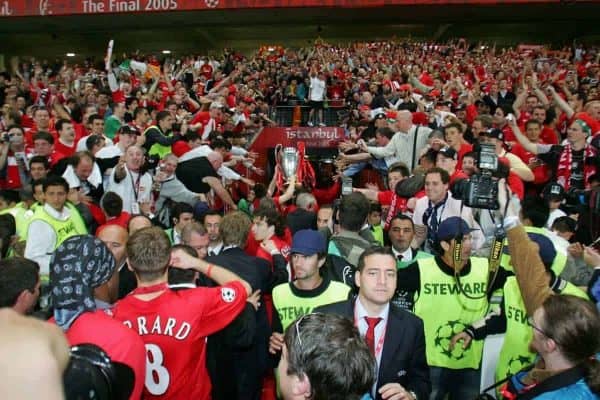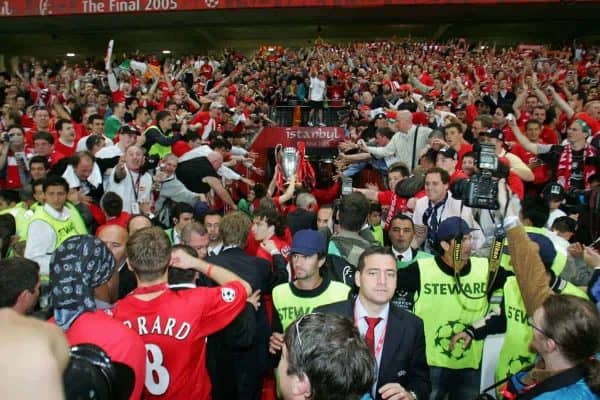 The magnitude of Liverpool's victory is hammered home on a daily basis on Merseyside, and after Steven made it to the Ataturk Stadium—by way of an overcrowded taxi, having been left "stranded on the cusp of Asia" by his bus—he saw this in the faces of Rafa's players.
"I can remember Jamie Carragher during the warmup showing Luis Garcia where the Liverpool fans were in the stadium," Steven detailed.
"Carragher swept his outstretched arm around three sides of the ground and Garcia just shook his head in amazement.
"Garcia then jogged over to Xabi Alonso to show him what Carragher had just told him. It was just meant to be."
The heroics of Gerrard, Alonso, Dudek and Co. will remain etched in the folklore of Liverpool, but as Steven attests: "It was those inside the Ataturk who brought it to life."
AC Milan 2-1 Liverpool – Champions League Final, 2007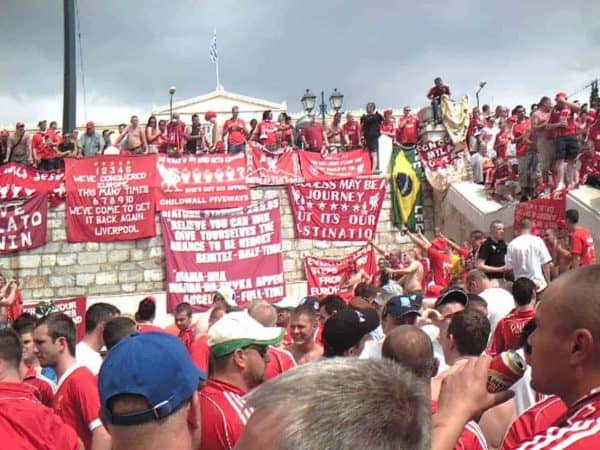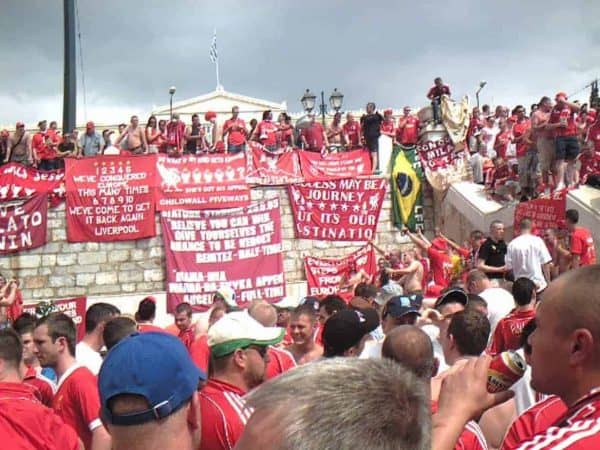 Where? Olympic Stadium – Athens, Greece
---
After the Reds' triumph over Milan in Istanbul two years previous, Benitez led his side to another Champions League final against the Italian giants.
Arguably boasting a stronger squad on paper, Liverpool looked in a great position to seal their second European title under the Spaniard, with This is Anfield founder Max Munton recalling the "huge excitement and anticipation" before the game:
"Liverpool turned Syntagma Square in the heart of Athens into a sea of red. Hundreds of banners and flags lined the square's grand steps as the beers flowed and the songs were sung.
"Hats off to the banner that read, 'Jose's on viagra cos he can't get past a semi but Rafa goes all the way'."
It didn't prove to be a repeat of 2005, however, with two goals from Filippo Inzaghi consigning the Reds to defeat, despite a late rally that saw Dirk Kuyt strike at the death, and as Max continued this was reflected within the stands—though the venue.
"Maybe it was the nerves, maybe it was just the way the match played out, but more likely it was the stadium," he explained of the poor location for a final.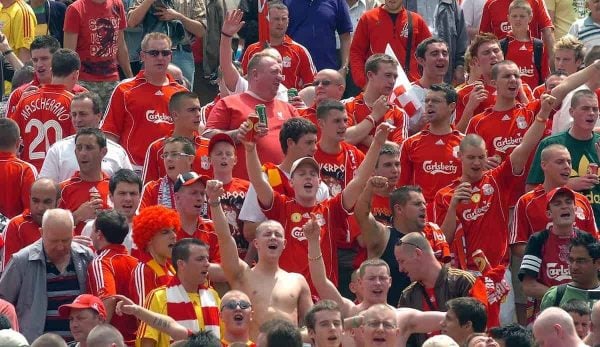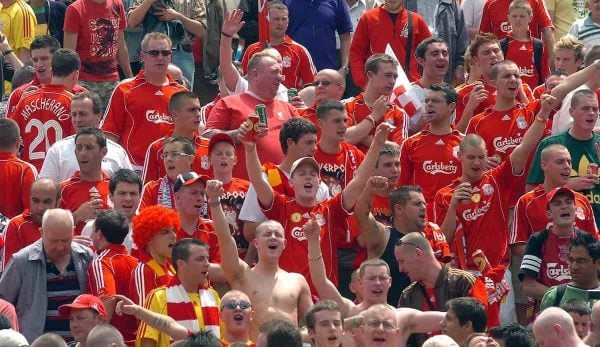 Nevertheless, an away trip in Europe is always a memorable one, if not just for the football.
"I did the final as a day trip—leaving Liverpool John Lennon Airport at about 5am, arriving back at a similar time the next day. Other mates had taken journeys with multiple legs—one via Amsterdam, Rome and Malta!" Max explained.
"Once congregated in Syntagma Square, songs and pre-match anticipation were a fantastic conclusion to an exciting Champions League campaign.
"Even in defeat, it's days like these you'll remember all your life."
Inter Milan 0-1 Liverpool, Champions League Round of 16, 2008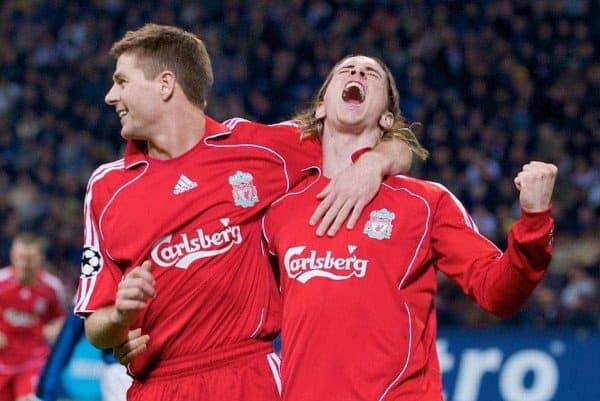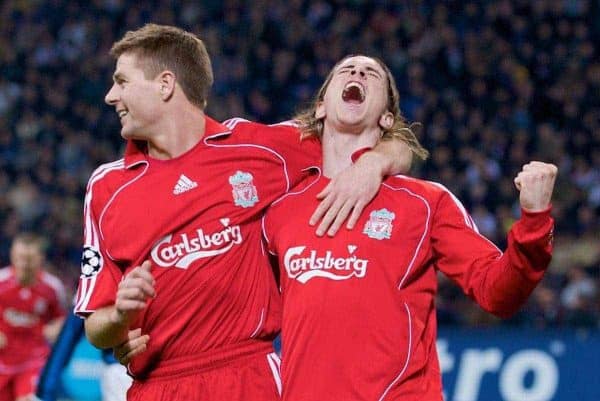 Where? San Siro – Milan, Italy
---
For some, a long trip to Europe to watch the Reds can be made worth it in just one moment, as travel writer and supporter Terry Dobbins, of Travel Blagger, recalled of his trip to Milan.
"That Torres goal. The first touch. The 360-degree turn. The finish on the half volley into the bottom corner," Terry told This is Anfield. "Our end in hysteria! The endless bouncing!"
Liverpool's away clash with Milan's other historic outfit saw them look to seal their place in the quarter-finals of the Champions League in 2008, with that emphatic strike from Fernando Torres ensuring a 3-0 victory on aggregate.
"For that moment alone, it would have been worth the night of sleeping rough," Terry continued, explaining that "being students we'd decided beforehand we'd probably have to choose between match tickets and accommodation, so it was a long night outside a park for us!"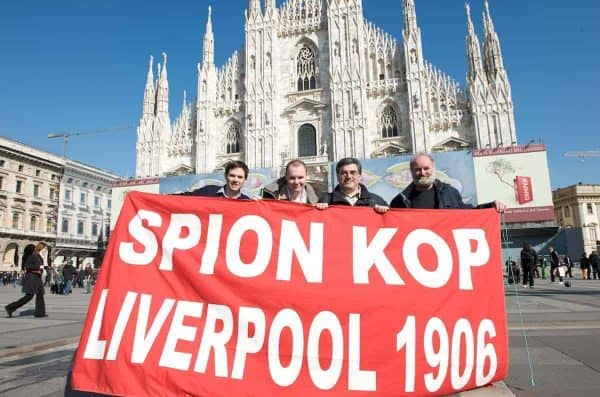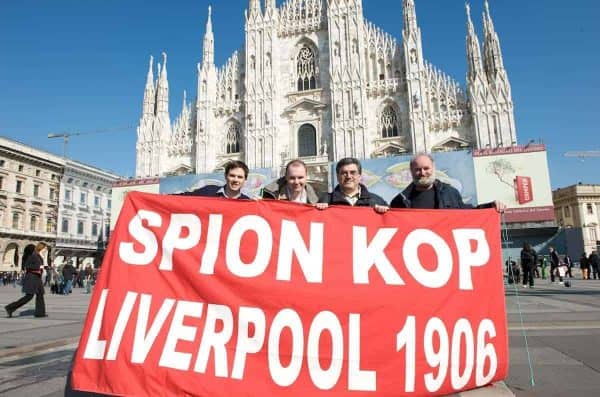 Given the history of violence in Italy when English sides had made the trip over in recent years, Terry had feared this would rear its head again in Duomo Square. Thankfully, this wasn't the case.
"The Inter fans around the city were incredibly friendly and it seemed extremely thankful for the embarrassment we'd caused their neighbours a few years earlier!" he explained.
"It seemed like the travelling Reds were the tourist attraction of the day!"
It is this sense of community around European away games that often makes them special for supporters, regardless of the result—but it certainly helps when El Nino beats Julio Cesar for the win.
Real Madrid 0-1 Liverpool, Champions League Round of 16, 2009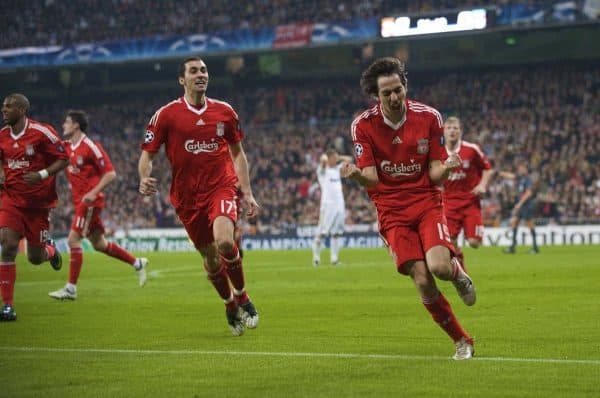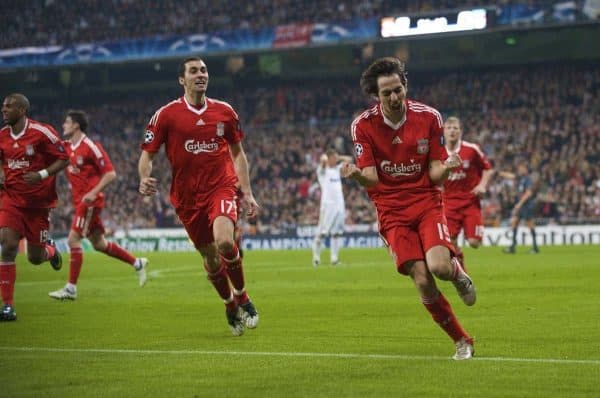 Where? Bernabeu – Madrid, Spain
---
Liverpool's clash with Madrid in the Champions League in 2009 was notable as the Reds' first ever trip to the Bernabeu, making it a must for This is Anfield editor Matt Ladson, who travelled to Spain still unsure whether he would get a ticket.
"I'd been offered a ticket pretty late on from a friend, but I wasn't traveling with him," Matt remembered.
"In these situations you're never fully confident until you have ticket in hand and on the day of the match I couldn't get hold of the friend with my ticket. I was starting to look around for spares or pay the price to go in with the home end with plenty offering them about in the city.
"Anyway, we went to do the stadium tour and by this time I'm pretty sure the ticket I'd been waiting on wasn't going to happen. Leaving the stadium after the tour though, I literally look up and there's my mate walking towards us. I had to double take.
"A minute later and I'd not have, literally, bumped into him. Talk about a lucky break. We all headed off to Plaza Mayor and I could relax that I had my ticket sorted for the night."
Matt wouldn't have been the only one, of course, with the Bernabeu awash with red, in both the home and away ends, with Liverpool supporters voicing their backing of Benitez.
"Reds fans were in good spirits. But then came the rumours of Rafa about to be leaving after this game, it was all a bit bizarre," he continued.
"Because of that, the Rafa La Bamba song got plenty of airtime around Madrid as it neared kickoff.
"During the match itself, the Rafa song was sung repeatedly and continued non-stop for a good 20 minutes on one occasion. It just kept going and going, nobody let up.
"The fans made it clear how much they loved him that night, and the Reds winning helped there of course."
High up in a corner of the Bernabeu, Matt witnessed Yossi Benayoun seal a 1-0 victory with an excellent header in the 82nd minute. The home leg wasn't too bad either…
Borussia Dortmund 1-1 Liverpool, Europa League Quarter-Finals, 2016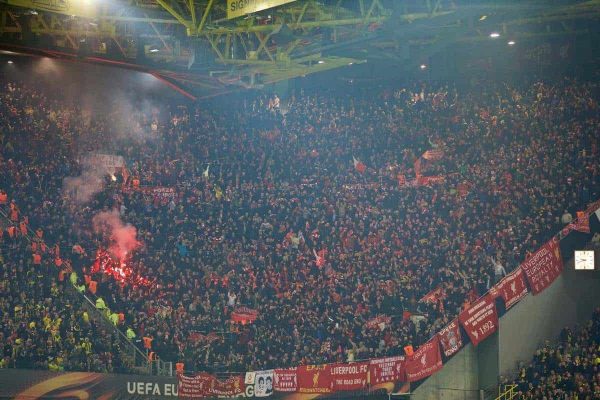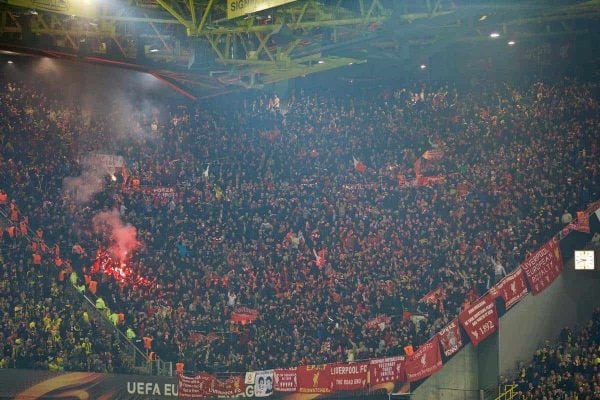 Where? Westfalenstadion – Dortmund, Germany
---
Liverpool's route to last season's Europa League final provided a rather fitting reunion for Klopp, who led the Reds out against his former side, Dortmund, at the Westfalenstadion.
The German emphasised the need for a "special atmosphere" throughout his first campaign on Merseyside, and for Matt Thomas, making one of his first trips to the continent as a Liverpool supporter, this was clear to see in Dortmund.
"The atmosphere in the square in Dortmund, four hours before kick-off, was insane. Red flags, red banners, red shirts everywhere." he said.
"In one corner outside a bar people were stood on tables and chairs, others on a nearby monument, just belting out chant after chant non-stop for a good two hours.
"I think you can only understand that high-spirited togetherness if you've been a die-hard football fan. It's a unique feeling."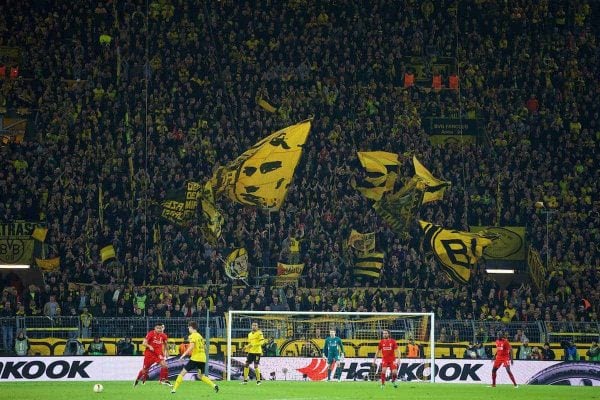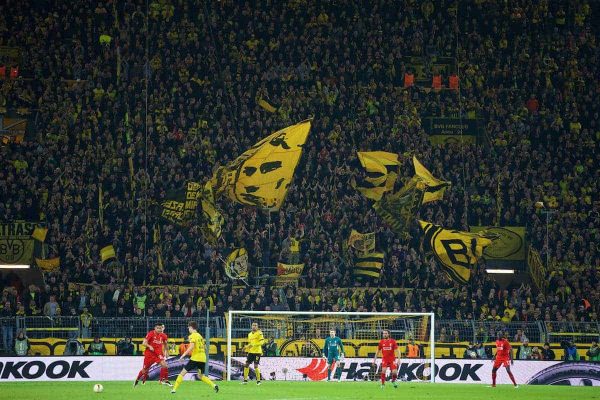 However, while the Liverpool supporters were in great voice as Divock Origi's away goal gave the Reds a crucial advantage following a 1-1 draw, Matt believes there was a lot to learn from the atmosphere in the Westfalenstadion.
"Inside the stadium the away section was packed, every fan singing and shouting, but it was nothing compared to the noise of the Yellow Wall and the rest of the stadium," he continued.
"It was a place I was more in awe of than a place like Old Trafford. The Westfalenstadion was like this massive cathedral of football with this huge congregation singing."
This no doubt spurred Anfield on to be even louder when Dortmund took to Liverpool for what proved to be a remarkable night for the Reds.
Klopp, his side and the supporters can hope for many more great European night to come.
The Fan's Guide To European Away Games
It's not hard to see why many fans are heading abroad to enjoy European football. Research shows season ticket and match day prices at some (but not all) European clubs can be significantly cheaper than those at Premier League clubs. Couple this with affordable and frequent flights and a football weekend in Germany, France, Spain or somewhere else is a enjoyable and cheap thing to do.
There may be no European away days for Liverpool this season, but Expedia have developed a guide to help you plan a football trip to the continent nonetheless. Enjoy!