Lucas Leiva says Liverpool "have to know the limits of focus and excitement" in their first Premier League title challenge since 2013/14.
Lucas is one of just five players remaining in the Liverpool squad from three seasons ago, along with Simon Mignolet, Jordan Henderson, Philippe Coutinho and Daniel Sturridge.
Mamadou Sakho and Jon Flanagan are still on the books, but the former has been exiled to the U23s and the latter is on loan with Burnley for the season.
The Reds have undergone considerable change since finishing second in 2013/14, not least with the appointment of Jurgen Klopp as manager, and with the German looking to lead his side to their first ever Premier League title this season, Lucas has called for focus.
"We are excited because the moment is great, but you have to know the limits of focus and excitement and don't mix them because there could be a problem," he told ESPN FC.
"The results are happening at the moment, but there will be moments when we are not winning like we did against Watford in the last game.
"So we have to know how to cope with that pressure because every team goes through a bad period.
"It would be very special, my 10th season, to achieve something special."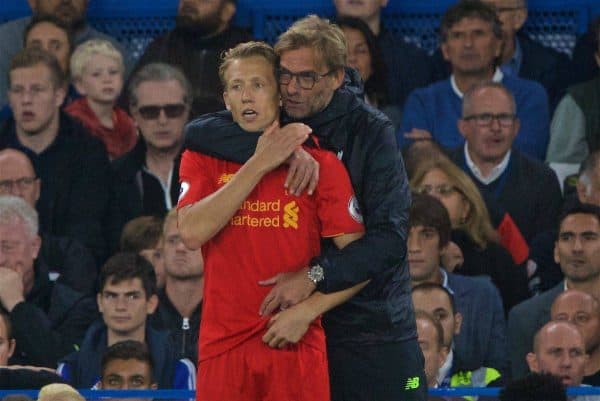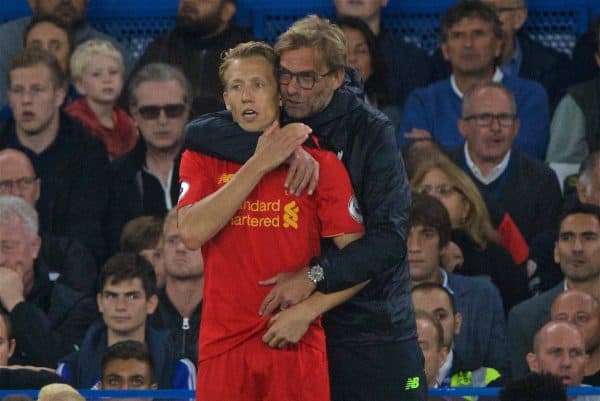 As Lucas mentioned, he is the longest-serving player in the Liverpool squad, playing his 10th season with the club, but the Reds' wait for a top-flight title has gone on even longer.
Liverpool's last First Division honour came in 1989/90, with Merseyside's thirst for glory adding pressure on Lucas and his team-mates to succeed.
"Every time Liverpool is in a good position, people start to talk about titles very often and it is the only thing they say," he continued.
"Of course, it has been a long time that Liverpool don't win a very big trophy, but for us, we must just try to keep the level of concentration and focus and leave the emotion to the outside.
"I think the environment we are in now is a lot calmer, but we try to not put on too much pressure because there is always pressure at such a big club.
"The fans want us to win games, but more pressure wouldn't be helpful, so you just have to find the right balance.
"The way we have started this season has been a big positive, the group is very strong and everyone is pushing each other."

Lucas believes that a lack of previous success has added to the pressure on the squad, and insists 2013/14 may have been different if Liverpool's name had been on the Premier League trophy before.
"If we had won previous leagues, we would probably have won that [in 2014]," he explained.
"But like I say, every time there is a chance, people get too excited and sometimes if you let the excitement come, it can affect your focus because we are human beings."
In brief, Lucas is calling for a dampening of expectations on Merseyside, and just 11 games into the season this is sensible.
But as he attests, Liverpool are in a better position than before, particularly with Klopp at the helm, and the hope is German bring the focus the Reds need to achieve their goals.