Liverpool take on Everton at Goodison Park on Monday evening, with the Reds well aware of how significant a win could be in their season.
Everton vs. Liverpool
Monday, December 19, 2016 – 8pm (GMT)
Goodison Park
Premier League
Referee: Mike Dean
After experiencing a mini wobble, Liverpool responded superbly in midweek, dispatching of Middlesbrough 3-0.
The games continue to come thick and fast and Monday's trip to Everton could be a Christmas cracker. That this will take place on a Monday night the week before Christmas adds to the occasion.
Ronald Koeman and his side are buoyed by their 2-1 win over Arsenal, having won just once since September prior to the game. Could that result spring the Blues back to life?
As always, this is a match in which anything could happen, but Jurgen Klopp – in his first derby at Goodison – will know that three points for his Liverpool side would be huge.
The Reds are narrow favourites, according to SmartBets, with both sides having been buoyed by victories last week.
Opposition Q&A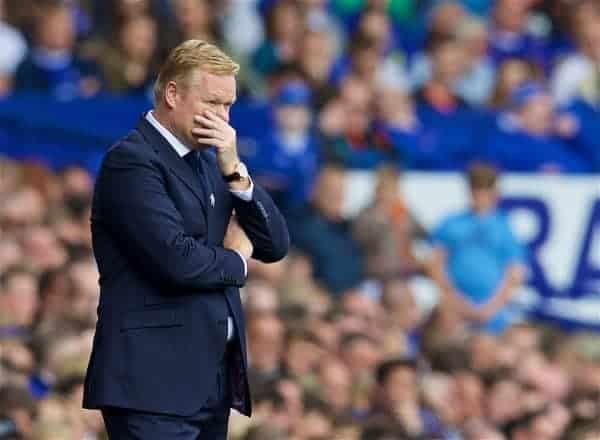 We spoke to Everton fan Mark Godfrey (@TheFootballPink) to discuss Liverpool's rivals' season to date and their chances of winning on Monday.
How would you rate Everton's season out of 10 so far? As bad as some supporters have claimed?
I would say 6/10. It started brightly – well sort of – but although results were good, I always thought the performances were not quite as convincing as the league table suggested.
Then we lost to Norwich in the League Cup (honestly, we may as well pull out of that competition permanently) and it's been as gloomy and dispiriting as anything we watched towards the end of Roberto Martinez' reign.
Koeman has a big job on his hands and he always did have. The recent bumps in the road were always expected. This team will change significantly over the next year or so – thankfully.
Which players have shone and disappointed the most?
The plusses are outweighed by the negatives for sure. Idrissa Gueye has been brilliant, very much in the N'Golo Kante mold. He has been vital to us in several games with his energy and poise. Lukaku has been scoring the necessary goals but often frustrates with his apathetic style and attitude.
Of the negatives, Ross Barkley is the standout. Perhaps it's unfair to constantly expect so much from someone still so young but it feels now like it might never click for the lad, and that would be a big disappointment.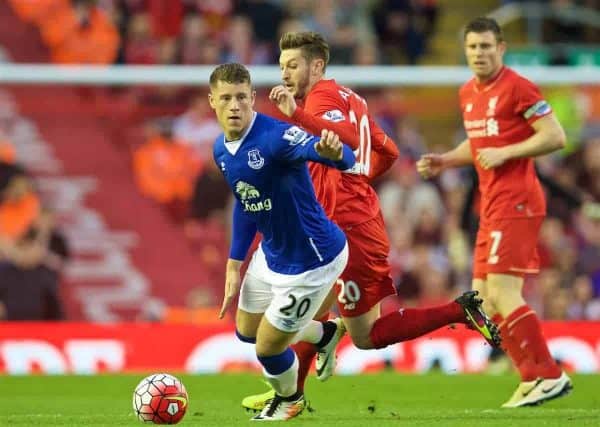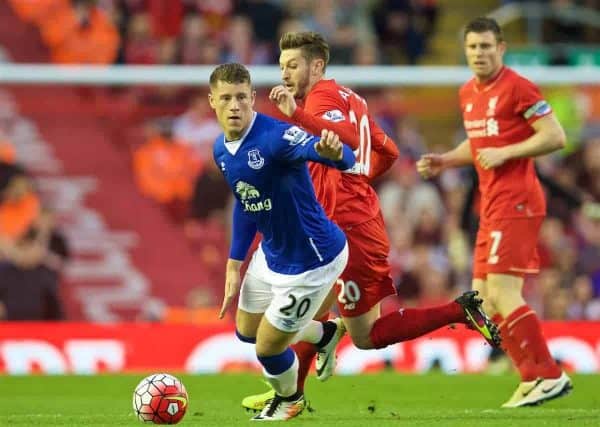 And the rest? Well, there must be half a dozen whose best days are certainly behind them – Jagielka, Baines, Barry and McCarthy most obviously.
What do you make of Liverpool under Klopp? Potential champions, or another false dawn?
I said at the start of the season I fancied Liverpool to finish third or fourth and I'm still inclined to stick to that despite how well you've done so far.
It looks as though it could be a lot tighter for the title itself, though, so every point and goal is going to be vital in the final reckoning. All the top teams are going to have their spells where things aren't going as expected: Guardiola and Manchester City are suffering a bit now, Klopp's time will come too.
It's about how well and how quickly you recover from these situations that will determine if Liverpool are the real deal or not this season.
Part of you must feel Everton are due a win against us – hit me with your prediction for Monday.
Even accounting for the timely win against Arsenal, I'm not especially confident of a win.
In my opinion the game will be won and lost in the battle between your front-three and our back-four, and considering the pace and movement your forwards are displaying compared to the often lumbering and clueless defending we've been watching so far this season, I imagine I'll be watching it through my fingers.
Optimistically I'll say 2-2, but realistically I fear it could be 1-3.
This Fixture Last Season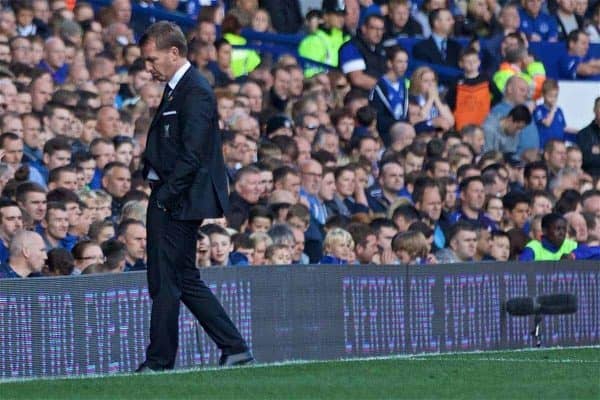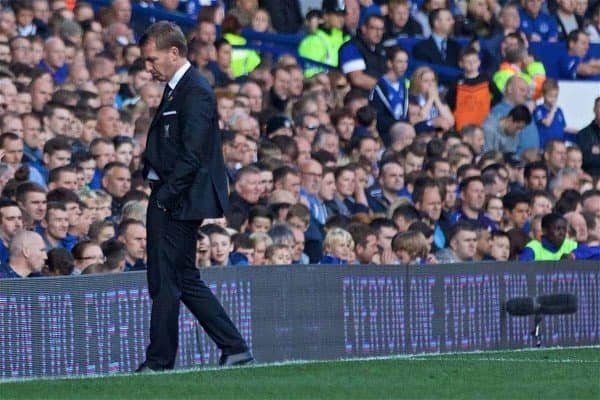 Rodgers' last game in charge of Liverpool, sacked within hours of the final whistle. Danny Ings' goal was cancelled out by Lukaku just before half-time. [Read the report]
Team News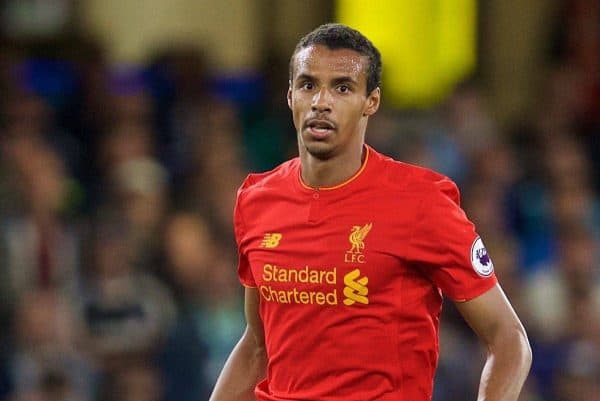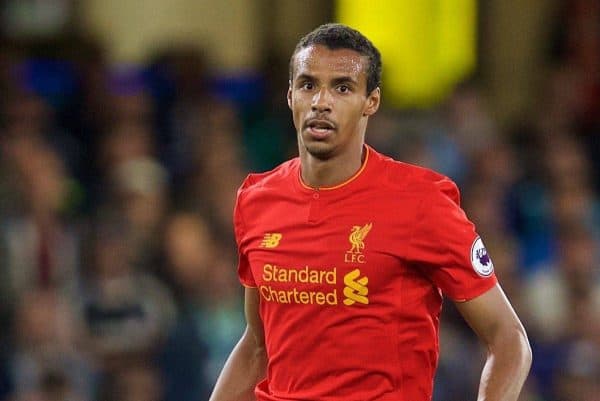 Joel Matip isn't expected to return to the starting lineup, with his ankle injury persisting. Klopp is though hoping Emre Can and Daniel Sturridge could be in the squad, with both more likely to be among the subs than the starting XI.
Philippe Coutinho remains sidelined, but the return date of Liverpool's most gifted player is edging closer.
Yannick Bolasie is Everton's most high-profile absentee, with the speedy winger ruled out for up to a year with anterior cruciate ligament damage. Muhamed Besic is also out with the same problem, but he is expected to be back early in 2017.
Phil Jagielka is suspended meaning Funes-Mori, who was sent off in the derby at Anfield earlier this year for a horrible challenge on Divock Origi, should start alongside Ashley Williams.
Form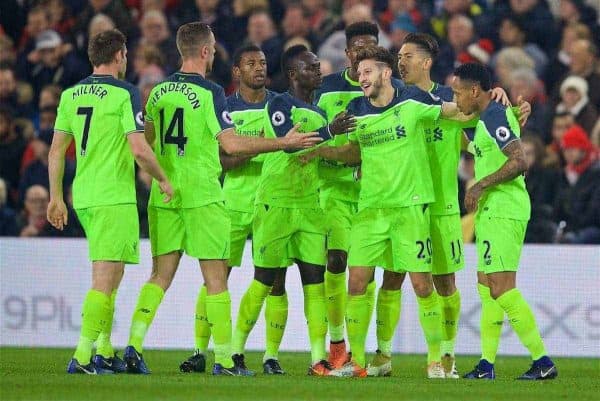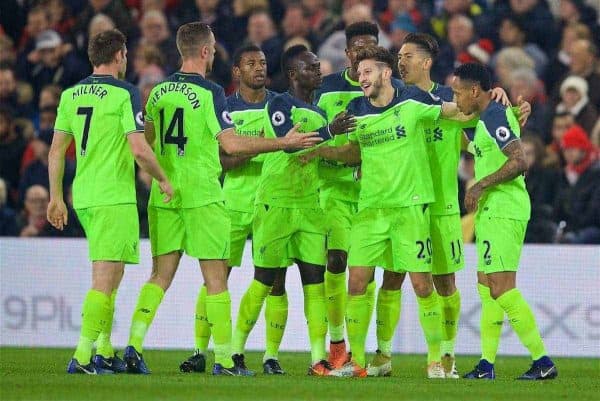 Liverpool – Last five results (all competitions)
Won 3-0 vs. Middlesbrough
Drew 2-2 vs. West Ham
Lost 4-3 vs. Bournemouth
Won 2-0 vs. Leeds
Won 2-0 vs. Sunderland
Everton – Last five results (all competitions)
Won 2-1 vs. Arsenal
Lost 3-2 vs. Watford
Drew 1-1 vs. Man United
Lost 1-0 vs. Southampton
Drew 1-1 vs. Swansea
Klopp's View
The Liverpool manager had some nice things to say about Everton, and stressed the huge importance of the occasion:
"I cannot say Everton is my enemy since I was 12 years old, five years old, it's not like this.
"But I love how they live in this city, these two big clubs. Until now I've never had any issue with any Everton fans when I meet them, taxi drivers or whatever.
"A lot of nice people support Everton. So football is not the most important thing in the world but on Monday night I would say for 90 minutes in and around Liverpool it probably is.
"It is very, very, very, very, very big. It is a very important moment in the season for all of us."
One to Watch: Romelu Lukaku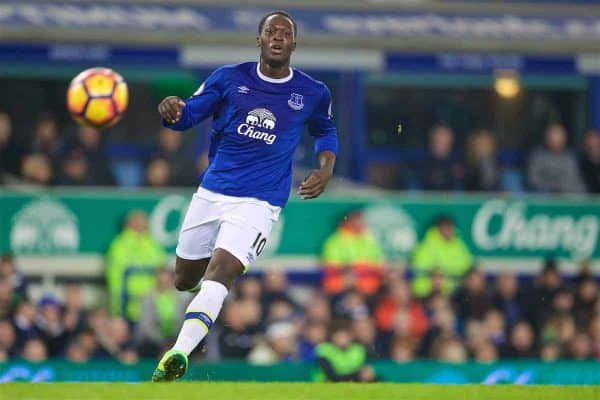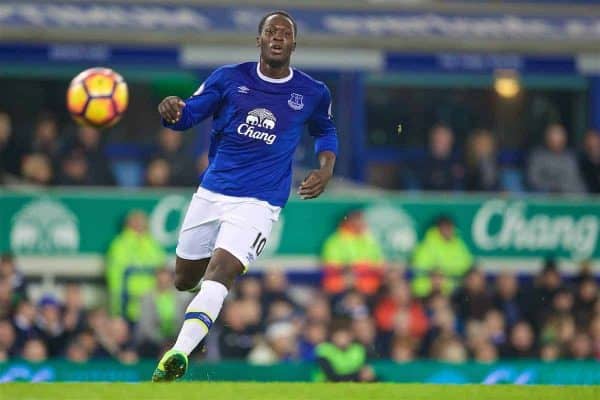 It may be a rather predictable choice, but Romelu Lukaku is very much the man Liverpool have to stop on Monday night.
The Belgian may still be raw in certain aspects of his game, but he is a goalscoring machine who has the pace and strength to bully any centre-back on his day.
The 23-year-old has been a thorn in the Reds' side in the past, with five goals in 11 appearances against the Reds.
Dejan Lovren will need to be on his game.
UK TV Info
The match rounds off the weekend's Premier League action, and is Sky's Monday Night Football offering, on Sky Sports 1.
Coverage starts at 7pm, with kick-off an hour later at 8pm. Jamie Carragher will no doubt have some interesting analysis planned in the lead-up to the game.