Liverpool's 4-1 victory over Stoke City at Anfield provided supporters with the perfect late Christmas present, Jeff Goulding writes.
It's that weird hinterland before the New Year. It feels like Christmas, but it's not really, if you know what I mean. The fake plastic trees are still up, decked out with tinsel and baubles, but a return to work beckons and you know that soon the festivities will be no more than a fuzzy memory. So you eek out what's left of the festive spirit. Meanwhile the chance to exchange the mountain of turkey and sprouts for the delights of Anfield is just too good to be missed.
With heads still muggy from derby day delight, Reds supporters strolled into the Stoke game hoping that the players' hangovers wouldn't linger too long and that Roberto Firmino wasn't driving the team bus. This is the sort of game Liverpool are famed for stumbling over. How many times have we said that lately? The tests have come thick and fast and with a few notable exceptions Jurgen's men have passed them with flying colours.
After crushing the Blues' spirits at Goodison, the visit of Stoke could easily have wrecked the party. The talk before the game was all about Liverpool's ghosts of seasons past. Joe Allen, a player who felt he deserved more than a place on the Reds' bench and with a hefty point to prove, lined up in opposition ranks. Should we have let him go? Would he come back to haunt us?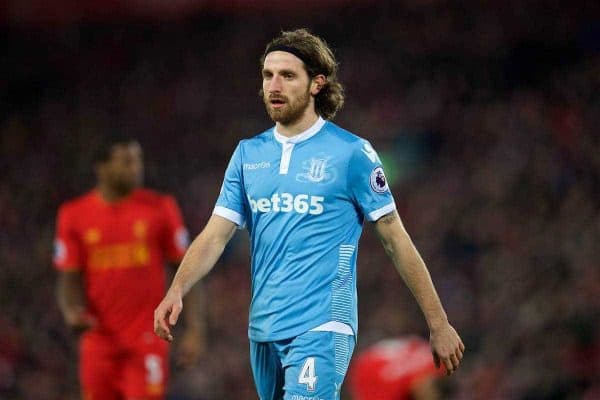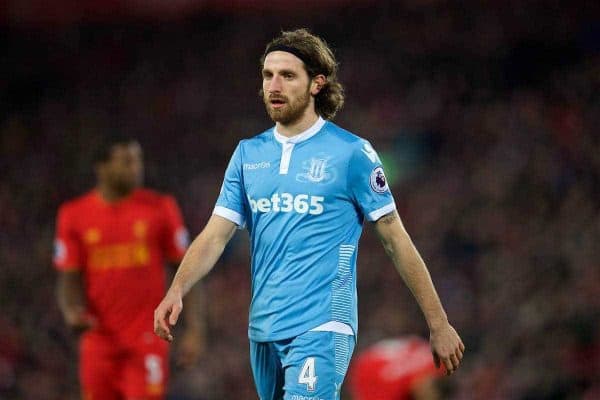 Then there was Peter Crouch, still held in high regard on the Kop, a player who continues to prove his worth at the top level. Remember his hat-trick against Arsenal? What about that bicycle kick against Galatasaray? These factors were enough to cause a bit of pre-match tension on their own, but with all of our main rivals winning the day before the game had taken on a must-win feel.
Still the mood inside the ground was good as the lads ran out to rapturous applause. The Reds were kicking into the Kop end and immediately got into their stride, stroking the ball around with Mane in particular looking dangerous, then Henderson chipped the ball into the box, but Milner couldn't get on the end of it.
This was comfortable stuff and Liverpool were seemingly in complete control. Then, almost out of nowhere, the visitors took the lead. All I can remember is them picking the ball up out on the left and a cross swung in for Walters to head home. I've seen the replays and Mignolet could probably have reacted better.
However, we should have stopped the cross, someone should have picked Walters up and then you realise Klopp's right; when we concede it is the team, not just one player who carries the burden of responsibility.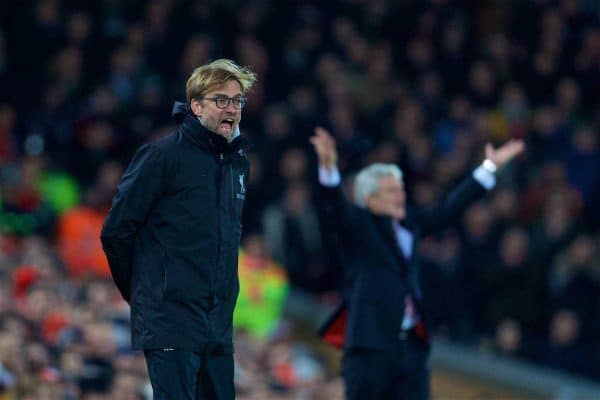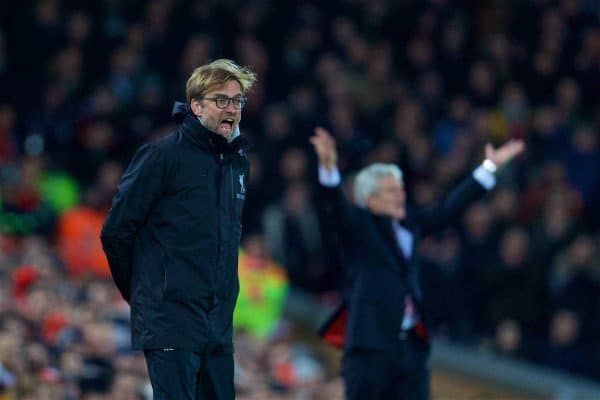 It was a sucker punch and my biggest fear was that we had handed Stoke their beachhead. Could we be in for another frustrating game of attack vs. defence, with buses parked and battering rams failing to make even a dent? It looked that way as Allen and Crouch combined in the Reds' box and almost poaching a second.
Twenty minutes gone, a goal down and with anxiety beginning to rise, this is the sort of heady brew that first derails the mood of the crowd, then unsettles the players. Passes fail to hit their mark and shots grow increasingly desperate. In the past this is how the game would have panned out, leaving Kopites to curse another squandered opportunity, but not anymore.
This Liverpool side has patience in abundance and for once, so did the crowd. There was no cursing and moaning around me after they went a goal up. There was more a sense of disbelief and puzzlement. How did that happen? They haven't been in the game. The Kop, refusing to give in, roared back at the Stoke end and it was the players in red who responded on the pitch.
What followed was a bombardment, with Mane, Firmino and Lallana the architects. It looked like Stoke would buckle under the relentless tide, as Crouch cleared one off the line. You sensed an equaliser was coming, but then an injury to Diouf threatened to take the heat out of Liverpool's attack.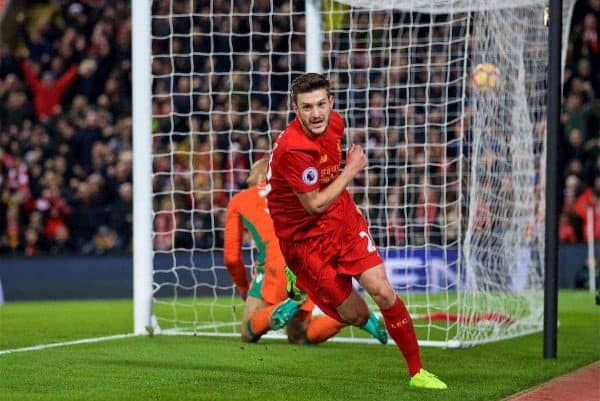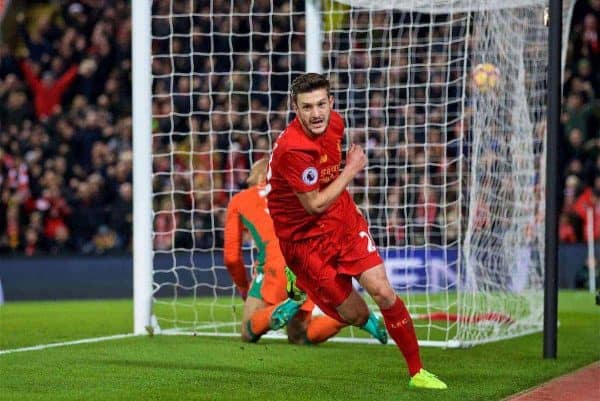 It was only a temporary respite for the visitors though and the onslaught resumed and eventually it produced the goal Liverpool's play deserved. Origi, a player whose stock rises with every passing game, delivered a sublime pass out wide to Mane, who in turn fed the ball to Lallana. The chance looked to have gone as Stoke got bodies in the way, but somehow he squeezed the ball home from the narrowest of angles.
Parity achieved and Mark Hughes' men had crumbled. The crowd were jubilant and any hint of nervousness had now completely evaporated. If we weren't quite in party mood yet, we soon would be as the Reds would end the half in front. Firmino had already gone close, with a shot over the bar, when he found himself on the end of a neat exchange between Lallana and Milner. He fashioned himself some space and dispatched his shot cooly passed Lee Grant. It bounced off two posts before nestling snugly in the back of the net.
What a time to score and, with the Reds in this sort of mood, the second half was filled with promise. It was just a shame Liverpool would be kicking into the Anfield Road end and not the Kop.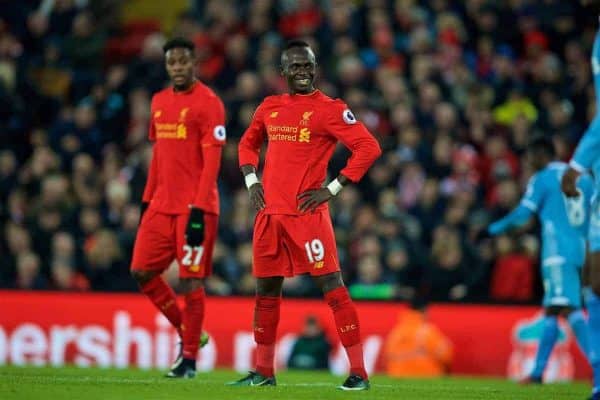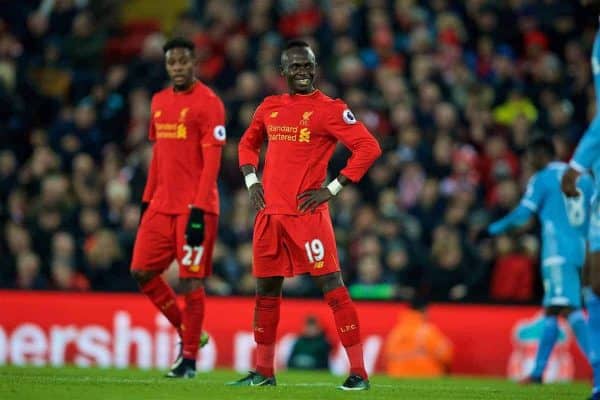 Stoke got the game back underway and to be fair that was their biggest contribution to the second half proceedings. Allen had answered all our questions about whether we sold him too soon and Crouch was given only scraps to chase. After 15 minutes of toying with the opposition, the Reds struck again. We thought Mane had plundered the third, but it turns out Giannelli Imbula had turned the ball into his own net, under pressure from our Senegalese forward.
Origi had again turned provider, delivering the pass that led to the goal. He worked his socks off against Stoke and thoroughly deserved a goal himself. I admit to feeling a pang of disappointment when, on the 70-minute mark, Klopp swapped him for Sturridge. Surely, if he had kept him on the pitch, the Belgian would have eventually bagged his goal.
What the hell do I know?
Sturridge ran on to a huge ovation and a generous roar. Despite his problems with fitness, Liverpool fans know he is a huge talent and everyone wants him to do well in a red shirt. Daniel's late contribution as a sub in the derby had been pivotal and so it would again against Stoke.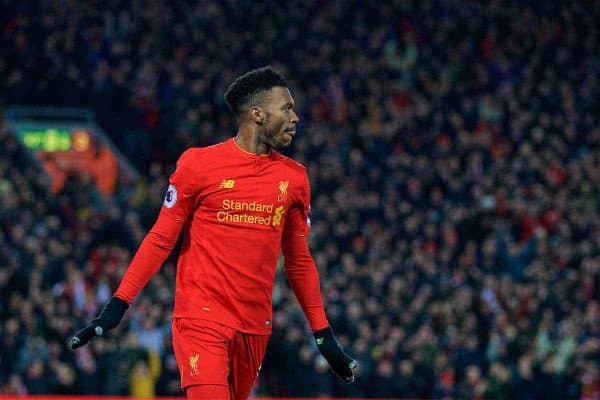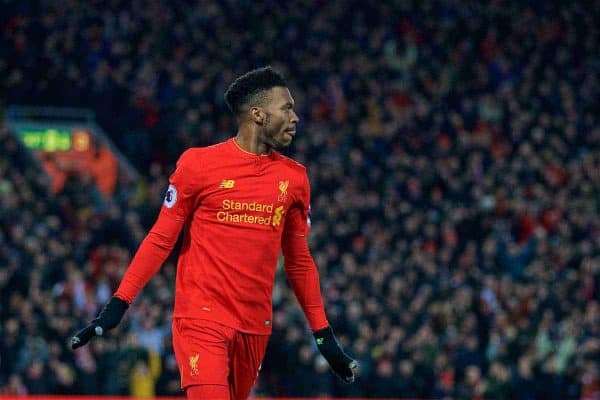 ---
Barely a minute had elapsed and he was on to a poor backpass in a flash. One on one with the 'keeper there is no one better in the league. He rounded Grant expertly and tucked the ball into the bottom right corner. At 3-1, we have learned not to count chickens, but 4-1 was emphatic enough. Liverpool were cruising, it was game over and time for the Kop to stroll through the classics. Come and behold them, they're Kings of Europe we sang, joyful and triumphant.
On nights like this there is no better place to be. Liverpool had been under immense pressure before kickoff. Points dropped might not have ended their titled hopes, but it would have severely dented them. Instead they had weathered the early disappointment of conceding and magnificently rose to the challenge set before them; a feat that is rapidly becoming a hallmark of the Klopp era.
All that remained was for Kopites to embrace the charitable spirit of this season of love and understanding. There's no finer sound than Kopites singing, having fun. Merry Christmas Everton.