The media were full of praise for the brave efforts of a depleted Liverpool team, and the way they rose to the challenge despite tough circumstances to earn a 1-1 draw at Man United.
Jurgen Klopp's depleted Reds fought their way to a hard-earned point in a fiercely competitive grudge match at Old Trafford.
James Milner's nerveless penalty put the Reds ahead after 27 minutes, making the objective for the rest of the afternoon straightforward for Klopp's side.
But Liverpool's resolve after a tireless effort from front to back was finally broken six minutes from time, when Zlatan Ibrahimovic looped a header in off the underside of the crossbar from Antonio Valencia's cross.
It certainly wasn't the result Klopp and his players will wanted in their pursuit of the title, with the draw leaving Liverpool seven points behind league leaders, Chelsea.
But given that the Reds were severely under-strength and the farcical situations beyond their control that impacted heavily on preparations for the clash, Liverpool must be pleased with their efforts.
Here is what the watching journalists made of the tense stalemate.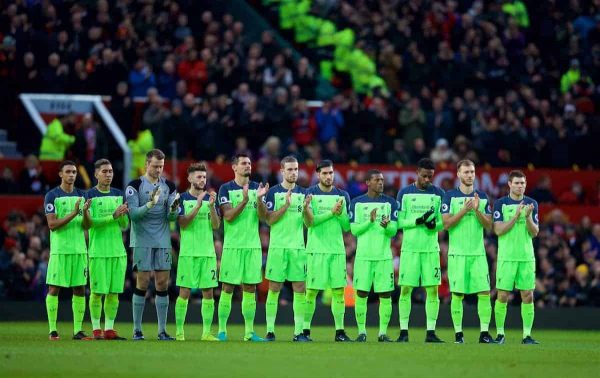 Reporters praised the way Liverpool dealt with the occasion, having gone into a potential season-defining game with a severely depleted side and circumstances beyond their control – namely FIFA's ineptitude that meant Joel Matip missed out – also conspiring against them.
For JOE.co.uk, Tony Barrett was impressed with how the Reds "coped with the pressure":
Tactically, they exploited the weaknesses in United that Klopp had identified, but even more telling than that was the way that they coped with the pressure of the occasion, of the identity of the opposition and of the circumstances and the results that had gone against them in the build-up to kick-off.
The Liverpool Echo's Kristian Walsh commended Liverpool's fearlessness on the big stages under Klopp:
Never, however, did they shirk. Never did they wilt. Never did they hoist the white flag and wave it in submission.

[…]

Think back to their last league visit to Old Trafford. So much has changed – manager, personnel, belief – but one of the main alterations is how this side seem to relish the big occasion.
Writing for Eurosport, Richard Jolly praised the collective effort from Liverpool's "weakest team of the league campaign":
Liverpool fielded their weakest team of the league campaign in their biggest game of the season. They were winless in 2017, goalless in their previous two games. They seemed to have lost their dynamism.

[…]

Yet it was Liverpool who were six minutes from victory, Liverpool who forced United to alter their tactics, Liverpool who should derive satisfaction from more of their players' performances.
The Guardian's Jamie Jackson felt Klopp's team proved themselves as Liverpool's "most complete" since the Premier League's inception:
A similar claim can be made of Klopp's Liverpool. They are the Anfield club's most complete team since the Premier League began.
Reporters discussed Klopp's tactical decision to switch Liverpool to a 4-4-2 diamond formation, and felt that the Reds boss enjoyed a good afternoon with his in-game tactical adjustments working well.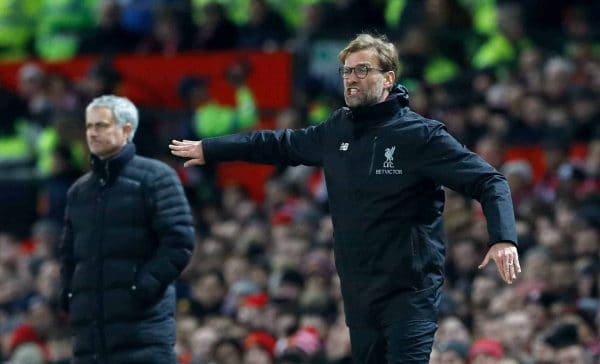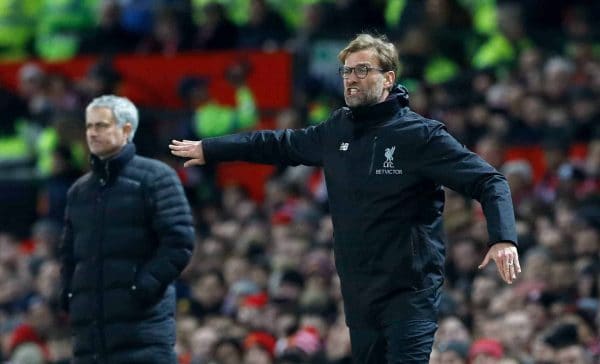 Jolly, for The National, felt the diamond shape worked well:
But Liverpool were resolute, organised and energetic. Their midfield diamond functioned well.
For Goal.com, Melissa Reddy thought the switch ensured Liverpool won the midfield battle:
Negating the danger of being overrun in midfield, it led to a more measured rather than expansive approach.
Writing for the Guardian, Michael Cox felt Adam Lallana played a key role in nullifying Michael Carrick in the system:
The main outcome was Liverpool making life very difficult for Michael Carrick, who has been excellent in recent weeks. Lallana marked him excellently in the opening stages, meaning Carrick was unable to put his foot on the ball and put United in charge.
The Liverpool Echo's James Pearce praised the shifts produced by the Reds' midfielders:
Gini Wijnaldum and Can put in immense shifts alongside Henderson as they shut down space and won back possession.
Walsh heaped praise on the returning Henderson for his performance:
From first kick to last, Henderson was everywhere.

[…]

Everyone knows what he is capable of in this position now. The recycling of possession, the passing, the strict understanding of what is required of him and just how vital it is to how his side plays.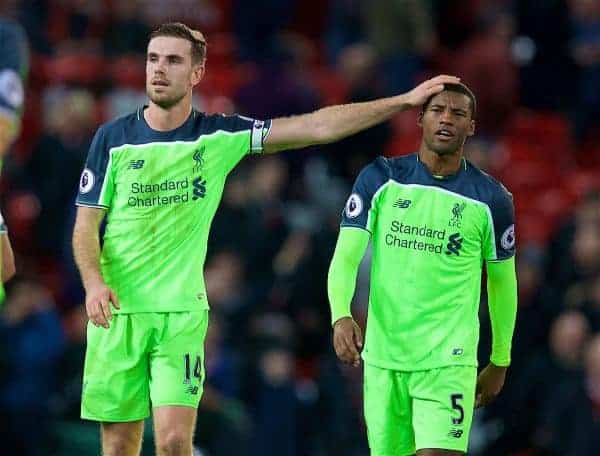 Moreover, ESPN's David Usher was pleased with Klopp's in-game flexibility:
The German made a tactical change and switched to a midfield diamond. That worked well initially, and when it needed changing in the second half he wasn't slow to act, bringing on Philippe Coutinho and switching back his usual 4-3-3 system.
Jolly attributed Liverpool's courageous display to the confidence and positive mentality Klopp gives his players:
Belief plays an integral part in the German's management. He exudes confidence, even in a depleted team. Liverpool began as though they were the hot favourites, not the side without a win in 2017. It seemed proof his attitude is infectious. Liverpool showed a can-do mentality.
However, Usher thought the Reds could have earned a win had they been more clinical on the break:
Had they made more of numerous counter attacking opportunities in the second half, however, a United goal would have been immaterial. That's the biggest disappointment, that they were not more clinical.
Meanwhile, certain reporters, somewhat oddly, felt the performance highlighted Klopp's tactical limitations, assessing the German should take note from Jose Mourinho and become more pragmatic.
Mark Ogden, writing for ESPN, felt Klopp paid the price not showing the same level of pragmatism as Jose Mourinho:
But if there was a winner at Old Trafford, it was pragmatism over purity — "Route One" over "Gegenpress".

[…]

By contrast, United were able to find a goal and salvage a point from this game because Mourinho was prepared to alter his approach and go long.
On a similar trail of thought, the Mail's Ian Ladyman believes Liverpool need "another way of playing":
For Klopp, it never seems to be a consideration. Maybe he doesn't feel he has the players.

[…]

Watching Liverpool in recent weeks has been interesting, though. At times they look desperately short of another way of playing when the tactics aren't working.
Oppositely, Cox believes Klopp has proved himself the Premier League's "most astute tactician":
In the Premier League's most exciting managerial lineup ever, it is Klopp who has established himself as the most astute tactician in these head to head contests.
The efforts of Liverpool's makeshift defence were praised in post-match reports, as was the performance of Simon Mignolet, who reporters feel is re-establishing himself as No.1.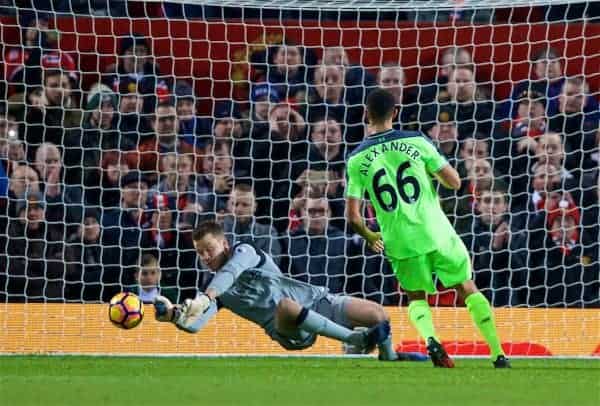 Jolly praised the work of the Reds' thrown together defence:
Liverpool were six minutes from a clean sheet at Old Trafford. It would have represented some feat when they were stripped of half of their first-choice back four and with a goalkeeper who lost his place earlier in the campaign.
Pearce was among those impressed by Trent Alexander-Arnold's display:
It's a day Trent Alexander-Arnold won't ever forget.

The 18-year-old right-back from West Derby enjoyed an accomplished full Premier League debut. Thrown into the heat of battle, he handled the occasion superbly.
The BBC's Phil McNulty was among those who felt Mignolet "justified his continued selection":
Mignolet's decision-making has often been questioned, but he has always been capable of making outstanding saves. And so it proved in this draw.

[…]

Klopp has had to make big decisions with his keepers this season – and this one was fully justified by Mignolet.
Pearce was impressed by the way Mignolet's commanded his area, and believes the Belgian has improved since being restored to the XI:
It wasn't just the importance of the saves he made, but the manner in which Mignolet commanded his penalty box and dealt with dangerous situations. Since returning at the expense of Loris Karius, the Belgium international has taken his game to the next level.