Dejan Lovren has rejected the notion that Liverpool should not rely on their star attackers like Brazilian duo Philippe Coutinho and Roberto Firmino.
The Reds were accused of being overly reliant on their leading lights during a long dip in form on the turn of the year, with Coutinho sidelined and Sadio Mane on international duty.
But with Jurgen Klopp's side back on top and currently enjoying a seven-game unbeaten run, this is no longer an issue.
Both Coutinho and Firmino have been central to this, having contributed six goals and five assists between them over those seven outings.
And with five games left to play before the end of the season, Lovren is content with Klopp's No. 10 and No. 11 firing Liverpool to the Champions League—though he insists it remains a team effort.
"These two amazing guys, these two special players mean a lot for us. Hopefully they will stay fit until the end of the season," he said.
"We are missing many players, but they showed again in the second half against Stoke that they can change the game whenever they want.
"Sometimes you need that. Top teams like us sometimes depend on our big players.
"[But] it's not just on them—the responsibility is for everyone to do our job.
"We have a big thing to [achieve]: the Champions League. Everyone wants that. If you want to be a top team, you need to continue to play well in every game."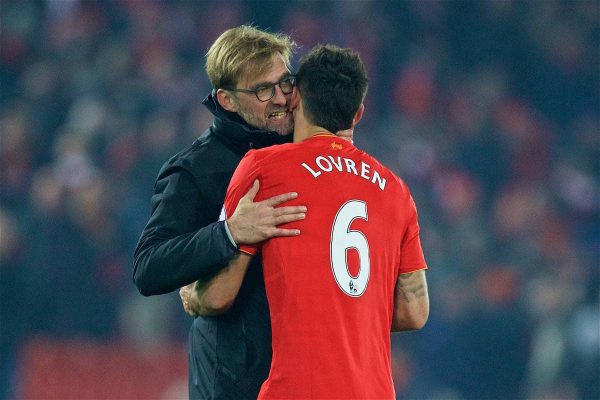 Lovren also highlighted the influence of another key figure, Klopp, as being pivotal to the Reds' success throughout 2016/17.
The Croatian believes his manager's straightforward, personable approach has helped fuel Liverpool's form, painting a contrast to his rivals in the dugout.
"It's not just before the game. It's through the whole season—every session, before sessions, after sessions," Lovren explained.
"If he needs to say something he will say it straight to you. I think that's important for all of us, to understand and accept his advice and plans.
"Everyone is doing quite well. He has respect for us and we have even bigger respect for him.
"This is the key point—if you want to work together well, you will have success."
Upcoming clashes with Crystal Palace, Watford, Southampton, West Ham and Middlesbrough will shape the Reds' push for the Champions League.
And with the likes of Klopp, Coutinho and Firmino heavily involved, their hopes are high.