Recent transfer rumours have linked Liverpool with Bayern Munich winger Douglas Costa. Here's a look at what he could bring to Jurgen Klopp's team.
Costa began his career in European football on a path travelled by many Brazilians before him. Shakhtar Donetsk was the first European home for a long line of players from the South American country including Willian, Fernandinho, Luiz Adriano, Elano, Jadson, and one-time Liverpool target Alex Teixeira.
While the club could be seen as a stepping stone, many of these players enjoyed a substantial amount of success while at the club, and Douglas Costa is no different.
A winning mentality was instilled in the player during his time there when he was part of the Shakhtar team during its most successful period.
They had won the league the year before he joined, and went on to win it in the five subsequent seasons.
Costa's standout season domestically came in 2013/14 where he managed 11 assists in what was his most prolific season there in terms of goalscoring contributions.
Some eye-catching performances in the Ukraine Premier Liga, as well as some more high profile appearances in the Champions League, attracted big clubs from across the continent.
Bayern Munich were his eventual destination, and in his first season at the club he won a domestic double playing in a number of attacking positions under Pep Guardiola.
He'll win another Bundesliga title this season, meaning he'll have won a league title in all but one of his seasons in Europe.
If there's anything this current incarnation of Liverpool are lacking, it's habitual winners.
What type of player is he?
That season under Guardiola will have served Costa well. The Spanish coach is renowned for his development of naturally gifted attacking players who might need to hone certain skills, as we're now seeing at Man City with Raheem Sterling, Gabriel Jesus, and Leroy Sane.
Costa played three positions in his first season at Bayern: left wing, right wing, and a handful of games as an attacking central midfielder.
As a left-footed player, Costa can perform a similar job to Arjen Robben when stationed on the right, but getting in the team ahead of the evergreen Dutchman has proven difficult.
As a result of this, the majority of his games at Bayern have been as a more traditional left winger.
But he's more than just a player who'll take it to the byline and sling in a cross.

He's got quick feet, an eye for a through-ball, and a trick or two up his sleeve. He has the pace to worry opposition defenders which in itself can create space for his team-mates.
Liverpool have seen with the introduction of Sadio Mane to the side how much damage a pacy player can do. Even if he's not on top form himself the threat is always there in the mind of the opponent.
As evident in the video above, Costa has a vicious shot with his left foot, and though he doesn't score many goals you get the impression that he has the potential to add this to his game as he reaches his peak years.
At 26 years old he's no developing youngster who may have the potential to be good. The Brazilian has already reached a level where the initial potential is now being fulfilled.
Is he available?
Though he's been a success at Bayern, their star-studded lineup has seen his playing time limited.
This led to comments from the player earlier in the year in which he hinted that his future may lie away from Bayern, and he spoke highly of the English league.
"It depends on a few factors, the main factor is the minutes played. Being a parent is a crucial difference within my career project," he told Bild in February.
"We got some strong offers from China and also from big clubs from Europe. When the season is over, we will sit down and analyse everything.
"I think England is one of the biggest football leagues in the world – fantastic! Just like Spain's LaLiga also, with big players, big teams.
"The language is easier in Spain, but England also has great players. For me it is the best league in the world."
His current club have also been linked with Julian Brandt, and have this week confirmed they will activate the clause to make Kingsley Coman's transfer from Juventus permanent at the end of the season.
Costa's contract at Bayern expires in 2020 so they'd be in no rush to sell, and it would take a considerable amount of money to prise him away from the club — a similar amount, maybe more than the £30 the club spent on Mane.
But he'd be worth it.
Where would he fit at Liverpool?
Where wouldn't he?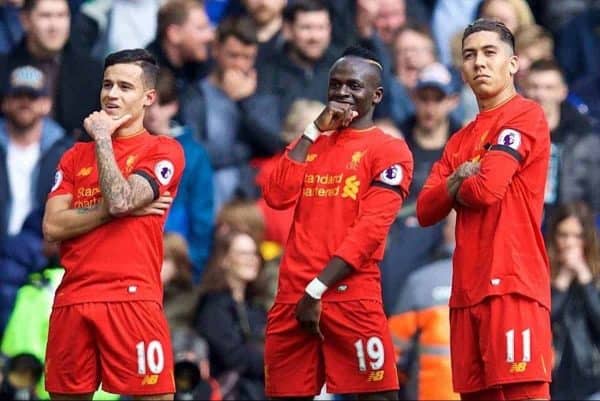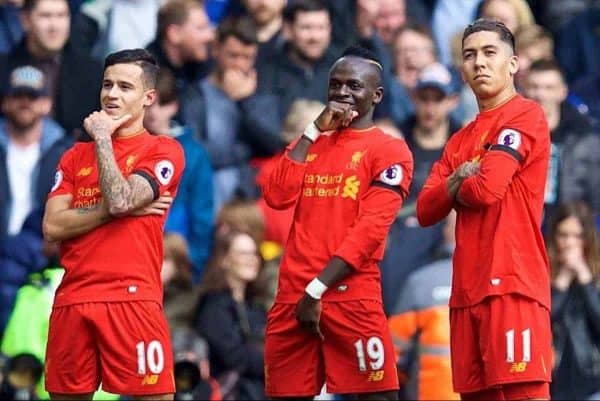 If the Reds sign Costa then injuries to Coutinho or Mane won't weaken the team as much as they have this season.
The attacker could fill either wide role, offering a different threat to the opposition in both.
If Klopp decided to switch from 4-3-3 to 4-2-3-1 then he could play any position in the three, and in a 3-4-2-1 he would be ideal for one of those positions behind the striker.
Given his sturdy 5' 7" frame he could even do a job as a central forward, but his real strength comes when he has plenty of pitch to run into as he darts at confused defenders.
His main role, however, could be as another entertainer in the Liverpool ranks.
He'd rival Coutinho and Roberto Firmino for the title of best Brazilian trickster, and the extra pace he has over the current Reds could see him turn what is an exciting Brazilian double act into an even more enthralling trio.