Another poor performance against a deep-sitting Southampton in Sunday's 0-0 draw highlighted Liverpool's need to sign a creative midfielder this summer.
After four games, 360 minutes, Liverpool failed to score a single goal against Claude Puel's Southampton, with their second stalemate in the Premier League perhaps the most disappointing.
Across two clashes in the league and two League Cup semi-final legs, Liverpool averaged 13.5 shots on goal and 3.75 shots on target, both lower than their season's average.
Remarkably, in those four outings against the Saints, just 21 of the Reds' 54 efforts came from inside the penalty area, and only six of those hit the target.
Their inability to break down Puel's defensive line has been clear, and no more so than on Sunday, when Liverpool produced a staid, unimaginative display.
With the pressure on, Jurgen Klopp's side struggled to make their presence felt, and with the transfer window looming, it unearthed one of the German's key priorities.
Failing to Break the Low Block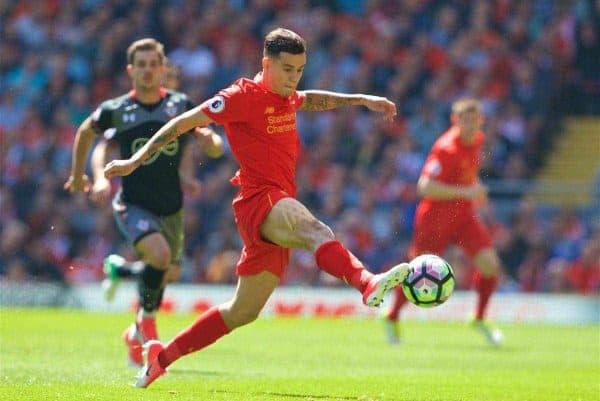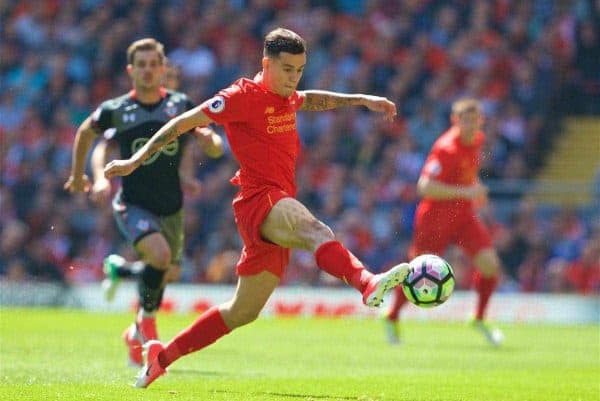 In the buildup to Sunday's clash, Southampton midfielder Oriol Romeu was named both Players' Player and Supporters' Player of the Year at the club's end-of-season awards ceremony.
It should be no surprise to see the Spaniard recognised, with Romeu in particularly excellent form as he marked Philippe Coutinho out of the game in the 0-0 draw at St Mary's back in November.
Troublingly, Romeu was similarly influential at Anfield, as Puel deployed his side in a low defensive block, regularly keeping 10 men behind the ball.
With Adam Lallana deemed only fit enough for the bench, Klopp made no changes to the side that toiled away to a marginal victory over Watford six days earlier.
But this time around, the Reds were unable to find the breakthrough, with their three efforts on goal in the first half all coming outside the penalty area, as frustration set in.
Coutinho was forced to drop deeper and deeper as the likes of Romeu and Steven Davis held firm in midfield, depriving Liverpool of one of their key forwards and one of their only wide outlets.
This saw both Roberto Firmino and Divock Origi isolated, with the Reds' best openings coming with James Milner and Nathaniel Clyne driving forward from full-back.
There was clearly something missing at Anfield, and chiefly that was due to Lallana's presence on the bench, as without the 28-year-old, there was little impetus from Klopp's midfield three.
The Lucas, Can, Wijnaldum Midfield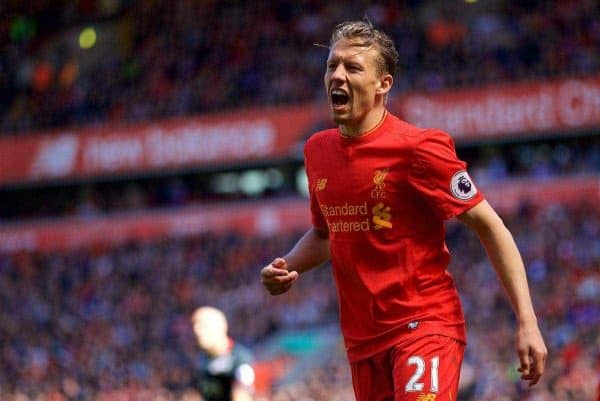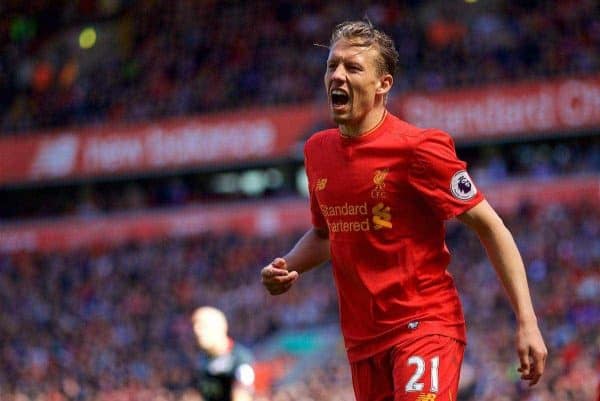 Sunday marked the longest consecutive run of starting appearances for Lucas Leiva this term, with the Brazilian becoming a more important player for Klopp at the business end of the season.
Lucas had laid on three goals in his previous five games for the Reds, and in the buildup to Southampton's trip to Anfield had vowed to continue his more productive spell in the final third.
As with against West Brom, Crystal Palace and Watford, he was joined by Emre Can and Georginio Wijnaldum in Klopp's midfield three, with the Reds unchanged for the fourth game running.
Unfortunately, as was evident against those three other deep-sitting sides, this trio is far from progressive enough for Liverpool to thrive consistently.
Against Southampton, Lucas was often the most adventurous of the three, looking to break the lines with third-man runs, admirably seeking to fulfil his objective of a more creative bent.
Ostensibly, Can served as Klopp's No. 8, inspired by his bicycle kick against Watford six days previous, and the 23-year-old created the most chances of Liverpool's midfielders, with two.
But with Southampton keeping 10 men back throughout, these three naturally reserved midfielders failed to provide the consistent support Coutinho, Firmino and Origi required.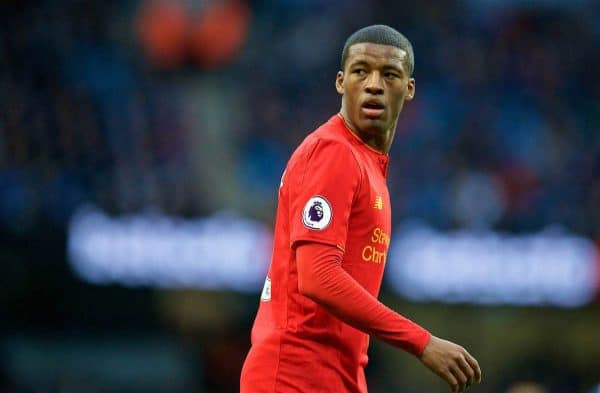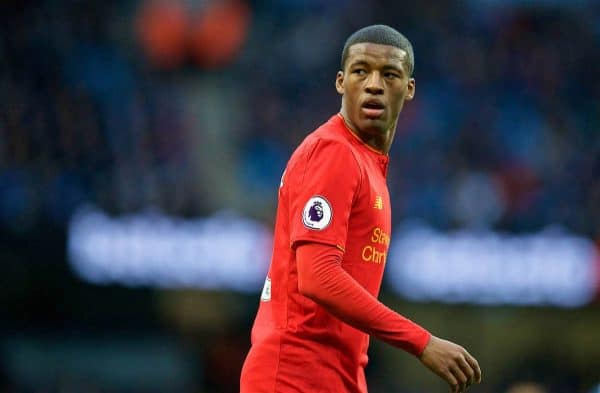 Most troubling on Sunday was Wijnaldum, who touched the ball less than half the amount (38) of both Can (91) and Lucas (95), continuing his quiet run against sides Liverpool expect to dominate.
Throughout 2016/17, much of the Dutchman's best work has been off the ball, but during this crucial run-in, Liverpool have needed the Wijnaldum of last season, when he often played as Newcastle United's primary attacking outlet.
Klopp's hands were tied by Lallana's lack of fitness after playing 74 minutes at Watford, but the trio of Lucas, Can and Wijnaldum are clearly too steady for a home game Liverpool needed to win.
Signing Another Dynamic Midfielder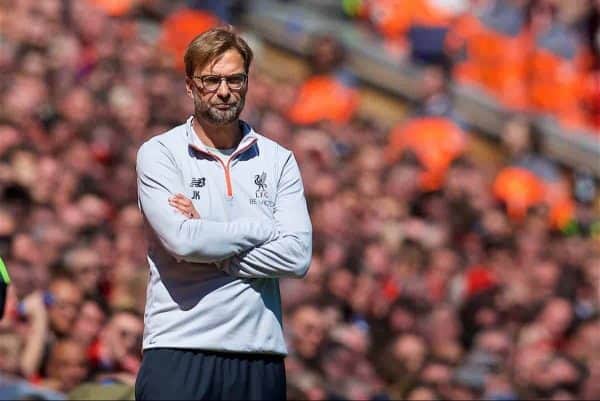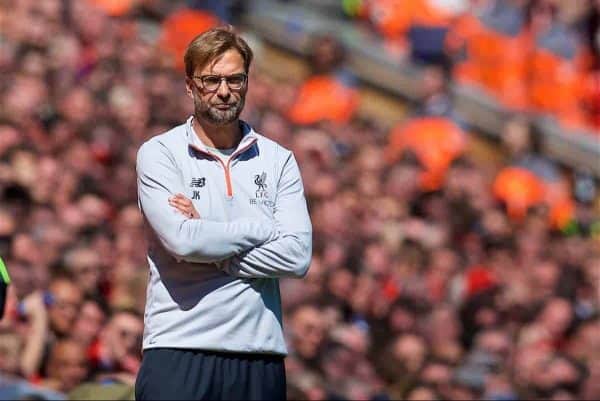 Failing to seal a victory over Southampton was made all the more frustrating by Man City's excellent 5-0 victory at home to Crystal Palace on Saturday afternoon.
Comparing City's performance against a similarly defensive side further underlines Liverpool's failure in midfield, with two of Pep Guardiola's midfielders particularly key.
Like Klopp, Guardiola fielded something akin to a 4-3-3 formation, with Yaya Toure joined by David Silva and Kevin de Bruyne in his three-man midfield setup.
With Silva pulling the strings from deep and De Bruyne driving forward as City's most advanced midfielder, Liverpool's top-four rivals consistently carved Palace open.
De Bruyne created seven chances for his team-mates, more than Can, Wijnaldum and Lucas combined (three), assisting twice and scoring City's third goal of the afternoon.
22 of City's 26 shots (85%) at the Etihad on Saturday came from inside the box—a stark comparison to the five of Liverpool's 17 (29%) at Anfield.
While the Belgian is a top-class player arguably operating at a higher plateau than even Coutinho, this is the level of creativity the Reds needed from their midfield.
It could also be asked why Klopp has never tried Coutinho in the midfield three?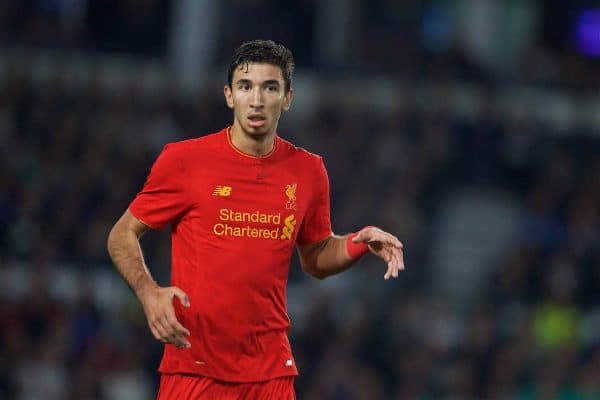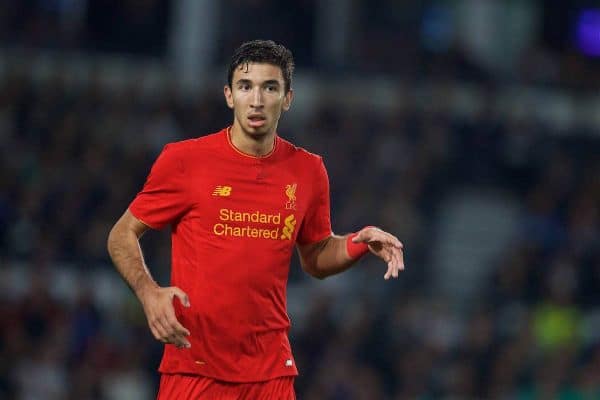 With Lallana out, Liverpool arguably don't have a replacement in this mould at present; though Marko Grujic's late introduction did suggest Klopp has earmarked this role for the young Serbian.
Klopp is reportedly targeting RB Leipzig's Naby Keita in the summer, with Arsenal's Alex Oxlade-Chamberlain also on his radar, and it is clear he has acknowledged the need for another more dynamic presence in the middle.
But while signing a centre-back, or even a left-back, could have been considered more of a priority following recent results, Sunday hammered home how crucial it is to bolster the midfield.
If Liverpool are to advance next season, and regularly put lesser sides to the sword, they will need more creativity from the midfield.