Not all of the 125 moments to shape Liverpool FC's history are from the 20th century, as a 5-1 mauling of Arsenal in 2013/14 proves.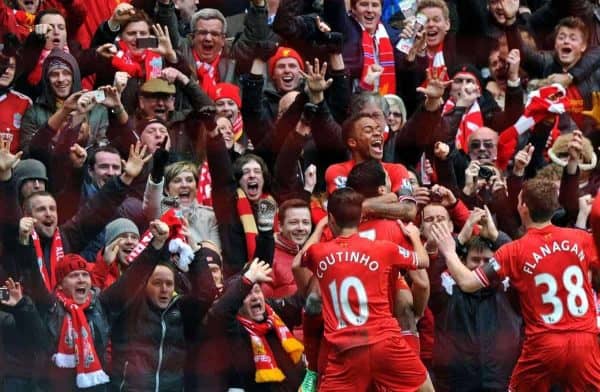 "I'm trying to think of a performance I can remember in the last 15 years. Maybe one or two in the Champions League got close but that was as explosive as it gets."
That's how Steven Gerrard described Liverpool's 5-1 demolition of a full-strength Arsenal side, at Anfield, in February of 2014.
The Reds had given a hint of their attacking prowess against Everton, just 11 days previously. The Blues had been utterly blown away, conceding four without reply. However the next game, against West Brom, had ended in a disappointing draw.
The Gunners, sitting at the top of the table, were a different proposition. Everyone expected a close, tricky encounter. What they got was a masterclass in attacking football, full of pace, power and devastating finishing.
ADVERTISING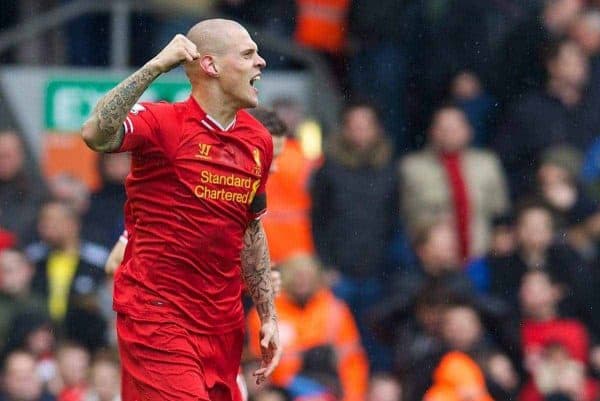 Liverpool flew straight out of the traps and in the first minute were a goal up through Martin Skrtel, who then doubled the lead nine minutes later. Within 20 minutes, Liverpool were 4-0 up, thanks to further goals by Raheem Sterling and Daniel Sturridge.
This was unreal. The Liverpool supporters couldn't believe what they were seeing, as they sang "poetry in motion tra la la la," and danced joyously in the stands. The Gunners were shellshocked and the game looked well and truly over.
Mikel Arteta summed up their feelings in a painful post-match interview:
"After 19 minutes we were 4-0 down and it was like a car crash. The manager was really upset at half-time, that's normal because it wasn't good enough for this football club. It was the angriest I have seen him."
No doubt the sight of the entire stadium, Arsenal fans aside, rising as one, with a minute of the half remaining, to give the Reds a standing ovation must have infuriated Arsene Wenger. It was a complete humiliation and there was still a full 45 minutes to go.
Within seven minutes of the restart, Liverpool were 5-0 up through Sterling, and it was starting to look like Wenger's worst fears were about to be realised. Liverpool's jubilant supporters were beginning to dream of a cricket score.
Arsenal clearly decided on damage limitation at this point and concentrated on restricting Liverpool's chances. In truth the Reds eased off themselves.
ADVERTISING
In the 69th minute the Gunners won a penalty from seemingly nowhere. Alex Oxlade-Chamberlain looked to be going nowhere inside the box when Gerrard was adjudged to have brought him down. Arteta scored with ease from the resulting spot-kick.
It was frustrating but, despite the fans from North London singing—with a heavy dose of irony—"we're going to win 4-3," it would prove only a consolation. Wenger's post-match analysis was damning:
"We were feeble," he moaned. "Feeble in every important domain of playing at the highest level: concentration, strength in the challenge and naivety. So from that moment on it's impossible to win a game when you're playing at that level."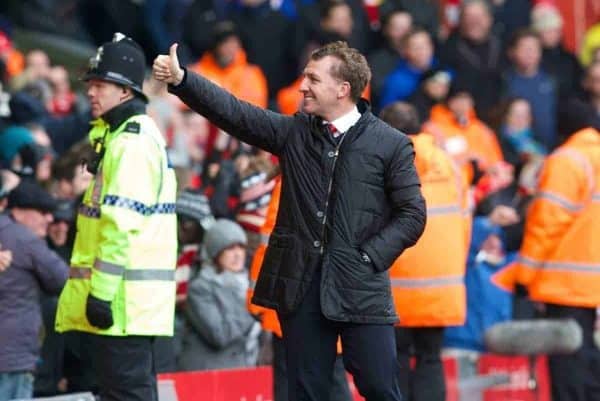 Understandably, Brendan Rodgers preferred to talk about his own side's performance than focus on the ineptitude of their opponents:
"We were brilliant. The performance level was absolutely out of this world."
It was Brendan, it certainly was.
ADVERTISING
---
Premier League, 2014
Liverpool 5-1 Arsenal
Anfield, February 8
Liverpool: Mignolet; Flanagan, Toure, Skrtel, Cissokho; Gerrard (Ibe 76′), Henderson, Coutinho, Sterling; Sturridge (Allen 66′), Suarez (Aspas 86′)
Subs not used: Jones, Kelly, Alberto, Moses
Arsenal: Szczesny; Sagna, Mertesacker, Koscielny, Monreal (Gibbs 61′); Arteta, Wilshere, Cazorla; Oxlade-Chamberlain, Ozil (Rosicky 61′), Giroud (Podolski 60′)
Subs not used: Fabianski, Jenkinson, Gnabry, Bendtner
Goals: Skrtel 1′, 10′, Sterling 16′, 52′, Sturridge 20′; Arteta 69′ (pen)
ADVERTISING
Promoted
More from This Is Anfield
Fan Comments
Comments are retrospectively moderated. Some could be subject to delays before publication. They must obey the comment policy. Comments load below.

Please only discuss the article above. General chat can be made on our forums at forums.thisisanfield.com