Trophies are like buses: wait nearly 10 years for one and three come at once. In 2001, Gerard Houllier led Liverpool to another treble-winning season.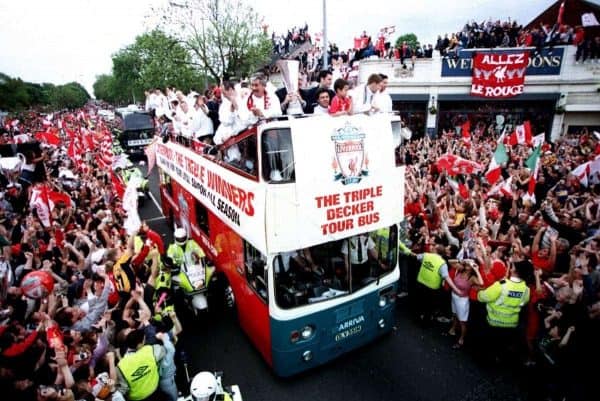 It was a truly remarkable year that added another League Cup, FA Cup and UEFA Cup to the club's trophy cabinet.
This was Houllier's second season in sole charge of the club and his rebuilding job had delivered in spades. His team had defied expectations and gone on an incredible run in the cup competitions, but they had also secured third place in the league, which meant a place in the Champions League awaited them the following season.
The supporters were jubilant and hopes that we were entering a glorious new period in our history began to rise.
Houllier had spent money in the transfer market, and the players he had brought in so far had gelled. Sami Hyypia and Stephane Henchoz gave the defence a solidity it had lacked previously and the likes of Markus Babbel and Christian Ziege brought class.
In midfield, the manager added Gary McAllister and Nick Barmby to Dietmar Hamann and Vladimir Smicer. Up front the experienced Jari Litmanen was added to the youth of Emile Heskey. All of this meant that Steven Gerrard, Michael Owen and Danny Murphy were surrounded with quality and experience.
ADVERTISING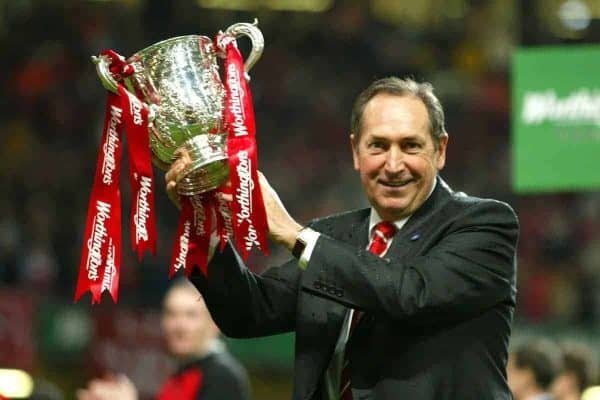 The Liverpool Echo declared 'Hip, Hip, Houllier' on its front page, as it described the multitudes who turned out to welcome his all-conquering heroes home. Not since 1978, when Paisley's Reds had returned their second European Cup in as many years, had the city seen anything like this.
Official estimates put the numbers of those who turned out at nearly 500,000. The reality was it may have been many more than that. Certainly, as the bus eased its way along the 17-mile route, huge crowds of cheering supporters, decked in red, clung to lampposts, hung out of windows and claimed whatever vantage point they could, just to catch a glimpse of the players and the cups. Young children—some on bikes, others on foot—gave the team an escort as they went.
There were also key points on the parade that saw huge crowds bring the bus to a standstill, with supporters desperate to see the players lift the trophies above their heads once more.
It was estimated that up to 100,000 gathered at the Jolly Miller and Pier Head alone. Local and national news media covered the entire route and broadcast interviews with players and club officials on top of the bus.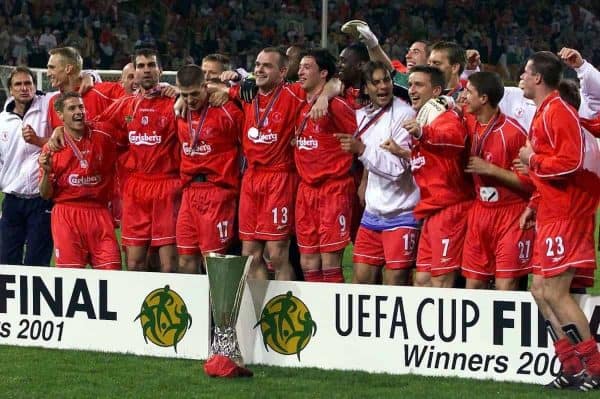 McAllister in particular was simply blown away by the scale of the celebration. He spoke of the unprecedented nature of his team-mates' achievement and doubted whether it could ever be replicated again.
Club chairman David Moores talked about his love of the supporters and how the scenes made him want to do everything "within his power to win things for them on a regular basis." There was a carnival atmosphere to the whole event, evidenced by the fact that there was not a single arrest among half a million people.
This was what Reds supporters live for. It's what we dream of, a team that plays the Liverpool Way and brings championships home in May. No wonder the signage on the bus declared "tell yer Ma we did it!" They certainly did.
ADVERTISING
More from This Is Anfield
Fan Comments