Jurgen Klopp has insisted nothing can be read into his team selections this pre-season, with the Liverpool manager focused purely on his side's fitness.
The Reds' two friendlies so far, away to Tranmere Rovers and Wigan Athletic, have thrown up some interesting scenarios regarding Klopp's preferred side for 2017/18.
Most notably, this has come with Trent Alexander-Arnold starting as Klopp's right-back in both, with Nathaniel Clyne replacing him at half-time at Prenton Park.
But while there could be some indication as to Klopp's plans with omissions of the likes of Mamadou Sakho and Lazar Markovic, the German says his selection is purely fitness-based.
"We have to see who feels how—that's what makes most sense in pre-season," he says.
"It makes no sense to make lineups three or four days before the game.
"I know what I want to see, what I want to see from all of the boys, so who starts and who comes on is for me not that important in this moment.
"I know for the boys it is always a little bit that they think 'oh, it's a sign' or whatever.
"The only signs I recognise are in the games from the players, it's not about whether you start or whether you play 20 minutes or whether you play 45 in the second half or whatever. I am completely open for all good performances."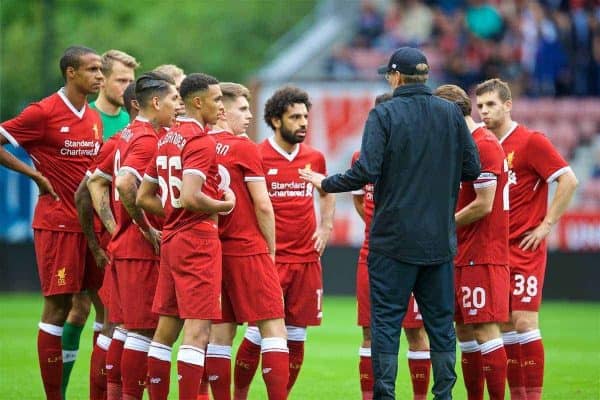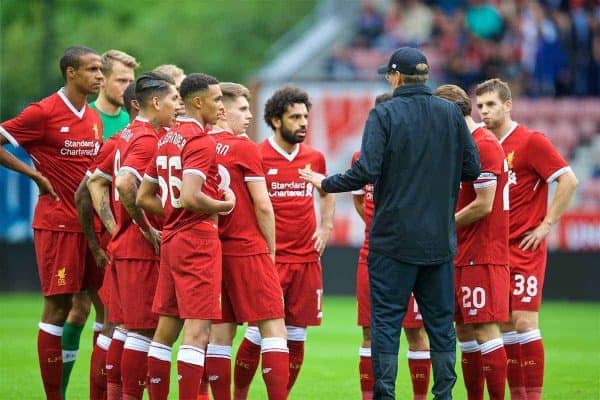 Klopp's side are currently in Hong Kong for the Premier League Asia Trophy, taking on Crystal Palace on Wednesday and one of Leicester City or West Brom on Saturday.
This provides the Reds with a heightened level of opposition, having taken on National League and League One sides so far.
However, Klopp is still adamant that the condition of his squad will dictate his team selection, with international commitments ensuring many of his key names returned later this summer.
"We will see how we line up, but it needs to make sense for the players—we had players who started on the 5th, 8th and 11th [of July]," he added.
"The players started in different moments, so we need to have a look at this and speak to the medical department.
"They all will have time to play here in these two games for sure.
"We will share it a little bit and then we will see how we can do it in Germany because it is a different tournament.
"The next five games are against big, big opponents."
After Hong Kong, Liverpool head to Germany to play Hertha Berlin (July 29), Bayern Munich (August 1) and either Napoli or Atletico Madrid (August 2), before taking on Athletic Bilbao in Dublin (August 5).