Our LFC125 series continues with the story of the 1978 European Cup final – when Bob Paisley's side became the first British team to retain the crown of Europe's best.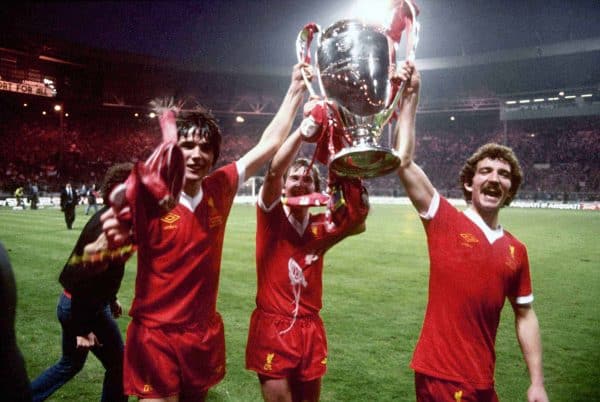 In the glorious aftermath of Liverpool's 1977 European triumph in Rome, Emlyn Hughes was asked how the Reds could ever top such a feat. His reply, accompanied by that trademark grin, was simply to say "go out and win it again."
One year later in 1978, in front of a Wembley crowd which topped 92,000, he would again lift 'old big ears' before a throng of jubilant supporters.
Liverpool had achieved what no other British club had ever done. They had retained the European Cup. Bob Paisley had delivered Shankly's dream of invincibility.
This was the crowning moment of a mixed season. It had started with Liverpool trouncing Kevin Keegan's Hamburg 7-1 on aggregate to lift the European Super Cup. They would also end up sharing the Charity Shield with Manchester United.
However, in the league, Paisley's men would finish runners-up to Brian Clough's Nottingham Forest. The outspoken boss would also pip Liverpool to the League Cup final, in a controversial game that featured a penalty for Forest and a disallowed goal for Liverpool's Terry McDermott.
However, nobody could stop the Reds in Europe. Liverpool had overcome Dynamo Dresden, Benfica and Borussia Moenchengladbach en route to Wembley, with aggregate scores of 6-3, 6-2 and 4-2 respectively. The final was to be against Club Bruges, of Belgium.
Liverpool had, of course, replaced one icon, Kevin Keegan, with another, Kenny Dalglish, for the 1977-78 season. The former Celtic striker had settled in well to his new home, scoring 31 goals in all competitions in his first season. However, he had managed just two in Europe – turns out he was keeping his powder dry for the final.
Also joining the Reds that season were two other Scots, Alan Hansen and Graeme Souness, who along with Dalglish would form the most powerful triumvirate of Scottish players in modern football history.
Bill Shankly, speaking about the potency of players hailing from north of the border, once said:
"If you've got three Scots in your side, you've got a chance of winning something. If you've got any more, you're in trouble."
Kenny Dalglish will always get the plaudits for scoring the winning goal in the game, but Souness was also instrumental and delivered the pass that set Kenny on his way. Horace Yates, writing in the Liverpool Daily Post awarded the future Reds captain man of the match, declaring that the player was:
"A veritable box of tricks with his wide array of passing and subtle midfield manoeuvres, it was apt he should be the man to provide Liverpool's winner."
It seemed Paisley had been consulting Shanks' book of spells, as he set about finding the missing Scottish ingredients, allowing him to enchant all of Europe.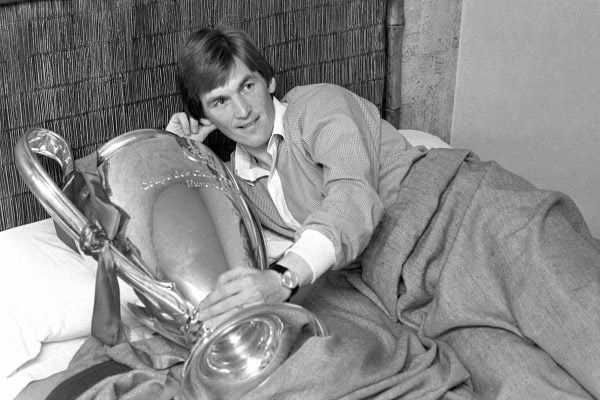 His sorcery would ultimately win four European Cups, but it was the capture of his second that set Liverpool's most successful manager apart from all the rest.
To be the first of your kind to achieve something so magnificent guarantees him immortality, within the hallowed walls of Anfield and far beyond.
The Liverpool supporters had already begun chanting "Why are we so great?" before the Reds grabbed their winner in the 65th minute. In truth, it was starting to seem like they may never get the break through.
An earlier defensive lapse by new boy Hansen almost let in Sorenson for a Bruges opener. Fortunately, Clemence was up to the task on that occasion. Then Phil Thompson scooped one from Simoen off the line, when a goal seemed a certainty.
However, Liverpool were not to be denied their place in history. After all, a street party of enormous proportions awaited them back home. The goal would come eventually and it would create delirium at Wembley. This is how the Post's Yates described it:
"A Dalglish overhead kick was pushed out by goalkeeper Jensen and from a Belgian point of view it could not have been a more ill-directed punch. The ball flew to Souness and another brilliant pass sent Dalglish racing on to the ball.

"Although angled and covered by Jensen, Dalglish, with commendable calm, flipped the ball over the goalkeeper and into the net. It was a magnificent exhibition of the striker's art."
Liverpool saw the game out and the celebrations would last long into the night. Here is the Daily Post's take:
"The scenes of jubilation surpassed those in Rome last year simply because nine-tenths of the crowd were sporting Liverpool favours."
At full time, Bob Paisley gave an interview to the waiting press. He was clearly irritated with the tactics employed by Bruges, who he felt had come to 'park the bus', to coin a modern phrase. He would say:
"It takes two teams to make a game into a spectacle and Bruges only seemed to be concerned with keeping the score down.
Bruges didn't come at us much – apart from one mistake in our defence, they never looked like scoring."
Apparently, the Belgian's manager, Ernst Happel, was less than enchanted with the Reds:
"Liverpool seemed only a shadow of the side we played in the UEFA Cup final two seasons ago. I was disappointed with them."
Not to worry Ernst lad. History will record that in 1978 a 'disappointing' Liverpool became the first British side to retain Europe's top prize. You may have been disappointed, but at Wembley the cup belonged to the Reds.
1978 European Cup Final
Liverpool 1-0 Bruges
Wembley Stadium, 10 May 1978
LFC: Clemence, Neal, Thompson, Hansen, Hughes, Case (Heighway), McDermott, Souness, Kennedy, Fairclough, Dalglish.
Goal: Dalgliish (64).