Liverpool U23s manager Neil Critchley has looked to relieve pressure on Trent Alexander-Arnold after his breakthrough under Jurgen Klopp.
Alexander-Arnold became the 18th local player to debut for the Reds since Steven Gerrard when he started against Tottenham in the League Cup round of 16 last season.
He has since gone on to make 14 appearances for his boyhood club, scoring a stunning first goal on his European debut against Hoffenheim in the Champions League play-offs on Tuesday night.
However Critchley, who has coached Alexander-Arnold in a variety of roles in the academy in recent years, believes the 18-year-old still has "a long way to go."
"We as a club want to promote our boys from the local area as much as we can," Critchley told This is Anfield.
"He's only just started, two games into this season. He's had a good start, but we want someone to not be making five, 10 appearances, we want someone who's going to make 50 and 100.
"He's got a long way to go for that yet, he's had a good start, and he knows he's got a lot to do yet.
"But I'm sure, the type of person he is, hopefully he can go on and have a successful season for us."
Critchley also acknowledged that, while Alexander-Arnold has clear leadership qualities having worn the armband for academy sides in the past, he should be under no pressure to take up a key role just yet.
"He was captain of the youth team, so he's obviously got something in him that suggests he has got leadership qualities," he added.
"But, again, he's only 18, so let's give the boy time, and the manager's very good at that, he doesn't put any pressure on them.
"I know Trent has spoken about [taking the captaincy] in the future, but at this moment in time let's just enjoy watching him play and seeing him develop."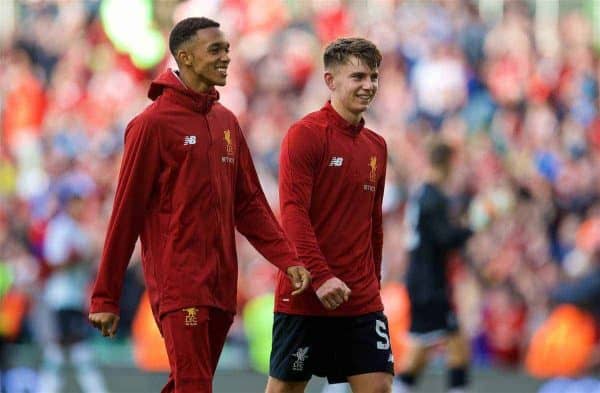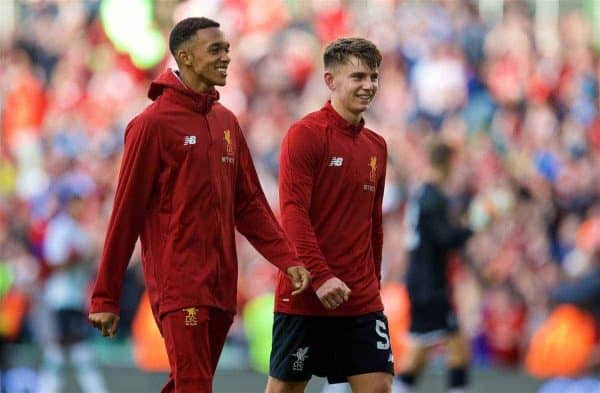 Alexander-Arnold has so far played the majority of his games for the first team at right-back, and is currently deputising for the injured Nathaniel Clyne in the role.
But Critchley feels both Alexander-Arnold and fellow youngster Ben Woodburn cannot be "pigeonholed" into a position at this stage.
"Trent's versatile, so he can play different positions. The manager and the first-team staff will have their own thoughts on where they see his development," he explained.
"I think at the moment you just sort of leave him alone a little bit and let him fly.
"Don't cut his wings, let him go and at the moment he's going in the right direction!"
"I think the manager came out and said about not pigeonholing [Woodburn], allow him to develop naturally, and I think that's perfect for Ben.
"He can be at times like a free spirit in the way he plays, so you wouldn't want to say 'he's a No. 9, he's a No. 11, he's a No. 8'.
"He's only 17, so let him just develop, let him enjoy being around the senior players and I'm sure his position will, like Trent, take care of itself."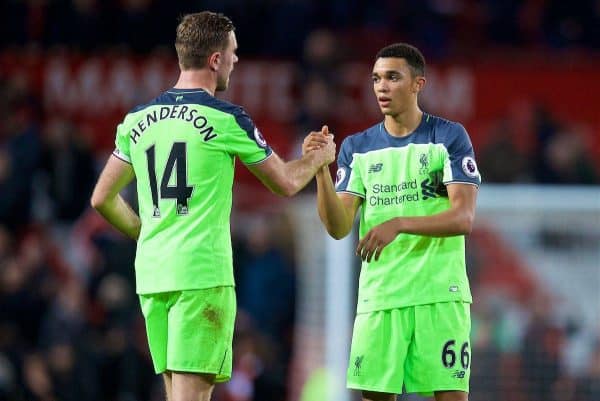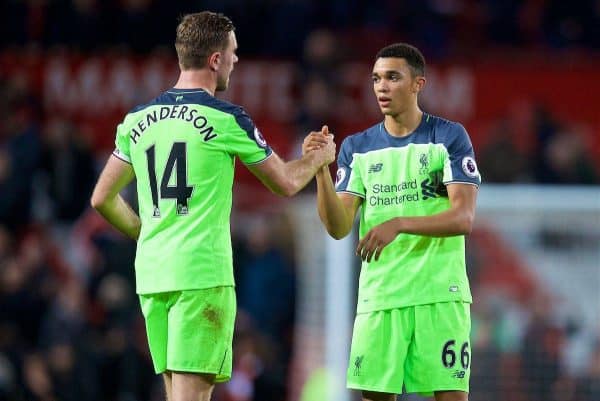 Alexander-Arnold made his first Premier League start in January's 1-1 draw away to Man United, producing a comfortable display in front of a baying Old Trafford crowd.
Critchley feels this is a marker of a young player's potential to step up to the first team, as mentality is as important as quality.
"I don't think you ever know [a player will make it] until they actually get that opportunity to play in the first team," he said.
"The emergence of Trent and Ben and some of the others [like] Ovie, and Ryan Kent in pre-season, it's very difficult to prepare you for walking out at Old Trafford in front of 70 or 80,000.
"So you think you know, you think 'when Trent plays at Man United making his Premier League debut, he's going to be OK'.
"But because he's never been in that situation, you're unsure.
"That's where it's up to the young players to grasp that opportunity and thrive in that environment, and Trent's gone and done that so far."