Jordan Henderson's role as Liverpool's controlling midfielder, typically known as the No. 6, goes under the microscope—as Sam McGuire writes.
Henderson and Emre Can are the new Dejan Lovren and Mamadou Sakho: in the eyes of many watching on they're no longer team-mates and instead are seen to be rivals.
It's happened throughout the years, with Michael Owen and Robbie Fowler going toe-to-toe for a starring role next to Emile Heskey under Gerard Houllier.
When two divisive players are vying for one position on the pitch it's a recipe for disaster; it becomes almost tribal and fractures the fanbase.
People go from supporting the team to supporting the player, to basically not wanting to be proved wrong.
Because at the end of the day, reputation counts for a lot on social media: you don't want to be known as the guy who backed a dud.
It's why people are blind to weaknesses of a player they rate while simultaneously over exaggerating how good they are. There's no middle ground. We all do it, too.
The result is what you see online every day. Stats, minus the context, being used as a kingmaker to prove a player is as good as you claim. People turn a team game into one centred around individuals.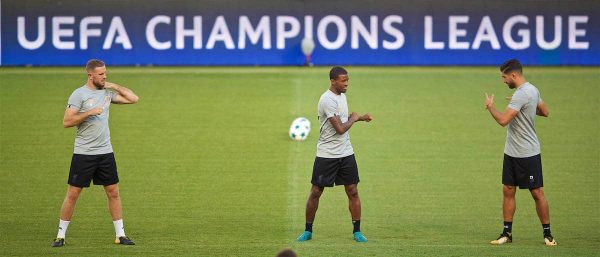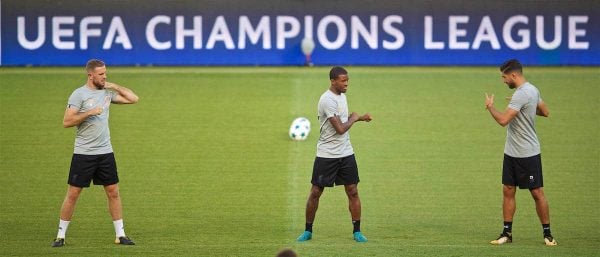 It's what has happened with Can and Henderson. Both have their strengths and weaknesses, and both bring something to the team.
Yet, they're pitted against one another most weeks and their performances are used as a stick to beat the other with.
There's never really a diagnosis or an autopsy on either player in isolation. Even with Liverpool conceding goals at an alarming rate, the buck is forever passed.
However, with Henderson enjoying arguably his best form in over a year, now is perhaps the ideal opportunity to analyse how the Liverpool captain is performing in the No. 6 role.
He followed up an impressive performance against Leicester City in the Premier League, in which he scored the deciding goal, with what appeared to be a dominant showing in the Champions League against Spartak Moscow.
He finished the match in Russia with impressive numbers having won five tackles, made three interceptions and played two key passes.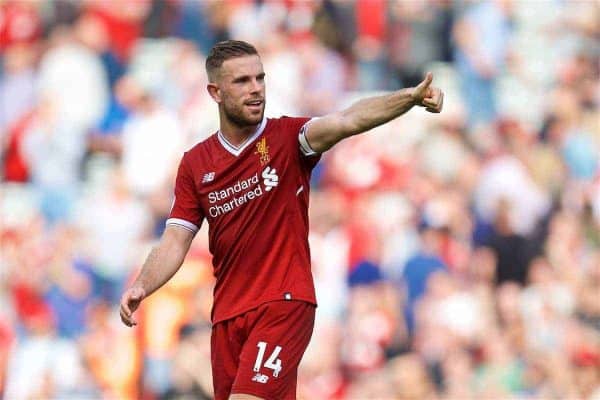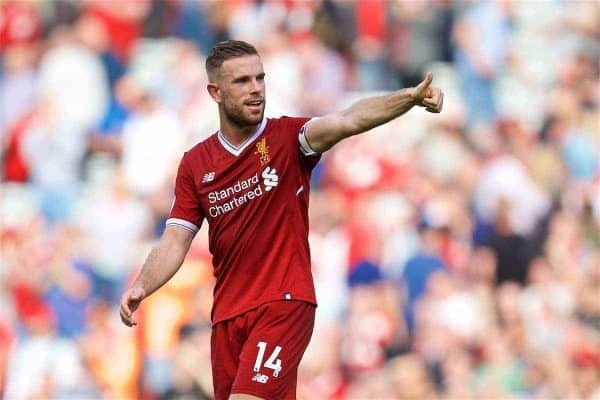 In fact, with a bit more luck he returns to Anfield with two assists in the record books after putting chances on a plate for both Roberto Firmino and Daniel Sturridge with what's quickly becoming a trademark cross of his.
But, as ever, stats don't tell the entire story and can only paint a picture of his contribution on the ball.
A No. 6 is judged on his work and influence both on and off the ball.
And while most midfielders operating in a deeper role have a similar sort of profile, every manager puts their own twist on what they want from the man in that position. Jurgen Klopp is no different.
The No. 6 Role at Liverpool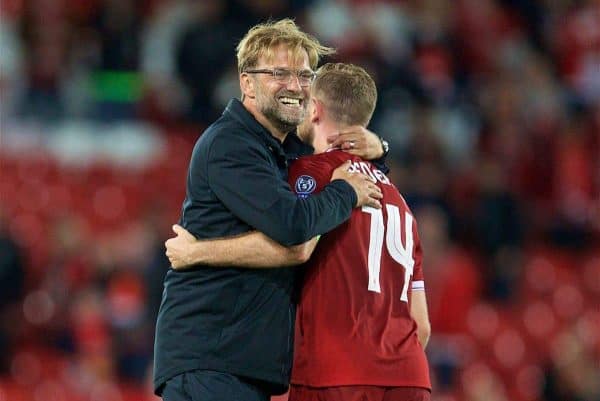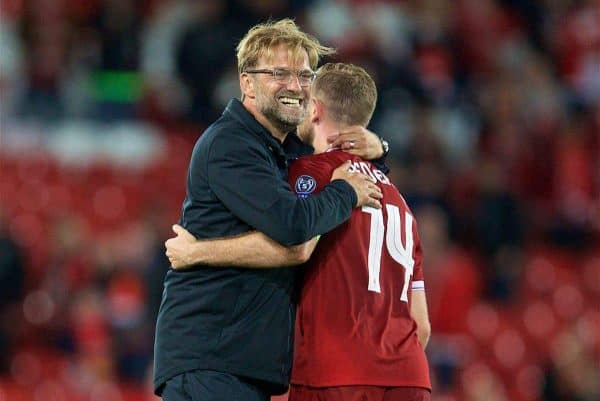 So what does the former Borussia Dortmund manager seemingly want from his controller?
1. They have to be proactive as opposed to reactive. It's all well and good putting a stop to a counter-attack after making up 20 yards to do so, but just how sustainable is that approach?
A No. 6, more often than not, has to be a master of space and not reliant on explosive speed to cover ground so quickly.
2. They have to be defensively switched on and diligent with their duties. With Liverpool using their full-backs as the main providers of width, the deepest midfielder has to be aware enough to know when to occupy that position.
They also have to drop into a centre-back position from time to time and be able to keep the defensive line.
3. Klopp's No. 6 has to be good when in possession. Liverpool look to control the game these days and, on average, see over 50 percent of the ball in the majority of matches.
They're not just there to keep things ticking over and are tasked with playing incisive passes to create opportunities from deep areas as well as having the ability to stretch the play with diagonals.
They're almost a defensive midfielder and a deep-lying playmaker rolled into one.
4. Most players in the deepest midfield position these days have to be press resistant.
With so many teams using a high, intense press, players need to have the ability to play their way out of danger, taking opposition players out of the game and progressing the ball.
If they're too safe on the ball then they're easy to smother and attacks are stopped dead in their tracks.
So, with those points in mind, how does Henderson stack up?
Reactive or Proactive?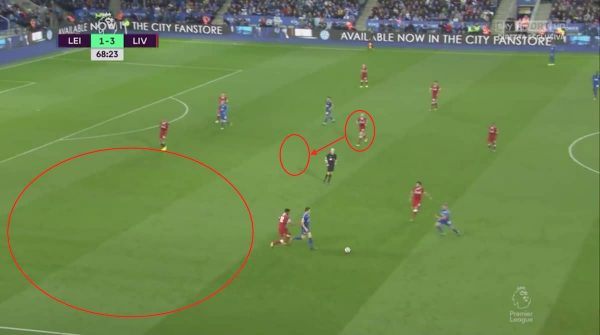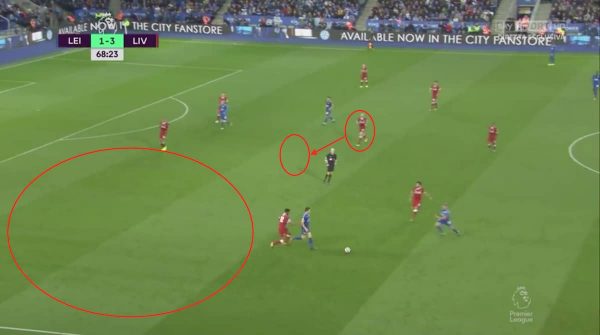 Is he proactive or more of a reactive player? The Liverpool skipper falls into the latter category more often than not.
In the screenshot above, taken during Liverpool's 3-2 victory over Leicester, you get to see that.
He's just scored to give Liverpool a two-goal lead and Leicester are awarded a free-kick just inside their own half.
The Reds are in a good defensive shape when the initial ball is played to Ben Chilwell; the players all drop back as a team.
Klopp set his side up in more of a 4-2-3-1 formation away at the King Power Stadium to give the defence more protection.
Henderson, however, is slow to react and is almost positioned as though he's playing as the deepest midfielder in a three, with two either side of him.
He's circled in the above picture and, if he was on his heels, would be closer to the referee.
With Joe Gomez pushing up to track Chilwell there's a lot of space in behind and it's that part of the pitch Henderson should be looking to cover.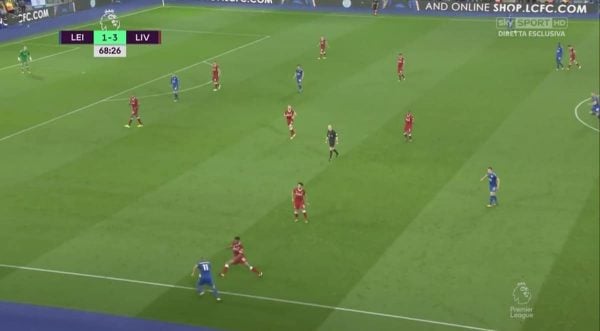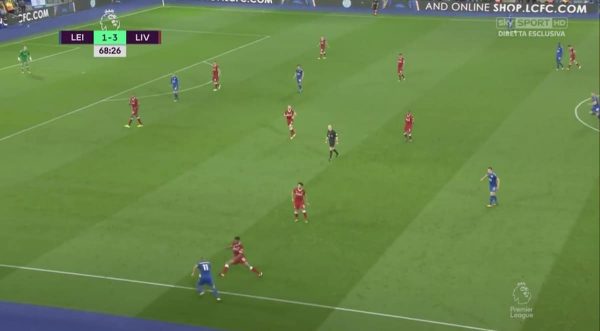 Leicester work the ball well and Marc Albrighton somehow manages to wriggle free of Gomez while keeping the ball in play.
The ex-Aston Villa man drives into the acres of space behind the Liverpool right-back and Henderson is not on the move to put this fire out.
Albrighton eventually puts the ball into the area, with both Gomez and Henderson inches away from blocking the cross. Demarai Gray sees his shot parried away and Jamie Vardy nods home.
Of course, the goal isn't Henderson's fault but had he been proactive in the buildup and looked to cover Gomez then that cross may not never have arrived.
That's not to say they wouldn't have found a different route to goal.
Covering His Full-Back
Below is a series of screenshots taken from the 1-1 draw with Spartak Moscow.
Despite the pictures being taken over a period of just 12 seconds it shows Henderson struggling to ignore his instincts to hunt down the ball and instead carry out his job as a No. 6, plugging up the space in a full-back area.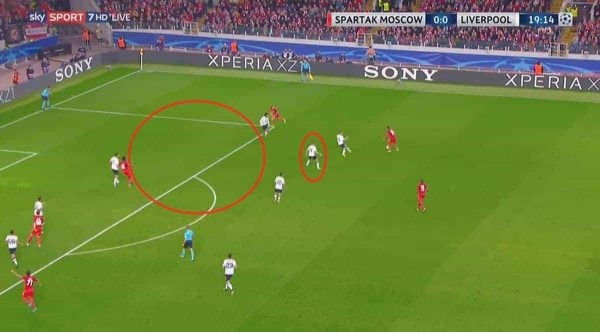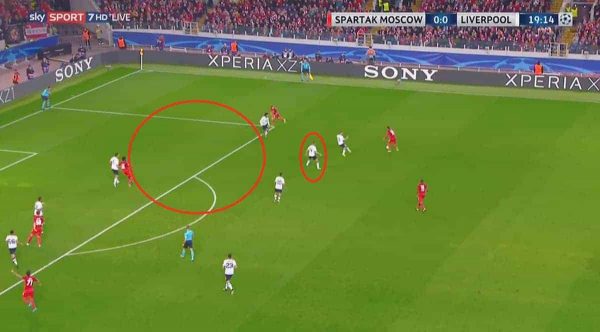 The home side work the ball well down the Liverpool left and Mohamed Salah is covering the man offering the overlap as Alberto Moreno fronts the man in possession.
With Moreno in that position Henderson should ideally be two or three yards deeper so there isn't such a space in the defensive line, especially with it being four-on-four around the penalty area.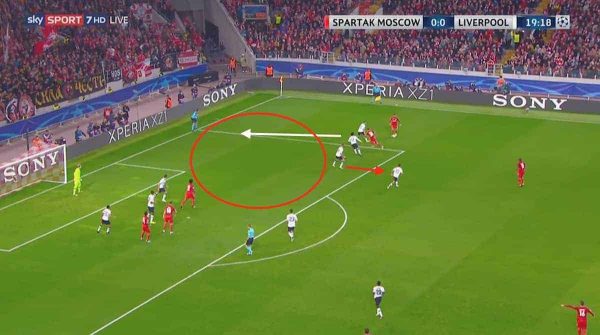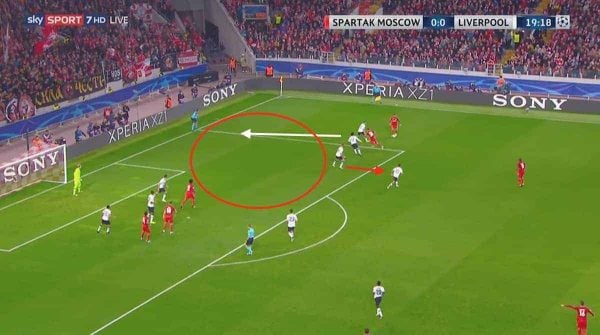 Henderson eventually drops deeper as Spartak's attack progresses with them retaining possession down the Liverpool left.
As you can see in the picture, he's eager to rush out despite the fact Philippe Coutinho is there and is able to close the man down.
Henderson, who can see the man making the run off of the ball and into the space behind, is seemingly oblivious to the area he should be sweeping up in.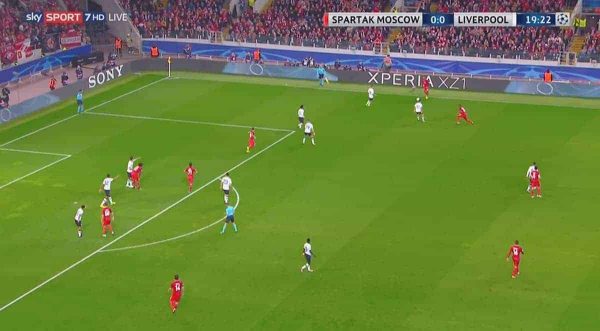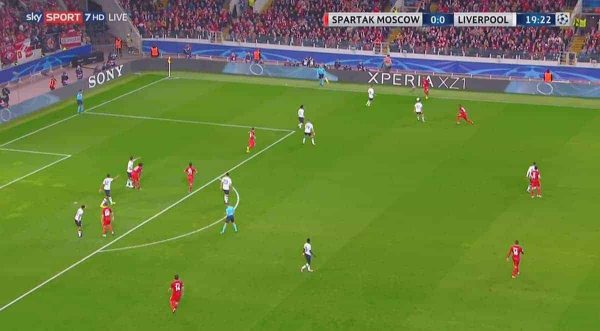 Spartak, still in possession and still on the Liverpool left, have been repelled backwards and Henderson has taken this opportunity to push up.
However, he has not realised there's a man behind him that he needs to be goal-side of.
He reacts eventually and darts back into a defensive position before the home side are able to take advantage of his rogue positioning.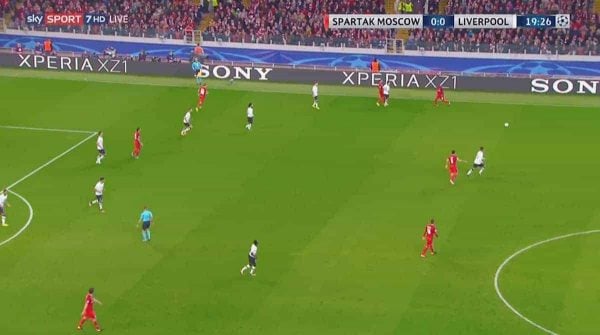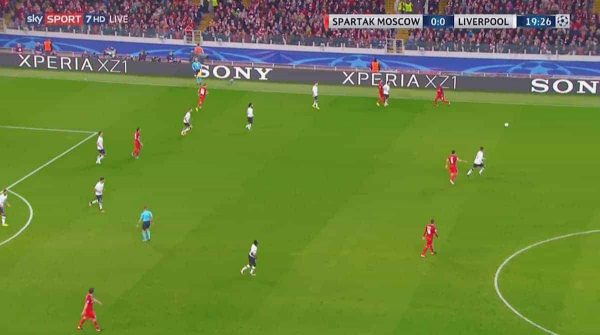 Liverpool force Spartak backwards again, into their own half this time and now there's a chance to position themselves properly for another attacking wave.
But as the deepest midfielder, and the man tasked with filling in for the full-backs, you need to be sure they're in a proper position before you look to push on yourself.
Yet here you see Henderson, again, looking at the ball instead of the man to his left. He needs to be in the defensive line until Moreno is able to drop back into position.
If a ball is quickly played over the top to the man behind the Liverpool left-back and to the left of Henderson, it's Moreno being blamed for being out of position when in reality it's the captain who should be occupying that space.
Henderson the Passer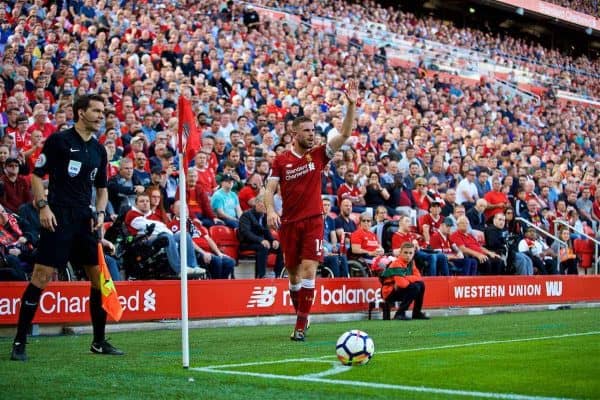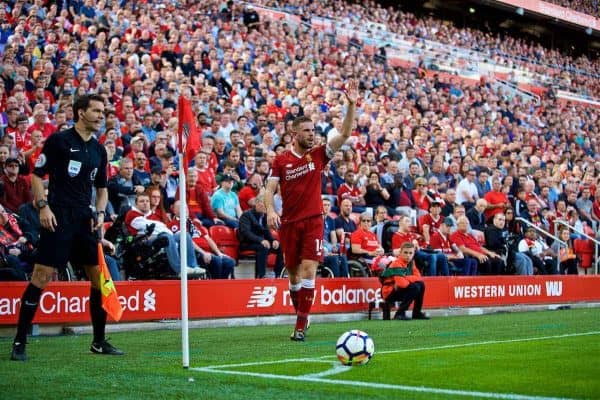 The former Sunderland man could be more incisive and progressive with his passing but he does keep things ticking over and he does have it in his locker to play a pass into the feet of the attackers which takes the opposition out of the game.
You've started to see it more since the arrival of Salah. Henderson will try those balls over the top if there's a high line to exploit.
They don't always come off and because of this his pass accuracy numbers have suffered, but it's not necessarily a bad thing.
On another day he finishes the match against the Russians with three assists. He played the early ball through to Salah after 15 or so minutes which forced a save from the goalkeeper.
He whipped in a ball for Firmino that the Brazilian just didn't anticipate and he played the lofted ball to Sturridge which was fired over the bar.
So while in deeper areas of the pitch he could improve his pass selection, in the opposition's half he does well when in possession the majority of the time.
Henderson Under Pressure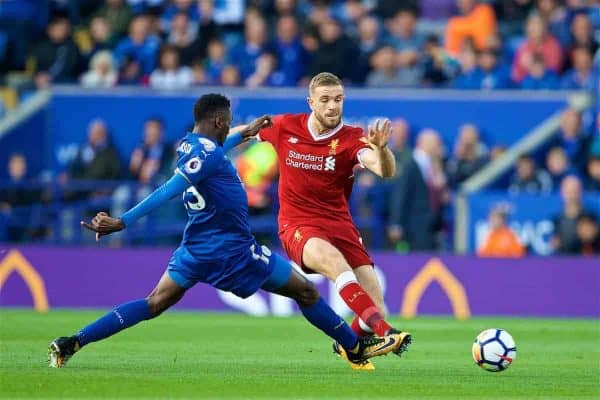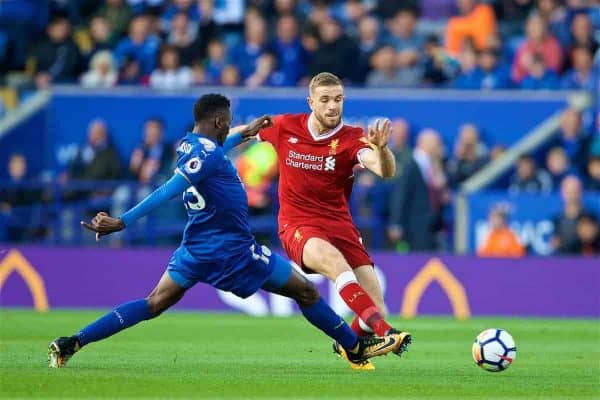 The Liverpool No. 14 is a lot of things but press resistant he is not.
It's why a lot of the times you will see him pick the ball up in a really deep position, just so he's able to be facing the opposition's goal instead of his own.
Others playing this role have the composure to receive the ball facing their own goalkeeper and turn away from pressure and into space.
Henderson isn't one of those, though, and prefers to be able to see the full picture.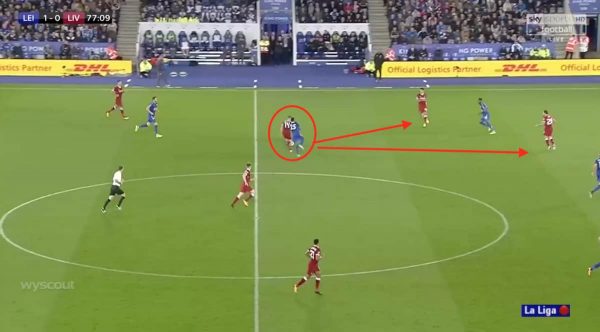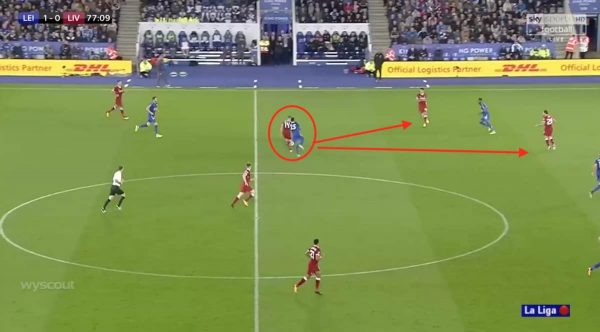 The picture above, taken during the defeat to Leicester in the Carabao Cup, shows Henderson in possession having chosen to drove forward from a deeper position.
He's immediately under pressure and despite there being two passes on, highlighted by the red arrows, Henderson retains the ball and turns back to face his own goal.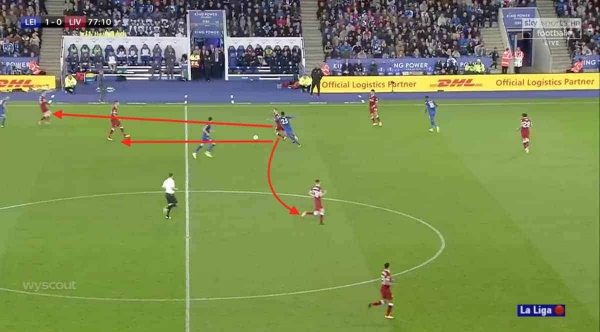 Still under pressure he now has three passing options if he wants to keep play moving.
The Reds have two men over to Henderson's left (or to the bottom of the picture) and one brave pass opens the play up completely.
Alternatively he can go backwards to Marko Grujic or Andrew Robertson. The pass doesn't happen.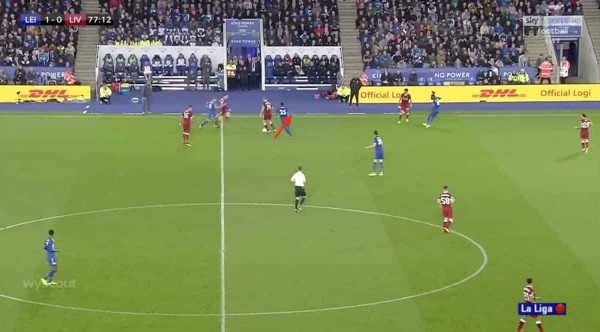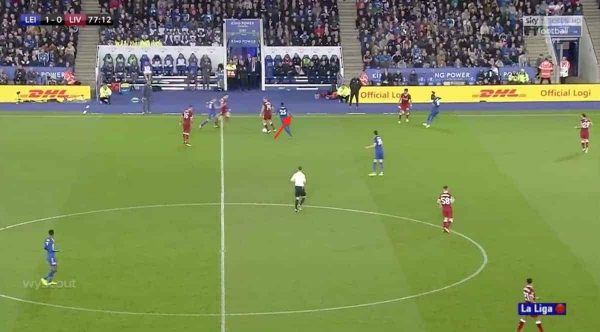 Robertson darts from his left-back position and a simple pass gets the ball into his path and Liverpool would be able to drive forward with players in good positions.
He could even play it backwards to Grujic.
Yes, there are players nearby but he's looking forward and there are passes on for him, like the one to Ben Woodburn.
Henderson resists the temptation and the space he was originally in begins to shrink.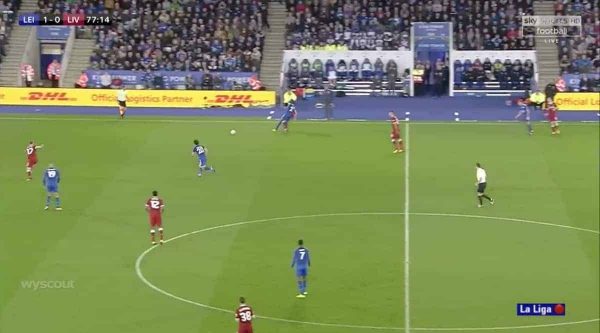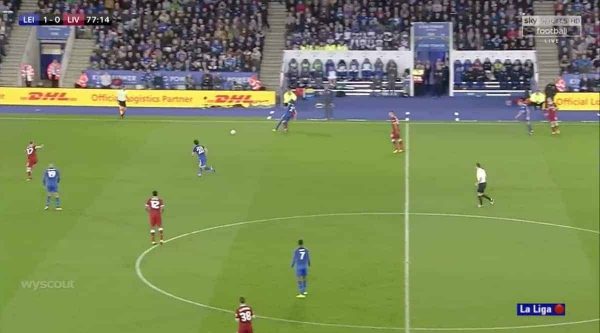 He's eventually forced to play it backwards, and it's an under-hit pass to Ragnar Klavan who just about gets there before Shinji Okazaki and puts it out for a throw-in.
If the former Mainz man was slightly quicker Leicester would have been in on goal with Islam Slimani in a fair bit of space.
Liverpool, with Henderson being pressured, went from being in a good position to build to scrambling to clear the ball.
And this isn't an isolated incident. It happens quite frequently and when it does it's noticeable, so much so the opposition will be working on ways to ensure Henderson being in possession in certain areas is considered to be a pressing trigger.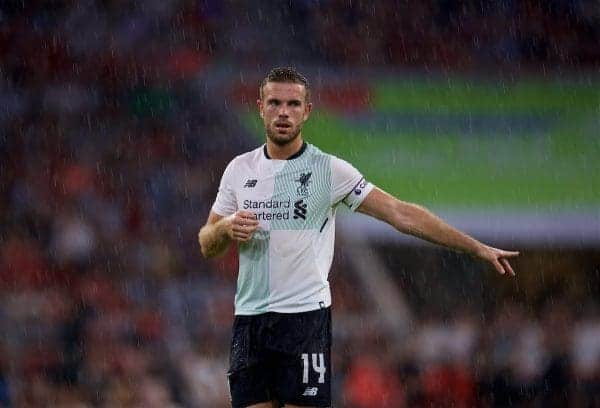 Despite his encouraging performances and all of the good he does in that role you can see why people are still against Henderson being the long-term deep midfielder for Liverpool.
People may have agendas, and may prefer certain players to him, but some concerns surrounding him in that position are valid and justified.