After a first half spent people watching, and reading between the footballing lines, Steven Scragg opted for ball watching during the second half, and the remainder of the game proved much more entertaining for it.
Plenty of hustle, and near-exclusive possession of the ball, combined to a lack of clear-cut chances, and a redundant goalkeeper and defensive unit.
Here ends the first half synopsis.
The second half was a bit different
Shortly before the first goal I had an epiphany of sorts. I made a conscious decision to stop attempting to read the intricate nuances of the game.
Football can be a bit like jazz music at times. Tuneless, incoherent, pretentious and completely unpalatable. It has that similarity, where enthusiastic aficionados will implore it isn't about what you can see, or hear, and that it is instead all about what you can't see, and what you can't hear.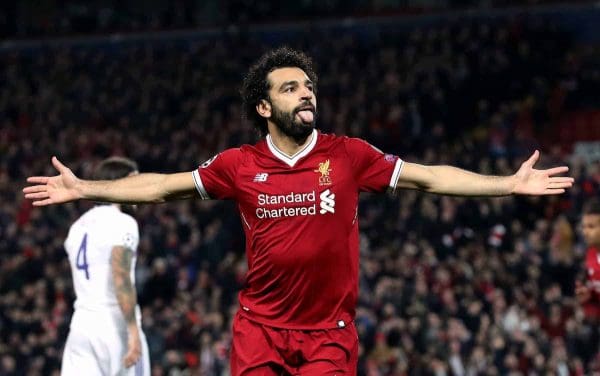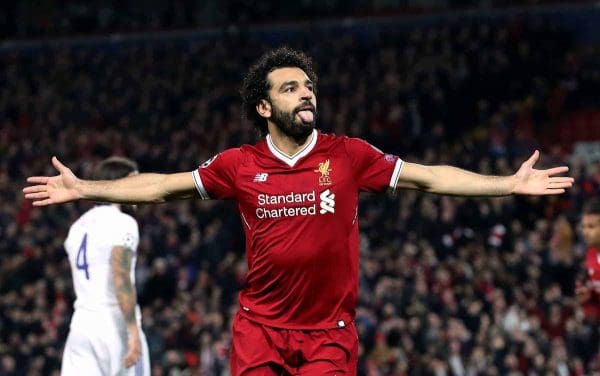 It's all about blinding the audience with utter bollocks really. Looking out for the little incidentals, that make the subtle changes the game-defining ones. It's bollocks, but it isn't bollocks.
I do it all the time.
The second half was different though.
I stopped watching the wider game and just concentrated on the ball. My eyes stayed on the ball, as it travelled around the pitch.
Within two minutes of this switch in focus, we were 1-0 up. Mohamed Salah doing what he couldn't against Huddersfield on Saturday, in finding the net.
We were a converted penalty away from a resounding start to my new way of watching the game, but James Milner fluffed his lines. We need to work on our penalties a bit. Considering we have a German manager, we don't do penalties in a particularly Germanic manner.
People watching
In the upper tier of the Main Stand, cup games are a bit different. The regular season ticket holders who surround me for league games tend to vanish. It's a strange phenomenon.
The two men sat in front of me for Maribor, had the biggest heads I've ever been sat behind at a football match. It was how I imagine it feels, if stood behind those iconic statues on Easter Island. This was quite possibly the primary reason why I eventually opted for ball watching. The lines which I usually read between were somewhat obstructed. It was a bit like going back to those old restricted view seats in the previous version of the Main Stand.
Beyond this, I was aghast at the amounts of pizza that was being consumed. Every other person seemed to be eating pizza, or very thin chips, in paper bowls designed to exaggerate just how many chips you've been sold. I could feel myself narrowing my glare of disapproval.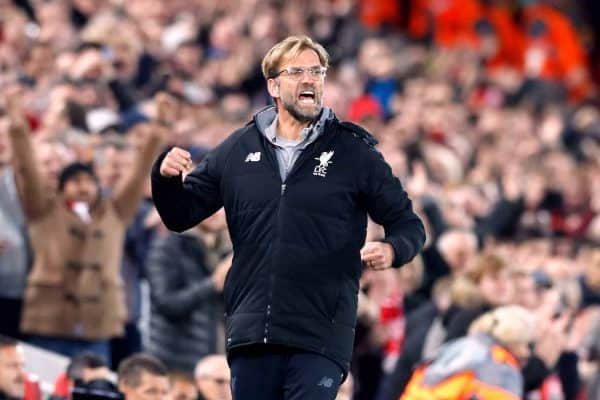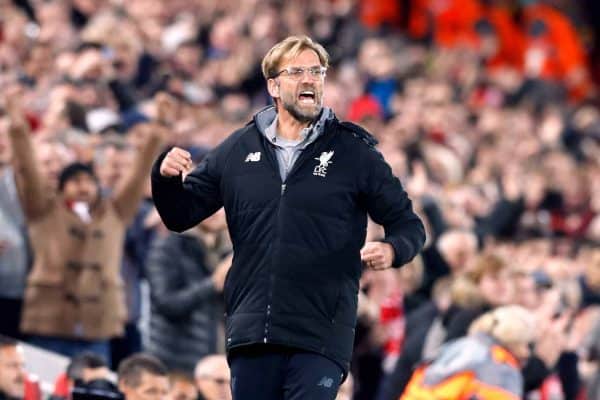 As the second half wore on, I found my attention regularly drawn towards the strange, but entertaining couple to my right. They elaborately high fived one other, to celebrate each goal. A high five, which rolled on to a secondary fist bump, then completed with the universal hand gesture for the word 'boom'. I thought I'd initially imagined it when Salah scored, but sure enough, there it was once again, when Emre Can and Daniel Sturridge scored. I was transfixed.
To my left, there was a man in his 30s, who screeched "clear it!" in unseasonable panic, every time Maribor looked even a vague threat to Loris Karius goal. This did not occur often, but it was highly noticeable when it did.
I told you he wouldn't start a second successive game
Daniel Sturridge suffered through the expected outbreak of 'Origi Syndrome'.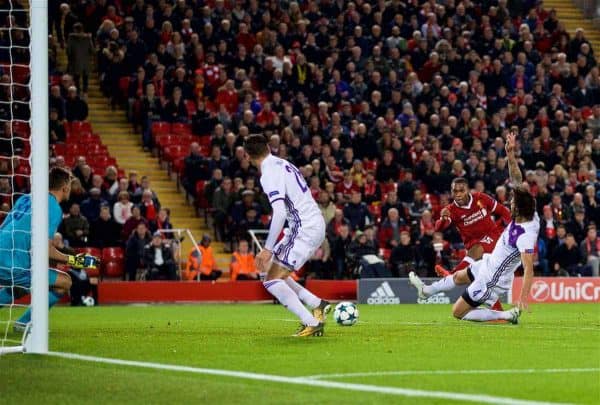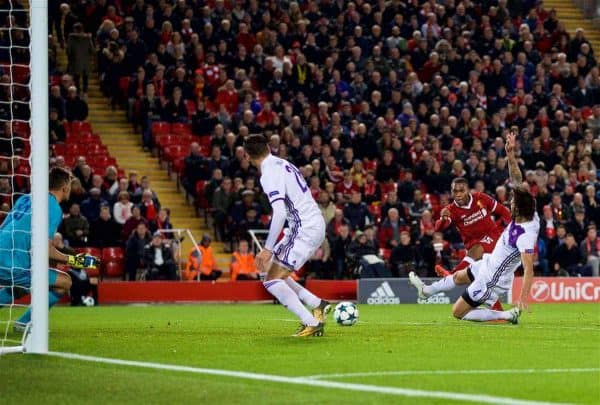 A goal on Saturday, and a place on the bench on Wednesday as reward. It wouldn't have been the done thing, had Sturridge started, and scored a hat-trick. Climbing from the bench, to emphatically thump home the third goal is still a bit awkward for the scriptwriters however.
Liverpool strikers are meant to take one step forward, one to the side, and six backwards, all in aid of cultivating suspicion in their overt 'untrustability'.
In these circumstances, the Liverpool striker is meant to be ineffective, thus boosting the case for the deployment of the false nine/number 10 type, at the tip.
Should Sturridge score at West Ham, this Saturday, then we will be in unchartered territory.
Top of the group with two to play
Handily placed, but with much still to do. We did all we could in these two games against Maribor. 10-0 over the course of them, and the outcome of the group is in our hands.
Sevilla away will be a serious test though.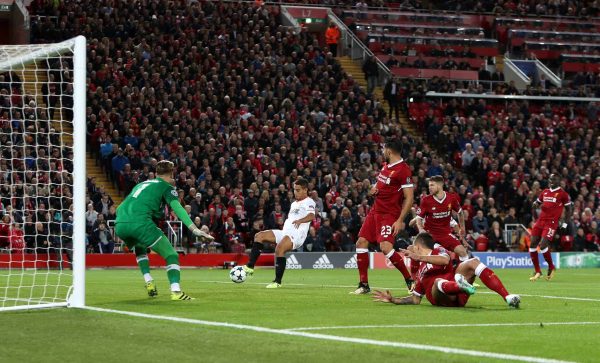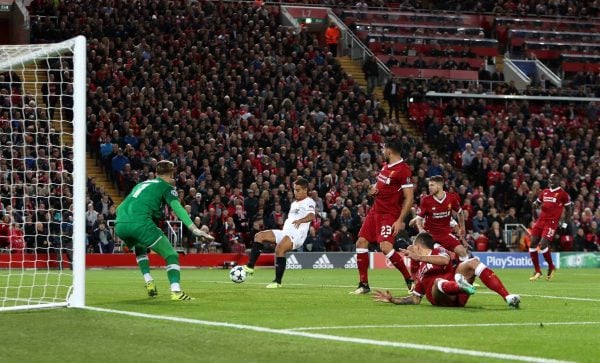 We may find ourselves faced with a make-or-break evening at Anfield by the time Spartak arrive.
I'd prefer it if went to Sevilla and put in a polished and professional performance. I'm looking for maturity over the course of the next two Champions League fixtures, but fully expect us to continue to 'mill around a bit' in the same fashion we did in the opening two games of this group.
We'll qualify for the knockout stages, but we'll make heavy weather of it.
It still feels like we're waiting for the season to kick in properly, and that's concerning, what with it being November already.
Next up
West Ham away, then another international break. Win at West Ham, and we'll be cursing the latest stoppage to club football.
While something still feels as if it's missing in our play, three successive wins can't be sneezed at, should we achieve that feat.
Philippe Coutinho, Sadio Mane and even Adam Lallana could well be back beyond the international break, and in the interests of balance, we are going to kick into compelling form eventually. At the minute, it's all about staying in touch, until the football clicks into gear.
Well. It's all about those things, plus the ball and people watching. Don't forget to try out the ball, and the people watching.
While you're here…
I've had the good fortune to be nominated to the shortlist for Blogger of the Year, at The Football Supporters' Federation Awards 2017. If you like my writing – and even if you don't, but you're a lovely person – then please spare the time to cast your vote for me at this link. Every vote will be greatly appreciated. Thank you.