The media eulogised over Mohamed Salah and Sadio Mane's partnership and Jurgen Klopp's tactics in Liverpool's 4-1 demolition of West Ham.
Liverpool capped off an excellent week in domestic and European competition by romping to a third straight victory against the Hammers.
Quick-fire strikes from Salah and Joel Matip gave the Reds a commanding lead, which Manuel Lanzini halved shortly after the break to bring the home side back into the contest.
But Alex Oxlade-Chamberlain netted his first Reds league goal just 57 seconds later to restore the two-goal cushion, before the superb Salah notched his second to seal a convincing victory.
It was a thoroughly deserved win for Klopp's side, who deserve full credit for the reaction produced over the last three games after what could have been a derailing defeat at Tottenham.
Here's how the media assessed events at the London Stadium.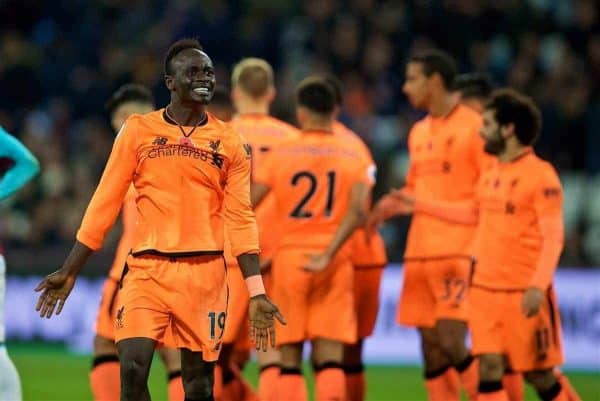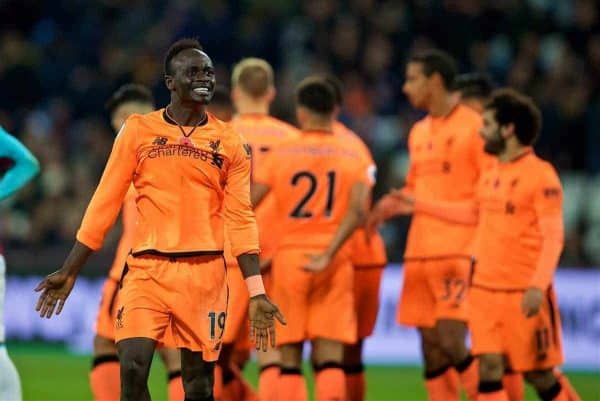 Reporters reflected on an impressive win for Liverpool, with numerous journalists feeling things are very much looking positive after a sticky period for Klopp's side.
The BBC's Gary Rose praised the Reds for taking the big opportunity presented to close the gap on top-six rivals:
"With Manchester City hosting Arsenal and Chelsea entertaining Manchester United on Sunday, the trip to West Ham offered Liverpool an excellent chance to gain ground on their title rivals before their games.

"It was a chance they grasped with both hands."
The Mirror's Darren Lewis commended Liverpool for delivering another convincing victory without Philippe Coutinho:
"His shoulders may have ached from carrying the team last season but this was the third consecutive game in which Liverpool cruised to victory without Coutinho.

"It will hearten Jurgen Klopp greatly that his men can get into rhythm of rolling teams over without his star man."
On a similar train of thought, ESPN's Dave Usher believes things will only improve for the Reds with the impending returns of Coutinho and Adam Lallana:
"Having [Sadio Mane] back makes Liverpool infinitely more dangerous, and with Philippe Coutinho and Adam Lallana also close to comebacks, things are looking much brighter than they were a fortnight ago, when the Merseysiders were embarrassed by Spurs at Wembley."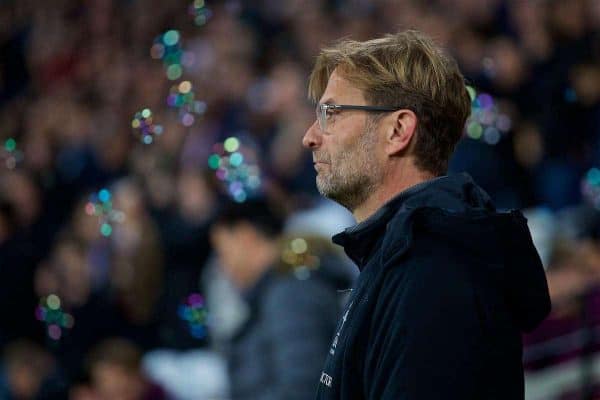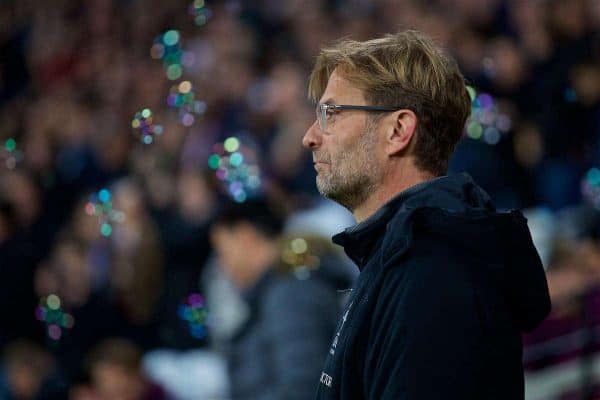 The watching journalists discussed Liverpool's interesting, fluid tactical setup, and unanimously felt it was masterstroke by Klopp.
The Liverpool Echo's Neil Jones felt the system was designed to rip West Ham apart with electric speed—and it paid off:
"The setup was interesting, Salah roving centrally behind Firmino with Oxlade-Chamberlain and Mane occupying the flanks. 4-2-3-1? It looked more 4-2-4 at times, the aim clearly to get at a fragile West Ham backline with speed."
Usher assessed the selection as a "counter-attacking lineup" and felt it worked perfectly:
"It was a bold team selection by Jurgen Klopp, and he was rewarded with a convincing win. He picked a team with counterattacking uppermost in his mind, so the opening goal was especially pleasing."
The Mail's Rob Draper thought the system worked well because the Reds' attacking players were also responsible with defensive duties:
"They played what at times looked a highly-aggressive 4-2-4, but Salah, Oxlade-Chamberlain and Mane defended enough to make it work."
This Is Anfield's Chris Williams drew comparisons in the sort of fluid system Klopp's deployed at Borussia Dortmund:
"In short, for the opening 45 minutes Liverpool confused their opposition—something that Klopp's 'peak Dortmund' were famous for."
Writing for ESPN, Michael Cox discussed Salah's changed role, but questioned whether the Egyptian can really become a long-term option there:
"It was a slightly disjointed system and while Salah is a tremendous counter-attacking No. 10—his performances for Fiorentina in that role were genuinely sensational—it remains to be seen whether he has the intelligence to vary his position, drop into midfield and help Liverpool to play the type of passing triangle that unlocked Maribor in midweek for Can's excellent goal."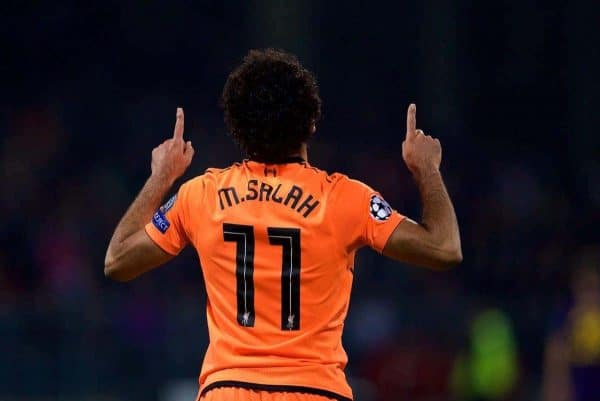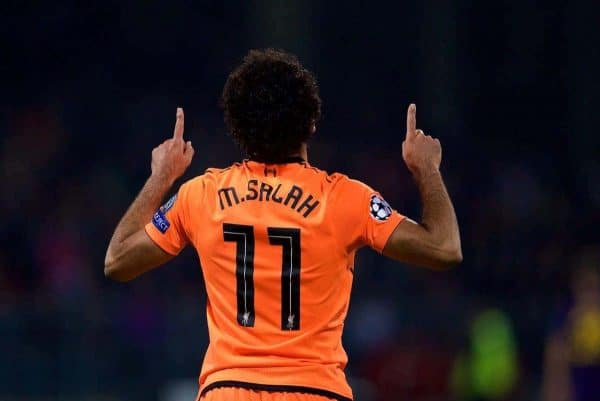 There was plenty of praise in post-match reports for the devastating partnership between Salah and Mane, which proved too much for West Ham to handle.
Goal's Melissa Reddy assessed that the relationship between the lightning duo will be key to the Reds' upturn in form continuing:
"They are tireless, and together they are dynamite, which West Ham discovered to their detriment. As Liverpool look to steer towards their ambitions after a stuttering two months, the African duo will be the navigators-in-chief."
The Telegraph's Sam Dean hailed Mane as the most influential player on the pitch:
"Mane's return to the side was earlier than expected, but you can forgive Jurgen Klopp for wanting to get him back in the team as soon as is physically possible. His speed on the break tore West Ham apart, with Salah twice profiting from the welcome injection of pace."
Reddy believes Salah is already proving himself the signing of the summer:
"If the Senegal international was one of the signings of last summer, the Egyptian is certainly speeding away with that status this year.

"He has already had a hand in 15 goals in all competitions this season with 12 successful strikes and three assists—more than any of his team-mates."
The Liverpool Echo's James Pearce believes Salah is the answer to Kopites' cries for a 25-goal-a-season man:
"Much of the talk in recent months has been about the Reds' lack of a 25-goal-a-season marksman. But it turns out Klopp had already brought one on board. Salah is the main man."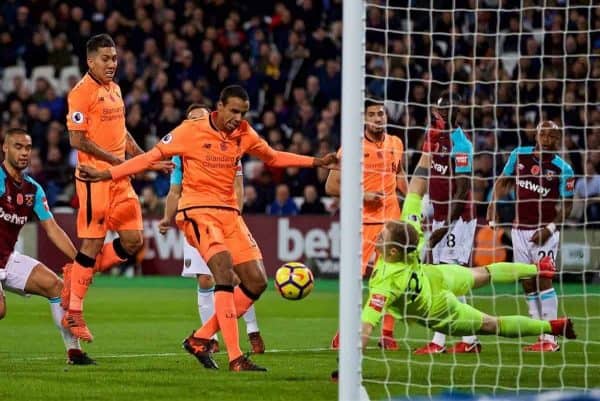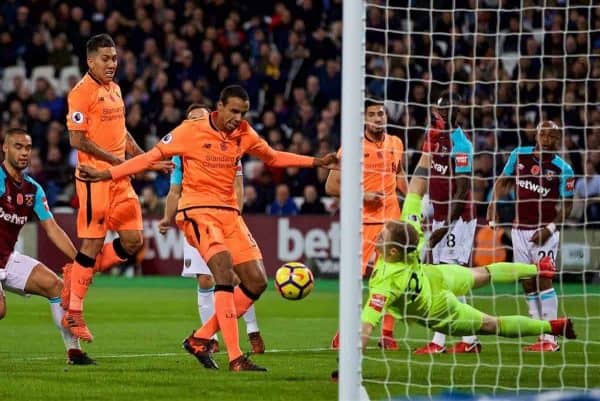 Certain journalists discussed other aspects of Liverpool's performance, with praise coming for the Reds' improved finishing.
Rose noted Liverpool's improved lethal touch in front of goal:
"Against a side who had set up to try to stifle Liverpool's attacking qualities, the visitors made the most of their few opportunities—something they failed to do earlier in the season—as two of their three shots on goal in the first half resulted in goals."
Jones hopes Klopp's side can continue to be productive from corners:
"It'd be nice, too, if Liverpool could keep up this set-piece prowess. They've been without it for long enough, after all."
However, Usher noted one concern with the Reds' lack of game-management when ahead:
"It was straightforward in the end, but for a time, this was threatening to get edgy because of Liverpool's inability to take the sting out of the game. The goal they conceded was predictably poor, but sometimes you need to just slow the game down and not look to attack with every possession.

"It didn't cost them in this game, but it might in the future if they don't become a little more street wise."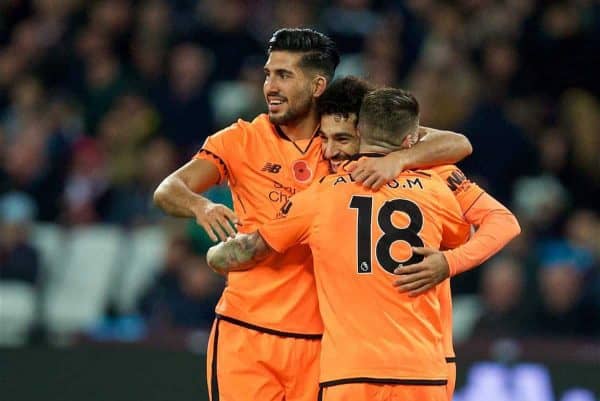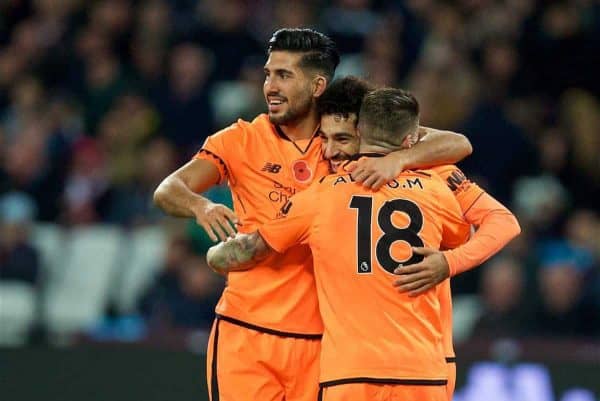 Some also offered praise for other Reds, with Emre Can among those earning plaudits for his display in midfield.
This Is Anfield's James Nalton assessed Can as the Reds' "midfield leader":
"Showed good power against some of the opposition's more robust players in the centre of the park, and though his passing wasn't always the tidiest it was still a good shift from the German.

[…]

"Was also the leader in the middle of the park, shouting orders and telling his team-mates where to be at set-pieces and during breaks in the game."
Usher was impressed with Roberto Firmino's performance:
"Tormented West Ham's defenders with his work rate as much as his skill. The Brazilian never stopped running and was popping up all over the pitch.

"Superbly created a goal for Oxlade-Chamberlain, but should also have scored himself when he dragged the ball wide after a brilliant run.

[…]

"A goal was the only thing lacking from a fine performance."