Emre Can is out of contract in the summer and plans must be put in place to find a replacement quickly if he leaves Liverpool.
The German international could yet remain at Anfield, having made it quite clear he is still considering his options and focusing on the remaining months of the 2017/18 season.
With a World Cup on the horizon and Can an almost guaranteed part of Jogi Low's squad, it could well be that the uncertainty over his future rumbles on for months to come.
The best-case scenario for the Reds is that they both add to the midfield ranks this summer and Emre Can opts to extend his stay, signing a new contract. But it's important to prepare for the alternative possibility.
Holding midfield, the role Can has excelled in of late, has long been something of a problem position for Liverpool.
While captain Jordan Henderson has had his moments in the role, it's clear his best position remains in a more offensive-minded area of the pitch, surging into space and working the channel, much as Alex Oxlade-Chamberlain has done of late.
Thus, it is outside the Anfield confines where a replacement must be found; here are six considerations for the No. 6 role who would suit the style and technical requirements for Jurgen Klopp's side.
Rodri, Villarreal/Atletico Madrid
https://www.youtube.com/watch?v=AdOUf4lbo0E&t=220s
We'll start at the very top of the possibilities in terms of promise, but with an acknowledgement that this one is almost a non-starter.
Rodri plays for Villarreal, but has already signed to head back in the summer to Atletico Madrid, whose youth system he came through. They're paying €20 million for him, not a huge amount at all, so it's feasible that they could opt to cash in an immediate profit.
If that's a possibility, every major side in Europe will be watching—the 21-year-old is comfortably a player who will be worth double that amount.
Very similar to Sergio Busquets in style and approach, Rodri is a tall, rangy midfielder who protects the defence and leaves all his bases covered: good positioning, a fine first touch and a preference to keep his passes short.
That's not to say his passing is one-dimensional; again like Busquets, he'll play between the lines and feed offensive team-mates on the half-turn, while holding his position in deeper areas.
Rodri is a star in the making and Atleti have eyed him up as Gabi's replacement; whether he can operate in a double pivot is yet to be seen but at the base of a midfield three or diamond (as Villarreal play) he has been immense.
Asier Illarramendi, Real Sociedad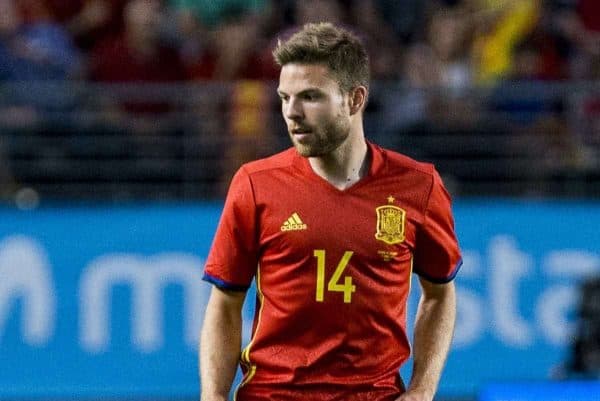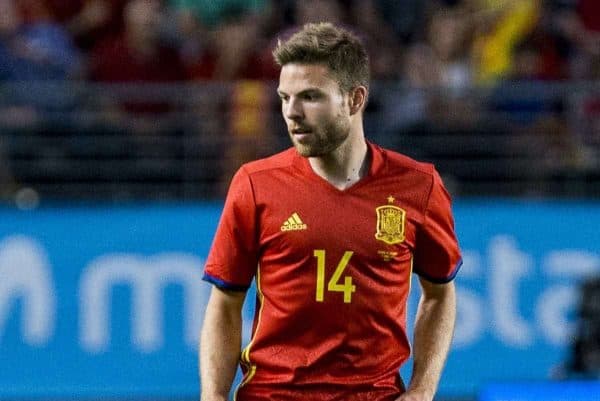 If Rodri is a no-go, La Liga has other options for Klopp, Michael Edwards and Co. to consider.
Chief among them is Real Sociedad's Asier Illarramendi, more commonly known as Illarra. He's a ready-made option, 27 years of age and full of experience.
He didn't quite cut it at Real Madrid which has soured some casual fans' perception of him, but it's a mistaken one: Madrid didn't play a holding midfielder when he was there, but it's the role he excels in.
Illarra is aggressive, quick to surge into space after winning the ball, is confident in possession and good in the air.
He's regularly among the best players in La Liga outside the top two or three teams and is certainly capable of stepping back up to a bigger side.
At Anoeta he's something close to a legend, but for his playing career to truly reach the heights his ability warrants, a summer move is a must.
Illarra has a great chance of being in the Spain squad for the World Cup, which tells everything you need to know about his technical level of play.
Max Meyer, Schalke 04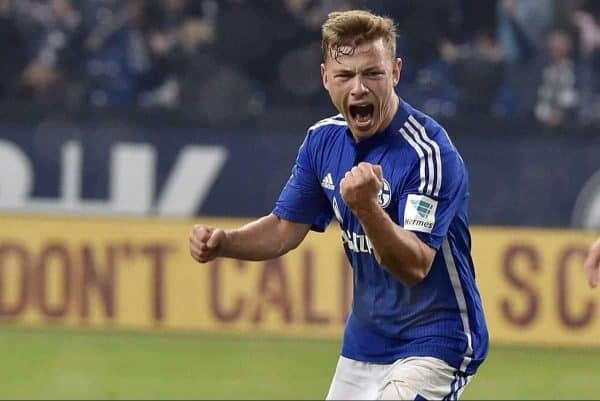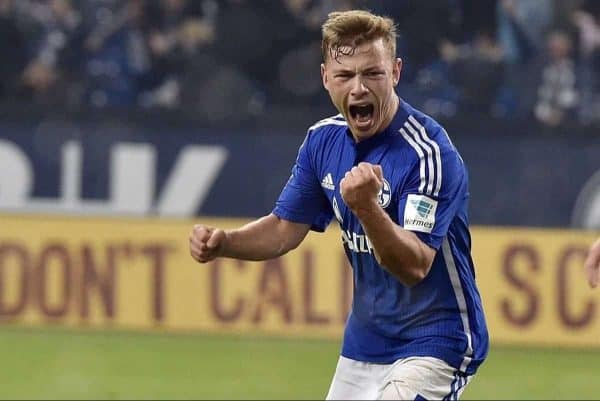 A name every Reds fan is familiar with by now, even if they aren't ardent Bundesliga watchers.
The Schalke man was linked with a move to Anfield even when he played as an attacking midfielder; now reinvented as a deeper, controlling option, he looks far more assured and consistent than in his teen years.
Meyer is the shield in front of the Schalke defence, often with two other midfielders ahead of him in a 3-5-2.
The passing range and speed of thought he was originally noted for is still there, but his reading of the game has come on—or perhaps just come to the fore—enormously.
A potential downside to a prospective deal is Schalke losing Leon Goretzka on a free transfer; they'd be loathe to lose another component of the team, even at a premium price.
Jefferson Lerma, Levante
A less-refined option than some on the list, but Jefferson Lerma plays every game with 100 per cent commitment, self-belief and an uncanny ability to win back possession.
Equally able to play a rampaging, destroying game as a midfield surger or a more disciplined holding role, the 23-year-old Colombian has been a stand-out for Levante over the past two and a half seasons.
In truth it's a surprise he's still there; even if the biggest sides haven't been ready to gamble on him, a step up between the Spanish minnows to perhaps a club challenging the league's elite seems more than warranted.
Lerma picks up his fair share of bookings thanks to his robust approach, but given Liverpool's propensity to allow chances to be created far too easily at times, a bit of extra cynicism wouldn't go amiss.
Athletic, powerful and determined, he's an all-action figure who can carry the ball across 20 or 30 metres in very little time on the counter.
Ludovit Reis, Groningen
Only 17 years old and in his first senior campaign, there aren't even yet too many scouting videos of Ludovit Reis to appreciate—but that will change soon enough.
He's quickly making himself an integral part of the team at Groningen, thanks to his well-rounded mix of defensive tenacity and offensive threat.
Reis is capable of playing in both halves of the pitch equally well, winning the ball quickly and frequently and surging upfield to strike at goal from range whenever possible.
He has played both in a central and a holding role this term already, as well as out wide, and of course it's to be expected that he is raw at times and decision-making could be better.
But there's genuine excitement around him for a reason and even a national team call-up has been suggested—he's of Slovakian heritage, but wants to play for the country of his birth, the Netherlands.
Perhaps he's more of an option to sign alongside another, more experienced player, but the promise and potential is there to see.
Oh, and he's a massive Liverpool fan and has stated his wish to play for the Reds one day.
Mario Lemina, Southampton
Finally, a Premier League-based option…and yes, it's another Southampton player.
It really should be easier to wrap up deals with Saints by now, shouldn't it?
Lemina hasn't been firing on all cylinders since joining Southampton, but he's a player of unquestionable talent and, aside from settling into a new league and team, he's also contending with the fact they've been extremely poor, especially further forward.
The former Juventus man can play, like Lerma, both as a holder and a more forward-thinking midfield option, but unlike Lerma he's extremely creative, has good vision and a fine passing range when on top form.
Perhaps there's even an opportunity here for the Reds this time: don't wait until he hits his best form for Southampton and the price doubles, but move in early and build on the immense talent the 24-year-old so clearly has.