Mohamed Salah's performances for Liverpool this season have drawn comparisons with Luis Suarez's in 2013/14, but who shone the brightest of the two?
Salah's goal against West Ham last Saturday was his 31st of the campaign, as his astonishing first year on Merseyside continues.
The Egyptian's neatly-taken finish in front of the Kop was not only significant due to putting the Reds 2-0 up and on their way to a 4-1 victory, but also because it equalled Suarez's tally from four years ago.
The Uruguayan's displays in 2013/14 are seen as among the best of all time at Liverpool, but Salah is now rightly being spoken of in a similar breath.
The question is: does the current Reds favourite pip El Pistolero, when you weigh everything up during their respective seasons of magic?
Here's what we think.
Ability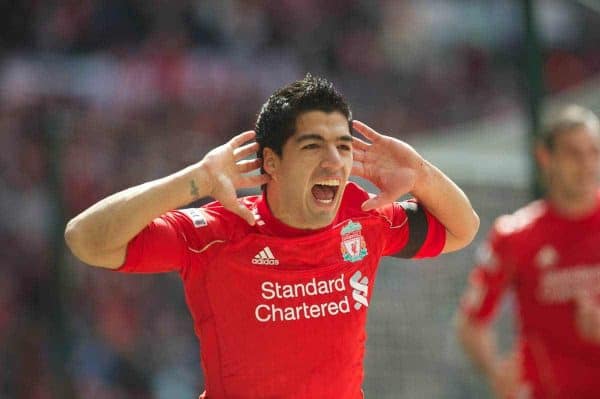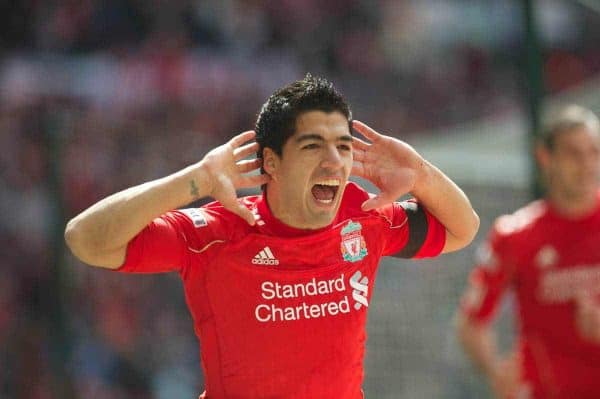 In terms of natural talent, Suarez is the superior player, which shouldn't diminish what an exceptional footballer Salah is.
Suarez will go down as one of the most brilliantly gifted forwards of his generation when he hangs up his boots, with his post-Liverpool spell at Barcelona making him a true great of the game.
In 2013/14, the genius on show was a joy to watch, with the now 31-year-old producing pieces of play that will forever be indelible in our minds.
He was unique and irreplaceable – you cannot teach such instinctive brilliance.
Salah possesses a wand of a left foot, and some of his characteristics are strikingly similar to Lionel Messi, with his balance and technique standing out, in particular.
His eye for a pass, first touch and intelligence set him apart from many speedy wide players of his type, and the rawness to his game is evaporating all the time.
Whereas pace remains a vital part of Salah's game, however, Suarez was never blessed with it, which highlights his ability even further.
Imagine him with blistering speed!
Salah: 9/10
Suarez: 10/10
Influence

You look at the most influential Reds in recent history and Salah and Suarez both have to be in the mix.
Salah has added an unbelievable amount to Jurgen Klopp's current side, exceeding last summer's expectations by a distance.
Nobody thought he would be a Footballer of the Year contender within eight months of his arrival, and his speed and end product have helped make Liverpool one of Europe's most feared attacking teams.
As majestic as Salah has been, Suarez was again on a different level when it comes to the effect he had.
Anyone who says he was the sole reason for Liverpool nearly winning the Premier League title are being insulting to Brendan Rodgers and other key players, but he was the catalyst behind it.
Few gave the Reds a chance of a top-four finish that season, but Suarez returned from suspension in late September and lifted everyone around him.
Daniel Sturridge, Raheem Sterling, Philippe Coutinho, Jordan Henderson and Gerrard all grew in stature because of Suarez, and such was the attention opponents paid to him, it allowed space to appear for his colleagues.
Some players reach a level where their reputation alone gives their side a 1-0 lead before a game even kicks off, and Suarez was one of those at the peak of his Liverpool powers.
Salah has had an enormous impact, both on his teammates and the opposition, but you feel an injury to him wouldn't be quite as big of a loss as it would have been with Suarez.
Salah: 9/10
Suarez: 10/10
Consistency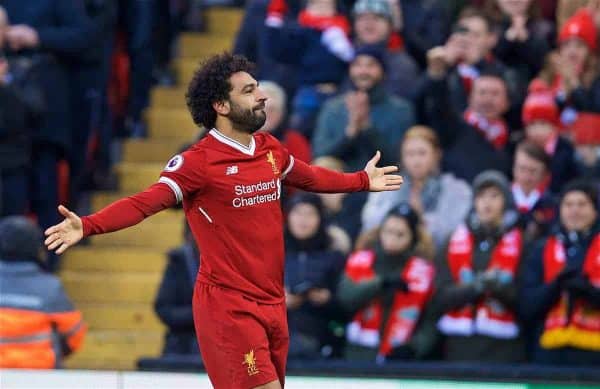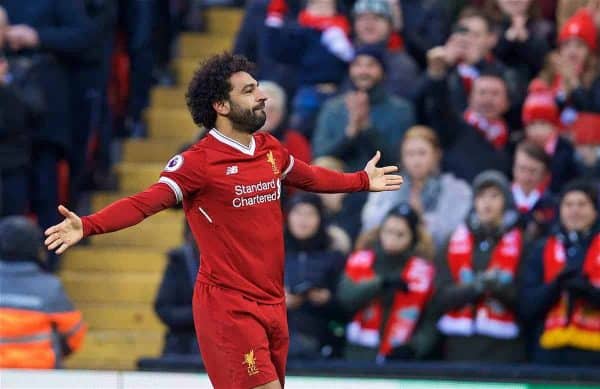 Salah and Suarez enjoy such influence and acclaim due to their ability to perform to a top level consistently.
You could count the number of poor displays on one hand, and more often than not, their performances hit at least an eight-out-10 rating.
Salah's consistency is probably the more impressive of the two, considering this is his first year at Liverpool, with a bedding-in period expected back in August.
He scored in six of his first nine matches for the Reds, however, and has also found the net in each of his last half-dozen appearances.
At no point has he hit a drought, with his biggest run without scoring a three-game period against Spartak Moscow, Newcastle United and Man United back in September and October.
Suarez was obviously a menace week in, week out, too, but he didn't possess such a ruthlessly consistent run during 2013/14, with some of his goalscoring coming via hat-tricks and even quadruples.
Admittedly, a four-game spell was his most barren run, but he did miss the first seven matches of the campaign and tailed off – by his ridiculously high standards- in April and May.
Salah still has time to dip in form, with over two months of the season remaining, so he can't claim to have done it for an entire year just yet.
Both got to 31 goals in 37 games, which shows that there isn't much in it.
Salah: 9/10
Suarez: 8/10
Big-game mentality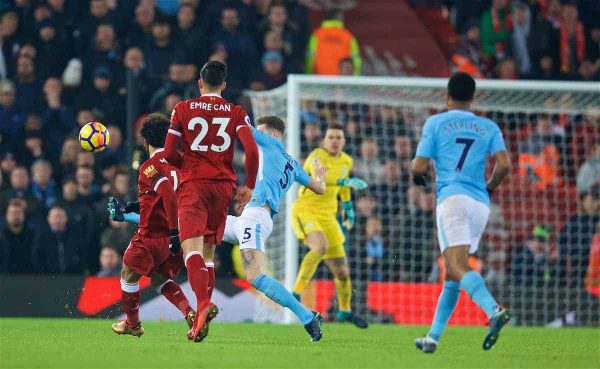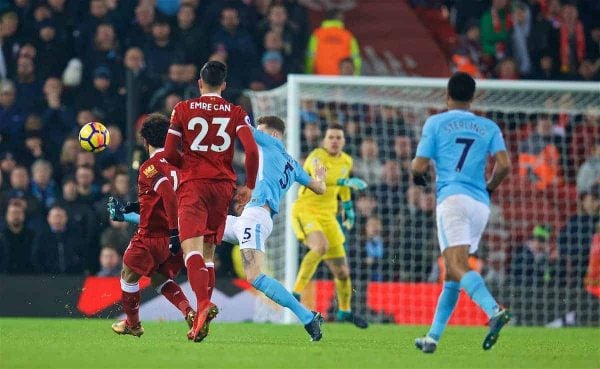 The great players come alive when the pressure is at its most intense, and both Salah and Suarez have done it on the big stage.
It is the former who has caught the eye more when the crunch clashes have come along, though, with numerous match-defining moments already produced.
Against the Reds' top-six rivals, Salah has scored seven times in eight attempts, including a wonderful double against Tottenham and a 40-yard effort when Man City visited Anfield.
He also stood tall in the Merseyside derby, curling home a solo effort to give the Reds the lead, prior to being robbed by a refereeing decision.
The former Roma man has shone in the Champions League, too, with an outrageous goal away to Porto summing up his confidence levels.
The one thing that was aimed at Suarez in 2013/14 was that he didn't always produce when it mattered, and the statistics do show that there is some truth in it – although he provided more than just pure goals or assists.
That being said, the Uruguayan scored home and away against Spurs and Everton, was out of this world in the 5-1 rout of Arsenal – denied the greatest ever goal by the width of a post – and scored at Old Trafford in the 3-0 win.
Salah: 9/10
Suarez: 8/10
Reputation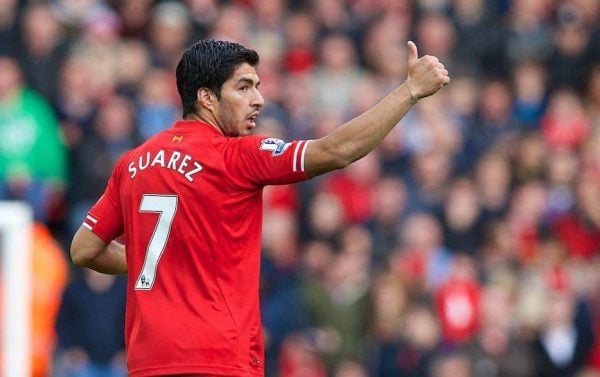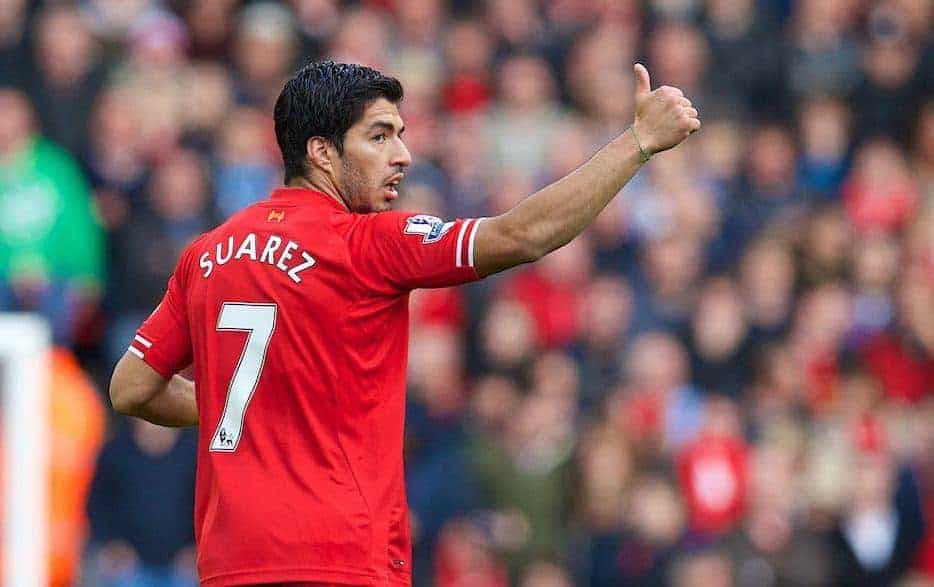 Sometimes, we can get so involved with everything to do with Liverpool that we forgot about the opinion of those away from Anfield.
Any sane Reds supporter should idolise Salah and Suarez, but who has been rated higher throughout the footballing world during their unplayable respective seasons?
Suarez has to prevail, especially because of the heights he reached in and the around the Christmas period of 2013/14, with the performance at home to Norwich City one of the greatest in Liverpool's history.
The general feeling was that he was at least on a par with Messi and Cristiano Ronaldo at that point, with many non-Reds singling him out as the best on the planet.
Salah's impact on Merseyside has reverberated across Europe, and on current form, he is considered one of the best in the business.
Real Madrid are said to be interested, and every single manager would pay huge sums of money to have him in their starting lineup. He isn't close to Messi's enduring best-in-the-world level, though, which is something Suarez managed.
Salah: 9/10
Suarez: 10/10
Totals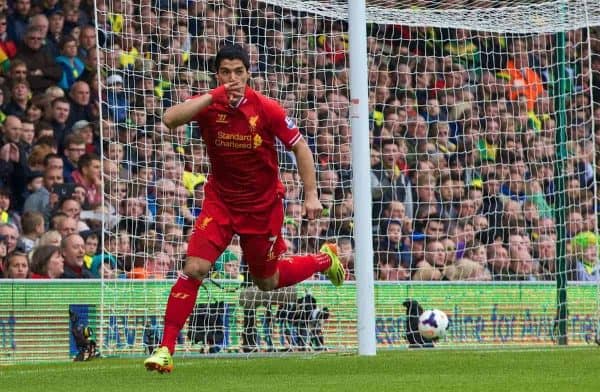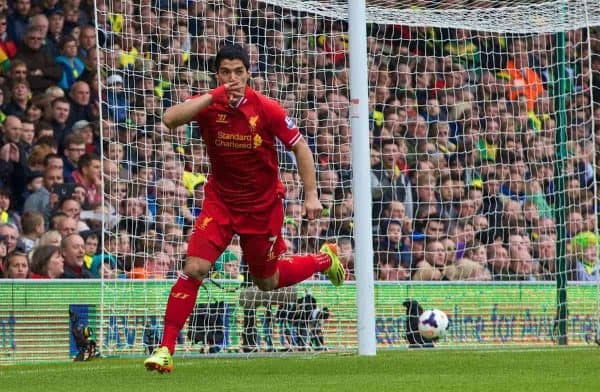 Salah: 45/50
Suarez: 46/50
Fair assessment?
Short-termism in football makes it very easy for people to forget just how unbelievable Suarez was during 2013/14.
There is a strong argument to say that he is the most gifted player ever to represent Liverpool, and he was the driving force behind what so nearly became an unrivalled Reds triumph.
He improved others, as well as taking his own game up a huge gear, and did things on a pitch that most footballers can only dream of.
Salah has made a better to start to life as a Red than anybody, and to have already matched Suarez's goal tally speaks volumes, especially as he isn't an out-and-out striker.
If he can fire home another 10 goals or so, and inspire Liverpool to Champions League glory, we may be having a very different conversation.
For now, though, Suarez takes home the prize.
Do you agree? Let us know in the comments section.